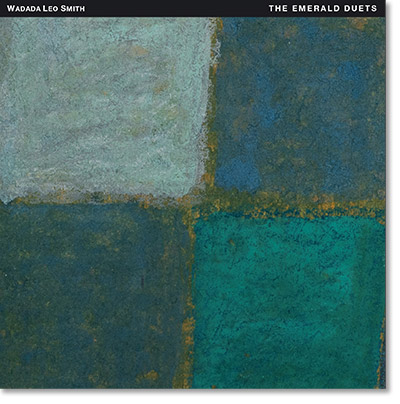 WADADA LEO SMITH
The Emerald Duets
TUM BOX 006
DISC 1
Wadada Leo Smith & Pheeroan akLaff
LITANIES, PRAYERS AND MEDITATIONS 74:58
DISC 2
Wadada Leo Smith & Andrew Cyrille
HAVANA, CUBA 65:36
DISC 3
Wadada Leo Smith & Han Bennink
MYSTERIOUS SONIC FIELDS 51:15
DISC 4
Wadada Leo Smith & Jack DeJohnette
FREEDOM SUMMER, THE LEGACY 53:18
DISC 5
Wadada Leo Smith & Jack DeJohnette
PARADISE: THE GARDENS AND FOUNTAINS 36:39
Wadada Leo Smith trumpet and piano
Pheeroan akLaff drums (Disc 1)
Andrew Cyrille drums (Disc 2)
Han Bennink drums and percussion (Disc 3)
Jack DeJohnette drums, piano and Fender Rhodes (Discs 4 and 5)
International release:
June 17, 2022
As part of its celebration of the 80th Anniversary of composer and trumpeter Wadada Leo Smith, TUM Records releases The Emerald Duets, a five-CD boxed set that includes Smith´s collaborations with four leading drummers of our time, Pheeroan akLaff, Andrew Cyrille, Han Bennink and Jack DeJohnette.
The Emerald Duets features four master drummers who have, each in their own unique fashion, contributed to the way modern drumming has developed over the past six decades and is now perceived. Cyrille, Bennink and DeJohnette broke through to the elite of modern drummers already in the 1960s whereas akLaff became a household name after being featured by some of the most exciting group leaders in creative music in the 1970s and 1980s. DeJohnette and akLaff in particular have performed and recorded with Smith extensively over the past decades but Bennink and Cyrille have also performed with him in different connections before these recordings were made.
Pheeroan akLaff, Andrew Cyrille and Han Bennink are each featured on one disc and Jack DeJohnette appears on two discs, including on Smith´s five-part composition "Paradise: The Gardens and Fountains," which fills the fifth disc of this boxed set in its entirety.
The sessions with akLaff, Cyrille and DeJohnette were recorded in New York City in 2019 or 2020 and mostly feature compositions by Wadada Leo Smith, including three very different versions of Smith´s "The Patriot Act, Unconstitutional and a Force that Destroys Democracy," his powerful statement about the need to protect freedom and democracy. The duets with Bennink were recorded in Amsterdam in 2014 and include a combination of Smith´s compositions and collectively created tracks.
The five-CD boxed set represents a crowning achievement among Wadada Leo Smith´s already legendary series of duo recordings with some of the greatest drummers in the history of creative music, which has seen collaborations with such creative giants as Ed Blackwell, Jack DeJohnette, Milford Graves (TUM BOX 003), Louis Moholo-Moholo (TUM CD 029), Adam Rudolph and Günter Sommer, among others.
"On this recording, drummers DeJohnette, Cyrille, Bennink and akLaff and their drum-sets become a team unified as one, forming uncommon music-making ideas," says Wadada Leo Smith. "Their philosophy of drumming elevates the melodic and rhythmical elements of their instruments. They create thundering sounds and beautifully articulated melodic textures, constructing a permeating resonant range, stacking complex sonic waves layered from top to bottom, wave by wave, depending on the type of cymbals and drums in their ensemble kits."
"Smith really hears drummers He is deeply attuned to what is unique about each one, and he relates to them all quite differently,"writes Vijay Iyer in his liner notes. "Music-makers of this level display a crystalline quality: hard-won and authentic luminosity, poise, composure, conviction, and in Smith´s phrase, 'maximum sincerity.´ Each of these five beings has entered that phase of creative life known to some as 'late style,´ in which everything they do is magical. These five discs are wondrous monuments to the art of living."
...
MEDIA CONTACT
Ann Braithwaite
Braithwaite & Katz Communications
+1-781-259 9600
ann@bkmusicpr.com
PRESS MATERIALS
https://www.tumrecords.com/box-006-emerald-duets/press
DISTRIBUTION (U.S.)
City Hall Records
+1-415-457 9080
www.cityhallrecords.com
...
Pheeroan akLaff (b.1955) grew up in a musical family in Detroit, Michigan. In l975, akLaff moved to New Haven where he began performing with Wadada Leo Smith and other young musicians based in the area. His first recordings were with Smith´s New Dalta Akhri and with Oliver Lake in 1976. After akLaff moved to New York City in 1978, he was often associated with improvised music but also other forms of African-American music from funk to reggae. He has toured extensively in Africa, Asia and Europe and studied urban popular music, folk drums and dance in Abidjan, Cote D´Ivoire, and Lagos, Nigeria. In the early 1980s, akLaff joined Oliver Lake in his reggae-influenced band Jump Up and Henry Threadgill first in his highly acclaimed Sextett and later in his Make A Move ensemble and New Air. In 1988, akLaff has also began working extensively with Japanese pianist Yosuke Yamashita. Since that time, akLaff has worked with a veritable Who´s Who of modern jazz and improvised music in addition to leading his own projects and teaching. akLaff has released a number of recordings under his own name including the solo album House Of Spirit: "Mirth" in 1979, Fits Like A Glove in 1983, Sonogram in 1989 and Global Mantras in 1997, among others. Throughout the years, akLaff has led his own groups, including various trios, quartets and quintets that have toured in North America and internationally. His more recent projects have also included the Double Duoensemble dedicated to the spiritual music of John Coltrane; the New York Jazz Collective with Marty Ehrlich, James Zollar, Ray Anderson, Mike Formanek and Mike Nock; Mixed Erato, a duo combining classical piano music with a drum set (with pianist Qi Liu); and Dear Freedom Suite, a tribute to Sonny Rollins´ classic recording. In the past two decades, akLaff has performed with a number of Wadada Leo Smith´s ensembles, including the Golden Quartet, the Golden Quintet, Mbira, Organic and Najwa. Since 1991 he has been involved in music education at the university level. He began by teaching master classes at The New School in New York City (1991-92) and has been on the faculty of Wesleyan University since 1993. He has also taught students in Asia, Europe and Latin America.
Andrew Cyrille (b. 1939) was born in Brooklyn, New York, into a family with Haitian parents. He was mentored in the art of drumming by the great Philly Joe Jones circa 1958 and began recording and performing with the likes of Walt Dickerson, Coleman Hawkins, Roland Kirk and Mary Lou Williams when barely 20 years of age. Cyrille truly made his mark through his membership in the Cecil Taylor Unit for over a decade (1964-75) establishing his position as one of the leading percussionists in the then-emerging "new jazz" or freely improvised music. Cyrille soon became one of the most respected drummers in modern jazz through both of his own recordings as a leader and through his collaborations with virtually every important name on the contemporary scene. Since the 1970s, Cyrille has led or co-led a number of ensembles, including Maono, The Group, the percussion quartet Pieces Of Time and Haitian Fascination, which pays homage to his Haitian roots. In 1992, Oliver Lake, Reggie Workman and Cyrille founded Trio 3, a cooperative group that became one of the main performing vehicles for all three of its members, recording more than 10 albums with several of the later ones also featuring a visiting pianist. Altogether, Cyrille has released more than 30 recordings as a leader or co-leader and countless others as a sideman. His most recent recordings as a leader are The Declaration Of Musical Independence (with Richard Teitelbaum, Bill Frisell and Ben Street) in 2014, Lebroba (with Wadada Leo Smith and Bill Frisell) in 2017 and The News (with David Virelles, Bill Frisell and Ben Street) in 2019. Cyrille has been involved in music education since the early 1970s and is currently a faculty member at the New School of Jazz and Contemporary Music in New York City. Cyrille has been recognized with several awards and prizes over the years. In 2020, Cyrille received the Doris Duke Artist Award.
Han Bennink (b. 1942) is the son of a concert percussionist who also played the clarinet in the style of Benny Goodman and the tenor saxophone in the style of Coleman Hawkins. Bennink began both of his favorite activities - making art and playing the drums - at an early age under the tutelage and influence of his father. Beginning in the early 1960s, Bennink frequently had opportunities to play with the many of the American musicians visiting Holland. Bennink was also heavily involved with the nascent European free improvisation scene of the 1960s. With fellow Dutch pioneers, Misha Mengelberg and Willem Breuker, he founded the musicians´ collective Instant Composers Pool in 1967. In addition to playing in various groups with his many long-standing collaborators, such as Mengelberg, Breuker, Peter Brötzmann, Fred Van Hove, Alexander von Schlippenbach, Derek Bailey and others, Bennink has frequently performed and recorded as a solo artist and led his own groups. From 1988 to 1998, Bennink´s main performing vehicle was Clusone 3, with saxophonist and clarinetist Michael Moore and cellist Ernst Rejsiger, which toured globally and recorded several highly acclaimed albums. Bennink has been a fixture on the European scene for improvised music for nearly six decades. In addition to his own projects as well as his numerous performances and recordings with smaller groups under the collective name Instant Composers Pool beginning in the late 1960s and with the ICP Orchestra starting in the 1980s, Bennink has been featured with many other European improvising ensembles, including Company, Globe Unity Orchestra, Cecil Taylor´s European Orchestra, Royal Improvisers Orchestra and Spring Heel Jack.
Jack DeJohnette (b. 1942) began studying classical piano at the age of four at the Chicago Conservatory of Music, then added the drums to his repertoire when he joined his high school concert band at the age of 14. By the mid-1960s, DeJohnette had entered the Chicago jazz scene - not just as a leader of his own groups, but also as a sideman on both piano and drums. He experimented with rhythm, melody and harmony as part of the AACMduring the organization´s early days and later drummed alongside Rashied Ali in the John Coltrane Quintet. DeJohnette first began garnering international recognition during his tenure with the Charles Lloyd Quartet(with saxophonist Charles Lloyd, pianist Keith Jarrett and bassist Cecil McBee or Ron McLure) in the late 1960s. Parallel to this, he also began one of the most extensive recording careers in modern jazz. In 1968, DeJohnette joined Miles Davis´s group shortly before the recording of Bitches Brew, an album that triggered a seismic shift in jazz and permanently changed the direction of the music. DeJohnette stayed with Davis for three years, making important contributions to a number of Davis recordings. During this same period, DeJohnette also recorded his first albums as a leader and has led and recorded with his own groups throughout his more than six-decade long career, including Compost, The Gateway Trio, Directions and New Directions in the 1970s and Special Edition in the 1980s. In the early 1980s, DeJohnette began his collaboration with Keith Jarrett and bassist Gary Peacock in the Keith Jarrett Trio, which resulted in 20 recordings over three decades. Another of DeJohnette´s high-profile projects was a trio with Herbie Hancock and guitarist Pat Metheny in the early 1990s, which developed into a touring quartet with the addition of bassist Dave Holland. In the new millennium, DeJohnette has performed with the Jack DeJohnette Quartet, the Trio Beyond and other groups of his own. He has also continued to release albums as a leader. For over two decades, DeJohnette has performed with Wadada Leo Smith, with whom he first played in Chicago in the late 1960s during an informal trio session at the invitation of Muhal Richard Abrams. DeJohnette was one of the original members of Smith´s Golden Quartet (with Anthony Davis and Malachi Favors Maghostut; Golden Quartet in 2000 and The Year of the Elephant in 2002) and also recorded a highly acclaimed duo album with Smith (America in 2008). He has participated in both recordings by Smith´s Great Lakes Quartet (The Great Lakes Suites, TUM CD 041-2, and The Chicago Symphonies, TUM BOX 004).