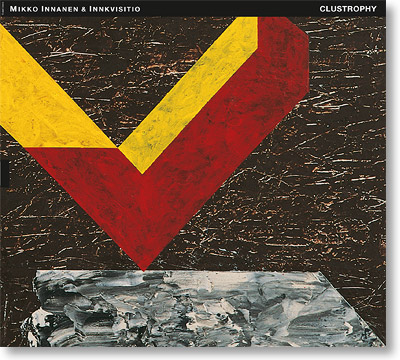 Clustrophy introduces us to a new incarnation of Mikko Innanen & Innkvisitio, a group led by the highly talented, free-minded and increasingly well-known Finnish saxophonist Mikko Innanen.
Mikko Innanen & Innkvisitio
CLUSTROPHY
TUM CD 025
Whereas the group´s first recording, Paa-da-pap (TUM CD 019), featured a quartet of Finns, Clustrophy showcases a five-piece band with a truly pan-European threesome of saxophonists: Mikko Innanen from Finland, Fredrik Ljungkvist from Sweden and Daniel Erdmann from Germany.

In the past decade, Mikko Innanen has become an undisputed leader on the Nordic jazz scene. His studies at the Jazz Department of the Sibelius Academy in Helsinki and at the Rhythmic Music Conservatory in Copenhagen led to many of the musical collaborations that have continued to this day, including Delirium, Kalle Kalima & K-18, PLOP and Triot, but more recently he has also spent an increasing amount of time in New York City. In addition to Innkvisitio, Innanen now leads a trio with bassist Joe Fonda and drummer Lou Grassi, both seminal figures on the ever-buzzing New York jazz scene, and has also made a yet-to-be-released recording with bassist William Parker and drummer Andrew Cyrille.

Fredrik Ljungkvist has, in addition to leading groups of his own, participated in over 40 recordings and collaborated with several influential musicians, including Marc Ducret, Mats Gustafsson and Bobo Stenson. He is currently a member of Ken Vandermark's Territory Band and of Atomic with Magnus Broo, Håvard Wiik, Ingebrigt Håker Flaten and Paal Nilssen-Love.

Daniel Erdmann is best known as a founder of the group Das Kapital, whose 2008 release Plays Hanns Eisler was met with considerable critical success. In addition to several other notable releases of his own in the past 10 years, Erdmann has performed with John Betsch, Axel Dörner, Rudi Mahall, Linda Sharrock and Aki Takase, to name but a few.

Also included in Innkvisitio's new line-up are two of its founding members, drummer Joonas Riippa, the talented collaborator of Innanen in the free jazz combo PLOP and other projects, and keyboardist Seppo Kantonen, whom Innanen describes as someone who "can dig out an unlimited array of surprising sounds" from his synthesizer. Together, Innanen, Riippa and Kantonen have formed the nucleus of Innkvisitio from the outset. The three musicians have become increasingly close in the past several years by also playing together in various duo and trio encounters in addition to Innkvisitio. Proof of this can be heard already on the album-opener "Earth´s Second Moon", where Riippa´s drumming and Kantonen´s cosmic electronics provide the perfect bedrock for the three saxophonists to do their thing.

Clustrophy is firmly rooted in the history of modern jazz, yet at the same time it is boldly forward-looking - or "retro-futuristic", as Innanen himself calls it. The listener might hear echoes of Monk, Mingus and Sun Ra, but right from the start it becomes obvious that Mikko Innanen & Innkvisitio consciously seek musical areas new and uncharted. Or as Down Beat magazine put it in a concert review: "Think Ornette Coleman in a honky tonk, updated and glazed with dry Finnish wit."
---
Media Contact
Ann Braithwaite, Braithwaite & Katz Communications; +1-781-259 9600
ann@bkmusicpr.com
Additional Information
Petri Haussila +358-40-7676 320

Distribution (Finland)
Töölön Musiikkitukku Oy, Martti Heikkinen +358-40-502 0104
sales@toolonmusiikkitukku.com
Distribution (United States)
City Hall Records, +1-415-457 9080
www.cityhallrecords.com