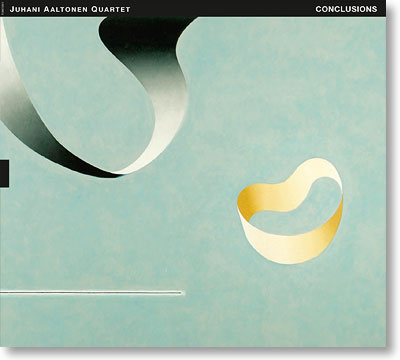 The Helsinki-based jazz label TUM Records releases the new album by the Juhani Aaltonen Quartet, Conclusions:
Juhani Aaltonen Quartet
CONCLUSIONS
TUM CD 021
Juhani Aaltonen (b. 1935) is one of the all-time greats in Finnish and European modern jazz. The saxophonist/flutist will celebrate his 75th birthday in 2010, but is in no way showing signs of slowing down anytime soon. His accolade-filled career in jazz is still expanding at a remarkable rate. In addition to recording Conclusions, Aaltonen´s latest triumphs include receiving the Finnish Arts Council´s State Prize for Music in 2009 and the selection of the Juhani Aaltonen Quartet into the sought-after showcase series for Bremen´s Jazzahead in 2010.
Conclusions, released in December 2009, reflects Aaltonen´s career spanning some five decades both musically and also spiritually. According to the leader himself, the album communicates how a lifetime of experiences, both triumphs and tribulations, can be turned into something positive for the musician and the listener alike. Thus, the "conclusions" reached with this recording are in no way an ending, but rather a basis for the next stages in the continuum that is Juhani Aaltonen´s life in music.
Aaltonen, who earlier in his career became principally known for his collaborations with Edward Vesala, Henrik Otto Donner, Heikki Sarmanto, Arild Andersen and others, has also become an important leader of his own groups during the past decade. The ascent that began with Juhani Aaltonen Trio in 2001 has reached a new high with the Juhani Aaltonen Quartet and its new recording.
The new Juhani Aaltonen Quartet features a top-notch collection of Finnish jazz A-listers, who each also have had an important role in Aaltonen´s past career. Drummer Reino "Reiska" Laine (b. 1946), like Aaltonen, comes with a background in the early days of Helsinki´s modern jazz scene, when the small and tightly-knit jazz community was electrified by the visits of giants such as John Coltrane, Eric Dolphy and Elvin Jones in the early 1960s.
Aaltonen and Laine, also occasionally performing in a duo setting, are joined by another pair of musicians often performing as a duo, pianist-harpist Iro Haarla (b. 1956) and Finland's leading bass player, Ulf Krokfors. Both Haarla and Krokfors have also become known as bandleaders in their own right and for their many projects together. For the Conclusions album, their role is important not only as musicians but also as composers.
Conclusions by the Juhani Aaltonen Quartet is first and foremost a showcase for four strong musical personalities. The group plays in complete harmony, and the compositions by Aaltonen, Haarla and Krokfors form a coherent whole over the course of the album. Each of the band members has started collaborating with Aaltonen at an earlier date, respectively spanning the quartet leader´s entire career. Thus, the new combo represents in some ways a summation of Juhani Aaltonen´s career, while at the same time leading it to new directions.
Akin to the album´s name and music, an apt conclusion would be that, in 2010, Juhani Aaltonen is stronger than ever. The Finnish jazz legend leads his quartet with remarkable strength combined with an emotional calm and maturity one can only reach after a long an eventful musical journey.
---
Additional Information
Matt Merewitz, Fully Altered Media +1-347-527 2527 fullyaltered@gmail.com
Risto Nevanlinna, PR; +358-50-412 9496 nevanlinna@gmail.com
Distribution (Finland)
Töölön Musiikkitukku Oy, Martti Heikkinen +358-40-502 0104
sales@toolonmusiikkitukku.com
Distribution (United States)
City Hall Records, +1-415-457 9080 www.cityhallrecords.com
Bookings
Charles Gil, Vapaat äänet (Helsinki, Finland) +358-50-5716 516 charles.gil@kolumbus.fi,
www.vapaataanet.fi