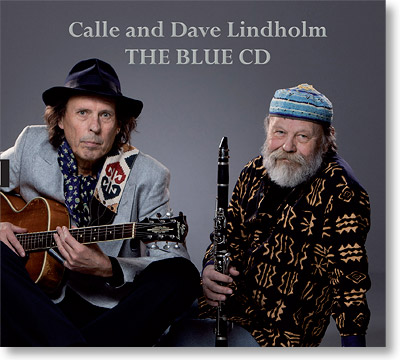 One of Finland's most beloved songwriters, Dave Lindholm, and his brother, Calle Lindholm, have made their first recording together. The Blue CD took decades of ripening before it was ready - but when the time was finally right, the album practically recorded itself.
Calle & Dave Lindholm
THE BLUE CD
TUM-A CD 002
Calle Lindholm alto saxophone, clarinet and vocals
Dave Lindholm guitar and vocals
Juha Kujanpää piano, Hammond organ and toy piano
Ulf Krokfors double bass
Heikki Sandrén drums
International Release

July 3, 2012
"The planning for the record actually already began in the 1970s. Dave and I like the same kind of music - the same stuff we were already listening to on old 78 RPMs and singles in our childhood home in Helsinki", Calle Lindholm recounts. "We wanted to capture on this record the same natural and spontaneous atmosphere that we had at the gigs we played together in the 1970s. So The Blue CD is closer to being underproduced than it is to being too polished, so that the freshness and joy of playing are conveyed as well as possible. Almost all of the tracks were done in one take."
Although Dave and Calle Lindholm´s career paths have diverged, music has always had a strong presence in both of the brothers' lives. The Blue CD includes the favorite music of their youth, namely, old American gospel, blues and rhythm 'n' blues, along with the Lindholm brothers' own compositions in the spirit of these classics.
Dave Lindholm has written three new compositions for the album: "Sometimes Things Go Wrong", "Golden Man" and "Summer's Gone". Calle Lindholm, for his part, presents "Take The Suti And Do The Jump", written in the spirit of Louis Prima and Louis Jordan, and "Is This A Blues At All?"
The opening track, "Rock My Soul", was first recorded as early as 1940, and through the decades the song has featured in the repertoires of Louis Armstrong, Lonnie Donegan, Elvis Presley and Peter, Paul & Mary, among others. "Rocks In My Bed" is a seldom-heard Duke Ellington original, likewise from the 1940s.
On The Blue CD, Calle (saxophone, clarinet and vocals) and Dave (guitar, vocals) are joined by a trio of three of Finland's top musicians: Juha Kujanpää (keyboards), Ulf Krokfors (double bass) and Heikki Sandrén (drums).
Wind instrumentalist and singer Calle Lindholm (b. 1947) has done his real life's work as a music producer for the Finnish Broadcasting Company (YLE), having worked there from the late 1960s right up until his retirement in 2010. However, Lindholm has always been making music on his own as well, including his participation in singer-songwriter Pekka Streng's early projects in the late 1960s, joint projects with his brother Dave in the 1970s and even an album of music for children. He is perhaps best known for playing in the Helsingfors Café Duo together with pianist Hessu Hiekkala in the 1980s.
Guitarist, singer and songwriter Dave Lindholm (b. 1952) has been a central figure on the Finnish rock scene for four decades. He established his position as an important lyricist, highly individual vocalist and strong guitar player already with his first recordings for Love Records, Iso "Kynä" Lindholm (1972) and Sirkus (1973). After this, additional solo recordings and recordings by various groups featuring him, such as Orfeus, Rock ´n´ Roll Band, Pen Lee, Bluesounds, Canpaza Gypsys and Dave L.B. Inventive, have contributed to the picture of Lindholm as a versatile master and true maverick of blues and rock. In 2006, Lindholm received the Finnish State Prize for Music as an acknowledgement for his 35-year career and, in 2009, the Juha Vainio Award for his accomplishments as a lyricist.
Media contact
Risto Nevanlinna, PR
+358-50-412 9496
nevanlinna@gmail.com
Press materials
https://www.tumrecords.com/tumalternative/bluecd
Distribution
Töölön Musiikkitukku Oy
Martti Heikkinen
+358-40-502 0104
sales@toolonmusiikkitukku.com