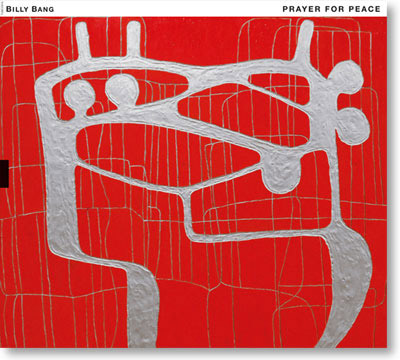 TUM Records is proud to release master violinist Billy Bang´s new recording Prayer for Peace:
Billy Bang


PRAYER FOR PEACE
TUM CD 018
Prayer for Peace is the first recording by violinist Billy Bang´s regular working quintet of the last five or so years. It is also Bang´s first recording since his two highly-acclaimed Vietnam-themed recordings, Vietnam: The Aftermath in 2001 and Vietnam: Reflections in 2004, and his live date with tenor saxophonist Frank Lowe, Above and Beyond, from 2003.
Featured with Bang on Prayer for Peace are trumpeter James Zollar as well as the stellar rhythm section of pianist Andrew Bemkey, bassist Todd Nicholson and drummer Newman Taylor-Baker. Of Bang´s compatriots, Zollar and Taylor-Baker have already made their mark both with their own projects and with numerous other leaders whereas Bemkey and Nicholson represent the younger, up-and-coming generation. Still, all four have been highly active on the improvised music scene in New York for the past several years.
Billy Bang has been recognized as one of the true masters and most original voices on his chosen instrument since his earliest recordings in the late 1970s. Having initially been impressed with the possibilities demonstrated by the violin playing of Ornette Coleman and Leroy Jenkins, Bang soon created a style all of his own. Prayer for Peace again displays the reasons for Bang´s high standing among his peers presenting him at his strongest both as a composer and as a featured soloist. It also adds to his growing book of distinguished original compositions with the central compositions on the recording, including the title tune, being presented here for the first time.
Prayer for Peace includes five of Billy Bang´s own compositions and two borrowed tunes for which he has long had a particular fondness often featuring them in his live performances. The extended "Prayer for Peace", which at almost 20 minutes is the centerpiece of the album, presents Bang´s heartfelt plea for peace. Stuff Smith´s "Only Time Will Tell" and Bang´s own "Jupiter´s Future", in turn, pay tribute to one of Bang´s most important forerunners on the violin, Stuff Smith, and to his one-time employer and mentor, Sun Ra, respectively. Also included are Bang´s"At Play in the Fields of the Lord" and the Cuban classic "Chan Chan", both of which feature two of the most-in-demand Latin percussionists on the current New York scene, Milton Cardona and Joe Gonzalez. Their inclusion is a nod to Bang´s childhood years in Spanish Harlem where the ever-present Latin music inspired him to play percussion instruments. The recording is rounded out by two other outstanding compositions by Bang, "Dance of the Manakin" and "Dark Silhouette".
With some 20 albums released under his own leadership and many more by various cooperative groups (including five by the String Trio of New York), Billy Bang is one of the undisputed leaders and more prolific members of his generation of progressive musicians focusing on improvised music. His hard-edged tone, soulful sense of traditional swing and evocatively expressive style have also been featured on numerous albums by other top names in a variety of genres, from the blistering funk of Bootsy Collins and the harmolodic groove of Ronald Shannon Jackson´s Decoding Society to the intergalactic uproar of Sun Ra. Prayer for Peace is certain to be considered an important new chapter in this impressive discography.
---
Additional Information
Matt Merewitz, Fully Altered Media +1-347-527 2527 fullyaltered@gmail.com
Risto Nevanlinna, PR; +358-50-412 9496 nevanlinna@gmail.com
Distribution (Finland)
Töölön Musiikkitukku Oy, Martti Heikkinen +358-40-502 0104
sales@toolonmusiikkitukku.com
Distribution (United States)
City Hall Records, +1-415-457 9080 www.cityhallrecords.com