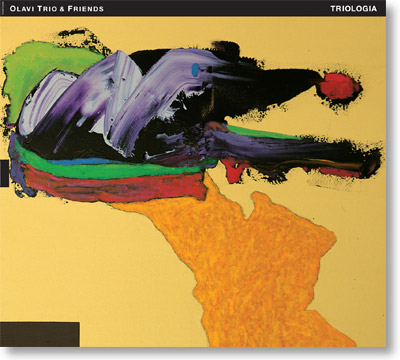 Triologia by the Olavi Trio is an instantly captivating album of freely improvised music performed by three of the most in-demand Finnish improvisers. As a bonus, the trio is also heard with three of their best friends, Juhani Aaltonen, Kalle Kalima and Verneri Pohjola, each of whom participates in two of the album´s 14 performances.
Olavi Trio & Friends
TRIOLOGIA
TUM CD 026
Teppo Olavi Hauta-aho (bass), Jari Olavi Hongisto (trombone) and Niilo Olavi Louhivuori (drums) are all household names on the Finnish jazz scene, who not only share the same middle name but also a passion for free improvisation. Both Hongisto and Louhivuori credit Hauta-aho with having led them from more traditional jazz expression to the path towards free improvisation that is not bound by the conventions of any particular style or manner of playing.

The trio's senior Teppo Hauta-aho (b. 1941) started his career in the early 1960s and soon cemented his place in the forefront of improvised music, both in Finland and later also on the international scene. He collaborated with drummer Edward Vesala in the late 1960s and early 1970s and, more recently, has performed with Anthony Braxton and Cecil Taylor, to name just a few highlights of his career. The concept of the Olavi Trio was thought up by Teppo Hauta-aho, so it is only appropriate that the release of this album was timed to coincide with his 70th birthday.

Trombonist Jari Hongisto (b. 1960) paid his dues with Edward Vesala´s famous Sound & Fury ensemble and currently performs with pianist/harpist Iro Haarla's sextet in addition to being a long-standing member of the UMO Jazz Orchestra. Over the years, Hongisto and Hauta-aho have collaborated on a number of projects, such as Quintet Moderne (with soprano saxophonist Harri Sjöström, violinist Philipp Wachsman and drummer Paul Lovens) in the 1980s and Sound Kitchen (with guitarist Hasse Poulsen) beginning in the late 1990s. They have also, together or separately, played with many of the other leading Finnish improvisers, such as saxophonists Juhani Aaltonen and Seppo "Baron" Paakkunainen, trumpeters Mike Koskinen and Jarmo Sermilä as well as pianists Eero Ojanen and Heikki Sarmanto.

The youngster of the trio, drummer Olavi Louhivuori (b. 1981), is currently a member of Polish trumpet legend Tomasz Stanko's quintet and performs in groups led by Norwegian bassist Mats Eilertsen and Swiss singer Susanne Abbuehl. Louhivuori, already a full-fledged member of the European improvising community, has also released a solo percussion album as well as two critically acclaimed recordings with the Ilmiliekki Quartet for TUM Records and another two with the Sun Trio.

With the help of a few of their best friends, namely the one-of-a-kind veteran tenor saxophonist Juhani Aaltonen, guitarist Kalle Kalima and trumpeter Verneri Pohjola, all undisputed masters of their respective instruments, the Olavi Trio are on the hunt to capture the pure essence of free improvisation.
Triologia is a musical journey that is both democratic and anarchic but also uncommon in its cohesiveness. To the listener, it is truly rewarding to witness the collegial harmony between the musicians and their individual ability to reach for the moment.
---
Media Contact
Ann Braithwaite, Braithwaite & Katz Communications; +1-781-259 9600
ann@bkmusicpr.com
Additional Information
Petri Haussila +358-40-7676 320

Distribution (Finland)
Töölön Musiikkitukku Oy, Martti Heikkinen +358-40-502 0104
sales@toolonmusiikkitukku.com
Distribution (United States)
City Hall Records, +1-415-457 9080
www.cityhallrecords.com