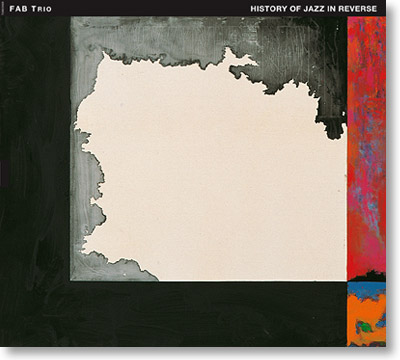 The FAB Trio's album History of Jazz in Reverse marks another historic meeting of three legendary improvisers and mainstays of the New York scene, bassist Joe Fonda, drummer Barry Altschul and violinist Billy Bang (the "F", "A" and "B" in "FAB"). With this studio recording, they reached another peak in their collective art that also produced the FAB Trio´s debut studio recording in 2003 and three subsequent live recordings.
FAB Trio
HISTORY OF JAZZ IN REVERSE
TUM CD 028
Sadly, Billy Bang (1947-2011) succumbed to cancer and passed away in April 2011, just as this recording was being prepared for release. However, Bang left behind him an extraordinary legacy in improvised music, with this recording representing one of the many highlights.

A Vietnam veteran who discovered healing through music, Bang created a unique voice on his chosen instrument. After having already established his place among the leading contemporary improvisers on New York City´s dynamic "loft jazz" scene of the 1970s, Bang began to reach an international audience as a member of the String Trio of New York from 1977 until 1986. Following a series of fine recordings with that group and as a leader as well as collaborations with some of his leading contemporaries, from Don Cherry to Sun Ra and from Ronald Shannon Jackson to James Blood Ulmer, Bang explored his Vietnam years on two highly successful albums, The Aftermath (2001) and Reflections (2005). In 2010, TUM Records released the Billy Bang Group´s album, Prayer For Peace (TUM CD 018), to considerable critical acclaim.

Early in his career, bassist Joe Fonda (b. 1954) collaborated with trumpeter Wadada Leo Smith, but became known to the broader audience through his 10-year tenure with saxophonist Anthony Braxton in the 1980s and the 1990s. Fonda has also led his own groups since the 1970s, often in collaboration with pianist Michael Jefry Stevens. He has recorded some 40 albums as a leader or co-leader of various groups, including the Mosaic Sextet, Conference Call, NU Band, Bottoms Out and From the Source, and has performed extensively all over the world.

Drummer Barry Altschul (b. 1943) first gained notoriety in the early 1960s, when he worked with pianist Paul Bley and was a member of the JCOA. However, it was his work with pianist Chick Corea (including in the group Circle that Altschul and Corea formed together with Anthony Braxton and bassist Dave Holland in 1969) as well as his membership in the Sam Rivers Trio and the Anthony Braxton Quartet that solidified his reputation as one of the most creative drummers on the contemporary scene. In addition to participating in many groundbreaking recordings with these groups and recording several outstanding albums as a leader, Altschul has also worked with the likes of Kenny Drew, Andrew Hill, Andre Jaume, Lee Konitz, Art Pepper, Enrico Rava and Roswell Rudd.

With the exception of Bang´s composition "One for Don Cherry" and Compay Segundo's beautiful "Chan Chan", History of Jazz in Reverse is based on the FAB Trio´s collective improvisations recorded "live in studio". As was the case with the FAB Trio´s live performances, some of these are spontaneous sound explorations of the textural and timbral possibilities of the trio whereas others, such as "For Bea", a beautiful ballad dedicated to the late Beatrice Rivers, are more focused on one central theme.

With just violin, bass and drums as raw material, the FAB Trio is able to paint a full spectrum of colors. That is no surprise: by the time of recording this album, Altschul, Bang and Fonda had, among them, spent more than a century on the road - performing, recording and improvising.
---
Media Contact
Ann Braithwaite, Braithwaite & Katz Communications; +1-781-259 9600
ann@bkmusicpr.com
Additional Information
Petri Haussila +358-40-7676 320

Distribution (Finland)
Töölön Musiikkitukku Oy, Martti Heikkinen +358-40-502 0104
sales@toolonmusiikkitukku.com
Distribution (United States)
City Hall Records, +1-415-457 9080
www.cityhallrecords.com