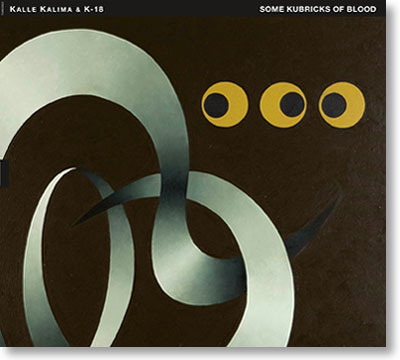 TUM Records releases the Finnish guitarist-composer Kalle Kalima´s new album, Some Kubricks of Blood. The album, inspired by the films of director Stanley Kubrick, sees Kalima and his K-18 ensemble scaling new cinematic heights by bringing together jazz improvisation and elements of modern classical music and even avant-garde rock.
Kalle Kalima & K-18
SOME KUBRICKS OF BLOOD
TUM CD 022
The Berlin-based guitarist Kalle Kalima (b. 1973) is one of the central ambassadors of the vivid contemporary Finnish jazz scene. His collaborators have included the likes of Polish trumpet maestro Tomasz Stanko, guitarist Marc Ducret, bassists Carlos Bica and Ed Schuller, composer Simon Stockhausen and vocalist Linda Sharrock as well as the Berlin-based collective Jazzanova and rock/pop artist Jimi Tenor. Kalima is also known as a leader of several highly acclaimed ensembles of his own, such as Klima Kalima, Johnny La Marama, Soi Ensemble and K-18. Kalima´s performances in his home turf in Finland have become rare and celebrated occasions and have, in the past year, included a tour by Klima Kalima and a recent concert of his compositions by the Umo Jazz Orchestra with Kalima as the featured soloist.
The legendary director Stanley Kubrick (1928-1999) ended up inspiring Kalima´s new music by chance. Kalima reports being on tour in Belgium when accidentally stumbling upon an exhibition extensively documenting the director´s career, including photos, drawings, furniture, films and clothing. An admirer of the late auteur´s work already prior to that occasion, Kalima found his imagination running wild after discovering the world of Kubrick´s movies opened up so thoroughly. The result was "Five Kubrics of Blood", a series of compositions which was premiered at TUMfest in Helsinki in 2007. Now, the collection has evolved into nine compositions characterized by the remarkable unity of Kalima and his K-18 cohorts ("K-18" is Finnish for "films forbidden to viewers under the age of 18").
The aforementioned group is a carefully planned entity unto itself. Saxophonist Mikko Innanen (b. 1978) is one of the most sought-after improvisers in his generation of jazz musicians in Finland, and a long-term colleague of Kalima´s. He is a also the 2008 winner of the Finnish jazz Federation´s "Jazz Musician of the Year" award. Teppo Hauta-Aho (b. 1941) on bass on the other hand can draw on nearly five decades´ worth of experience playing improvised music in various guises. Finally, the role of accordion player Veli Kujala (b. 1976) is essential to the album´s sonic texture. His use of the quarter-tone accordion lends itself to building melodies around microintervals, a feature central to Kalima´s compositions here and also evocative of the music of György Ligeti that was sometimes used in the scores of Kubrick´s films.
Some Kubricks of Blood is a powerful statement by Kalle Kalima & K-18. The album does not aim at re-scoring the music in Kubrick´s films, but rather to thematically aligning itself to specific places and spaces in their world.
Musically, the album is a unique mix of jazz improvisation and elements of modern classical music and even avant-garde rock, floating effortlessly in a dimension of their own. Kalima´s electric guitar leads the way, and the resulting sound of the quartet could perhaps best be described as cinematic 21st century chamber music. The composer´s decision to opt for a group without percussive instruments is important in achieving this effect.
---
Additional Information
Matt Merewitz, Fully Altered Media +1-347-527 2527 fullyaltered@gmail.com
Matti Nives, PR +358-40-735 3825 matti.nives@gmail.com
Distribution (Finland)
Töölön Musiikkitukku Oy, Martti Heikkinen +358-40-502 0104
sales@toolonmusiikkitukku.com
Bookings
Charles Gil, Vapaat äänet (Helsinki, Finland) +358-50-5716 516 charles.gil@kolumbus.fi,
www.vapaataanet.fi