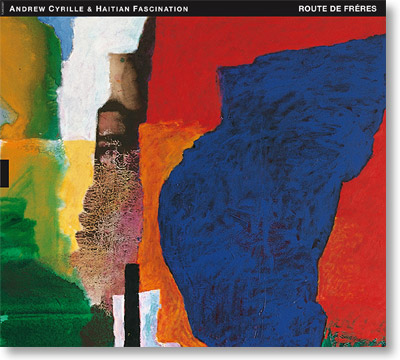 Route de Frères, the debut album by Andrew Cyrille & Haitian Fascination, is a cultural odyssey dedicated to the island country of Haiti, rich in music and culture but plagued by poverty and environmental disaster.
Andrew Cyrille with Haitian Fascination
ROUTE DE FRÈRES
TUM CD 027
For Andrew Cyrille, one of the most versatile drummers in modern jazz, Route de Frères represents a homecoming of sorts. Born to Haitian parents in Brooklyn, New York in 1939, Cyrille first visited Haiti at the age of seven. From these memories, the triptych "Route de Frères" ("Road of the Brothers"), the album´s central three-part composition, was born.

Although already recording and performing with the likes of Walt Dickerson, Coleman Hawkins, Roland Kirk and Mary Lou Williams when barely 20 years of age, Cyrille truly made his mark with his more than a decade long tenure with pianist Cecil Taylor in the 1960s and early 1970s. Cyrille is without question one of the most respected drummers in modern jazz both as a result of his many recordings as a leader and his collaborations with almost every important name on the contemporary scene in the past five decades.

Baritone saxophonist Hamiet Bluiett, a trailblazer justifiably considered one of the finest players of all time on his instrument, began making a name for himself when performing with his contemporaries in St. Louis´ Black Artists´ Group (BAG) and, after moving to New York City, with Charles Mingus, Sam Rivers and Abdullah Ibrahim among many others. He is a co-founder of the renowned World Saxophone Quartet and has released more than 20 albums as a leader of his own groups.

Bassist Lisle Atkinson, the third American on this recording, worked with Cyrille already in the 1960s and has since participated in many of his projects. First becoming known for his work with vocalists Nina Simone and Betty Carter, Atkinson has also recorded with many other jazz luminaries from Benny Carter to Dizzy Gillespie and from Wynton Kelly to Mary Lou Williams. He was a member of the New York Bass Violin Choir and is the founder of the Neo Bass Ensemble.

The recording also features two Haitian musicians who have long been present on the New York scene. Haitian master drummer Frisner Augustin immigrated to New York in 1972 where he has continued to tempt the spirits to the Vodou houses of the city. He has also served as the longstanding artistic director of La Troupe Makandal, a Haitian music and dance company based in Brooklyn. A renowned instrumentalist and arranger, acoustic guitarist Alix Pascal was the leader of his own groups and a member of Ibo Combo, among others, while still living in Haiti. After making New York his home in the 1970s, he founded Ayizan, a groundbreaking ensemble that combined Haitian influences with modern jazz.

With these master instrumentalists playing together and each contributing their own compositions to the group, Andrew Cyrille & Haitian Fascination have created an album of vibrant, living music that is both joyous and, in a truly soulful way, serious.

Or as Amiri Baraka formulates it in his liner notes: "Throughout the diverse listens and looks that the album gives us there is always this Island sway to it.

---
Media Contact
Ann Braithwaite, Braithwaite & Katz Communications; +1-781-259 9600
ann@bkmusicpr.com
Additional Information
Petri Haussila +358-40-7676 320

Distribution (Finland)
Töölön Musiikkitukku Oy, Martti Heikkinen +358-40-502 0104
sales@toolonmusiikkitukku.com
Distribution (United States)
City Hall Records, +1-415-457 9080
www.cityhallrecords.com