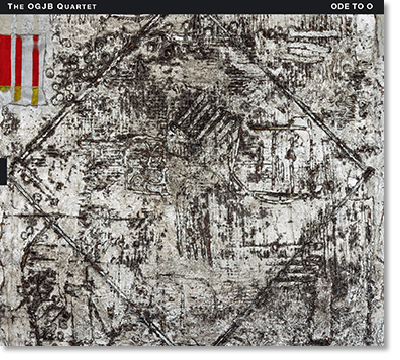 Ode To O is the second release by the OGJB Quartet that features four leaders in their own right, saxophonist Oliver Lake, cornetist Graham Haynes, bassist Joe Fonda and drummer Barry Altschul. As with their first release, Bamako, each member has contributed compositions to the new recording which also features two collective improvisations.
01 Ode to O (Barry Altschul) / 02 Justice (Oliver Lake) / 03 The Me without Bella (Joe Fonda) / 04 Da Bang (Barry Altschul) / 05 The Other Side (Graham Haynes) / 06 Caring (Barry Altschul) / 07 OGJB #3 (Lake, Haynes, Fonda & Altschul) / 08 Bass Bottom (Oliver Lake) / 09 OGJB #4 (Lake, Haynes, Fonda & Altschul) / 10 Apaxionado (Graham Haynes)
Oliver Lake alto and soprano saxophones
Graham Haynes cornet, electronics
Joe Fonda double bass
Barry Altschul drums, percussion
International Release
January 21, 2022
Ever since its first performance at the Winter Jazz Festival in 2016, the OGJB Quartet has been highly acclaimed as one of the most creative collaborative groups working today. Two of its members, Lake and Altschul, are pioneers of modern improvised music going back to its origins in the 1960s, while each of the other two, Haynes and Fonda, have been a strong presence on the improvised music scene since the late 1970s.
The group´s name, an acronym of each musician´s first name, reflects its status as a true collaborative unit. Each member of the OGJB Quartet is also a composer in his own right and a master on his chosen instrument. Accordingly, their second recording together, which follows the highly acclaimed Bamako released in 2019, again features original compositions by all four of its members and two collective improvisations.
The album is named after Barry Altschul´s composition dedicated to the late Ornette Coleman. According to Altschul, "Ode to O" is a melody that came to him in a dream after hearing of the passing of Ornette Coleman in 2015. The recording also features "Da Bang," a composition originally dedicated by Altschul to the violin great Billy Bang and designed to stimulate improvising.
Whereas Bamako was fully acoustic, Ode To O introduces a new element with Graham Haynes incorporating the use of live electronics on one of his two compositions on the new recording, "The Other Side," and on one of the collective improvisations, "OGJB #4." "Graham´s use of electronics took the quartet into a totally new zone," says Fonda. "It opened up the music to new and fresh possibilities."
Oliver Lake contributed two compositions, "Justice" and "Bass Bottom." "Each of them is unique and quite different from the other," says Fonda. "Whenever anyone gets the opportunity to play Oliver´s music, they are transported into the Lake universe of sound. That is where the OGJB Quartet again went when we recorded his two pieces."
"This second recording by the OGJB Quartet draws from a wide range of musical influences that exist inside the quartet," say Fonda. "On this recording, we pulled out all the stops."
"Ode To Orepresents the huge data set that is the collective experiences of Oliver Lake, Graham Haynes, Joe Fonda and Barry Altschul, representing a wide swath of what remains vital in jazz," says Bill Shoemaker in his liner notes. "Each performance spools out like a quintuple helix, each strand containing the humanity of music that cries, hollers and sings."
...
MEDIA CONTACT
Ann Braithwaite
Braithwaite & Katz Communications
+1-781-259 9600
ann@bkmusicpr.com
PRESS MATERIALS
https://www.tumrecords.com/058-ode-to-o/press
DISTRIBUTION (U.S.)
City Hall Records
+1-415-457 9080
www.cityhallrecords.com
...
Oliver Lake (b. 1942) is an accomplished saxophonist, flutist, composer, poet and visual artist. Lake was born in Marianna, Arkansas, but grew up in St. Louis, Missouri. He began drawing at the age of 13 and started playing the drums soon after, but only picked up the saxophone in high school at the age of 18. In his hometown of St. Louis, Lake first worked in R&B and soul bands with the likes of trumpeter Lester Bowie, then formed, in 1967, his first group as a leader, the Oliver Lake Art Quartet. During the 1960s, Lake was also one of the founders of the Black Artists Group (BAG) in St. Louis. After living briefly in Paris in the early 1970s, Lake settled in New York City and has led his own groups ever since. In 1977, he co-founded the World Saxophone Quartet with David Murray, Julius Hemphill and Hamiet Bluiett. It quickly became one of the most highly acclaimed groups in modern creative music and held that position for three decades, recording a total of 20 albums He is also a co-founder, with bassist Reggie Workman and drummer Andrew Cyrille, of Trio 3, a cooperative group that has over time become one of the main performing vehicles for all three of its members, recording more than 10 albums with several of the later ones also featuring a visiting pianist. Lake is known as a broadminded musician who is comfortable moving across musical genres. In the early 1980s, he led the reggae-influenced Jump Up, a group that attained considerable popular success with its two albums. Currently, Lake continues to lead his own groups, including the Oliver Lake Organ Quartet, as well as perform with Trio 3 and the OGJB Quartet, among others.
Graham Haynes (b. 1960) grew up in Queens, New York. He first became known as an experimental musician and composer looking for new directions in nu jazz, fusing jazz with elements of hip-hop and electronic music. With aspirations to push jazz beyond its traditional boundaries, Graham Haynes´ first foray into electronic music came in 1979 upon meeting alto saxophonist Steve Coleman. Together, they formed a band called Five Elements, which launched an influential group of improvisers called M-Base Collective in the 1980s. Soon, Haynes was also leading and recording with his own groups. Haynes has studied a wide range of African, Arabic and South Asian music and, after a move to Paris in 1990, incorporated these far-flung influences into his next releases. Haynes returned to New York City in 1993 to take advantage of the flourishing hip-hop scene and, a bit later, the emerging drum 'n´ bass. Since 2013, Haynes has been a member of the Vijay Iyer Sextet and was featured on its debut recording in 2017. Haynes also performed over a period of several years with the late American cornetist, composer and conductor Lawrence D. "Butch" Morris (1947-2013), originator of the Conduction method, and has begun working with various ensembles utilizing Conduction. Haynes has also composed works for classical ensembles and has worked on several critically acclaimed multimedia projects and composed music for films.
Joe Fonda (b. 1954) was born in Amsterdam, upstate New York, and played guitar and bass guitar in his youth. At Berklee College of Music in Boston, Massachusetts (1973-75), he studied composition and arranging while also focusing on the double bass as his main instrument. After Berklee, he settled in New Haven playing and recording with trumpeter Wadada Leo Smith, among others. Soon after moving to New York City in the early 1980s, Fonda participated in the collaborative group Mosaic Sextetthat both increased his prominence on the New York scene and served as a basis for some key relationships that continue today. In 1992, Fonda and Michael Jefry Stevens co-founded the Fonda/Stevens Group that became the longest lasting and perhaps the hardest working of all the collaborative groups in which Fonda has participated. Between 1993 and 2003, Fonda became particularly well known for his collaboration with Anthony Braxton and was Braxton´s bassist of choice during that period. In 1996, Braxton appeared on Fonda´s From The Source recording that served as a blueprint for the group From The Source, which Fonda continued to lead. Since that time, Fonda has toured and recorded with the FAB Trio, the 3dom Factor, The NU Band, Bottoms Out, Conference Call, Off Road Quartet, Trio Generations, Eastern Boundary Quartet, Dreamstruck and The J. & F. Band, among many others.
Barry Altschul (b. 1943), was born and raised in New York City. He began playing the drums at the age of 11 after having earlier played the piano and the clarinet. In the late 1950s and the early 1960s, Altschul was involved in the local hard bop scene playing in jam sessions in the Bronx and in other New York City boroughs with his contemporaries. However, his first "proper" gig was with the Paul Bley Trioin 1964 resulting in Altschul working regularly with pianist Paul Bleyfor the remainder of the 1960s and sporadically during the next three decades. Altschul´s work with Paul Bley drew the attention of others active on New York´s free jazz scene of the 1960s and resulted in tours and/or recording sessions with many of the genre´s notables, while his familiarity with the tradition also led to performances with many mainstream musicians. Soon, Altschul was performing and recording with some of the most influential groups of the period, including those led by pianist Chick Corea and saxophonists Anthony Braxton, and Sam Rivers in the 1960s and the 1970s. Altschul has also led several groups of his own, particularly in the 1970s and the 1980s, recording some of the finest "freebop" albums of the period. After living in Europe for a decade and then focusing mostly on teaching following his return to New York City in 1993, Altschul returned to active playing in the new millennium establishing the FAB Trio (History Of Jazz in Reverse, TUM CD 028) with violinist Billy Bang and Joe Fonda in 2003. Since 2013, Altschul has led the3dom Factorwith saxophonist Jon Irabagon and Joe Fonda (The 3dom Factor, TUM CD 032, and Tales of the Unforeseen, TUM CD 044).