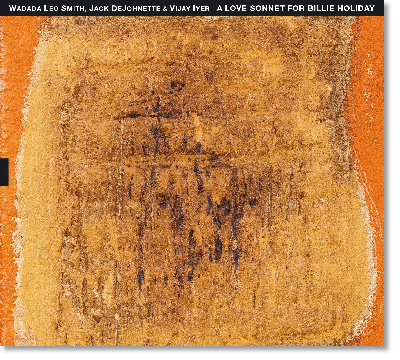 WADADA LEO SMITH, JACK DEJOHNETTE AND VIJAY IYER
A Love Sonnet For Billie Holiday
TUM CD 060
01 Billie Holiday: A Love Sonnet (Wadada Leo Smith) 11:52 // 02 Deep Time No.1 (Vijay Iyer) 09:20 // 03 The A.D. Opera: A Long Vision with Imagination, Creativity and Fire, a dance opera (For Anthony Davis) (Wadada Leo Smith) 18:11 // 04 Song for World Forgiveness (Jack DeJohnette) 13:50 // 05 Rocket (Wadada Leo Smith, Jack DeJohnette and Vijay Iyer) 04:29
Wadada Leo Smith trumpet
Vijay Iyer piano, Fender Rhodes, Hammond B-3 and electronics
Jack DeJohnette drums and percussion
"Deep Time No. 1" includes an excerpt from the "By Any Means Necessary" speech by Malcolm X
International release:
November 19, 2021
Wadada Leo Smith, Jack DeJohnette & Vijay Iyer
A LOVE SONNET FOR BILLIE HOLIDAY
TUM CD 060
A Love Sonnet For Billie Holidayby Wadada Leo Smith, Jack DeJohnette and Vijay Iyer brings the three artists together for the first time in this meeting of creative giants. The recording is a unique artistic collaboration featuring compositions by all three of its participants.
Wadada Leo Smith first met and played with Jack DeJohnette in the late 1960s and the two have collaborated with increasing frequency since DeJohnette participated in the first recording of Smith´s Golden Quartet more than two decades ago. Smith´s and Iyer´s first collaboration, in a later edition of the Golden Quartet, also goes back almost two decades. Nevertheless, the recording of A Love Sonnet For Billie Holiday marks the first time these three unique artists have participated in the same project and also the first time DeJohnette and Iyer have played together.
In a true collaborative spirit, A Love Sonnet For Billie Holiday features compositions by all three participants. The album opens with Smith´s composition that gave the album its title. "Billie Holiday: A Love Sonnet" is the latest in a line of Smith´s compositions dedicated to Billie Holiday that previously has included the title composition of Dark Lady Of The Sonnets by Wadada Leo Smith´s Mbira (TUM CD 023) as well as "The Empress, Lady Day: In a Rainbow Garden, with Yellow-Gold Hot Springs, Surrounded by Exotic Plants and Flowers" on Najwa (TUM CD 049), among others. Smith´s other contribution, an extended composition titled "The A.D. Opera: A Long Vision with Imagination, Creativity and Fire, a dance opera" is dedicated to his long-time collaborator, pianist Anthony Davis, who already played with Smith in his important early group, New Dalta Akhri, in the mid-1970s, then joined the same first edition of the Golden Quartet that also featured DeJohnette and also participated in numerous other projects by Smith over the years.
Jack DeJohnette brought to the session his composition "Song for World Forgiveness," a powerful plea for peace and sanity that has received a number of different treatments on his own recordings ranging from solo piano and saxophone/piano duo to a quartet, whereas Iyer contributed "Deep Time No.1," which utilizes electronics and includes an excerpt of Malcolm X making his speech "By Any Means Necessary." Finally, the closing piece "Rocket" was created collectively in the studio.
"A Love Sonnet For Billie Holiday was a dream project to work on with Jack and Vijay where the idea of composition and instrumentation would play a vital part in how the music sounded," says Wadada Leo Smith. "The keyboards, drum-set/percussion and trumpet would create their own sonic ranges, and with no bass at the 'bottom´ of the music, Vijay, Jack and Wadada´s instruments could realize wider horizontal sonic fields and emotional ranges. Therefore, the performers could reveal a complete and complex melodic and harmonic spectrum in a clear musical exposition."
MEDIA CONTACT
Ann Braithwaite
Braithwaite & Katz Communications
+1-781-259 9600
ann@bkmusicpr.com
PRESS MATERIALS
https://www.tumrecords.com/060-a-love-sonnet-for-billie-holiday/press
DISTRIBUTION (U.S.)
City Hall Records
+1-415-457 9080
www.cityhallrecords.com
...
Wadada Leo Smith (b. 1941), who was part of the first generation of musicians to come out of Chicago´s Association for the Advancement of Creative Musicians (AACM), has established himself as one of the leading composers and performers of creative contemporary music. In the late 1960s in Chicago, Smith, saxophonist Anthony Braxton and violinist Leroy Jenkins formed a trio, Braxton, Jenkins and Smith, that was later expanded into a quartet, Creative Construction Company, when drummer Steve McCall later joined them in Paris. Since the early 1970s, Smith has mostly led his own groups, including an important early ensemble New Dalta Akhri followed by N´Da Kulture and, more recently, the Golden Quartet, the Golden Quintet, the Silver Orchestra, Organic, Mbira, the Great Lakes Quartet and Najwa. Smith has also had an extensive career in music education. He has been on the faculty of the University of New Haven (1975-76), The Creative Music Studio in Woodstock, New York (1975-78), and Bard College in Annandale-on-Hudson, New York (1987-92). Until his retirement in 2013, he was the director of the African-American Improvisational Music Program at The Herb Alpert School of Music at CalArts (1992-2013). In 2012, Smith released his most extensive recording to date, Ten Freedom Summers, a four-CD collection, which was one of three finalists for Pulitzer Prize in Music in 2013. In 2013, he released Occupy The World (TUM CD 037-2), a two-CD recording of six extended compositions performed by Smith with TUMO, a 22-member orchestra. The Great Lakes Suites (TUM CD 041-2), a double-CD with Henry Threadgill, John Lindberg and Jack DeJohnette, was broadly hailed as one of the top albums of the year in 2014. In 2017, Smith received awards for Jazz Artist of the Year, Jazz Album of the Year (for America´s National Parks) and Trumpeter of the Year in DownBeat´s 65th Annual Critics Poll and was elected Musician of the Year by the Jazz Journalists Association. More recently, Smith has released a recording of an extended composition dedicated to the civil rights icon Rosa Parks, which features three vocalists, a string quartet, a trumpet quartet, electronics and a drummer as well as pre-recorded musical excerpts (Rosa Parks: Pure Love. An Oratorio of Seven Songs, TUM CD 057); a solo trumpet recording dedicated to Thelonious Monk (Solo: Reflections and Meditations on Monk, TUM CD 053); and a recording by a group that included four electric guitarists, electric bassist, drummer and percussionist (Najwa, TUM CD 049). In May 2021, TUM Records commenced the celebration of Smith´s 80thAnniversary year with the release of a pair of three-CD boxed sets, Trumpet: a unique set of solo trumpet music recorded over one week in the beautiful natural acoustics of a medieval stone church on the Southern Coast of Finland, and Sacred Ceremonies, a meeting of three true masters of creative music with Smith joining the ever-versatile electric bassist Bill Laswell and the late, great master drummer Milford Graves in three separate sessions that resulted in a duo CD of Smith with Graves, a duo CD of Smith with Laswell and a trio CD of Smith with both Laswell and Graves.
Jack DeJohnette (b. 1942) began studying classical piano at the age of four at the Chicago Conservatory of Music, then added the drums to his repertoire when he joined his high school concert band at the age of 14. By the mid-1960s, DeJohnette had entered the Chicago jazz scene - not just as a leader of his own groups, but also as a sideman on both piano and drums. He experimented with rhythm, melody and harmony as part of the AACMduring the organization´s early days and later drummed alongside Rashied Ali in the John Coltrane Quintet. DeJohnette first began garnering international recognition during his tenure with the Charles Lloyd Quartet(with saxophonist Charles Lloyd, pianist Keith Jarrett and bassist Cecil McBee or Ron McLure) in the late 1960s. Parallel to this, he also began one of the most extensive recording careers in modern jazz. In 1968, DeJohnette joined Miles Davis´s group shortly before the recording of Bitches Brew, an album that triggered a seismic shift in jazz and permanently changed the direction of the music. DeJohnette stayed with Davis for three years, making important contributions to a number of Davis recordings. During this same period, DeJohnette also recorded his first albums as a leader and has led and recorded with his own groups throughout his more than six-decade long career, including Compost, The Gateway Trio, Directions and New Directions in the 1970s and Special Edition in the 1980s. In the early 1980s, DeJohnette began his collaboration with Keith Jarrett and bassist Gary Peacock in the Keith Jarrett Trio, which has resulted in 20 recordings over three decades. Another of DeJohnette´s high-profile projects was a trio with Herbie Hancock and guitarist Pat Metheny in the early 1990s, which developed into a touring quartet with the addition of bassist Dave Holland. In the new millennium, DeJohnette has performed with the Jack DeJohnette Quartet, the Trio Beyond and other groups of his own. He has continued to release albums as a leader, most recently Sound Travels (2011), a genre-spanning album that features various guest musicians, Made In Chicago (2013) dedicated to his hometown and In Movement (2015) with his own trio featuring saxophonist Ravi Coltrane and bassist Matthew Garrison. For over two decades, DeJohnette has also performed with Wadada Leo Smith, with whom he first played in Chicago in the late 1960s during an informal trio session at the invitation of Muhal Richard Abrams. DeJohnette was one of the original members of Smith´s Golden Quartet (with Anthony Davis and Malachi Favors Maghostut; Golden Quartet in 2000 and The Year of the Elephant in 2002) and also recorded a highly acclaimed duo album with Smith (America in 2008). He has participated in both recordings by the Great Lakes Quartet (The Great Lakes Suites, TUM CD 041-2, and The Chicago Symphonies, TUM BOX 004).
Vijay Iyer (b. 1971) is an American composer, pianist, bandleader, producer, educator and writer based in Harlem, New York City. He is a son of immigrant parents and was born and raised in Upstate New York. Iyer received 15 years of Western classical training on the violin beginning at the age of three. He began playing the piano by ear in his childhood and is largely self-taught on that instrument. After completing a B.S. degree in mathematics and physics at Yale University in 1992, Iyer attended the University of California, Berkeley, where he obtained an M.A. degree in 1994 and initially pursued a doctorate in physics. In 1995, concurrently with his increasingly active musical career in composing, recording and touring, he left the Berkeley physics department and has since received an interdisciplinary Ph.D. degree in the cognitive science of music from the University of California, Berkeley. In 1994, he started working with saxophonist Steve Coleman and composer/trombonist George Lewis and was soon also leading and recording with his own groups starting with Memorophilia in 1995 and Architextures in 1996. Following these early recordings, Iyer collaborated closely with alto saxophonist Rudresh Mahanthappa, including a number of recordings under each musician´s leadership. Iyer has now released more than 20 albums as a leader or co-leader covering remarkably diverse terrain. A musical innovator, an active collaborator and a member of multiple artistic communities, Iyer continues to reimagine the role of the musician in the 21st century. He has carved out a unique path as an influential, prolific, shape-shifting presence in music and has created a consistently innovative, emotionally resonant body of work over more than two decades, earning him a place as one of the leading music-makers of his generation. Iyer's musical accomplishments extend well beyond his recordings and include numerous composer commissions for classical and avant-garde ensembles, collaborations with fellow musicians, hip-hop artists, choreographers, dancers, novelists, poets and filmmakers. Iyer now holds a lifetime appointment as a Professor of the Arts at Harvard University following his numerous other accomplishments in the field of education. Iyer first began working with Wadada Leo Smith in 2004 when he joined the Golden Quartet and recorded both with the Golden Quartet (Tabligh) and the Golden Quintet (Spiritual Dimensions) in 2008. In 2015, Iyer and Smith recorded a highly acclaimed duo album, A Cosmic Rhythm With Each Stroke, and have since frequently performed together as a duo.