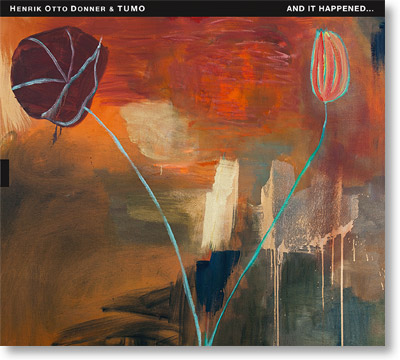 And It Happened… - The Music of Henrik Otto Donner (TUM CD 039) includes eight compositions by the legendary Finnish composer, arranger and trumpeter Henrik Otto Donner (1939-2013). As Donner passed away shortly before the release of this recording, it became the last recording of his music with Donner himself deeply involved in the project. Donner´s compositions are performed by TUMO, a 33-member orchestra comprised of leading Finnish improvisers that is here in its second outing following Occupy the World (TUM CD 037-2), TUMO´s highly acclaimed recording with composer and trumpeter Wadada Leo Smith. This time, TUMO included a 12-member string section led by Donner while the rest of the orchestra was led by Mikko Hassinen.
Henrik Otto Donner & TUMO
AND IT HAPPENED...
TUM CD 039
Junnudå? 04:55 / Close Your Eyes 03:25 / Entreaty 02:42 / The First Summer02:54 / Have Me, Hold Me 11:11 / These Are The Days 04:04 / And It Happened… 15:49 / For Friends And Relatives 04:48 // Total playing time 49:48
TUMO with
Juhani Aaltonen tenor saxophone and alto flute
Johanna Iivanainen vocals
Mikko Hassinen conductor
Henrik Otto Donner
TUMO
Jukka Eskola, Kalevi Louhivuori, Tero Saarti and Martti Vesala trumpet and flugelhorn; Jari Hongisto, Ilmari Pohjola, Kasperi Sarikoski and Mikael Långbacka trombone; Kalle Hassinen French horn; Mikko Marttila tuba; Manuel Dunkel, Jussi Kannaste, Mikko Innanen, Pentti Lahti and Pepa Päivinen saxophones, clarinet and flutes; Seppo Kantonen piano; Iro Haarla harp; Ville Herrala and Ville Huolman double bass; Markku Ounaskari and Stefan Pasborg drums; Mikaela Palmu, Helmi Kuusi, Kaisa Ivars and Isa Halme first violin; Kreeta-Julia Heikkilä, Aino Eerola and Annica Brännkärr second violin; Barbora Hilpo, Carmen Moggach and Maarit Holkko viola; Iida-Vilhelmiina Laine and Aino-Maija Riutamaa de Mata cello.
International release
March 18, 2014
And It Happened… brought toa close an important chapter in the history of Finnish modern jazz: five decades of collaborations between Donner and saxophonist/flutist Juhani Aaltonen, the recording´s principal soloist. Donner first invited Aaltonen, whom he sometimes called his alter ego on the tenor saxophone, to join his various groups and recordings already in the 1960s. However, it is their collaborations with larger ensembles that will leave the most lasting mark, beginning with Strings, the now-classic recording of Henrik Otto Donner´s compositions featuring Aaltonen together with a jazz group and strings that was originally released in 1976 and has become one of the cornerstones of modern Finnish jazz. In 2002, Strings Revisited (TUM CD 003) revived and revamped the sound of that earlier recording and finally comes And It Happened…, which features a full big band together with strings.
Juhani Aaltonen is featured on tenor saxophone on three extended instrumental compositions as well as on alto flute and tenor saxophone on two of the four songs performed by vocalist Johanna Iivanainen, who previously performed with Donner in his Free For All ensemble more than a decade ago. Finally, as the closing track, TUMO alone performs a new arrangement of the first composition by Donner ever recorded, "For Friends and Relatives", which closes the album just as it closed his first recording in 1965.
Henrik Otto Donner (1939-2013) studied at the Sibelius Academy in Helsinki from 1958 to 1963 and, thereafter, privately at the Siemens Electronic Music Studio in München and with György Ligeti in Vienna, among others. During the course of his career that lasted more than five decades, Donner was a versatile composer, with music ranging from classical orchestral compositions to political songs and from jazz big band works to film music. As a jazz musician, he was widely considered the most gifted trumpeter of his generation in Finland. Donner composed music for 21 films and a number of television features and plays. He also composed more than 1,000 songs, a number of orchestral works, chamber music, choral music, a lied cycle, a musical and an operetta.
Juhani Aaltonen (b. 1935) is approaching his 80th birthday, but is in no way showing signs of slowing down anytime soon. Aaltonen has long since established himself as one of the all-time greats in Finnish and European modern jazz with his work as a leader as well as his collaborations with Henrik Otto Donner, Heikki Sarmanto, Edward Vesala, Arild Andersen and many others. During the past decade in particular, Aaltonen has focused on leading his own groups, including the Juhani Aaltonen Trio and the Juhani Aaltonen Quartet. He has also continued his collaborations with the late composer Henrik Otto Donner and pianist Heikki Sarmanto.
Johanna Iivanainen (b. 1976) is a versatile singer who has been much in demand during the past decade. In addition to working and recording as a solo artist and with her husband, guitarist Mikko Iivanainen, she has been the vocalist of Unit 6, Korpi Ensemble, 1N and Soi Ensemble and a member of the vocal group JimJamMurMur, among many others.
Media Contact
Ann Braithwaite
Braithwaite & Katz Communications
+1-781-259 9600
ann@bkmusicpr.com
Distribution (U.S.)
City Hall Records
+1-415-457 9080
www.cityhallrecords.com
Distribution (Finland)
Töölön Musiikkitukku Oy
Martti Heikkinen
+358-40-502 0104
sales@toolonmusiikkitukku.com