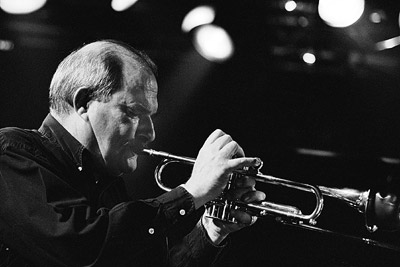 Henrik Otto Donner (1939-2013) grew up in Tampere, an old industrial town in the heart of Finland, where he began playing jazz music in the 1950s with friends from school. His father, engineer Hans Otto Donner (1903-82), was hoping for his son to also take up engineering studies, but his pianist mother, Clara Margaretha Donner (née Wallin, 1910-88), provided a role model for the world of music.
For the broader audience, Donner is best known as a composer of many of the most memorable melodies of the Finnish "new song" movement of the late 1960s and the early 1970s, as a composer and arranger of much of the music that defined the sound of the Finnish modern cinema of the same period, as one of the founders of Love Records, as a producer of over 100 albums in different genres of music and as a jazz composer and trumpeter, particularly in his own bands, including The Otto Donner Treatment and Free For All (Live at Five Corners, TUM BOX 001).
But Donner was also an influential figure in the Finnish and European music industry for more than four decades. He served as the head of Finnish Radio´s entertainment department, Chairman of the Finnish State´s Music Council (Säveltaidetoimikunta), Chairman of the Association for the Advancement of Live Music (ELMU), Chairman of the Finnish copyright association Teosto and in numerous other positions of trust within the music industry. From 2002 until 2007, Donner served as the Emeritus Professor of Arts at the Jazz Department of the Sibelius Academy and, from 2000 until 2009, as the President of the European Music Office. For the last 15 years, Donner also presided over DER (Digital Editing Room), his mixing and mastering studio in Tammisaari, his hometown for the last 30 years.
During 1958-62, Donner studied trumpet and composition at the Sibelius Academy in Helsinki under composers Nils-Eric Fougstedt and Joonas Kokkonen, among others, but found this environment too restrictive and decided to pursue private studies outside of Finland. During 1963-64, he studied in Munich at the Siemens Electronic Music Studios, in Bilthoven under composer Gottfried Michael Koenig and in Vienna under composer György Ligeti. During 1963-65, Donner collaborated with composer Terry Riley, participating in various "happenings" with Riley and American director and performance artist Ken Dewey, for example, in Paris. In 1963, the three of them organized "Street Piece Helsinki," the first "happening" to take place in Finland, in Helsinki´s Esplanade Park.
In Donner´s personality as an artist, two worlds collided for over fifty years in a manner that resulted in a creative chaos yielding most unpredictable results. In the early 1960s, Donner was considered the great new hope of modern classical music in Finland, but soon became its enfant terrible raising more than a few eyebrows by first embracing jazz as a musician and composer and then rock music and the political song movement as a record producer, rather than staying on the course mapped out for him by others.
In these early days, Donner challenged the establishment by, for instance, composing "Six Bagatelles for String Quartet" (1965), where the last bagatelle left the four musicians´ chairs empty and the music to the imagination of the audience. His "XC" (1961), composed to poems by Ezra Pound, and "3 Pieces for Piano" (1962) are also noteworthy early works.
One of Donner´s major recorded compositions is "Dalens ande (The Spirit of the Valley)" (1991) with saxophonist, flutist Juhani Aaltonen and the UMO Jazz Orchestra. Donner himself termed this piece, which was inspired by the environmentally and historically orientated book of the Swedish writer and diplomat Ralf Edberg, an "aerophony." His other recordings featuring Aaltonen as the principal soloist - En soisi sen päättyvän (1970), Strings (1976), Strings Revisited, (TUM CD 003, 2002) and And It Happened… (TUM CD 039, 2012) - included some of his most noteworthy compositions within the realm of jazz.
Donner´s ability to cross boundaries and make a contribution to seemingly irreconcilable cultural environments was characteristic of his entire career. He was not only a brilliant jazz composer and a fine trumpet player, but also a versatile composer of classical, movie and theater music. He was a true renaissance man whom one could not even imagine restricting himself to just doing the same thing over and over again.
Donner composed more than 1,000 songs, several orchestral works, chamber music, a musical (Fänrik Stål), choral music (especially when serving as the conductor of The Academic Male Voice Choir of Helsinki, Akademiska Sångföreningen, in 1969-76) and the song cycle presented here.
Throughout his career, Donner had a close relationship with poetry. Even as a composer of songs, Donner demonstrated his broad-mindedness in that the poems he used came both from the finest Finnish-language (Pentti Saarikoski, Pentti Saaritsa, Matti Rossi, Aulikki Oksanen, etc.) and Swedish-language (Edith Södergran, Elmer Diktonius, Bo Carpelan, Bengt Ahlfors, Johan Bargum, Bo Carpelan, Tua Forsström, etc.) writers in bilingual Finland.
Like other true masters, Donner´s work as a composer and arranger is instantly recognizable. For example, when strings arranged by him blossom to their full sound behind a vocalist or other soloist, the listener knows from the very first notes who has been responsible for them.
Donner loved the human voice and collaborated over the years with Arja Saijonmaa, Maarit, Anneli Saaristo, Eija Ahvo, Irina Milan, Liisa Tavi, Pepe Willberg and Johanna Iivanainen, among many other vocalists.