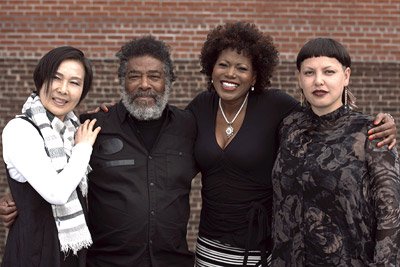 DIAMOND VOICES
Wadada Leo Smith: "Min´s voice is powerful, confident, expressively creative and has the force to profoundly penetrate the heart of the listener.
Carmina´s voice is explosive, clear and articulate, and her emotional and creative range is unlimited.
Karen´s voice is powerfully dramatic, articulately clear, with a spiritual fire that inspires belief.
All three voices are uniquely matched and are incredibly suited for my oratorio."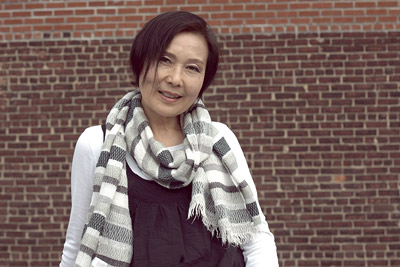 Min Xiao-Fen was born in Nanjing, the ancient capital of China. She has become internationally known for her virtuosity on the pipa and has been featured as a pipa soloist with a number of symphony orchestras and chamber music ensembles. Min is also known as a singer and a composer. In spite of her classical background, Min has forged a new path for her instrument in modern jazz, free improvisation and contemporary classical music. Since moving to the United States in 1992, Min has recorded and performed with Wadada Leo Smith, John Zorn, Randy Weston, Christian Marclay and Björk, among many others. Min´s first solo recording, The Moon Rising, was released in 1986 and has been followed by a number of others. Her Blue Pipa Trio commingles Kansas City swing with Chinese popular music while her latest release, Mao, Monk and Me, is a deeply personal exploration of Thelonious Monk´s music. She recently premiered her score for the long-lost 1934 Chinese silent film The Goddess.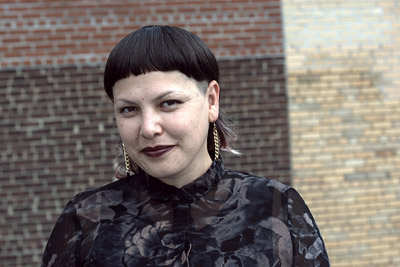 Experimental vocalist Carmina Escobar is a creative performer, interpreter of contemporary music, improviser, sound and intermedia artist from Mexico City, based in Los Angeles. Her work focuses primarily on sound, the voice, the body and their interrelations to physical, social and memory spaces. She has intensely explored the capacities of her voice developing a wide range of vocal techniques that she applies not only to her performance and creative practice but also to investigate radical ideas and concepts regarding the voice. Escobar has presented her own work in diverse festivals, biennials, experimental venues, formal concert halls and living rooms of the Mexican Republic, the United States and Europe. She is co-director of the contemporary and experimental music ensemble LIMINAR, of which she is the main vocalist. Currently, she is also a faculty member at the VoiceArts Department of CalArts teaching experiential voice and contemporary vocal music practice.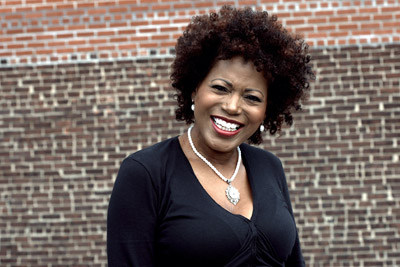 Karen Parks is principally known for her work as an opera singer but is equally at home with gospel, popular music, jazz and musical theater. Her career highlights include performances with the San Francisco Opera, London Symphony, Budapest Symphony, Göteborg Symphony, Helsinki Philharmonic, New World Symphony and the Boston Pops. Parks has performed in twelve languages at major concert halls, cathedrals and opera houses worldwide, including Carnegie Recital Hall, Alice Tully Hall and The Old Vic Theater. She continues to perform both nationally and internationally, serves on the Voice Faculty at New York University´s Tisch School of the Arts, acts as the President of Stagebound, Inc., which presents vocal intensives, workshops, seminars, masterclasses and professional performances in all major genres of music, and maintains a private voice studio with instruction offered to clients worldwide. Her numerous solo and collaborative recordings include Nobody Knows: Songs of Harry T. Burleigh, Nocturne and Perfect Harmony, among others.
...
THE ENSEMBLES
Wadada Leo Smith: "Astonishingly unique, RedKoral Quartet are able to perform Ankhrasmation scores which they infuse with their creativity of the highest quality; with the sharpest focus the ensemble is able to articulate any musical phrase with clarity and authority.
For me, performing with and standing beside this quartet on stage is one of the greatest honors I´ve had in music."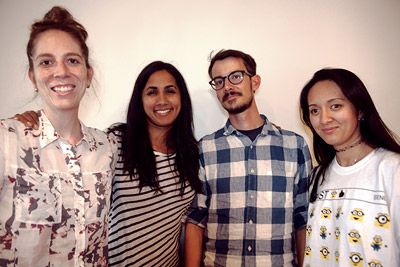 RedKoral Quartet
The origins of RedKoral Quartet go back to Wadada Leo Smith´s tenure at CalArts in 1994-2013. All but one member of the quartet came within Smith´s orbit at CalArts where they were students and/or teachers. The quartet participated in the recording of Smith´s Ten Freedom Summers in 2011 and has since been an integral part of live performances of this major work. RedKoral Quartet has also performed several of Smith´s string quartets and is in the process of completing a recording of them.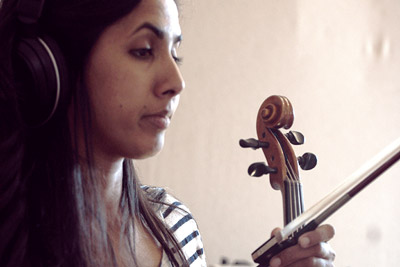 Shalini Vijayan is well-established as a performer both on the East and the West Coast of the United States. As a member of New World Symphony in Miami, Florida in 1998-2001, she served as a concertmaster for many leading conductors. In Los Angeles, Vijayan is regularly featured with Southwest Chamber Music and is a founding member of Kristjan Järvi´s Absolute Ensemble. She is also a member of the Lyris Quartet that has collaborated closely with both modern classical composers as well as composers from the realm of jazz and creative music. As a member of Absolute and the Lyris Quartet, she has recorded a number of albums and has performed throughout the United States, Europe and Asia.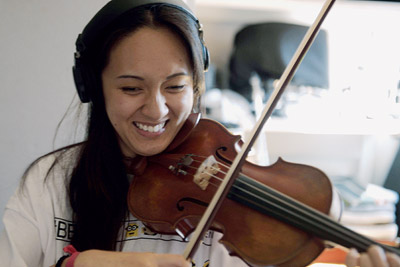 Mona Tian completed her education with a Bachelor of Fine Arts degree at CalArts in 2013 and a Master´s degree in music at University of Southern California in 2018. For the last few years, she has served as a violinist in the orchestras of two Southern California based opera houses, The Industry LA and Opera Santa Barbara, in addition to working with the Debut Chamber Orchestra organized by the Young Musicians Foundation, a community organization supporting young musicians. Besides being a founding member of RedKoral Quartet, Tian has performed with a number of other chamber ensembles, including Southwest Chamber Music and Rock Horn Project.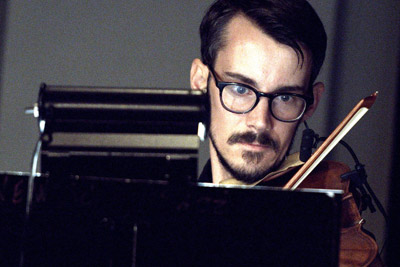 Andrew McIntosh is an internationally recognized composer and performer who teaches at CalArts and is a co-founder of the experimentally-minded Formalist Quartet. His musical interests cover a broad spectrum including historical performance practice, improvisation, microtonal tuning systems, long-form works and the 20th-century avant-garde. As a composer, McIntosh often works with forms and ideas found in nature or in other artistic disciplines. His compositions have been featured at a number of important venues. Recent commissions have included works for the Los Angeles Philharmonic, The Industry LA and the Calder Quartet and for violinists Movses Pogossian and Marco Fusi. As a solo violinist and a chamber musician, McIntosh has appeared across Europe and the United States.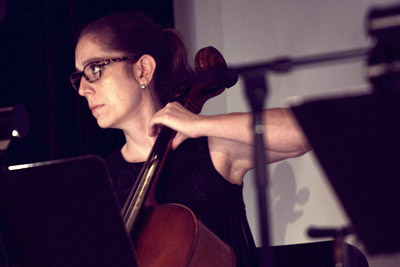 Ashley Walters maintains a uniquely diverse career, performing music that blurs the boundaries between classical, avant-garde and jazz, breaking new ground in repertoire with microtonality, extended techniques, alternative tunings and improvisation. As a solo artist, Walters has been the dedicatee of significant additions to the cello repertoire and has appeared on concert series and venues throughout the United States. Walters´ debut solo album, Sweet Anxiety, was released in 2017 andfeatures works by Lucio Berio, Nicholas Deyoe, Andrew McIntosh, Wolfgang von Schweinitz and Wadada Leo Smith. Walters is a founding member of the Formalist Quartet, which has premiered a vast repertoire of works and is known for its audacious programming. Walters joined Wadada Leo Smith´s Golden Quintet in 2016, participating in the recording of America´s National Parks that same year.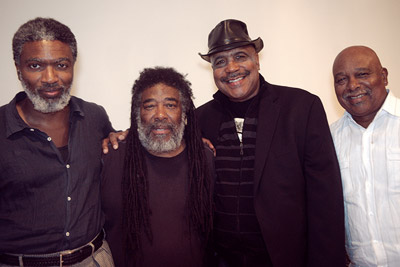 BlueTrumpet Quartet
Wadada Leo Smith: "BlueTrumpet Quartet with electronics and a drum-set, an ensemble of pure intuitive artistry calculated with clear intention, creates an absolute beauty in trumpet-brass, electronics and drum Sonics."
In addition to Wadada Leo Smith himself, BlueTrumpet Quartet includes three highly acclaimed trumpet players from different generations of creative musicians. They have all worked with Smith in the past both on his own projects and in various other settings.
Ted Daniel (b. 1943) studied trumpet already in elementary school in his hometown of Ossining in the Hudson Valley area in Upstate New York. Daniel began his professional career playing locally with his childhood friend, guitarist Sonny Sharrock. He studied music at various colleges both before and after his tour of duty with U.S. Army bands in 1966-68 and received a Bachelor of Music degree from the City College in New York. Daniel was an active participant in New York City´s Loft Jazz movement of the 1970s. His first recording was with Sonny Sharrock (Black Woman in 1968), followed by a recording by the group Brute Force, which he co-led with his brother, pianist Richard Daniel (Brute Force in 1970). Daniel has recorded several albums under his own name and has performed and recorded with many of the leading names in creative music, including Billy Bang, Andrew Cyrille, Oliver Lake, Michael Marcus, Sunny Murray, Dewey Redman, Sam Rivers, Archie Shepp, Luther Thomas, Clifford Thornton and Henry Threadgill.
Graham Haynes (b.1960) was born and raised in New York City. He has always been known as an experimental musician and composer looking for new directions from electronic music to drum 'n´ bass. Haynes was active in the M-Base collective in Brooklyn in the 1980s and was, with saxophonist Steve Coleman, one of the founding members of the Five Elements group recording three albums with Coleman. He also recorded a number of albums with vocalist Cassandra Wilson, another early member in M-Base. Haynes recorded his first album as a leader (What Time It Be!) in 1990. This has been followed by several other albums under his own name. He has studied extensively African, Arabic and South Asian music and spent the better part of the early 1990s in Paris. Haynes has collaborated with artists ranging from his father Roy Haynes, George Adams, Ed Blackwell, Uri Caine, Bill Dixon, Bill Laswell, David Murray, Bobby Previte and Steve Williamson to Vernon Reid, Meshell Ndegeocello and The Roots. He has also participated in several critically acclaimed multimedia projects and composed music for film. Most recently, Haynes has recorded with the likes of pianist Vijay Iyer, Adam Rudolph and sound artist Hardedge.
Hugh Ragin (b.1951) was born and raised in Houston, Texas, and began playing trumpet in his early teens, studying classical music. After receiving a degree in music education from the University of Houston and a degree in classical trumpet performance from the Colorado State University, Ragin studied at The Creative Music Studio in Woodstock, New York, with saxophonist Roscoe Mitchell. His first recordings in the late 1970s and early 1980s were with some of the key members of AACM´s first generation, including Anthony Braxton, Roscoe Mitchell and Wadada Leo Smith. Later, he has performed and recorded with various groups of Roscoe Mitchell, bassist John Lindberg, saxophonist David Murray, trombonist Fred Wesley and many others. He also toured and recorded with trumpeter Maynard Ferguson in the early 1980s. Ragin´s first recording as a leader was Metaphysical Question in 1984 and has been followed by several others. He has also taught music extensively, including at the Oberlin College in Ohio.
Janus Duo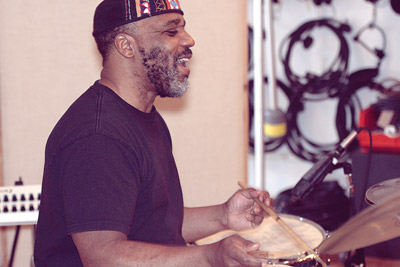 Pheeroan akLaff (b.1955) grew up in a musical family in Detroit, Michigan. In l975, akLaff moved to New Haven where he began performing with Wadada Leo Smith and other young musicians based in the area. His first recordings were with Smith´s New Dalta Akhri and with Oliver Lake in 1976. After akLaff moved to New York City in 1978, he was often associated with improvised music but also other forms of African-American music from funk to reggae. He has toured extensively in Africa, Asia and Europe and studied urban popular music, folk drums and dance in Abidjan, Cote D´Ivoire, and Lagos, Nigeria. In the early 1980s, akLaff joined Oliver Lake in his reggae-influenced band Jump Up and Henry Threadgill first in his highly acclaimed Sextett and later in his Make A Move ensemble and New Air. Beginning in 1988, akLaff has also worked extensively with Japanese pianist Yosuke Yamashita. Since that time, akLaff has worked with a veritable Who´s Who of modern jazz and improvised music in addition to leading his own projects and teaching. akLaff has released four recordings under his own name beginning with House Of Spirit: "Mirth" in 1979. akLaff currently performs with a number of Wadada Leo Smith´s ensembles, including the Golden Quartet and Mbira.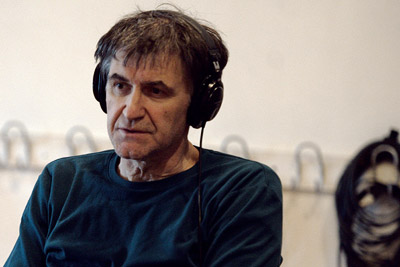 Hardedge is a pseudonym of Velibor Pedevski for his experimental electronics projects based in New York. Hardedge´s experimental approach to sound space and structure is inspired and based on the fundamental principles of the AACM´s creative thinkers, with whom Pedevski had been extensively collaborating for many years. Pedevski has been teaching the music at the New School for Social Research in New York (1993-2006). He has released eight live albums in a duo with Graham Haynes and three solo recordings. Hardedge´s recent projects include the DarkMatterHalo power-trio that he co-leads with guitarists Brandon Ross and Doug Wieselman and that has released three albums to date and a duo recording with Wadada Leo Smith (The Nile in 2017).