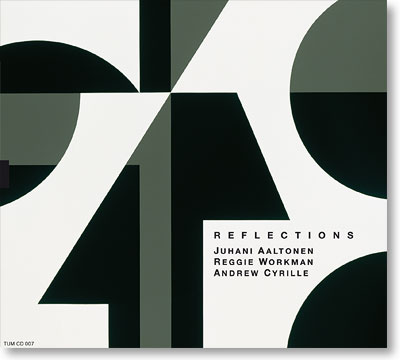 Serenity 6:41 / Selflessness 8:08 / The Navigator 9:09 / Still Small Voice 4:45 / Effervescence 6:40 / Reflections 9:16 / Supplications 11:40 // Total playing time 56:25
Music sample

01 Serenity 6:41

Juhani Aaltonen tenor saxophone, flute and alto flute
Reggie Workman bass and percussion
Andrew Cyrille drums
Reflections features three giants of improvised music in an open dialogue built on both their shared influences and their different backgrounds: Juhani Aaltonen on tenor saxophone and flute, Reggie Workman on bass and Andrew Cyrille on drums.
The album can be seen as a companion to Strings Revisited (TUM CD 003), which featured the trio together with The Avanti! Chamber Orchestra conducted by Henrik Otto Donner.
On Reflections, the music is improvised within only a loose compositional framework. Composed themes are used only as a starting point and, with the exception of Andrew Cyrille´s "The Navigator", there are no pre-conceived arrangements.
Juhani Aaltonen, Reggie Workman, Andrew Cyrille
REFLECTIONS
TUM CD 007