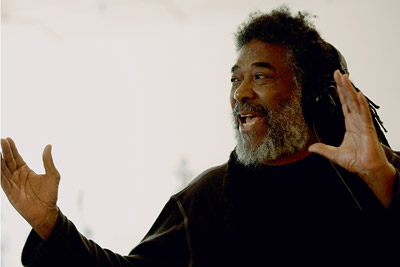 Wadada Leo Smith (b.1941) was born in Leland, Mississippi. Smith´s early musical life began in the concert and marching bands of Lincoln High School in Leland, first on the mellophone, then moving on to the French horn and finally receiving his first trumpet at the age of 12. At the same age, he composed a work for three trumpets, his first composition.
Smith received his initial musical education from his stepfather, Alex "Little Bill" Wallace, who was one of the first Delta blues singers to begin playing the electric guitar. His family home in Leland was a meeting place for musicians where blues artists such as Elmore James, B.B. King and Little Minton were frequent guests, often performing in the family´s living room. Accordingly, Smith has said that: "The Blues was my first language and it never went away." As a trumpeter, Smith considers himself a descendant of Louis Armstrong, although Miles Davis, Booker Little, Clifford Brown and, a bit later, Don Cherry had the strongest impact on his own playing as a young musician.
Smith´s formal music studies began with Oneal Jones and Henderson Howard, who were his school bandmasters at Lincoln High, with the latter also being his first trumpet teacher. Smith later studied in the U.S. Army Music Program at Fort Leonard Wood in Missouri (1963), the Sherwood School of Music in Chicago, Illinois (1967-69), and the Wesleyan University in Middlewood, Connecticut (1975-76).
Following high school, Smith travelled for about a year with various blues, rhythm ´n´ blues and soul groups before entering the U.S. Army. After attending the U.S. Army Music Program, Smith played for a total of about five years in six different army bands, touring not only in the Southern United States, but also in France and Italy. He also continued to broaden his musical horizons and was leading his own Ornette Coleman-inspired trio while still in the military. In 1967, Smith left the army and moved to Chicago to work with saxophonist Anthony Braxton and other members of the Association for the Advancement of Creative Musicians (AACM), the creative music collective that combined the music´s African roots with an improvisational approach.
Soon after arriving in Chicago, Smith met Anthony Braxton and violinist Leroy Jenkins for an impromptu practice session and, as a result, the three founded a collaborative group (later expanded into a quartet with the addition of drummer Steve McCall and named Creative Construction Company although they never performed as a trio or quartet under that name). Braxton, Jenkins, Smith became one of the key early ensembles of the AACM. Smith´s other collaborators in the pioneering work of the AACM also included saxophonists Joseph Jarman, Roscoe Mitchell and Kalaparusha Maurice McIntyre, trumpeter Lester Bowie, trombonist George Lewis and pianist Muhal Richard Abrams. Smith´s first recordings were made in Chicago during this period with Braxton, McIntyre and Abrams. Braxton´s 3 compositions of new jazz in 1968 and Silence in 1969 also included Smith´s first recorded compositions, "The Bell" and "Silence," respectively, which already used the rhythm-units concept, a framework for improvisation that Smith developed more fully in the 1970s.
Smith´s own music theory and notational system for improvisation in an ensemble context, which he calls "Ankhrasmation,"has been significant in his development as an artist and educator. Smith published his music philosophy already in the early 1970s in notes (8 pieces), source a new world music: creative music (Kiom Press, 1973). Notes (8 pieces) has been translated into Japanese (1976), Italian (1981) and Icelandic (2018). An expanded edition of the work in English was published in 2015.
As part of his music theory, Smith developed the two basic systems of music that he has utilized in his compositions ever since: the system of rhythm-units and the notation system he termed "ahkreanvention," which literally means to create and invent musical ideas simultaneously, utilizing the fundamental laws of improvisation and composition. With the rhythm-unit concept, each single sound or rhythm, or a series of sounds or rhythms, is accepted as a complete piece of music. Each performer, in turn, is considered as a complete unit with each having his or her own center from which each performs independently of any other, whether performing in a small group or in an orchestral context. The independence of each sound-rhythm and the independence of each performer contributes to the liberation from time as a period of development and to its employment as an element of space instead.
Like many other AACM members, Smith supported himself by playing in the horn sections of various rhythm 'n´ blues and soul bands, including Little Milton Campbell´s group. In 1969, Smith turned down Little Milton´s offer to become the straw-boss of his road band and moved to Paris along with Anthony Braxton and Leroy Jenkins as well as a few other key members of the AACM. During his year in Paris, Smith took part in two important recordings by Braxton and continued to perform and record with Braxton throughout the 1970s. Since that time, Braxton and Smith have continued to play together from time to time.
After his year in Paris, Smith led his own group, Integral, with saxophonist Henry Threadgill, trombonist Lester Lashley and drummer Thurman Baker, for a few months in Chicago before settling in New Haven, Connecticut, during the summer of 1970 for a period of ten years. In New Haven, Smith concentrated on his own music as well as studying and teaching rather than touring and recording all over the world like many of his compatriots. In addition to leading his own groups and teaching at the University of New Haven, he studied ethnomusicology at the Wesleyan University, focusing on West African, Japanese, Indonesian and Native American music cultures. Soon after arriving in New Haven, Smith organized the Creative Improvisation Ensemble with saxophonist Marion Brown and they also recorded a duo album in December 1970 in New York City (Creative Improvisation Ensemble/Duets).
Smith´s first recording as a leader was a solo album (Creative Music-1: Six Solo Improvisations in 1971), which was also the first album released on Kabell, the independent record label he founded. After this first solo recording, Smith has continued to perform solo concerts and has released several additional solo albums (Red Chrysanthemus Solos in1977, Solo Music/Ahkreanvention in 1979, Kulture Jazz in 1992 and Red Sulphur Sky in 2001). Smith´s latest solo recording features his solo trumpet on four classic Thelonious Monk compositions and four new compositions by Smith inspired by Monk (Solo: Reflections and Meditations on Monk, TUM CD 053, in 2015).
Smith´s principal ensemble in New Haven, New Dalta Akhri, was comprised of his students and other young musicians based in the area and recorded a number of albums (Reflectativity in 1974, Song Of Humanity in 1976, The Mass Of The World in 1978, Divine Love in 1978, Spirit Catcher in 1979and Go In Numbers in 1980). At various times, its members included saxophonists Dwight Andrews, Oliver Lake and Henry Threadgill, pianist Anthony Davis, vibraphonist Bobby Naughton, guitarist Michael Gregory Jackson, bassist Wes Brown and drummer Pheeroan akLaff. Members of New Dalta Akhri were also part of the two large orchestras responsible for Smith´s first big band recordings, Leo Smith Creative Orchestra (Budding Of A Rose in 1979) and Leo Smith & The Creative Improviser Orchestra (The Sky Cries The Blues in 1981).
In the early 1980s, Smith recorded a series of albums that reflected the spirituality of Rastafarianism, including Procession Of The Great Ancestry and Rastafari in 1983. The music that Smith performed around this time sometimes featured lyrics inspired by Rastafarianism and introduced elements of fusion jazz, reggae, funk and the blues into the music. Smith also became increasingly interested in presenting multimedia performances incorporating song, dance and drama.
In 1986, Smith began a series of trumpet/drums duos by recording a live concert with drummer Ed Blackwell (The Blue Mountain´s Sun Drummer,released on Smith´s Kabell label in 2010). This series also includes duo recordings with Adam Rudolph (Compassion in 2002), Günter "Baby" Sommer (Wisdom In Time in 2006), Jack DeJohnette (America in 2008) and Louis Moholo-Moholo (Ancestors, TUM CD 029, in 2011).
In 1992, Smith accepted a teaching position at the California Institute of the Arts (CalArts) and made Southern California his home. Alongside teaching, Smith continued to lead his own groups, in particular N´Da Kulture, and recorded a number of highly acclaimed albums as a leader (e.g., Tao-Njia in 1995, Golden Hearts Remembrance in 1997, Light Upon Light in 1998, Reflectativity in 2000 and Luminous Axis in 2002). In the mid-1990s, Smith converted to Islam, which further strengthened and made more apparent his longstanding interest in the musical cultures of the East, including those of Japan and India.
After his move to California, Smith began performing more with improvising musicians based on the West Coast, such as saxophonists Mario Eneidi and Vinny Golia, bassists Adam Lane and Bertram Turetzky, members of the Rova Saxophone Quartet and guitarist Henry Kaiser (in Yo Miles!, a group co-led by Kaiser and Smith and dedicated to the music of Miles Davis´s electric period), while leading his own ensembles and continuing his collaborations with the likes of saxophonists Anthony Braxton, Douglas Ewart, Roscoe Mitchell and John Zorn, trumpeter Dave Douglas, trombonists Jeb Bishop and George Lewis, pianists Angelica Sanchez, Matthew Shipp and Vijay Iyer, guitarist John Coxon, lap top computer artist Ikue Mori, bassists Bill Laswell and John Lindberg (Celestial Weather, TUM CD 046, in 2012) and drummers Han Bennink and Milford Graves, among many others.
After retiring from CalArts in 2013, Smith again settled in New Haven and has focused on composing and performing more frequently than ever before during his career. He has also reconnected with many of the New York based musicians he has worked with in the past, including two weeklong residences with multiple ensembles at the Stone. In April 2017, Smith organized the CREATE Festival in New Haven, which featured a total of eight ensembles over two days, ranging from a solo performance by Smith to the reunited New Dalta Akhri, the Mbira trio and the Golden Quintet as well as the RedKoral Quartet and the Chrystal Sextet performing Smith´s works for strings.
Smith currently leads five principal ensembles of his own: the Golden Quartet, an all-star group that originally included pianist Anthony Davis, bassist Malachi Favors Maghostut and drummer Jack DeJohnette and, in later editions, pianist Anthony Davis, Vijay Iyer or Angelica Sanchez, bassist John Lindberg and drummer Pheeroan akLaff or Ronald Shannon Jackson (Golden Quartet in 2000, The Year Of The Elephant in 2002, Tabligh in 2005 and, expanded into the Golden Quintet with drummer Don Moye, Spiritual Dimensions - CD1 in 2008, or with cellist Ashley Walters, America´s National Parks in 2016); the Great Lakes Quartet, another all-star group with Henry Threadgill, John Lindberg and Jack DeJohnette (The Great Lakes Suites, TUM CD 041-2, in 2012); Mbira, a trio with pipa player Min Xiao-Fen and Pheeroan akLaff (Dark Lady of the Sonnets, TUM CD 023, in 2007); Organic, a larger group with instrumentation consisting primarily of electric string instruments (Spiritual Dimensions - CD2 in 2009 and Heart´s Reflections in 2010); and the Silver Orchestra, a large orchestra that recorded its first album in 2004 (Lake Biwa).
Smith has been a prolific composer throughout his career with works ranging from solo piano pieces to compositions for multiple orchestras. Already while in the military in the 1960s, Smith arranged both popular and classical music for the various military bands in which he played and also increasingly began composing his own music both for jazz groups and for other ensembles. By the time Smith moved to Chicago in 1967, he had already composed several string quartettos and orchestral works. When working with other members of the AACM, and in the large ensembles led by Muhal Richard Abrams and others in particular, Smith began to combine his compositional skills and the improvisational spirit of the early AACM ensembles in search of his own approach to orchestral improvisation.
Smith´s music for large ensembles has been performed throughout the world since 1969, developing from early works for more traditional big bands to compositions for multi-ensembles. Smith has received a number of awards and commissions as a composer and his compositions have been performed by numerous contemporary music ensembles, including the AACM Orchestra, the Kronos Quartet, the Da Capo Chamber Players, the New Century Players, the San Francisco Contemporary Music Players, the Contemporary Chamber Players (University of Chicago), the S.E.M. Ensemble, the Southwest Chamber Music, the Del Sol String Quartet, the New York New Music Ensemble, ne(x)tworks,theCalifornia E.A.R. Unit,the Oxford Improvisers Orchestra and Orkiestra Symfoniczna NFM (Wroclaw), among others.
For over two decades, Smith has been creating music for multiple ensembles. Some of these works take several days to perform. "Ten Freedom Summers" was premiered by the Golden Quartet and the Southwest Chamber Music at the Roy and Edna Disney/CalArts Theater (REDCAT) in Los Angeles over three nights in October 2011. "Tabligh" for double-ensemble was performed by the Golden Quartet and the Classical Persian Ensemble at Merkin Concert Hall in New York City in 2006 and by the Golden Quartet and Suleyman Erguner´s Classical Turkish Ensemble at Akbank Music Festival in Istanbul in 2007. Smith´s largest work to date, "Odwira" for 12 multi-ensembles (a total of 52 instrumentalists), was premiered at the California Institute of the Arts in March 1995.
In 2012, Smith released his most extensive recording to date, Ten Freedom Summers, a four-CD collection of a total of 19 works composed over a period of 34 years and inspired by the civil rights movement in the United States. Ten Freedom Summers was recorded by the Golden Quartet(Smith, Anthony Davis, John Lindberg and Pheeroan akLaff) and the Golden Quintet (add drummer Susie Ibarra) together with the Southwest Chamber Music and was a finalist for the Pulitzer Prize in Music.
In 2013, Smith released another important recording of larger works, Occupy The World (TUM CD 037-2), a two-CD collection comprised of six extended compositions performed by Smith with TUMO, a 22-member improvising orchestra.
In 2016, Smith released America´s National Parks, a two-CD recording by the Golden Quintet that features six extended compositions celebrating America´s national parks and its culture and, in 2017, Najwa (TUM CD 049) that features four compositions in tribute to past masters of creative music, Ornette Coleman, John Coltrane, Ronald Shannon Jackson and Billie Holiday, as well as the title composition performed by a group that includes four electric guitars, electric bass, drums and percussion with Smith´s trumpet.
Smith has been on the faculty of the University of New Haven (1975-76), The Creative Music Studio in Woodstock, New York (1975-78), and Bard College in Annandale-on-Hudson, New York (1987-92). Beginning in 1992, he was on the faculty at The Herb Alpert School of Music at CalArts serving as the director of the African-American Improvisational Music program. He retired from CalArts in 2013.
In 2016, Smith received the Doris Duke Artist Award and an honorary Doctorate of Arts degree from CalArts, where he was also celebrated as Faculty Emeritus.
In recent years, Smith´s Ankhrasmation language scores have been exhibited in a number of major American museums, including exhibitions in Chicago, Kalamazoo, Los Angeles and San Francisco.