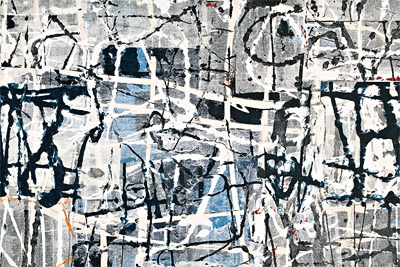 SPIRIT OF BILLY BANG
By Amina Baraka
I HEAR YR VIOLIN…
I HEAR YR VIOLIN……..
I HEAR YR VIOLIN……………………
Billy the Violinist
He is a Killer Digger
A Music Man
Solo & Band
Leaped Sounds without Bounds
Sugar so Sweet
Could Make You Weep
Swinging Strings
Tones so Deep
Would hit yr Bones
Billy the Violinist
Was a Dangerous Man
Bang showed-up/pulled out his Bow
Everybody know
Billy never missed a Note
Some say he dead
I don´t know-
HE is a Music Man
Everybody know-
Music NEVER DIES……………………
I hear His VIOLIN……………………….....................
All rights reserved. Copyright by Amina Baraka.
---
Billy Bang That´s Who!
By Amiri Baraka

The Black Gypsy, Eddie South, Stuff Smith, the great Ray Nance, my man Akbar Ali who had a music war with David Murray in my play, Primitive World, John Blake, the modern patriarch, all these have made the violin what it was before it got here, the voice of the ancient soil.
But it was left to Billy, Who, Billy, Bang to take the thing into contemporary taunt. Billy not only made the violin absolutely contemporary and absolutely innovative but an outstanding lead voice of the modern avant. The sound of "Out!"
What is the sound of Out!
Ask Bang, he know!
What is the sound of past that to the next what?
Ask Billy…Billy Who? Bang. Ask him, He know
What is the sound of when it get here you can dig it?
Who know? Billy do! Billy Who? Bang! Billy Bang.
Who cd bring Viet Nam back so the funk
Get under yr skin, and squeeze yr brain with
The horror of war, the insane. Billy Bang, he
Did do, cd do, that, from the observation post and memory ghost
Of his ax. Was it tuned in fifths, I´ll take the fifth, it sounded
Like the outside of the everywhere. And the inside of gone.
So he knew, before he flew, how to make the invisible blue!
He did that too. Who. Billy. Billy Bang. Who left without saying goodbye.
Yet the sides will always speak of him, and what he knew. Who? Billy,
That´s who. Billy Bang. Yeh. My man, sun tan. The celebrated, unequivocating
Master of the violin, who cd bring us the out, or the in. My man, Billy
A master, a blaster, a thinker, a creator, master of the sweet out
The funky in. who sang of the world, with those four strings and
Sizzling bow. The brother with the flying ax, you know, Billy,
Billy Who, Billy Bang, that´s who, and where he went we all will have to
Go. But still I wish he could still be here, to play what we wanted
To hear. But thank Heaven, or whatever you got, we can listen
To that music, we will always hear that sound, he will alway
Be around. Who? Billy. Billy Bang that´s who.
All Rights reserved. Copyright by Amiri Baraka.
---
Avalanche
For Billy Bang
By Quincy Troupe
1.
within an avalanche of glory hallelujah skybreaks
spraying syllables on the run, spreadingsheets, waving holy sounds, solos sluicing african bound,
transformed here in america from voodoo into hoodoo
of billy bang tonguing blues through violin solos, snaking his voice,
where juju grounds down sacred up in chords, up in the gritty foofoo,
magical, where fleet rounds of cadences whirlpool, as in rivers,
where memory spins down foaming into dances,
become storms here swallowed in a burst of suns,
up in the yeasting blue voodoo, holding, the secret clues mum
inside the mystery unfolding, up in the caking dishrag of daybreak,
miracles shaking out earthquakes of light,
become mojo hands of music luminous with spangling
& are the vamping blood songs of call & response,
the vamping blood songs of call & response
2.
as in the pulpit when a preacher becomes his music, words,
his rhythms those of a sacred bluesman outside his door,
his gospel intersecting with antiphonal guitars, a congregation of amens
as in slurred riffs blues strings run back echoing themselves, billy bang,
you answering the call, your voice cracked open like an egg,
the yoke running out, your lungs imitating pulsing drums & the voice of you
billy bang, riffin violin solos in a rain-bowing confluence of sacred tongues,
billy bang as griot, with a devotion of power all up in your hands,
brother, all up in your fingers plucking strings of glorious call & response
invocations of quaking sermons, running true & holy
with cadences brewed in black church choirs, glory hallelujah vowels
spreading deep love from your voice of violin treble-pitch, pizzicatos,
deep & strong, as wolfman's mojo, all up in mahalia jackson's lungs,
howling vowels rolled off hoodoo consonants, brewing magic
all up in the preacher's run, of muddy water´s deep hoodoo strung all up
in the form drenched with coltrane, riffin on miles dewey davis,
lightning Hopkins & way down home dues songs, blues yeasting
lungs of bird when music is raised up as prayer
& lives healing here as june's sun quilted into black babies
tongues sewn deep into hearts as power breath of rappers
& this is a poem in praise of continuity, is a poem about blood
coursing through tongues, is a praise song for drowned voices lost
in middle passage, is a praise song for slashed drums of Obatala
linking antiphonal bridges, is a praise song tonguing deep mojo secrets,
Damballah in praise of the great God's blessings,
Oshun in praise of healing songs sewn into sacred tongues
inflating sweet lungs into a cacophony of singing Oyo Shango praise,
songs tonguing deep voodoo secrets of thunder-axes & lightning
& this poem is about music when music is what it believes it is,
holy, when voices harmonize, somersaulting salsa in flight
& glory is the miracle poetry sings in that great getting-up morning
in this soil of bata drums & cowrie shells, the blood of Eshu-Elegbara
mother's flesh, is the poetry of God as it is Shango Oyo inside lightning
bolts, as it is also a thunderbolt, red & white up against lavender,
is sound in the center of green apocalyptic chaos
3.
& my poem here is reaching for beauty, is reaching for holy
luminosity shimmering in gold flecked light, where the mojo hand
is seaming through high blue mornings, waving like a sequined glove
up in the glory of hallelujahs, calling through inner-tube lips
of the great God, singing through blues-root-doctors, jack-legging sermons,
all up in the condolences mourning death, ashe in the sunburst of God's glory
& eye want this poem to kneel down itself before healing, want it to be magic
beneath the crucifixion of light, want it to be praise song, juju rooted ashe,
want it to be mojo hand raised up to powers of flight, want it to be tongue
of gritty foofoo feeding, afro-cuban rhythms within a congregation
slurring amen riffs, running back through you, billy bang, to me,
your voice raised up here treble-pitched pizzicato violin licks,
your holy music cooking in glory of hallelujah, call & response,
glory, in yam songs rooted here in bloody rivers, holy,
want it to be ground earth of resurrection in you, billy bang, in me,
through this poem to you, again, where bridge tongues of healing
reach out to you the Shango song of your Oyo ancestral sound
& is reaching out to you to cross over to the sun, is reaching out
to touch your heartbeat here through the music, through this poem,
is reaching out to become one in the glory, to feel the healing touch,
to become one with the glory, like you, billy bang, ashe, ashe,
you wew all up in the glory, this poem waits for you to cross over with love,
to cross over the heart beat touch of your healing sounds touching hearts,
your music deep inside glory, this poem waits for you to cross over
with love, now, billy brother, this poem is for you in the glory of your spirit
crossing over now with glory, with tenderness, this poem is for you
crossing over, with love, billy bang, swollen with miracles & glory,
this poem is for you making the crossing, full of love, billy,
this poem is for you making the crossing, full of love
All rights reserved. Copyright by Quincy Troupe.
a hero´s welcome 2 / the rainbow gladiator
for Billy Bang
By Steve Dalachinsky
america is unkind to its heroes
few streets with plaques
few obscure country roads renamed
i being ignorant historian
will not even bother to name even one
used to be that things used to be that way
like being in a storm with no clouds to blame it on
sketching perfect stories
flag folded into a neat triangle
beckon / become these strings
that thought: lament
remaining full / brought toward your chin
exhaled
blown away
expelled / wom
emptied out of guts & self
inhaled
& now American hero you are in someone else´s hands
in a system far far away yet connected always to HERE
& the thirst one feels of apprehension when apparitions appear
the thirst one feels / the thirst one has for comprehension
the death of metaphor but not of soul
if everything we do is in the past then all our conversations are memories about to happen
& though you are gone your spirit has not even begun to touch down rest & reside here in the present in the past in the future which is your music & your passion your occupation
& your light
so it would seem then that we have unlimited time in the past which is now to gather
& to speak / to make music & to sing
illuminating - warrior - translator of emotions - to those who knew you - soldier
now M.I.A. - unpredictable big sadness awaits us - big joy from your SOUND
your art a postcard of the world - its beauty - its horror - its tenderness - its ferocity
you had a way of opening up the silences from within - cluttering them with form -
taming then unleashing language - twisting it in & out -
your train of thought never drifting from your purpose - the hardship of battle
& the spaces between things
you no longer wait to be pulled away - the deities claim you no
welcome home hero - to a new birth every day - the clouds & birds possess you now
all manner of clouds & birds to praise the great upheaval that your music brings
bottled the way our dreams are - the way things reach us
the way we inhale & exhale the lyrical night
the way the music so sweetly assaults us from so many different directions
surrounding us with an aura of freedom that seeps into our blood
beyond ailments / pain & bones - inside our life - as we grow "older"
sometimes weeping for the happy crowd
i could sing all day about the passing storm
tiny explorations of the horizon
the way the wind pronounces its name during the aftermath
limping home at war´s end / this never ending war
so march on / march on
a city is only as good as its music
your music filling the city´s voids & chaos´s
city boy from the country this will always be your home
& the song that sometimes comes out wrong
is always right -
so you do it your way
& i´ll do it my way
& this way it becomes a thing. mine. yours.
ours. memory´s. time´s.
All rights reserved. Copyright by Steve Dalachinsky.
---
Who Can Hang With Bang?
By Sebastian "SibaGiba" Bardin-Greenberg
Who Can Hang Wit Bang
Via slang and vernacular
Nothing short of spectacular
Composer, improviser, artiste, Vietnam survivor
Reflections, the aftermath
Inspired this paragraph, but that ain´t the half.
A forty-year career spans from far and near
From melodic to chaotic, futuristic, apocalyptic
Mystic with that twist, get my drift?
Shift from the civil rights south
Mobile, Alabama to the
Red Saigon, Ho Chi Min funk, Indonesia
Amnesia, I need ya
'Til I get home…
U.S.A, Maryland, Harlem, L.E.S…
Back to my love, the music, the fiddle
You know the rest, at least a little.
Who Can Hang With Bang?
Leroy Jenkins in a second
We burnin´ 'em like Charles Burnham
Look no further; reverse the thread with Regina CarterHere´s a little line from Henry Grimes
And that contemporary twang of Jason Hwang
Et puis Jean Luc Ponty… Maybe
Hey Siba, don´t forget Grapelli
Ultimately, Andrew Cyrille, Lester Bowie and Billy
Are the three who attracted me…to this
Inter-Stellar-Galactic-Dimension
Made a serious impression, with feeling and emotion.
Gyrating up and down, side to side
From South to North, From East to the West, Billy Bang get down So Fresh
Pizzicato, crescendo, strumming like a guitar.
Violin, unique stylin´… buckwhilin´, smilin´
And with class… So I Ask.
Who Can Hang With Bang?
All rights reserved. Copyright by Sebastian Bardin-Greenberg.