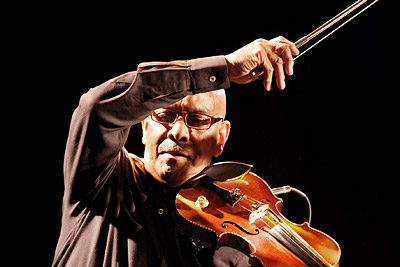 The history of the violin in jazz is relatively scant. Of the 169 pages in the "The Instruments of Jazz" section of Joachim Ernst Berendt´s approximately 500-page The Jazz Book: From Ragtime to Fusion and Beyond, only five are devoted to the violin. Berendt´s comprehensive guide cites trailblazing violinists like Joe Venuti and Leroy Jenkins only four times, which is half the number devoted to secondary figures like saxophonist Sahib Shihab and drummer Dave Tough. Generally, Berendt only mentions violinists in passing, or adds them to a laundry list of artists, to make a general point about a period in jazz history or a sub-genre like fusion.
There is a paucity of historically important jazz violinists compared to, say, trumpeters; consequently, violinists don´t have a clean line of succession like Louis Armstrong, Roy Eldridge, Dizzy Gillespie et al. that reinforces the centrality of the trumpet in jazz. Several factors stunted such a lineage until the 1970s. For decades, there was a fundamental stylistic divide between classically trained violinists like Venuti and fiddlers like Stuff Smith, who only used part of the bow to approximate horn articulations like slurs. There also was a practical bias against the violin soloist prior to the proliferation of sound reinforcement systems - Smith was the first to use an amplifier, creating a synergy between technique and technology in the process.
In the 1970s, European violinists had an unprecedented profile in jazz; the return of Stéphane Grappelli was universally celebrated, while Jean-Luc Ponty, Zbigniew Seifert and Michal Urbaniak were central to the instrument´s higher profile in fusion. Even though there was the potential for an African American jazz violin renaissance - Claude Williams, who played on Count Basie´s first Decca session in 1936, was rediscovered and Michael White, a colleague of John Handy and Pharoah Sanders, recorded for Impulse - it did not reach critical mass: Ornette Coleman´s violin playing was widely considered a diversion; Joe Kennedy did not record during the decade; John Blake seemed stalled as a sideman; and Leroy Jenkins was consigned to the margins.
At best, the state of jazz violin was muddled when Billy Bang led his first studio recording at Columbia University´s WKCR with his Survival Ensemble in May 1978. Even though Bang had only played the violin seriously for a half-dozen years (aided by Jenkins´ tutelage), New York Collage (Anima) was a searing debut, as Bang matched the hollering intensity of his saxophone-playing colleagues and approximated the soaring quality of John Coltrane´s classic soprano solos. Bang played post-Coltrane jazz while evoking an unlikely violin lineage that reached back from Jenkins and Coleman to Smith (who even influenced how Bang held the violin early on) and included Lonnie Johnson, Clarence "Gatemouth" Brown and Ray Nance. With New York Collage, Bang had established a new trajectory for jazz violin.
Bang´s stock soon spiked with the release of String Trio of New York´s first albums on Black Saint and his two Hat Hut albums - a solo concert and a duo set with Denis Charles - which established him as a fluent pan-stylist and fiddler at heart: earthy, soulful, singing. Unaccompanied, Bang could wring water from roots music and, with STNY, cut through the determinedly knotty lines of James Emery and John Lindberg´s compositions like a hot knife through butter. The word on Bang quickly spread through the small town that is the New York jazz scene, and he was soon playing with everyone from Don Cherry to Bill Laswell.
The most hub-like relationship Bang formed in this initial flurry of activity was with tenor saxophonist Frank Lowe, who, with a sound that was as likely to be compared to Junior Walker´s as it was to John Coltrane´s, was arguably the perfect front-line partner for Bang. Their shared discography - spanning 1979´s Sweet Space (Anima) through the 2003 concert recording Above and Beyond: An Evening in Grand Rapids (Justin Time) - serves as a road map of Bang´s evolution. Sweet Space reflects a shift in temperament from New York Collage; the anger and bitterness Bang brought home from his combat experiences in Vietnam, reinforced through his subsequent association with violence-advocating radicals, was complemented with, if not totally replaced by, the convivial lyricism and sway of "A Pebble is a Small Rock" (a tune he would periodically revisit in concert and on disc) and the credo-like "Music for the Love of It."
With a few exceptions - Bang´s readings of Ornette Coleman pieces with Cherry on Untitled Gift (Anima) and his takes on standards on Invitation (Soul Note), both recorded in 1982 - Lowe was ever-present when Bang interpreted jazz repertoire in the 1980s. Lowe´s sound was essentially old school; Coleman Hawkins, Ben Webster, and Lucky Thompson were at the core of its grit. Bang´s sawing and Lowe´s snarls and growls gave hard bop and the New Thing classics a new coat of old paints. Whether they were dredging the depths of "Lonely Woman" on Intensive Care (Cadillac), the 1983 album by The Jazz Doctors, the co-op quartet with Denis Charles and Donald Rafael Garrett, or coaxing the blues out of Coltrane´s "Lonnie´s Lament" on Bang´s 1988 quartet date, Valve No. 10 (Soul Note) - a prime example of the violinist´s ability to approximate the way saxophonists breathe - Bang and Lowe made the tradition truly live.
The pinnacle of Bang and Lowe´s partnership, however, was Bang´s cathartic 2001 Viet Nam: The Aftermath (Justin Time). Like hundreds of thousands of young Americans, Bang was thrust into a jungle war from which none returned unscathed. Look closely at the cover photo of Bang with a machine gun slung over his shoulder and a cigar clenched in his teeth to see that his dog tag is covered with black tape to honor a fallen comrade. Then look at Bang´s eyes - you will never see that vacant look in any of the hundreds of photos taken of him during his career in music. Think of that look when considering how Bang earned the rank of Sergeant - given that he was a draftee from the Bronx, it wasn´t by keeping his uniform crisply pressed and his shoes gleaming.
Bang had initially broached his war experiences on Valve No.10; named for Bang´s base camp, with Lowe - who was also deployed to Vietnam, "Bien Hoa Blues" was given a disarmingly slinky feel by Bang and Lowe. After reading his notes to Vietnam: The Aftermath, it´s easy to understand why it took Bang almost 20 years to wade back into the swamp with "Bien Hoa Blues," and then wait for another 13 years to again use the war as musical inspiration with Vietnam: The Aftermath.
My inability to bravely confront my personal demons, my experiences in Vietnam, has been a continuous struggle. For decades, I have lived with my unwillingness to deliberately conjure up the pain of these experiences. At night, I would experience severe nightmares of death and destruction, and during the day, I lived a kind of undefined ambiguous daydream … That was the sad state of my life, which made it easy for me to seek an artificial comfort in drinking and drugs … The overall sadness of losing close friends in combat is not something that many experience, and to write eloquently of my trials and tribulations, of growing from a boy of nineteen and becoming a man, a soldier, in that God-forsaken war, has been a supreme challenge. I can now sincerely say in retrospect that writing, rehearsing, and recording this project was extremely therapeutic. I can honestly say that I´ve recovered the innocence of my spirit and soul again.
In a program where musicians shuttled in and out from track to track, it is noteworthy that Lowe was enlisted for the album´s centerpiece, "TET (sic) Offensive," a piece that is Mingus-like in portraying harrowing despair. The piece concentrated the baptismal fire that the album as a whole represented to Bang - it is not an oversimplification to say that Bang´s artistic evolution can be divided into two periods: before and after Vietnam: The Aftermath.
It is also noteworthy that Vietnam: The Aftermath was made only two and a half years before Lowe succumbed to lung cancer. Lowe toured with Bang six months before his death and with only one lung; it´s fitting that they closed their concerts - as well as Above and Beyond - with Bang´s resplendent minor blues variant, "At Play in the Fields of the Lord."
Lowe was by no means Bang´s only important colleague during these years. Sun Ra, Kahil El´Zabar and Ahmed Abdullah come quickly to mind, each reinforcing and refining aspects of Bang´s music on recordings he made as leader, collaborator and sideman. Yet, none of these collaborations had the specific gravity of Bang´s long march with Lowe; his death arguably shaped Bang´s last years, but so too did his membership in the cooperative FAB Trio with bassist Joe Fonda and drummer Barry Altschul (for a more extensive discussion about the FAB Trio, consult the notes to their 2005 TUM CD, History of Jazz in Reverse). Bang overhauled his quintet; never hiring another saxophonist, he chose brass players like trumpeter James Zollar, who played on the 2005 TUM CD, Prayer for Peace, and trombonist Dick Griffin, who plays on Da Bang!.
One should assume that "last dates" are not conceived as such although the increasingly ill Bang may well have had a premonition in this case. Still, given Bang´s compositional output, the album´s preponderance of jazz warhorses and lesser known pieces by Altschul, Cherry and Coleman suggests that Da Bang! was not intended as a culminating statement, but rather as a snapshot of the music that he loved with his working band.
However, "Daydreams" has a special resonance in terms of legacy, and not simply because it is the only Bang composition included in the program. While it bears no overt resemblance to "Day-Dream," the classic Ellington-Strayhorn ballad, Bang also effortlessly combines balmy and pensive phrases to create a tune that lingers with the listener, making it, if unintentionally, well suited to leave a last impression of Bang.
Yet, there´s another part of the story. The piece previously appeared on the 1997 solo concert album Commandment (for the sculpture of Alain Kirili) (No More). Introducing the solo performance, Bang mentions that the piece had been commissioned to be rescored by and for "an official accredited classical string quartet" in Germany, with Bang as soloist. "I´m trying to walk the lanes of Paganini," he continued. "I really am. I love Stuff Smith; he´s my #1 man. I can´t play like that. Can´t play like Paganini, either; but I like the direction." However, the string quintet project seems to have disappeared into the fog of forgotten history; musicians, producers and journalists close to the violinist don´t know the name of the commissioning string quartet, or what became of the project.
The version included on Da Bang! has an intriguing shape; with Griffin and Taylor-Baker laying out altogether, the performance is built on three unaccompanied solos: Bemkey contributes a serene prelude; after the first statement of the theme, Hill´s solo emphasizes economy of line and his plummy tone. Bang follows with a solo that initially has a European tinge in its dramatic build-up; yet, as his solo gathers steam, Bang´s fiddler´s instincts kick in, and he soon saws gloriously. Bang may have started down Paganini´s lanes; but, by the time he cues the closing ensemble, he had arrived at Stuff Smith´s house.
April 2013
Bill Shoemaker

---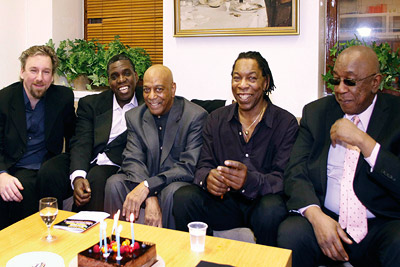 Da bang!
I first met Billy Bang in New York during the mid-1980s. Having already admired Billy´s playing on his first solo live recording and his early albums with the String Trio of New York, Billy was certainly one of the many musicians whom I really wanted to hear live after moving to New York in 1983. As it happened, I ended up studying with, and then working at the same firm as, a good friend of Billy´s, who offered to take us to hear him at Neither/Nor, a long-gone club in Manhattan´s Lower East Side. This probably happened during the winter or spring of 1985.
Billy was playing, if memory serves, with Jemeel Moondoc. After the music ended, Billy and I chatted and began a friendship that lasted until he passed away. Whenever we met, we mostly talked about music, our mutual favorites like Don Cherry, Ornette Coleman, Sun Ra, Stuff Smith, Michael White, members of the Revolutionary Ensemble and many others. It always struck me that, despite being one of the masters of the music himself, Billy was also very much a fan, still full of admiration for the musicians who had gotten him started on his own search for the unique sound that he had created on the violin. Always ready to swap stories or amusing anecdotes.
After I returned to Finland in the early 1990s and Billy moved to Berlin a bit later, we lost touch and next ran into each other at the Tampere Jazz Happening in 2003, where Billy was performing with his quintet (Roy Campbell, Jr., Oscar Sanders, William Parker and Zen Matsuura were with him then). In passing, I told Billy that, due to various coincidences, I had just started a record label, TUM, and expressed my interest in doing something with him for the label. We then agreed to get together in New York when I was next there. That next time happened to coincide with Billy´s performance as a member of Ahmed Abdullah´s Ebonic Tones at Up Over Jazz Café in Brooklyn and eventually led to Tara´s Song by that group(TUM CD 009), something that Billy would never let me forget, always reminding me (in good humor) how I had come to meet him at the performance and "ended up hiring Ahmed instead." Anyway, TUM did do a number of recordings with Billy as well, both with the Billy Bang Group (Da Bang! and Prayer For Peace, TUM CD 018) and with the FAB Trio (History Of Jazz In Reverse,TUM CD 028) as well as a yet-to-be-released double-trio recording combining the Juhani Aaltonen Trio with the FAB Trio.
Although the FAB Trio had performed at the more-or-less annual TUMfest in Helsinki in 2007, the Billy Bang Group never had, although the possibility had been discussed. Once again, after his performance at the Vision Festival in June 2010 (a moving tribute to the late bassist Sirone that also featured Bang´s old bandmate in The Survival Ensemble in the late 1970s, saxophonist Henry Warner, as well as Dick Griffin, Andrew Bemkey, Hilliard Greene and Newman Taylor-Baker), Billy and I talked about the possibility of the group coming to Helsinki for TUMfest in February 2011 and also doing a recording in connection with it. Billy was excited about the idea as he wanted to get back to performing. His lung cancer had been stabilized and he was feeling much better than he had a few months earlier.
During the balance of the year, we then stayed in touch and confirmed the plans for the trip. Because of Billy´s condition, we agreed that the group would come to Helsinki early so as to get some rest after the flight and then prepare for the recording and the festival performance at their own pace. Immediately after they arrived, Billy pulled me aside and told me that his illness had taken a turn for the worse, but that he had not wanted to tell me earlier since he really wanted to come and was concerned that I would cancel the trip if I knew. His doctors had apparently expressed reservations about the trip, but had, in the end, given the green light. So, during the coming days, we made the best we could of the situation, keeping the days short and allowing Billy the maximum amount of rest. Still, throughout the week, the atmosphere was positive and the spirits were high.
For these sessions, Billy had chosen music by some of the people he admired and that he particularly enjoyed playing. He talked about the healing power of this music and how, for example, "All Blues" by Miles Davis and "St. Thomas" by Sonny Rollins were among the compositions that he sometimes performed in hospitals or similar community events because of this particular quality he felt in the music. He also talked about giving back through his music to some of the people who had inspired and supported him.
The rehearsals and the two days of recording were followed by a performance by the Billy Bang Group at TUMfest11 that Billy closed with his rendition of "St. Thomas." He did so with his usual final flourish, which was caught in a photograph that can be seen in the beginning of this booklet. Sadly, that was also the last note Billy ever played in public. Soon after returning to New York, Billy was re-admitted to the hospital where he was being treated for his cancer and there it was discovered that the cancer had spread to his liver. In April 2011, Billy passed away.
After the performance at TUMfest11, Billy was badly out of breath and coughing up a storm. Only half jokingly, I reprimanded him for grooving and dancing so much on stage given his condition. Billy´s response was that there was no other way. That was Billy, always giving his everything to the music. He is sorely missed but also always remembered by those who came into contact with him and his music.
The poems featured in this booklet were all recited by their authors, among others, at a memorial event organized for Billy at St. Peter´s Church in New York City on September 19, 2011, just a day before what would have been his 64th Birthday. In addition to poetry, the event featured wonderful music performed by many of the musicians Billy had played with over the years as well as visual presentations of Billy´s journey. In closing, I wish to thank all the poets for their kind permission to include the poems here as they so beautifully demonstrate how important Billy was to the community of creative musicians, artists and writers in New York and, indeed, around the world.
Helsinki, April 10, 2013
Petri Haussila