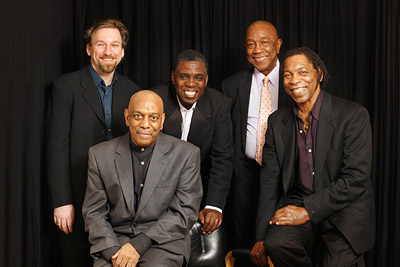 Billy Bang (1947-2011) was born William Vincent Walker in Mobile, Alabama. As an infant, Bang moved with his mother to New York City, where they initially settled in Harlem before moving to the Bronx when he was 13 years of age. As a young child in the 1950s, Bang heard the music of the Puerto Rican and Afro-Cuban communities of Spanish Harlem, and soon began playing percussion, sometimes riding the subway with his friends playing the bongos and dancing for spare change. In junior high school, Bang took up the violin and performed as part of the school band. He later attended Stockbridge, a Massachusetts prep school, under a full scholarship. There, he met and began playing with a fellow-student, folk-singer Arlo Guthrie. While back at home during his first summer vacation from Stockbridge, a friend nicknamed him Billy Bang after a Bronx-based TV personality. Despite his initial protests, the name stuck. After two years at Stockbridge, Bang returned to the Bronx, where he attended a public high school. After high school, Bang was drafted into the army and sent to Vietnam, an experience that profoundly affected his life.
Returning home and radicalized, Billy became active in the anti-war movement, and by the late 1960s, decided to pursue a professional career in music. He returned to the violin as his principal means of expression in the early 1970s, having been impressed by the violin playing of Ornette Coleman and Leroy Jenkins and inspired by the liberating energy of the still strong free-jazz movement. Attending Queens College in New York, and studying privately with Leroy Jenkins, Bang became a key member of New York´s dynamic "loft-jazz" scene of the 1970s.
During the mid- to late-1970s, Bang worked in various groups with a circle of his closest contemporaries in New York´s East Village that included particularly saxophonist Frank Lowe (1943-2003), trumpeter Lawrence "Butch" Morris (1947-2013) and bassist William Parker, who would be among Bang´s most important collaborators during virtually his entire career. Others included more established musicians like drummer Denis Charles (1933-1998), saxophonist Charles Tyler (1941-1992) and even the legendary saxophonist Sam Rivers (1923-2011), one of the central figures of the "loft-jazz" movement of the 1970s, among many others.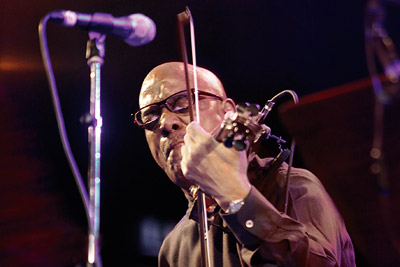 Bang´s first published recording, an extended composition named "Rattler And Bells And The Light Of the Sun," took place in 1974 with a group organized by bassist William Parker (also trumpeter Arthur Williams, saxophonists Charles Brackeen and Jemeel Moondoc, clarinetist Henry Warner and percussionist Roger Baird) and is now available in a collection of William Parker´s early recordings (Through Acceptance Of The Mystery Peace: The Music Of William Parker). In 1974 and 1975, Bang recorded with The Music Ensemble, including trumpeter Malik Baraka, saxophonist Daniel Carter, bassist Herb Kahn or William Parker and Roger Baird (The Music Ensemble). Members of The Music Ensemble also participated in a 1975 recording with Earl Freeman´s 30-member Universal Jazz Symphonette (Soundcraft '75).
Bang´s projects with Frank Lowe also began during this period, including The Frank Lowe Orchestra, with Lawrence "Butch" Morris, Art Williams, Joseph Bowie, Peter Kuhn, John Zorn, Eugene Chadbourne, Polly Bradfield, John Lindberg and Phillip Wilson (Lower & Behold in 1977). In 1979, Bang featured Lowe on his second album as a leader and, a bit later, they co-founded The Jazz Doctors with bassist Donald Rafael Garrett and Denis Charles (Intensive Care in 1983).
In 1978, Bang recorded as a leader for the first time for Anima Records, with The Survival Ensemble including saxophonists Bilal Abdur Rahman and Henry Warner, William Parker and percussionists Rashid Bakr and Kwuwana John Fuller (New York Collage), although an earlier live recording by the group (with Bang, Rahman, Parker and Bakr) has now also surfaced (Black Man´s Blues in 1977). He also did a number of additional recordings for Anima, including the Earl Freeman recording mentioned above, Duo with bassist John Lindberg in 1979, Sweet Space by the Billy Bang Sextet Featuring Frank Lowe (also Lawrence "Butch" Morris, Luther Thomas, Curtis Clark, Wilber Morris and Steve McCall) in 1979, Live At Green Space with Charles Tyler in 1981 and Untitled Gift with Don Cherry, Wilber Morris and Denis Charles in 1982.
Bang began to reach an international audience with the String Trio of New York (which he co-founded in 1977 with guitarist James Emery and bassist John Lindberg), remaining with this cooperative ensemble for nine years (First String in 1979, Area Code 212 in 1980, Common Goal in 1983, Rebirth Of A Feeling in 1983 and Natural Balance in 1986). Bang´s solo concert recording (Distinction Without A Difference)from 1979 and a duo concert recording with Denis Charles (Bangception) from 1983 (both on Hat Hut) were also important in gaining him both critical acclaim and a broader audience.
Contemporaneously, Bang began recording as a leader for Soul Note with his own groups, typically ranging from a quartet to a sextet and featuring the likes of a Frank Lowe or Charles Tyler on saxophone, Ahmed Abdullah or Roy Campbell, Jr. on trumpet, Michele Rosewoman on piano, Oscar Sanders on guitar, Wilber Morris, William Parker or Sirone on bass and Denis Charles, Thurman Baker or Zen Matsuura on drums, among others (Rainbow Gladiator in 1981, Invitation in 1982, The Fire From Within in 1984, Live At Carlos I in 1986 and Valve No. 10 in 1991). During these same years, Bang continued to tour with his own groups and the String Trio of New York as well as genre-busting ensembles like drummer Ronald Shannon Jackson´s Decoding Society (Eye On You in 1980) and Bill Laswell´s Material (Memory Serves in 1981).
During the 1980s, Bang also collaborated with other leading improvisers, such as Don Cherry, Marilyn Crispell (Spirit Music in 1983 and Live In Berlin in 1984), David Murray and James 'Blood´ Ulmer, and in 1982, began a ten-year association with the incomparable Sun Ra (Hidden Fire 1 and 2 in 1988), concluding with a 1992 quartet recording, A Tribute to Stuff Smith (also John Ore and Andrew Cyrille), that was dedicated to the father of the jazz violin. He also co-founded a true modern jazz super group, The Group, with Ahmed Abdullah, Marion Brown, Sirone and Andrew Cyrille (Live in 1986) and began his involvement with various projects by composer and arranger Kip Hanrahan that lasted for nearly three decades (Coup de tête in 1980/81, A Thousand Nights And A Night in 1994-96, Beautiful Scars in 2004-2007 and Bad Mouth in 2005).
In addition, Bang began his long-standing collaboration with percussionist Kahil El´Zabar, performing with him as a duo, with the Ritual Trio (on their first recording together, consisting of El´Zabar, Bang and bassist Malachi Favors Maghostut, and later with Bang being a special guest with El´Zabar, saxophonist Ari Brown and either Favors or Yosef Ben Israel on bass) and the co-operative trio Tri-Factor, formed by El´Zabar and Bang with baritone saxophonist Hamiet Bluiett. This collaboration led to a total of seven releases, one as a duo (Spirits Entering in 2001), four with the Ritual Trio (Another Kind Of Groove in 1986, Big Cliff in 1994, Live At The River East Art Center in 2004 and Big M: A Tribute to Malachi Favors in 2004) and two by Tri-Factor (The Power in 1999 and If You Believe… in 2000). He also recorded with William Parker in The Little Huey Creative Music Orchestra (Flowers Grow In My Room in 1994) and drummer William Hooker (Joy (Within)! in 1994/95), among others.
After relocating to Berlin, where he lived from 1996 until 2000, Bang criss-crossed the Atlantic frequently, performing all over Europe and doing five tours through the South and Midwest in the United States with percussionist Abbey Rader (The Spirit Inside Us in 1998 and Echoes in 1999), three of which featured Frank Lowe. In Berlin, Bang even briefly led his own funk-oriented band, Forbidden Planet (Forbidden Planet in 1997).
In the late 1990s, Bang began his cooperation with Justin Time Records, for which he recorded Bang On (with pianist D.D. Jackson, bassist Akira Ando and drummer Ronnie Burrage) in 1997 and The Big Bang Theory (with pianist Alexis T. Pope, bassist Curtis Lundy and drummer Codaryl Moffett) in 1999.
Two subsequent recordings for Justin Time entitled Vietnam: The Aftermath (with trumpeter Ted Daniel, flutist Sonny Fortune, Frank Lowe, pianist John Hicks, Curtis Lundy, drummer Michael Carvin, percussionist Ron Brown and conductor Lawrence "Butch" Morris) from 2001 and Vietnam: Reflections (with Daniel, flutist Henry Threadgill, saxophonist James Spaulding, Hicks, Lundy, Carvin, Brown, vocalist Co Boi Nguyen, dan tranh player Nhan Thanh Ngo and Morris) from 2005 evoked and confronted the memories of his Vietnam experiences and also showcased Bang´s considerable compositional skills.
Bang also made two additional recordings with Frank Lowe, one by the Billy Bang/Frank Lowe Quartet, with bassist Ed Schuller and drummer Abbey Rader (One For Jazz in 2000), and the other a live recording by the Billy Bang Quintet Featuring Frank Lowe (also, pianist Andrew Bemkey, bassist Todd Nicholson and drummer Tatsuya Nakatani; Above and Beyond: An Evening in Grand Rapids in 2003). In 2004, Bang recorded with the Sirone Bang Ensemble also featuring saxophonist Charles Gayle and drummer Tyshawn Sorey (Configuration), and in 2005, with the Billy Bang Group,including trumpeter James Zollar, Bemkey, Nicholson and drummer Newman Taylor-Baker (Prayer for Peace, TUM CD 018).
In 2003, Bang joined forces with bassist Joe Fonda and drummer Barry Altschul to form the FAB Trio, a collective group that became one of his regular performing vehicles for the following five years and went on to tour worldwide and record five highly acclaimed albums, two in a studio (Transforming the Space in 2003 and History Of Jazz In Reverse, TUM CD 028, in 2005) and three live (Live At the Iron Works, Vancouver in 2004, Live In Amsterdam in 2008 and Live At the Sunset - A Night In Paris in 2008).
Bang also continued to collaborate with Ahmed Abdullah, with whom he had already played in the Sun Ra Arkestra and The Group in the 1980s, participating in a number of projects with Abdullah, including Ebonic Tones (Tara´s Song, TUM CD 009, in 2004) and the Diaspora (Dispersions Of The Spirit Of Ra) ensemble (Travelling The Spaceways in 2004). He also recorded again with William Parker in a trio also including drummer Hamid Drake (Scrapbook in 2002) and with Roy Campbell, Jr. (Akhenaten Suite in 2008).
Having returned to New York in 2000, Bang continued his busy schedule, touring in Europe, the United States and Japan with Tri-Factor, the Aftermath band, the Billy Bang Group, the FAB Trio, David Murray and Frank Lowe, among many others.
In 2009, Bang was diagnosed with lung cancer and passed away at his home in Harlem on April 11, 2011. Bang was convinced that the cancer was caused by his exposure to Agent Orange during the war in Vietnam.
With almost 30 albums released under his own leadership and many more by various cooperative endeavors, including five highly acclaimed albums with the String Trio of New York, five with the FAB Trio andtwo with Tri-Factor, Billy Bang was one of the undisputed leaders and also one of the more prolific members of his generation of progressive musicians focusing on improvised music. His hard-edged tone, soulful sense of traditional swing and evocatively expressive style were also featured on numerous albums by other top names in a variety of genres, from the blistering funk of Bootsy Collins and the harmolodic groove of Ronald Shannon Jackson´s Decoding Society to the intergalactic uproar of Sun Ra.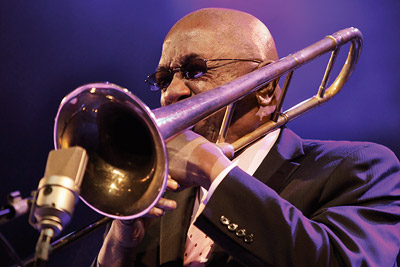 Dick Griffin (b. 1940) was born and raised in Jackson, Mississippi. He began studying the piano at the age of 11 and, two years later, upon entering high school, joined the school´s marching band where he learned to play the trombone. His professional career began as a teenager, playing the piano and trombone in clubs with classmate, drummer Freddie Waits. In 1963, Griffin graduated from Jackson State University and then received a Master´s Degree in Music Education and Trombone at the Indiana University.
In Chicago, Griffin met the legendary Sun Ra and his professional career took off. He spent several summers in the mid-1960s and then continued into the 1970s playing with Sun Ra´s Arkestra (Outer Spaceways Incorporated in 1968, What Planet Is This? in 1973 and Concert For The Comet Kohoutek in 1973; also, The Sun Ra Arkestra: A Song For The Sun in 1998). During this period, Griffin first met Rahsaan Roland Kirk. After moving to New York City in 1967, Griffin made his recording debut with Kirk on The Inflated Tear. As a member of the Vibration Society, Griffin went on to record several albums with Kirk, including Left & Right and Volunteered Slavery in 1968, Rahsaan, Rahsaan in 1970 and Prepare Thyself To Deal With A Miracle in 1973.
During the early 1970s, Griffin released his first album as a leader (The Eighth Wonder in 1974) on Strata-Eastand alsoparticipated in other Strata-East sessions (Music Inc. and Big Band by Charles Tolliver in 1970 and Capra Black by Billy Harper in 1973). He also played in Charles Mingus´ big band, spent three years in the house band of the legendary Apollo Theater in Harlem - playing for nearly all the Motown greats, from James Brown and Nancy Wilsontothe Temptations - and worked with Count Basie, Art Blakey, Duke Ellington, Ella Fitzgerald, Dizzy Gillespie, Lionel Hampton and Tito Puente, among many others.
In the 1970s and 1980s, Griffin performed with some of the best big band musicians of the time - Benny Bailey, Frank Foster, Slide Hampton and Jimmy Heath - and also recorded with Brother Jack McDuff, Esther Phillips, Leon Thomas, Charles Earland, McCoy Tyner, Johnny Dankworth, Bobby Watson, Archie Shepp, Charli Persip, Sam Rivers and Muhal Richard Abrams, among others. He also toured and recorded with Ekaya, led by South African pianist Abdullah Ibrahim (Ekaya in 1983 and Water From An Ancient Well in 1985).
Since then, Griffin has continued to perform both as a leader and with many leading names in modern jazz, including Stanley Cowell, Bill Dixon, Charles Gayle, Doug Hammond, William Parker and Hilton Ruiz, among many others. He has also played with symphony orchestras and performed in several Broadway shows. During the past few years, Griffin has increasingly performed with his own groups, including the Dick Griffin Organ Ensemble.
Griffin´s recordings as a leader also include A Dream For Rahsaan in 1985, Now Is The Time in 1997, All Blues in 1999 and Time Will Tell in 2010.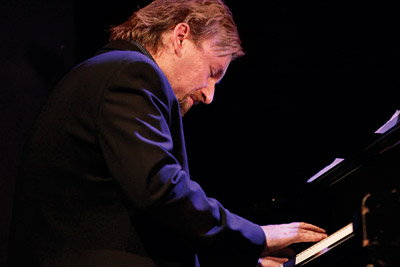 Andrew Bemkey (b. 1974) grew up in Elkhart, Indiana, and began playing piano as a small child. After high school, he moved to New York City and was soon playing in groups led by his mentor, bassist Reggie Workman, and leading his own group, KinShip, which was a regular presence in the clubs of Manhattan´s Lower East Side in the 1990s. His work with Workman led to collaborations with Rashied Ali, Andrew Cyrille and Frank Lowe. It was Lowe who introduced Bemkey to Billy Bang in 2003, and soon after, he was touring and recording with the Billy Bang Group (Above and Beyond in 2003 and Prayer For Peace in 2005), and continued to perform with Bang until the recording of Da Bang! in February 2011.
Through his extensive work and recording with saxophonist Ori Kaplan, Bemkey met trumpeter Roy Campbell, Jr., who asked Bemkey to join his group, TAZZ, and thus began a three-year stint at Harlem´s legendary Lenox Lounge. Since then, Campbell and Bemkey developed a deep musical association spanning many bands and heard the world over.
In addition to the piano, Bemkey also plays the clarinet, bass clarinet, acoustic guitar and various percussion instruments, often performing outside of the traditional jazz setting, including theatre and dance projects as well as various community activities, bringing music to schools, hospitals and community centers.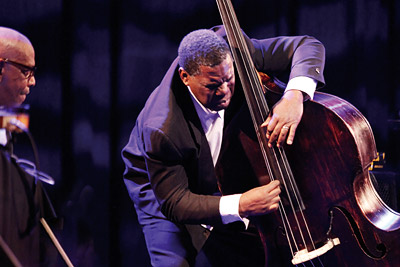 Hilliard Greene (b. 1958) studied music at the University of Northern Iowa and at Berklee College of Music in Boston. In the past three decades, Greene has performed widely in the New York City area and around the world covering a broad range of music from classical and jazz to rock, blues and even the tango.
Greene´s first recording was with the incomparable vocalist Jimmy Scott (Doesn´t Love Mean More in 1990) and he continued to perform with Scott for two decades, serving as his Musical Director from 1995 to 2011 (Heaven in 1996, Holding Back The Years in 1998 and All Of Me in 2003). Greene was also pianist Cecil Taylor´s Concert Master for his group Phtongos.
Greene leads The In&Out Band, a trio with pianist Roberta Piket and drummer Newman Taylor-Baker, that uses jazz standards as a vehicle for free improvisation, and is a co-leader of the classical crossover ensemble ZigZag Quartet with guitarist Francisco Roldan, pianist Alexander Wu and percussionist Danny Mallon(ZigZag Quartet in 2010). He also leads The Jazz Expressions that started as the touring band for Jimmy Scottin 1986(The Jazz Expressions in 1999, Yoyogi in 2000 and On The Road in 2004) and has released a solo bass recording (Alone in 2003).
Greene has performed with virtually all the modern jazz musicians active on the New York scene and has recorded with Charles Gayle (Repent in 1992, Live At Disobey in 1994, Consider the Lilies… in 2006 and Forgiveness in 2007), Leroy Jenkins (Live! in 1992), Jack Walrath (Hipgnosis in 1995 and Invasion Of The Booty Shakers in 2002), Dave Douglas (Sanctuary in 1996), Pheeroan akLaff (Global Mantras in 1997), John Esposito (A Book Of Five Rings in 1997), Exuberance (The Other Shore in 2002 and Live At Vision Festival in 2003), Kevin Norton (The Dream Catcher in 2003), the Ullman/Swell 4-tet (Desert Songs and Other Landscapes in 2004 and Live In Montreal in 2008), Patrick Brennan (Rapt Circle in 2002 and The Drum Is Honor Enough in 2004), the Bobby Few & Avram Fefer Quartet (Sanctuary in 2005), Steve Swell (News From the Mystic Auricle in 2007), Roy Campbell, Jr. (Akhenaten Suite in 2007) and Queen Esther (What Is Love? in 2010).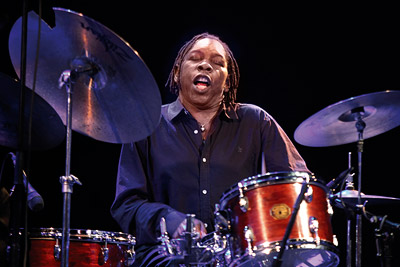 Newman Taylor-Baker (b. 1943) grew up on the campus of the Virginia State University, where his mother taught English Literature and his father was Head of the Department of Chemistry. Taylor-Baker began playing the drums as a small child and was turned onto jazz by his older brother when still less than five years of age. His education includes a Master´s degree in Music Education from East Carolina University and a Bachelor´s degree in Music Education from Virginia State University.
Taylor-Baker may be best known for his long association with saxophonist Billy Harper (Jazz Jamboree ´80 in 1980, Destiny Is Yours in 1989 and Live On Tour In The Far East Vol. 1 and Vol. 2 in 1991), but has also performed and/or recorded with Billy Bang (Prayer For Peace in 2005), Kenny Barron, John Blake, Cecil Bridgewater, Stanley Cowell, Albert Dailey, Lou Donaldson, Gerry Eastman (My Real Self in 1986, Songbook in 1995, Lovecentric in 2000 and Brown Skin Gal in 2008), Kevin Eubanks, Henry Grimes, Eddie Henderson, Joe Henderson, Fred Hopkins and Diedre Murray (Prophecy in 1990 and Stringology in 1993), Abdullah Ibrahim, Ahmad Jamal, Leroy Jenkins, Zusan Kali Fasteau (Prophecy in 1987), Jeanne Lee (Natural Affinities in 1992), Frank London (Scientist At Work in 2002), Jymie Merritt, James Moody, Bern Nix (Alarms And Excursions in 1993), Benny Powell, Sam Rivers, Janice Robinson (Rosebrass in 2007), Charlie Rouse, Judi Silvano (Let Yourself Go in 2003), Monnette Sudler (Time For A Change in 1976, Brighter Days For You in 1977 and Live In Europe in 1978), Henry Threadgill (Rag, Bush & All in 1988), McCoy Tyner, Reggie Workman and Bobby Zankel (Human Flowers in 1995), among many others.
In addition, Taylor-Baker has performed with a number of theatre productions and is noted for his solo drum set project,
Singin´ Drums
, releasing its debut recording,
Drum-Suite-Life
, on Innova in 2010. Taylor-Baker´s two decades of association with
Mickey D. & Friends Dance Company
as a musical director and
Avodah Dance Ensemble
as composer-in-residence have fostered his career as a teaching artist, including over 30 years of teaching for various schools and arts organizations, such as Rutgers University, Widener University, Friends of the Arts and Young Audiences.