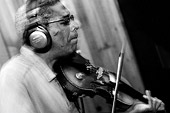 Billy Bang (b. 1947) was born in Mobile, Alabama. As an infant, he moved with his mother to New York City, where they settled in Harlem. As a young child in the 1950s, Bang heard the music of the Puerto Rican and Afro-Cuban communities of Spanish Harlem, and soon began playing percussion. In junior high school, he took up the violin and performed as part of the school band. He later attended Stockbridge, a Massachusetts prep school, under a full scholarship. There he met and began playing with a fellow-student, folk-singer Arlo Guthrie. While back at home during his first summer vacation from Stockbridge, a friend nicknamed him Billy Bang after a Bronx-based TV personality. Despite his initial protests, the name stuck. After two years at Stockbridge, Bang returned to the Bronx, where he attended a public high school. After high school, Bang was drafted into the army and sent to Vietnam, an experience that profoundly affected his life.

Returning home and radicalized, Billy became active in the anti-war movement, and by the late 1960s, decided to pursue a professional career in music. He returned to the violin as his principal means of expression in the early 1970s, having been impressed by the violin playing of Ornette Coleman and Leroy Jenkins and inspired by the liberating energy of the still strong free-jazz movement. Attending Queens College in New York, and studying privately with Leroy Jenkins, Bang became a key member of New York´s dynamic "loft-jazz" scene of the 1970s.
In addition to forming his own group, The Survival Ensemble, Bang also worked with many other musicians, including his contemporaries like Frank Lowe, David Murray and William Parker, as well as the legendary Sam Rivers, one of the central figures of the "loft-jazz" movement. Bang began to reach an international audience in 1977 with the String Trio of New York (which he co-founded with guitarist James Emery and bassist John Lindberg), remaining with the cooperative ensemble for nine years. Bang´s solo concert recording Distinction Without a Difference (Hat Hut) from 1979 was also important in gaining him both critical acclaim and a broader audience.
During these same years, Bang continued to tour and record with his own groups, as well as genre-busting ensembles like The Decoding Society and Bill Laswell´s Material (alongside guitar giant Sonny Sharrock). Bang even briefly led his own funk-oriented band, Forbidden Planet.
During the 1980s, Bang continued to work and collaborate with other leading improvisers, such as Don Cherry, Marilyn Crispell, David Murray and James 'Blood´ Ulmer, and in 1982, began a ten-year association with the incomparable Sun Ra, concluding with a 1992 quartet recording A Tribute to Stuff Smith (Soul Note) that was dedicated to the father of the jazz violin.
In 1990, Bang became a member of the Solomonic Quartet with trumpeter Ahmed Abdullah. More recently, Bang has also collaborated with Abdullah in various other projects, including the latter´s Ebonic Tones group (Tara´s Song, TUM CD 009) and Diaspora ensemble.
After relocating to Berlin, where he lived from 1996 until 2000, Bang criss-crossed the Atlantic frequently, performing all over Europe and doing five tours through the South and Midwest in the United States with percussionist Abbey Rader, three of which featured Frank Lowe. Bang also began a regular working relationship with percussionist Kahil El´Zabar, performing with him both as a duo and sometimes as a trio with Malachi Favors Maghostut on bass.
In the late 1990s, Bang began his cooperation with Canada´s Justin Time Records, for which he recorded Bang On in 1997 and The Big Bang Theory in 1999. His subsequent recordings entitled Vietnam: The Aftermath from 2001 and Vietnam: Reflections from 2005 evoked and confronted the memories of his Vietnam experiences and also showcased his considerable compositional skills. Bang also issued a live recording featuring Frank Lowe (Above and Beyond: An Evening in Grand Rapids) in 2007. Having returned to New York in 2000, Bang has continued his busy schedule, touring in Europe, the United States and Japan with the likes of Bluiett, Kahil El´Zabar, David Murray, Sonicphonics, his own Aftermath band, the FAB Trio (with Joe Fonda and Barry Altschul) and the late Frank Lowe, among many others.
With some 20 albums released under his own leadership and many more by various cooperative endeavors, including five highly acclaimed albums with the String Trio of New York, Billy Bang is one of the undisputed leaders and also one of the more prolific members of his generation of progressive musicians focusing on improvised music. His hard-edged tone, soulful sense of traditional swing and evocatively expressive style have also been featured on numerous albums by other top names in a variety of genres, from the blistering funk of Bootsy Collins and the harmolodic groove of Ronald Shannon Jackson´s Decoding Society to the intergalactic uproar of Sun Ra.
James Zollar (b. 1959) began his musical career at the age of nine playing the bugle in his hometown, Kansas City, Missouri. At 12, he graduated to the trumpet whereby he began to discover his musical voice and focus. After high school, Zollar studied at the San Diego City College and then at the University of California at San Diego. During this time,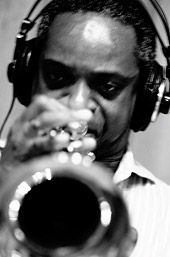 he honed his chops with various funk and jazz bands and led his own straight-ahead jazz quintet. For a period, Zollar also lived in the San Francisco Bay Area and studied improvisation with the late, great jazz trumpeter Woody Shaw. In 1984, Zollar moved to New York City, playing with the Cecil McBee Quintet for five years and recording with the likes of Tom Harrell, Weldon Erving and Sam Rivers. Zollar was featured as a member of the house band in Robert Altman´s motion picture Kansas City, in addition to other movie and video credits. Zollar has also been a featured soloist with Jon Faddis and The Carnegie Hall Jazz Orchestra as well as with Wynton Marsalis and The Lincoln Center Jazz Orchestra. Today, Zollar is in demand both as a big band player, performing with The Duke Ellington Orchestra and The Count Basie Orchestra, and as a member of smaller, more adventurous groups, including his work with Don Byron and the Marty Ehrlich Sextet. Throughout his career, Zollar has also worked with many Latin-jazz masters, including Mongo Santamaria, Eddie Palmieri and Hilton Ruiz. Zollar issued the first recording under his name, Soaring with Bird (Naxos Jazz), in 1997 and his latest, Zollar System (JZAZ Records), in 2010.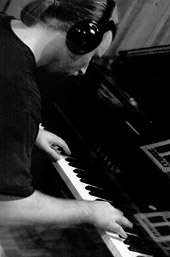 Andrew Bemkey (b. 1974) grew up in Elkhart, Indiana, and began playing piano as a small child. After high school, he came to New York City and was soon playing in groups led by his mentor, Reggie Workman, and leading his own group, KinShip, which was a regular presence in the clubs of Manhattan´s Lower East Side in the 1990s. His work with Workman led to collaborations with Rashied Ali, Andrew Cyrille and Frank Lowe. It was Lowe who introduced Bemkey to Billy Bang in 2003, and, soon after, he was touring and recording (Above and Beyond)with the Billy Bang Quintet, featuring Frank Lowe, and has continued to perform with Bang to this day. Through his extensive work and recording with Ori Kaplan, Bemkey met Roy Campbell, Jr., who asked Bemkey to join his group, TAZZ, and thus began a three-year stint at Harlem´s legendary Lenox Lounge. Since then, Campbell and Bemkey have developed a deep musical association spanning many bands and heard the world over. In addition to the piano, Bemkey also plays the clarinet, bass clarinet, acoustic guitar and various percussion instruments, often performing outside of the traditional jazz setting, including theatre and dance projects as well as various community activities, bringing music to schools, hospitals and community centers.
Todd Nicholson (b. 1972) is a native of the San Francisco Bay Area. At the encouragement of his father, a classical piano hobbyist and composer, he began a lifelong association with music. Nicholson studied the piano and played the tuba in a school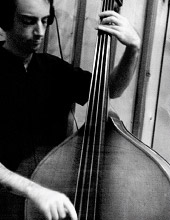 band and, as a true child of the 1980s, also played the guitar in heavy metal bands throughout his teenage years. It was as a freshman in high school that Nicholson first heard the music of John Coltrane. Like for so many before him, the experience changed his life. After completing a degree in Psychology at the University of Oregon, he relocated to New York City to pursue a musical career. It was through his association with William Parker that Nicholson first met Billy Bang. In the past decade or so, Nicholson has performed, collaborated and recorded with a host of great jazz musicians, composers and dancers in a variety of settings around the world. In addition to William Parker and Billy Bang, these have included musicians Peter Brötzmann, Roy Campbell, Eddie Gale, Frank Lowe, Tatsuya Nakatani, Alan Silva and James Spaulding as well as dancers Carmen deLavallade, Gus Solomons Jr. and Miriam Parker. Nicholson also leads his own group, the Otic Ensemble, which performs his original work, and has appeared on recordings by William Parker, the Gauci Trio and Billy Bang (Above and Beyond). He currently lives in Tokyo, Japan, and is active in the jazz and improvised scenes there, having performed with a host of Japanese and ex-pat musicians, including Michiyo Yagi, Akira Sakata, James Mahone, Keisuke Ohta, Tamaya Honda, Satoko Fujii, and Shoji Hano.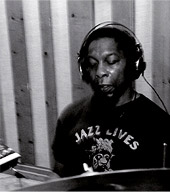 Newman Taylor-Baker (b. 1943) grew up on the campus of the Virginia State University, where his mother taught English Literature and his father was Head of the Department of Chemistry. Taylor-Baker began playing the drums as a small child and was turned onto jazz by his older brother when still less then five years of age. His education includes a Master´s degree in Music Education from East Carolina University and a Bachelor´s degree in Music Education from Virginia State University. Taylor-Baker may be best known for his long association with Billy Harper but has also been a member of the groups of many other renowned performers, including Billy Bang, Henry Grimes, Abdullah Ibrahim, Leroy Jenkins, Jeanne Lee, Sam Rivers, Charlie Rouse, Henry Threadgill and Reggie Workman, and has performed with many others, including Kenny Barron, John Blake, Cecil Bridgewater, Stanley Cowell, Albert Dailey, Lou Donaldson, Kevin Eubanks, Eddie Henderson, Joe Henderson, Ahmad Jamal, Jymie Merritt, James Moody, Benny Powell and McCoy Tyner. In addition, Taylor-Baker has performed with a number of theatre productions and is noted for his solo drum set project, Singin´ Drums, which is releasing its debut recording, Drum-Suite-Life, on Innova Recordings later in 2010. Taylor-Baker´s two decades of association with Mickey D. & Friends Dance Company as a musical director and Avodah Dance Ensemble as composer-in-residence have fostered his career as a teaching artist, including over 30 years of teaching for various schools and arts organizations, such as Rutgers University in Newark, New Jersey; Widener University in Chester, Pennsylvania; Friends of the Arts on Long Island, New York; and Young Audiences in New York, New York.
Milton Cardona (b. 1944) has a diverse discography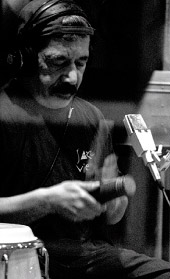 that is quickly approaching a thousand recordings spanning several decades and highlighted by albums with performers as diverse as David Byrne, Cachao, Johnny Colon, Willie Colon, Celia Cruz, Kip Hanrahan, Larry Harlow, J.J. Johnson, Eddie Palmieri, Marlena Shaw, Steve Turre, and the Arab-tinged jazz ensemble of Rabih Abou-Khalil. Cardona has also been much in demand for various soundtrack recordings and theatre productions as one of the first-call Latin-jazz and salsa percussionists in New York City. Cardona studied violin for seven childhood years, then played bass professionally until the street jams of New York City lured him to percussion. The music of Mongo Santamaria was a strong influence on Cardona´s playing and he is also a master of the sacred West African bata rhythms and vocal chants that form the spiritual foundation of Afro-Cuban music. Cardona has released two highly acclaimed recordings under his own name, Bembé in 1985 and Cambucha (Carmen) in 1999.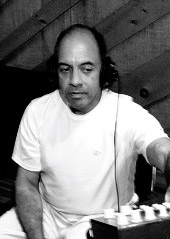 Joe Gonzalez (b. 1953) is one of the most sought after bongoceros around New York City today. He began playing percussion at the age of eight and made his first recordings as a teenager. Since then, he has performed with such masters as Celia Cruz, Dizzy Gillespie, Graciela, Quincy Jones, Chico O´Farrill, Charlie Palmieri, Daniel Ponce, Tito Puente, Paquito D´Rivera, Max Roach, Hilton Ruiz, Arturo Sandoval and Carlos "Patato" Valdes. He has also toured Europe and the United States extensively with the Mario Bauza Orchestra, with which he recorded four albums. More recently, Mr. Gonzalez has been featured both on record and in live performances with the Chico O´Farrill Afro-Cuban Jazz Orchestra, The Lincoln Center Jazz Orchestra, The Carnegie Hall Jazz Orchestra, the Conga Kings and the conjunto style bands of Chico Alvarez, Papo Pepin and Armando Sanchez.