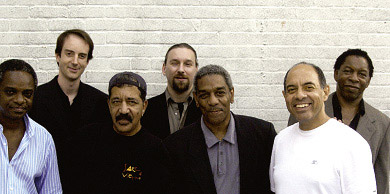 THE MUSIC
Only Time Will Tell (Stuff Smith) is Billy Bang´s dedication to its composer, Stuff Smith. A version of this composition was already included on the 1992 recording that Billy Bang made with Sun Ra on piano and synthesizers, John Ore on bass and Andrew Cyrille on drums, A Tribute To Stuff Smith (Soul Note). It has since become a part of Bang´s repertoire undergoing constant change and further development. Stuff Smith and his playing have been the subject of a life-long study for Bang who feels that Smith was a forerunner in introducing the true spirit, swing and rawness of jazz into his playing of the violin, an instrument rarely used in jazz before his time. Just like Bang studied three saxophonists important to him, Eric Dolphy, Jackie McLean and John Coltrane, in developing his own playing style, Stuff Smith studied the trumpet playing of Louis Armstrong and emulated Armstrong´s phraseology in developing his bowing technique.

At Play in the Fields of the Lord (Billy Bang) derives its title from the 1991 movie directed by Hector Babenco. The movie, in turn, was an adaptation of the 1969 novel with the same name by Peter Matthiessen, which describes the trials of an American missionary family with the Niaruna tribe in the Brazilian Amazon river basin. Although Bang´s composition predated his familiarity with the movie and the novel, he felt that the composition perfectly reflected the feeling and the rhythm of the movie.

Dance of the Manakin (Billy Bang) was created with this particular recording in mind. The title refers to manakins, which are a family of bird species in the subtropical and tropical mainland of Central and South America. In order to attract the females, these jungle-dwelling birds use their wings in a dance that produces remarkable rhythmic buzzes and hums, which are said to resemble the sound of the violin. Bang was inspired to write the composition after reading an article about the manakins given to him by Maria Avias.

Prayer for Peace (Billy Bang) was also composed shortly before this recording. The first fully-realized performance of the composition was in New York City in connection with a Peace Day organized in remembrance of the bombing of Hiroshima. That particular performance was also the first time that trumpeter James Zollar was featured with the Billy Bang Group. Previously, Bang had attended and also performed in Japan at the 50th Anniversary of the Hiroshima bombing, an event that made a strong impression on Bang and strengthened further his anti-war resolve.

Chan Chan (Compay Segundo) has become known to the broader audiences as the first song to be heard on Buena Vista Social Club, the hugely popular documentary film and album that introduced international audiences to the traditional forms of Cuban music and some of its performers. Its composer, Compay Segundo, has said that Chan Chan came to him in a dream. He has recalled how, one day, he woke up listening to the four central notes of the song and then combined them with a lyric inspired by a children´s tale from his childhood, thereby creating what can be called a modern folk song. Chan Chan was composed in 1987 and was one of Segundo´s last compositions. Billy Bang says that, in addition to his general love for salsa music that goes back to his childhood in Spanish Harlem, he has long been drawn to this particular piece, which leaves a lot of space for creativity. Bang is particularly fond of the composition´s slowness and its down-to-earth character, which remind him of montuno where you might play a particular piece for an hour or even more with each different soloist taking turns on the composition that has no particular beginning or end to it, but rather moves in an eternal circle.

Dark Silhouette (Billy Bang) was originally titled "Black Herman," in reference to the most prominent African-American magician (Benjamin Rucker, 1892-1934) performing during the early part of the 20th century. However, due to an Edward Wilkerson composition by the same name, Bang renamed his composition as "Dark Silhouette". The title captures his concept of illusions and shadows, the lightness of the darkness, that the composition is intended to reflect.

Jupiter´s Future (Billy Bang) is a dedication to the late Sun Ra, the one-time employer and mentor of Billy Bang. The composition was originally created by Bang as a part of a larger Sun Ra project but has since become a part of his standard repertoire. Bang also feels that, in addition to being a dedication to Sun Ra, the composition acknowledges the passing of a tradition from Stuff Smith to Sun Ra, who used to play with Smith, and onwards from Sun Ra to Bang. Bang says that he is particularly fond of this composition because it easily lends itself to various interpretations and also leaves room for different unaccompanied solos thereby changing from performance to performance.