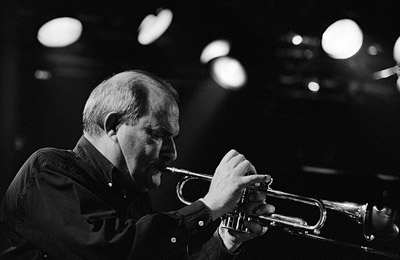 Although Henrik Otto Donner is an eloquent gentleman, he is above all a man of deeds rather than words. He is not one to sit around and complain that nothing ever happens; rather, he makes things happen. Nor is he one to use a lack of funds, let alone public or private hand-outs, as an excuse for not doing anything. He finds the money or, if need be, steps up himself. Just to give a few examples:

• When Donner felt that his teachers of classical composition at the Sibelius Academy in Helsinki were not up to the task of helping him expand his horizons beyond the obvious, he moved to Continental Europe to study under György Ligeti in Vienna, among others.
• When the Finnish jazz scene needed to move into the modern age, Donner was there with his friend, drummer Christian Schwindt, to establish a new quintet that recorded perhaps the first truly modern Finnish jazz album (For Friends and Relatives, RCA) in 1965. He continued to take the music even further with The Otto Donner Treatment, which followed soon after.

• When cross-cultural "happenings" were taking place in the United States and elsewhere and needed to be introduced onto the local scene, Donner took up the task, working with like-minded visual artists as well as theater people and filmmakers, to dust off the stale cultural atmosphere in Finland.

• When the Finnish new wave cinema of the late 1960s and the early 1970s needed a musical voice to complement the young filmmakers, Donner was there to both write original scores and arrange music composed by his compatriots, helping to create a new sound that is still strongly identified with the films of the period.

• When Finland needed a new record label that would be willing and able to support not only the emerging Finnish rock scene, but also the music of the political song movement, the best of Finnish modern jazz and the avant-garde sounds of young classical composers, Donner, together with his friends Christian Schwindt and Atte Blom, founded Love Records, which became a central cultural force of the late 1960s and the 1970s in Finland.

• When Finnish public radio needed to react to the ever stronger youth culture of the 1960s by expanding upon its traditional programming mix of classical music, religious music and Finnish tango, Donner was called to take the lead as the head of Finnish Radio´s entertainment division.

And that covers only the first ten or so years after Donner moved away from the city of Tampere, in the industrial heartland of Finland, in order to study music in the capital. Ever since, Donner has tirelessly fought to support the cause of popular music and musicians, be it as one of the leaders of Love Records, as a central figure in the establishment of the Association for the Advancement of Live Music (Elävän Musiikin Yhdistys, ELMU) in the late 1970s, in various leading roles within both the Finnish and Nordic copyright organizations over the past three decades, or in any of the other ways too numerous to mention here. Typically of Donner, even after turning 70, he continues to be as active as ever.

One unfortunate consequence of Henrik Otto Donner´s broad range of activities, particularly from the early 1970s until the late 1990s, was that less was heard from him as a band leader and a musician. While Donner continued to compose prolifically, there seemed to be little time left for performing. As a result, there are few recordings or other documents of Otto Donner, the trumpet player and jazz composer, from those three decades. Therefore, the decision to establish Free For All in 1997 was particularly welcome for the many fans of Donner´s own music. For the first three years, Free For All operated with the basic line-up including Donner, saxophonist Rasmus Korsström, pianist Seppo Kantonen, guitarist Jukka Orma, bassist Ulf Krokfors, drummers Affe Forsman and Markku Ounaskari, tama player Yamar Thiam and vocalist Johanna Iivanainen (then still known by her maiden name, Johanna Niemelä), although last minute substitutions were not uncommon.

From the beginning, Free For All was well received by critics and audiences alike, but more importantly, the musicians enjoyed playing together and the music kept evolving. A tour organized with the support of the Finnish Jazz Federation in 1999 presented an opportunity to take the music to the next level by allowing the group to play a series of live performances within a short period of time. This tour was also documented on the group´s first recording (Otto Donner Free For All: Live, Beta Records), a collection that included a typical mixture of Donner´s original compositions as well as standards and a couple of compositions from the group´s other members.
The opening of a new location for the JUMO Jazz Club in Helsinki´s Five Corners area provided an opportunity to present Free For All to Helsinki audiences on a more regular basis. The JUMO Jazz Club principally served as the rehearsal and performance space for the UMO Jazz Orchestra, but it soon began presenting live music even on those evenings when the club was not reserved for UMO. Donner used this as an opportunity to organize a regular, bi-weekly performance night for Free For All, with a view towards presenting a different concert every other Monday throughout the fall of 2001, and the winter and spring of 2002. At this time, Markku Veijonsuo´s trombone and Pepa Päivinen´s baritone saxophone had already been added to the roster, following their involvement in the documentary film Tomorrow, Again (Imorgon, Igen), included on Disc 6. By the time the group started at the JUMO Jazz Club, it had assumed the basic line-up featured on Discs 1-5, with Ville Huolman having become its principal bassist and drummer Tom Nekljudow also having taken his place in the rhythm section.

In the spirit of the "happenings" of the 1960s, Donner decided to present other programming in addition to the music being featured for the group´s performances. On a typical night, there might have been a poet reciting his or her work and a political activist making a topical speech, followed by or coinciding with a visual art presentation, and other material related to the evening´s theme. The music performed by Free For All during any particular night was also built around central themes, such as evenings devoted to the music of Thelonious Monk or Finnish popular music composer Georg de Godzinsky, while other evenings focused on original compositions by members of the group, jazz standards, or Finnish popular songs. Free For All also featured guest musicians, including on separate occasions Senegalese drummers, strings, and the electronics wizard Mika Rintala (a.k.a. Verde). This basic format for the Monday nights was followed particularly throughout the fall season in 2001.

Since all the members of Free For All also had numerous other commitments, the group soon developed a routine of no rehearsals other than quick run-throughs of the evening´s material before its performance. Although this could be seen as a limitation, Donner turned this necessity into an advantage that guaranteed alertness and close interplay on the part of the musicians. This was very much in line with Donner´s philosophy for the group: avoiding unnecessary rehearsals that would interfere with the freshness of the music. In fact, Donner can be heard giving that very advice to Johanna Iivanainen and Pepa Päivinen in the film "Tomorrow, Again".

One important aspect of Free For All, made quite clear by the comments from the group´s various members included in this booklet, were the personal relationships that Donner had with each of the other musicians. Many of them, including Rasmus Korström, Seppo Kantonen and Ulf Krokfors, had already been students of Donner in their teens, and virtually all of them had received musical and/or other advice and support from Donner almost throughout their careers. This personal relationship also meant that Donner knew what they were capable of, and was able to bring out the best of them. It is hard to imagine that the music could have worked as well as it did without the closeness and the confidence shared by these musicians.
By the time the live recordings of Free For All´s performances at the JUMO Jazz Club began in early 2002 (without any concrete plan for release), the group had reached its peak. Its regular performances had enhanced the confidence level of the individual musicians and the cohesiveness of the ensemble as a whole. Many of the theme nights during the fall of 2001 had in effect served as dress rehearsals for the performances recorded during the following winter and spring. The band was clearly ready.
One thing that is likely to come as a revelation to many listeners of these recordings is Henrik Otto Donner´s trumpet playing. Even though early in his career, when he played with virtually all the top Finnish and Swedish jazz musicians of the 1960s, he was sometimes referred to as the Nordic Miles Davis, Donner is under-appreciated, or perhaps largely unknown, as a trumpet player. We are therefore lucky to have this document of him as a musician rising to the height of his powers after two or three decades of only sporadic performance opportunities. Donner may not be playing high and loud - that is not his manner in any event - but throughout these performances, his musicality and style are unfailing. Sadly, due to health problems in recent years that have made playing impossible for him, we are unlikely to ever again hear Donner´s trumpet artistry in a live setting. For that reason alone, we may consider ourselves lucky to be able to delve into the riches of this collection, and to enjoy the music of a master.
Helsinki, January 25, 2011
Petri Haussila
..........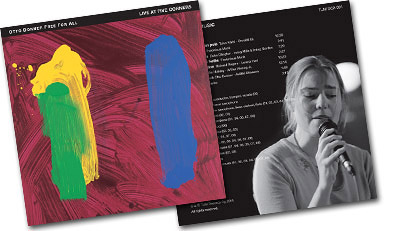 DISC 01 - VOCAL MUSIC featuring Johanna Iivanainen
Onni jonka annoin pois (Toivo Kärki - Orvokki Itä) is one of the most popular songs by the master of the Finnish tango, Toivo Kärki. It was originally published under the pseudonyms Antonio Brave (used by Toivo Kärki) and Orvokki Itä (used jointly by Kärki and another popular Finnish songwriter Reino Helismaa) and is believed to be a collaboration between Kärki (composition) and Helismaa (lyrics). A typically melancholy tale of a love long lost (the title translates as "The Happiness that I Gave Away"), it was first made popular by singer Eila Pellinen in 1958. As Toivo Kärki often made known that he considered himself a jazz composer as well, although with little evidence of this in his work, Donner decided to make a study of "Onni jonka annoin pois" as a jazz composition with this arrangement as the result.
Bemsha Swing (Thelonious Monk) is one of Thelonious Monk´s most popular compositions and is believed to have been co-written with drummer Denzil Best, another regular at Minton´s Playhouse where Monk first made his mark as the house pianist. It was first recorded by Monk on Brilliant Corners (with Sonny Rollins, Ernie Henry and Clark Terry et al.), a 1956 album that many consider one of Monk´s very finest. The song then became a regular part of Monk´s live repertoire. On this tune, just like on "Crepuscule with Nellie", the other Thelonious Monk composition on Disc 1, Johanna Iivanainen is featured as a member of the "horn section" singing in wordless vocalese.
Prelude to a Kiss (Duke Ellington - Irving Mills & Irving Gordon) was first recorded by Duke Ellington and His Orchestra, featuring Johnny Hodges, in August 1937 and only two weeks later again by Johnny Hodges and His Orchestra (including Ellington himself and other members of his orchestra), this time with lyrics by Irving Mills and Irving Gordon and with Mary McHugh as the featured vocalist. Both versions became minor hits and the popularity of the song has grown ever since having been covered by June Christy, Billy Eckstine, Ella Fitzgerald and many, many more.
Crepuscule with Nellie (Thelonious Monk) is dedicated to Thelonious Monk´s wife of more than three decades, Nellie. It was first recorded by Monk on Monk´s Music (with Coleman Hawkins, John Coltrane and Gigi Gryce et al.), another classic Monk album from 1957, and several times thereafter. Like "Bemsha Swing", it became a regular part of Monk´s live repertoire. Again, Johanna Iivanainen is featured as a member of the "horn section" singing in wordless vocalese.
My Funny Valentine (Richard Rogers - Lorenz Hart) was originally composed for "Babes in Arms", the first Broadway musical fully written by Rogers and Hart, that premiered at the Schubert Theater in 1937. The song was omitted from the subsequent movie version but was made into a chart hit by Hal McIntyre and His Orchestra, with Ruth Gaylor as the vocalist, in 1945 and has been a constant in the jazz repertoire ever since. Countless of versions of the song have been recorded over the years, with those by Judy Garland, Frank Sinatra, Miles Davis, Gerry Mulligan, Bill Evans and Chet Baker perhaps among the best known.
Don´t Explain (Billie Holiday - Arthur Herzog Jr.) was written by Billie Holiday with Arthur Herzog Jr., who also collaborated with her on another classic song, "God Bless the Child". Like with "God Bless the Child", Holiday said that "Don´t Explain" was based on her own life, an argument that had followed the suspected infidelity of her husband at the time. Holiday first recorded the song in November 1944 with a string orchestra led by Toots Camarata and again in August 1945 with the Bob Haggart Orchestra using a Camarata arrangement. The song then became one of Holiday´s signature tunes. Henrik Otto Donner has long felt a particular affinity to this song that often became his vocal and trumpet feature in Free For All concerts. A shorter version already appeared on the 1999 live recording made by the original version of the group (Otto Donner Free For All: Live), one of only two overlaps between that collection and Live at Five Corners.
Päätön tyttö (Henrik Otto Donner - Aulikki Oksanen) is one of four songs in a lied-cycle entitled "Neljä Karua Laulua" (Four Rugged Songs) that Donner composed to texts by the Finnish poet Aulikki Oksanen. These were originally composed for opera soprano Anna-Lisa Jakobson and pianist Gustav Djupsjöbacka. Here, we hear a special version arranged for Free For All by the composer himself. The song itself is a gruesome tale of crime and retribution with its title translating as "Headless Girl" or, maybe more accurately, "Mindless Girl".
Nocturne (Evert Taube) is one of the most beloved songs of Evert Taube (1890-1976), the Swedish author, artist, composer and singer.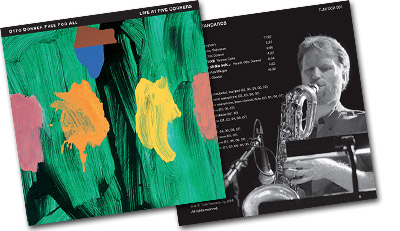 DISC 02 - PLAYS STANDARDS
Lush Life (Billy Strayhorn) had already been worked on for some time by Billy Strayhorn before he began his collaboration with Duke Ellington in 1939. It was recorded for the first time in 1948 by Strayhorn and vocalist Kay Davis in connection with one of Ellington´s Carnegie Hall Concerts but was never part of the Ellington repertoire. Soon after its initial recording, the song was taken up by other artists and early recordings included those by Harry James, Nat King Cole and Chris Connor. Chet Baker and John Coltrane also recorded their own versions. As part of the Standards Night that Free For All performed on May 6, 2002, Henrik Otto Donner asked each of the group members to pick a standard composition to perform. "Lush Life" was pianist Seppo Kantonen´s choice and was performed by a trio comprising Kantonen, bassist Tuure Koski and drummer Tom Nekljudow.
Whale Tales (Markku Veijonsuo) received its inspiration from the under-water singing of the humpback whales that its composer Markku Veijonsuo was often listening to on various nature recordings around the time of this performance. However, there was no taped music involved but rather all sounds were generated by the performers in the live situation. On this recording, composer Veijonsuo is joined by Henrik Otto Donner on trumpet.
For Pepa (Henrik Otto Donner) is a never-ending ballad composed specially as a feature for baritone saxophonist Pepa Päivinen, one of the pillars of Free For All. Päivinen delivers a memorable solo on the tune, by no means a standard in the traditional sense of the word although it fits right in with material from Free For All´s Standards Night.
Autumn in New York (Vernon Duke) was written by its composer Vernon Duke for the 1934 show "Thumps Up!". While the show was not a particular success, the song was later used by the likes of Harry James and Charlie Spivak and became popular after both Frank Sinatra and Jo Stafford recorded it in 1947. Charlie Parker also included it on his "With Strings" album and since then it has been recorded by numerous jazz musicians ranging from Billie Holiday and Ella Fitzgerald to Stan Kenton and from Bud Powell and Phineas Newborn Jr. to Sun Ra. It was included in Free For All´s Standards Night at the request of guitarist Jukka Orma who performs as the featured soloist with a trio made up of Kantonen, Koski and Nekljudow.
Och tusen tusen stråla ock… (Henrik Otto Donner) was originally composed by Henrik Otto Donner for the Strings recording in 1976 (Love Records). It was also included on the Strings Revisited recording in 2002 with Juhani Aaltonen, Reggie Workman, Andrew Cyrille and the Avanti! Chamber Orchestra (TUM CD 003). It is a ballad often included in Donner´s live repertoire, with a title that paraphrases the lyrics of a familiar Christmas song. On this recording, we hear tenor saxophonist Rasmus Korsström to a great effect as the featured soloist taking the place that belonged to tenor saxophonist Juhani Aaltonen on those earlier recordings.
Mr. Jelly Roll (Charles Mingus) was first recorded by Charles Mingus on his legendary Mingus Ah Um album (with John Handy, Booker Erwin, Jimmy Knepper et al.) in 1959. The title of the composition refers to the great creole composer and pianist Jelly Roll Morton and this version featuring trombonist Jari Hongisto approaches the classic Mingus composition in that very spirit. "Mr. Jelly Roll" was Hongisto´s choice for Free For All´s Standards Night.
Footprints (Wayne Shorter) is one of Wayne Shorter´s most famous composition, an instant favorite with modern jazz musicians after it first appeared on Miles Davis´ Miles Smiles album (with the classic quintet also including Herbie Hancock, Ron Carter and Tony Williams) in 1967. Footprints was included in Free For All´s Standards Night at the request of drummer Tom Nekljudow.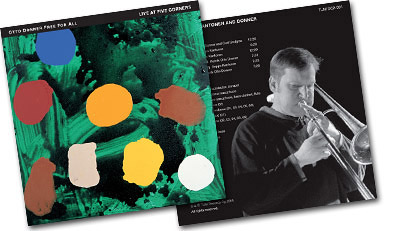 DISC 03 - PLAYS KANTONEN AND DONNER
Egad (Henrik Otto Donner and Curt Lindgren) gets its name from the strings of the double bass. Hence, Henrik Otto Donner has attributed 50 percent of the composition credit to the late Curt Lindgren, bass player with Lars Werner och hans vänner in the beginning of the 1960s, who used to call out the names of the strings in order to get his double bass tuned. Tuning the instruments is what is happening here as well, only the process leads to a regular "free for all".
Palindrome (Seppo Kantonen) includes different layers (rhythmic and horizontal) and textures that combine to form the path to improvisation.

Apparatus (Seppo Kantonen) presents a platform for improvisation - a composition that takes the group to a no-man´s-land. It has three gestures that are to be played on cue without any, or as little as possible, linkage to the previous or subsequent sections. Between cued (written) points, the composition is totally based on improvisation.
Harmonia Mundi (Henrik Otto Donner) is a typical Donner composition inasmuch as it is a "system" composition, which gives the individual players great freedom but also requires from each of them a keen ear for what his or her companions are doing. The results include some interesting harmonies ranging from the harsh fanfare-like beginning to the poignant softness of the closing chords.
Imaginary Misery (Seppo Kantonen) is a chain of harmonic situations interrupted by eight stacks of notes.

Bull´s March (Henrik Otto Donner) is another "system" composition by Donner. "Bull´s March" has sought inspiration both from the hit "Blues March" by Art Blakey and the Jazz Messengers and from the famous bull run at Pamplona in Spain. The music consists of a very simple theme of 6 bars with Canon markings for numerous voices. The players are at liberty to take solos out of context, which brings some interesting elements to the weave.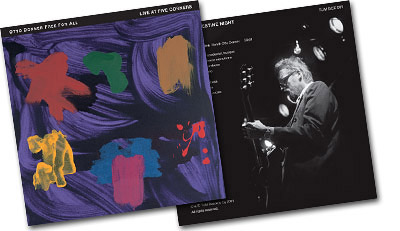 DISC 04 - THE PALESTINE NIGHT

A Lament for Palestine (Henrik Otto Donner) presents a typical reaction from Free For All! Like many of the Monday nights hosted by Free For All, the evening started with other, non-musical program laying the ground work for the group´s own performance. In this case, the program included presentations by a Palestinian refugee and a Finnish human rights lawyer as well as documentary material about the plight of the Palestinians. Fired up particularly by a description of the complex situation of the Palestinians, delivered by a man who had experienced their sufferings first hand, the band gets on stage, takes the material for the concert and transforms it into a strong statement that Donner has called "A Lament for Palestine". This unedited set, lasting 56 minutes, reflects the tragic realities of the everyday life in Palestine. On a trivial level, one can hear machine guns being fired and bombs being thrown, but the music still ends on a positive, hymn-like note speaking for atonement and peace.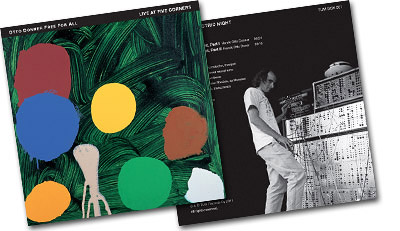 DISC 05 - THE ELECTRIC NIGHT featuring Mika Rintala
The Electric Night, Part I and Part II (Henrik Otto Donner)
Henrik Otto Donner, who in the 1960s studied electronic music extensively in Bilthoven, Holland, in Paris and later also in Munich, says that he had become so fed up with the static sound of the music produced by the machines of the time that he turned his back on electronic music and later only enjoyed electronic sounds when they were produced live on stage. However, Donner feels that, since that time, the development of different types of synthesizers has greatly overshadowed the fear for uniformity and lifelessness in the sound. Modern instruments have made a tactile approach to electronics commonplace.

The idea underlying "The Electric Night" was to bring a foreign element into the music of Free For All and to find out what happens, the "foreigner" at this time being the electronics wizard Mika "Verde" Rintala.
Part I starts out with some somber trumpet by Henrik Otto Donner himself, who after a while multiplies his own voice through some electronic gadgetry. The mood is picked up and the music livened up by Seppo Kantonen and Mika Rintala, both on electronic instruments, and then the rest of the musicians join in, resulting in a regular "free for all."
The unedited music, which gives you the whole concert (except for the omission of Markku Veijonsuo´s trombone solo at the beginning of Part II, which had to be left out because his microphone happened to be closed at the time) is only interrupted by a short intermission between Parts I and II.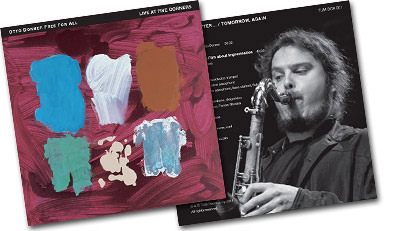 DISC 06 - EVER, AFTER… / TOMORROW, AGAIN
Ever, After… (Henrik Otto Donner) is the complete live recording of Henrik Otto Donner´s composition "Ever, After…" that resulted from the live session filmed for "Tomorrow, Again", a film that is included as a video version on Disc 6. "Ever, After…" was partly written beforehand by Donner and partly developed in discussions with the musicians (some of which discussions are heard in the film), with the whole still being controlled in performance by the strong dramaturgical sense of the composer. The full performance is included here as a separate audio track because it is never heard in its entirety in the film.

Tomorrow, Again - A Film about Improvisation
Tomorrow, Again (Imorgon, igen) is a rather self-explanatory film about improvisation in general and the preparation and execution of a live performance of the composition "Ever, After…" in particular.

The idea for making a film discussing and demonstrating the craft of improvisation arose in talks between Tomi Päiväläinen and Henrik Otto Donner already in 1999. This was before the baritone saxophone and the trombone had been added to Free For All. In the end, it all happened quite fast. Filmmakers were contacted, a production company was formed and contracts were signed within a relatively short period of time.

The band was in a good shape after touring together, the new instrumentalists and Donner´s "alter ego" Antero Priha on trumpet quickly familiarized themselves with the task in hand and the "slapping machine" was built. Everything was filmed in a day and a half. Some scenes filmed at Brunskär outside of Korppoo in the summer of 2000 were later added in the opening sequence of the film.