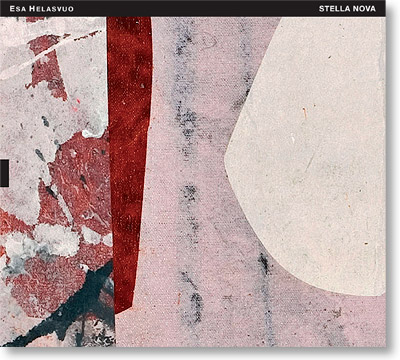 To Feel You Is To Love You 04:18 / Stella Nova 09:14 / Intimacy 08:07 / Kisumu 03:24 / Boa Noiti Meu Amor 08:43 / Improwise 04:57 / Satumaa 05:44 / Figuring Out The Sky 05:13 / Souvenir 05:11 / Blues Addiction 05:13 // Total playing time 60:04
Music sample:
033-01-To-Feel-You-Is-To-Love-You.mp3

All compositions by Esa Helasvuo, except "Satumaa" by Unto Mononen.
Esa Helasvuo piano
Stella Nova, is the first solo recording by pianist Esa Helasvuo, one of the trailblazers in Finnish improvised music, in over 20 years. The recording comprises ten delicate improvisations with emphasis very much on ballads. Three are based upon earlier compositions by Helasvuo himself and one on a classic Finnish tango, "Satumaa," by Unto Mononen whereas the other six were created in the moment at the M2 (YLE) Studio in Helsinki, Finland.
Stella Nova offers quiet moods suitable for contemplation of life and nature with early solo piano recordings by Paul Bley or Keith Jarrett perhaps as its closest reference points.
Esa Helasvuo belongs to the same first generation of Finnish improvising musicians as saxophonists Juhani Aaltonen, Eero Koivistoinen and Seppo Paakkunainen, bassist Teppo Hauta-aho and drummer Edward Vesala, among others, with whom he often performed particularly earlier in his career in the late 1960s and the 1970s.
Stella Nova also marks the 40th Anniversary of the publication of Helasvuo´s first recording as a leader in 1973.
Press Release