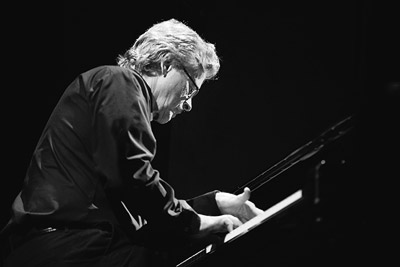 Although less well known even among jazz enthusiasts than some of the other members of the first generation of Finnish improvising musicians, Esa Helasvuo (b.1945) is nevertheless one of the key members of that group together with the likes of trumpeter Henrik Otto Donner (b.1939), saxophonists Juhani Aaltonen (b.1935), Eero Koivistoinen (b.1946) and Seppo Paakkunainen (b.1943), bassist Teppo Hauta-aho (b.1941) and drummer Edward Vesala (1945-99), all of whom Helasvuo performed with in the late 1960s and early 1970s. Although Helasvuo´s career took a turn away from frequent performing in the early 1970s, his few recordings from this period still remain important examples of the creativity of that era.
The first impulse to Helasvuo´s piano playing came from home at an early age. Namely, Helasvuo´s mother, Siiri Maria Elisabet Helasvuo (née Järnefelt), was an accomplished amateur pianist who spent the little free time that she had as a stay-at-home mother of four to play the Schiedmayer upright in the family home. Helasvuo still remembers the beautiful sound of the piano and how his mother´s playing lured him into trying his own hand at it already at the age of three or four in imitation of his mother. Although Helasvuo´s older brother, Antero Helasvuo, was the first one to be sent to a piano teacher, it was Esa´s interest that lasted. He started piano lessons at the age of six and was admitted to the Youth Department of the Sibelius Academy at the age of seven, thereby starting studies there that lasted for the years 1952-66, with pianist Jaakko Somero (1920-2010) serving as his piano teacher throughout that period.
Helasvuo´s interest in jazz music also came from home but, in this case, through the influence of his older brother, who had an interest in American culture and music, ordering by mail then hard-to-get comics and records, which his little brother enthusiastically shared. This was in the early 1950s, when jazz music in post-World War II Finland was being found anew and was still very much part of the youth culture. Helasvuo remembers Earl Bostic´s "Danube Waves" as the first recording that made a strong impression on him.
Soon, while studying basic technique and classical playing at the Sibelius Academy, the young Helasvuo was playing popular music and jazz along with his brother´s records at home. Around the age of ten, he even participated in the Helsinki-Stockholm Culture Competition in the jazz category, winning the Finnish trials by performing the standard "Stompin´ at the Savoy." This competition also gave Helasvuo his first taste of playing with professional support as the contestants were supported by bassist Tapani Tamminen and drummer Christian Schwindt, both prominent figures on the Finnish modern jazz scene in the 1960s. Helasvuo still remembers their surprised looks when he moved from the theme to an improvisation; as Helasvuo had yet to master the proper variation technique on standards, he was already playing "free" jazz at this early age, although out of necessity rather than conscious choice. As a teenager, Helasvuo participated in the same competition again but, this time, in the classical music category, winning the entire competition with his performance of Franz Liszt´s "Hungarian Rhapsody No. 11."
Around the age of ten, Helasvuo also started his first "jazz" group with his second cousin, Aarno Cronvall, playing the cello in lieu of the double bass and Pekka Sarmanto, the future bass player, playing the drums that Helasvuo had built for him from boxes and cans. However, the trio came to its end when, for its first gig as an intermission band at Restaurant Ostrobotnia in Helsinki, Pekka Sarmanto was unable to attend due to a family dinner. In the end, Helasvuo and Cronvall performed a few jazz standards with Erkki Valaste, the drummer of the Olli Häme Orchestra, the evening´s main attraction, rounding out the trio. At this time, pianists Oscar Peterson and Teddy Wilson were Helasvuo´s main role models, to a large extent because they were best represented in his brother´s record collection.
In the early 1960s, Helasvuo was one of the founders of a quintet with Reima Jaatinen on trumpet, Sakari Nuorivaara on tenor saxophone, Reino Simola on clarinet, Valdemar Nikolsky on bass and Mikko Kuoppamäki on drums that shared a practice room with the Esa Pethman Quartet (including pianist Heikki Sarmanto, bassist Matti Sarmanto and drummer Anssi Pethman as well as vocalist Carola Standertskjöld). The focus of this quintet was leaning towards bebop music, which the group played by ear from listening to records since sheet music was still hard to come by. For Helasvuo, Thelonious Monk, together with Art Tatum, was the principal influence. Helasvuo feels that: "With Monk, the intellectualism demonstrated by his music was so enormous that it had a huge impact on me, particularly his treatment of harmonies and the polyphony built into his music. Monk is a great genius in Western music who distilled both his group and solo performances with his wisdom, turning the future of jazz towards modernism."
When Jaatinen and Simola chose to pursue careers as classical orchestra musicians, alto saxophonist Jukka Vatanen (later well-known as a professional photographer) joined the group, which now had Matti Kuoppamäki on bass and Martin Brushane on drums. With Vatanen, who was a big Cannonball Adderley enthusiast at the time, the emphasis of the music shifted towards a more current sound. Perhaps because this quartet was allowed to practice in a Kulosaari house where the Chrisse Schwindt-Otto Donner Quintet, one of the first Finnish modern jazz groups of consequence, also occasionally practiced, this quartet started gaining access to the Old House Jazz Club (better known as "Mäyränkolo" or "badger´s nest"), a famous unlicensed jazz club that operated in the basement of a building on Helsinki´s Albertinkatu during 1957-64 and that ranked Chrisse Schwindt and Otto Donner among its regular performers. Here, Vatanen, Helasvuo, Kuoppamäki and Brushane would play during intermissions or late night open-for-all jam sessions. This quartet also recorded a single in 1964 under the name the Martin Brushane Four, with "Jelly Roll," written by Charles Mingus, on the A-side and "Mess Around," written by Ahmet Ertegun for Ray Charles, on the B-side.
Soon after this recording, in 1964, Brushane, who had already for some time had an interest both in jazz and in the emerging Finnish pop music (through his membership in The Savages and The Islanders), convinced Helasvuo to join with him one of the earliest Finnish pop groups, The Sounds, which had already become hugely popular after releasing their first single, "Emma," in 1963. Brushane took over the drum seat from the group´s original drummer, Johnny Liebkind, who had become it´s featured vocalist, and Helasvuo, under the pseudonym Dave Sinner, added keyboards to its musical arsenal. Helasvuo performed and recorded with The Sounds until they disbanded in 1965 when Johnny Liebkind left to pursue a solo career. Helasvuo even introduced classical elements to the group´s music with his treatment of a J.S. Bach composition for one of their recordings, "Roll Over Bach," which he might well rather forget at this point. After The Sounds, Helasvuo continued for about two years in Liebkind´s background group, named The Frankies for some reason unknown to Helasvuo, and also served as an arranger for the group, which occasionally featured horns as well. The Sounds and The Frankies gave Helasvuo his first taste of the life of a musician on the road as both groups performed virtually every day, particularly during the summers when their still underage members did not go to school.
Having graduated from high school in 1966 and performed his compulsory military service in 1966-67, Helasvuo continued his studies at the Sibelius Academy as a piano major in 1967. During this period, he also became increasingly involved in the Helsinki scene for jazz and improvised music, performing with his contemporaries in various constellations, including groups led by Henrik Otto Donner, Eero Koivistoinen, Seppo Paakkunainen, Christian Schwindt and drummer Matti Oiling. Perhaps most importantly, he inherited pianist Heikki Sarmanto´s place in the Seppo Rannikko Orchestra, a quartet that included the legendary saxophonist Rannikko, Helasvuo, bassist Pekka Sarmanto and drummer Esko Rosnell and performed with various vocalists, including tango singers Markus Allan and Taisto Tammi, among many others. As was typical of the time, the group was only able to play jazz music at the beginning and perhaps at the very end of an evening and, otherwise, had to perform tangos and other dance music. Hence, the inclusion of an improvisation based upon "Satumaa," one of the mainstays in the Finnish tango repertoire, on this recording is appropriate. Helasvuo says that he can still play almost any traditional Finnish tango from memory.
Gradually, Helasvuo´s interest in formal study of classical music faded and he dropped out of the Sibelius Academy in 1969, in part because he received a position as music dramaturg for the theatrical department of the Finnish Broadcasting Company (YLE), which enabled him to compose and arrange music for a diverse range of theatrical settings. Helasvuo held his position until 1975, when he joined the faculty of the Sibelius Academy, and feels that it gave him a unique opportunity to combine his many influences, from classical composers to Frank Zappa and from early piano jazz favorites, such as Art Tatum, to the new masters of the genre, such as Keith Jarrett. It also allowed him to orchestrate music for groups of different sizes and composition varying from project to project and to hire fellow jazz musicians to participate in many of these projects although he no longer performed with any regular groups himself.
When discussing his influences, Helasvuo mentions two musicians in particular who opened his ears to new sounds that he has been drawing on ever since. As far as his piano playing is concerned, Keith Jarrett and his 1971 recording Facing You (ECM) was a major influence. Helasvuo says that, in particular, "Jarrett´s command over structures, strong emotionality, extraordinary technique and broad knowledge of the Western musical traditions - jazz included - were combined in his music in a unique fashion that has impacted particularly my live performances. I have heard Jarrett perform live three times and every one of these performances has been such a strong and emotionally moving experience that it has resulted in an almost trance like state."
Another musician having a strong impact on Helasvuo has been Frank Zappa. Helasvuo says that "Ever since I heard Absolutely Free for the first time, I was sold. That recording questioned the values of musical fundamentalism in a manner that blew me away. In turn, 200 Motels represents such courage in writing music for an emotionally stimulated orchestra and choir that it is unique in modern orchestral music, whereas Perfect Stranger, while conventional sinfonietta music, is a pearl among modern orchestral compositions. Finally, Frank Zappa´s concert in Helsinki in 1988 as part of his world tour and, in particular, his version of Ravel´s 'Bolero´ heard in the end, convinced me of his genius. As a pedagogue, I have often used Zappa´s music as part of my teaching materials and it certainly has had an impact on my own orchestral music in particular."
These influences may well have been part of the impetus for Helasvuo to organize his first concert as a composer and performer in the main concert hall of the Sibelius Academy in 1972. Helasvuo believes that this concert may well have been the first time when the hallowed halls of the Sibelius Academy witnessed free improvisation as Teppo Hauta-aho and Edward Vesala, with whom Helasvuo had started performing in a small group setting in clubs, were among the performers. The emphasis was on musical invention - in one solo piano composition, Helasvuo even asked the audience to sing the pedal-point note of the composition while he improvised around it.
In clubs, Helasvuo, Hauta-aho and Vesala performed both as a trio and, typically with Juhani Aaltonen added, as a quartet. For a few memorable weeks in 1972, saxophonist Charlie Mariano performed with the trio after Vesala had invited him to spend some time in Finland.
Soon after his first concert, Helasvuo also recorded his first album as a leader (Think Tank Funk, Finnlevy, 1973), which featured musicians both from the worlds of jazz and rock as well as classical music, including the basic group of Helasvuo, guitarist and producer Hasse Walli, Hauta-aho and Vesala as well as a string ensemble consisting of Pekka Helasvuo, Yrjö Lasonpalo, Ylermi Poijärvi, Veli-Pekka Bister and Teppo Hauta-aho. One common feature with Stella Nova is the inclusion of Helasvuo´s arrangement of one of the most beloved Finnish tangos, in this case "Liljankukka," perhaps as a nod to the song´s legendary composer, Toivo Kärki, then the head of production at Finnlevy, who allowed Helasvuo to make this recording despite his doubts - justified, as it turned out - about its commercial success. In 1973, Helasvuo also participated in one of the most key recordings by Eero Koivistoinen (Wahoo!, Warner Music).
After Think Tank Funk, Helasvuo released two solo albums that confirmed his place as one of the most innovative improvisers of his generation in Finland (Omat Hommat, Love Records, in 1974 and Onnimanni, Love Records, in 1976). However, for most followers of improvised music, it is probably Helasvuo´s final recording for Love Records that is best remembered (Q in 1976). Q is justly known as one of the highlights in Finnish improvised music of the 1970s and still retains its freshness today. For this recording, Helasvuo and Vesala, who around this time spent a lot of time together playing, listening to and talking about music, improvised as a duo for a number of hours, moving from one mood to another and developing and investigating numerous melodies and themes along the way. After these initial duo sessions, Helasvuo then chose the material for the ultimate recording to which he added his arrangements for a string ensemble consisting of Heikki Hämäläinen, Helge Heino, Jiri Parviainen, Jorma Ylönen, Matti Kuoppamäki, Pekka Helasvuo, Seppo Rautasuo and Yrjö Lasonpalo. The end result is unique in that the string arrangements take nothing away from the spontaneous nature of the original improvisations but, rather, seem to enhance and elevate it.
During this period, Helasvuo also occasionally arranged music for Vesala´s larger ensembles, including songs for Vesala´s first recording with vocalists and a large ensemble that included saxophonists Juhani Aaltonen, Pentti Lahti, Pekka Pöyry and Tomasz Szukalski, trumpeter Tomasz Stanko, trombonist Mircea Stan, guitarist Pekka Rechardt, bassist Pekka Sarmanto as well as Helasvuo and Vesala (Rodina, Love Records, in 1977).
In the early 1970s, Helasvuo also increasingly began to work as a composer and/or arranger for various popular music projects, including recordings by The Delta Rhythm Boys (By Request in 1971), Vesa-Matti Loiri (Vesku Suomesta in 1972) and Ritva Oksanen (Voiko naista näin käsitellä in 1972).
After his tenure at YLE, Helasvuo joined the faculty of the Sibelius Academy in 1975. There, he worked in various positions until his retirement in 2008. Although Helasvuo served both as a lecturer and in administrative positions, his main contribution during this period was undoubtedly teaching improvisation to a vast number of musicians and music teachers who studied at the Sibelius Academy during these three decades and then left to pursue their own careers with an improved understanding of this area of music that was largely neglected at this august institution before the founding of its Jazz Department.
Throughout his years at the Sibelius Academy, Helasvuo also continued to perform, often as an improvising solo pianist, and released two additional recordings: Huomenna sinä tulet in 1985, which included his songs performed by Susanna Haavisto, and Singing Grand in 1990, which included both solo piano improvisations and his composition "Singing Grand" performed with the Kokkola Chamber Orchestra. Helasvuo developed a particularly close relationship with vocalists Susanna Haavisto and Eija Ahvo, composing and arranging music for a number of their musical revues and recordings (Sydänviiniä, Varjon Puolella and Postia Maailmalta) in addition to performing with them in various live settings. He has also composed or arranged music for a number of other vocalists, including Bo Andersson, Pentti Hietanen, Jonna Järnefelt, Viktor Klimenko, Kaija Kärkinen, Lasse Mårtenson, Mari Palo, Sami Saari, Matti Salminen and Aki Sirkesalo. Currently, Helasvuo performs with Susanna Haavisto in her show "Pakko saada laulaa" featuring the music of Edith Piaf.
Helasvuo has composed a large number of orchestral, choral and theatrical works as well as music for approximately 30 films or TV movies and for more than 60 radio plays. His compositions include an opera (Alice in Wonderland) as well as operettas and a number of musical revues.
Since his retirement from the Sibelius Academy in 2008, Helasvuo has increasingly focused on improvised music and is again performing more frequently within this genre. Hopefully, for many years to come.
Helsinki, November 15, 2012
Petri Haussila