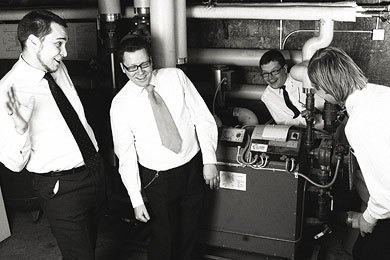 Even if one of the definitions for the term "inquisition" in Webster´s Dictionary is a mere examination, Mikko Innanen may have had something slightly more torturous in mind when he named his group Mikko Innanen & Inkvisitio (yes, just one letter "n") in May 2003. That group, then a traditional jazz quartet with only Innanen and pianist Seppo Kantonen surviving in the current group, was responsible for presenting Innanen´s final examination program in connection with his Master of Music degree from the Jazz Department of the Sibelius Academy. On the evening of the examination, a roomful of appreciative fans at the Jumo Jazz Club was simply enjoying the music in a rather cheerful mood despite the group´s name and the context it implied whereas Innanen himself was surely focusing at least some of his attention on a very small segment of the audience, an esteemed panel of representatives of the Finnish jazz establishment. They were there to determine whether Innanen was deserving of the academic degree he sought. As it happened, he received his master´s degree with top marks, but little of the music played that night or indeed of the group that performed it has been heard since.
Before graduation, Innanen had studied both at the Sibelius Academy in Helsinki and at the Rhythmic Music Conservatory in Copenhagen, but formal academic studies are not one of the first things that spring to mind when listening to his music, whether on this new CD or on such earlier releases as Spring Odyssey by the Mikko Innanen-Jaak Sooär-Han Bennink Trio (TUM CD 015), Eclexistence by Delirium (TUM CD 010), Sudden Happiness by Triot with John Tchicai (TUM CD 008) or almost any other recording in Innanen´s quickly growing discography, many of them on Fiasko Records, a musicians´ cooperative Innanen co-founded. In fact, quite the contrary. Innanen freely draws on and combines influences from almost every conceivable form of jazz as well as various forms of world music, old movie soundtracks or whatever else happens to catch his fancy at any given time, often in an unexpected fashion that seems alien to the current brand of philistines in the realm of jazz music.

Still, the name of the group stayed although with another letter "n" added apparently to make it rhyme better with the last name of its leader or, perhaps, just to confuse us. It is not immediately clear who is examining whom in this new context, however. Maybe, it is the audience acting as inquisitors in relation to the group and its music or, perhaps, the group itself making an inquisition as to the history and the present of the music and the various ways to combine the two. Or the group making an inquisition of the audience and the state of its hipness. Or all of the above or any other variations of the theme that you wish to come up with.
In any event, Mikko Innanen & Innkvisitio has continued to perform together sporadically since February 2004 when the current quartet first played together publicly. The music on this recording comes from a tour of nine Finnish towns in April 2006, including Hämeenlinna, Kotka, Joensuu, Kuopio, Helsinki, Turku, Jyväskylä, Raahe and Seinäjoki, taking the group quite literally all over this large but sparsely populated country. Courtesy of a grant the group had received for that purpose, the tour was preceded by an unusually extensive rehearsal period for a jazz group in Finland with the idea being from the outset to record all performances for use on their first recording. Altogether almost 13 hours of material resulted from the performances of a large number of compositions that changed from evening to evening with the present CD and its ten performances being the result of an excruciating selection process performed by Innanen himself.
Having attended both the original "inquisition" in May 2003 and the Helsinki concert in April 2006 that provides some of the key material for this recording, I can attest to the fact that the group and its music had come a long way in the intervening period. In 2003, the emphasis was on demonstrating Innanen´s technical ability and breadth both as an instrumentalist and as a composer as was appropriate for an academic examination. That performance was rather politely civilized whereas, in 2006, parts of the music constituted a near anarchy on stage and had an almost barn-burning intensity that might well have sent some of the original inquisitors out of the room holding their ears. As a leader of his own groups, Innanen had indeed come a long way since his first recording - for a local radio station in the town of Porvoo - in the tender age of 15 playing jazz standards with musicians three or four times his age, including pianist Esa Katajavuori, bassist Eero Seppänen and drummer Jukka Aaltonen. Now that Innanen has become quite well-known for his participation in or co-leadership of various cooperative ventures and has also led a number of groups of his own over the past several years, it may actually come as a surprise to many that this is the first recording under his own name. According to Innanen, he never really felt that his earlier groups had reached the kind of unique conception or approach that he was looking for and thus chose to wait until now before presenting his first recording as a leader.
Innanen has said that playing improvised music is not a matter of choice for him. Already as a teenager, having started with the alto saxophone in the age of 10 and having been introduced to jazz both through his father´s record collection and by his first saxophone teacher Bengt Ingelin as well as through his later participation in a local amateur big band and various other groups, he knew that playing jazz professionally was what he wanted to do. Perhaps Innanen´s admittedly eclectic approach to music is a reflection of his early influences. Having first been impressed by the music of John Coltrane, Innanen only then turned to Charlie Parker rather than the other way around as one might expect in the case of an alto saxophonist. Following a period of an almost single-minded dedication to Parker, Innanen began to embrace an ever-growing group of saxophonists ranging from Ben Webster to Ornette Coleman and composers as diverse as Duke Ellington, Charles Mingus and Thelonius Monk. Since Innanen was growing up in a small town, nobody was there to tell him whom to like or not to like and, as a result, he felt free to embrace the whole history of jazz with the same amount of enthusiasm. This may well have provided one of the first building blocks for his open-minded approach to music.
Innanen pursued his goal of becoming a jazz musician with admirable persistency participating in various summer camps for young musicians and seeking out teachers such as saxophonist Jukka Perko, who taught Innanen at various times beginning in the early 1990s, and saxophonist Kari "Sonny" Heinilä, who taught Innanen at the Sibelius Academy in the mid 1990s. Innanen´s other teachers over the years and the various band leaders and clinicians whom he has worked with are too numerous to mention here. Suffices to say that it is difficult to find a musician of his age who would have developed his craft in a more consistent fashion; particularly, one who would have so completely avoided the sometimes stuffy stench of academia or getting stuck in one or another of the accepted truths of the day as to what jazz should sound like.
One way to look at Paa-da-pap is as an examination of the history and the future of jazz. Innanen himself characterizes this music as retro-futuristic. According to Innanen, it is a re-imagination of the music as it might have developed from its historic roots had the future taken a different turn; first going back and then looking forward to the future from that vantage point. The music is strongly rooted in the traditions of what has come to be known as jazz, including a composition dedicated to the early Finnish jazz ensemble Original Vasarankylä Stompers and a composition by the little-known Finnish jazz pioneer Arthur Wilhelm "Willy" Augenstern, but it is also informed by contemporary influences and various other references, including pre-modern music of different parts of Africa. Maybe, this is what popular music of today could or should have sounded like. Or, then again, maybe this is the music of the future, whether popular or not.

Or possibly it is the group members themselves who, quite literally, form the "inquisition" continuously reassessing Innanen´s music to move it forward. For this task, Innanen has chosen pianist and keyboardist Seppo Kantonen, who brings his experience of more than two decades into this otherwise youthful group, and two younger but already well-established compatriots in the person of saxophonist and flautist Timo Lassy and drummer Joonas Riippa. As the group´s charter member, Kantonen is of particular importance to the music. While playing his vintage Philicorda electric organ and a synthesizer, he doubles up as the group´s de facto bass player providing a continuously shifting rhythmic carpet in close cooperation with Riippa. Whereas Kantonen has been everybody´s favorite Finnish acoustic pianist since he first emerged on the scene in the early 1980s, this recording gives us the welcome opportunity to hear him featured on other keyboard instruments - a revelation in itself. Timo Lassy and Joonas Riippa are more recent arrivals but they are already in heavy rotation in various Helsinki-based groups due to their strong and individualistic styles. In this group, they too have an opportunity to reassess the role of their instruments as well as their own musical preferences and inclinations.
With the release of this recording, it is now your turn to take on the tasks of the inquisition. You may well find that this music is heretical, lacks respect for the current conventional wisdom, challenges the teachings of the self-appointed guardians of the jazz gospel and is outright dangerous and just plain too much fun. And, perhaps, that is exactly as it should be!
Helsinki, April 18, 2007
Petri Haussila