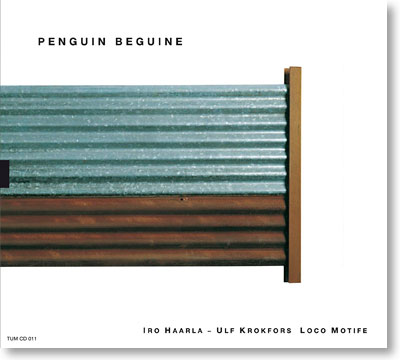 Penguin Beguine 8:08 / At Night, Cat Walking 5:19 / Frosty Night 5:48 / Bells 5:13 / Samoaja 5:15 / Farewell Song 7:07 / Voice Behind the Wall 3:25 / Crimcum Cramcum 5:08 / Beside You 3:40 // Total playing time 9:03
Music sample

01 Penguin Beguine 8:08

Anders Bergcrantz trumpet
Mikko Innanen alto, soprano and baritone saxophone
Rasmus Korsström soprano and tenor saxophone
Mikko Iivanainen guitar
Iro Haarla keyboards and harp
Antti Hytti bass and saw
Ulf Krokfors bass
Tom Nekljudow drums
Tomas Törnroos drums
Reino Laine drums (6 only)
Johanna Iivanainen voice (5 and 9 only)
After their duo album Heart of a Bird (TUM CD 004), Iro Haarla and Ulf Krokfors wanted to make a recording with a different overall atmosphere and have some fun doing it with a larger ensemble. To achieve this, a group of friends was brought together to form the Iro Haarla-Ulf Krokfors Loco Motife.
The music of Penguin Beguine is based on an electric sound especially in the form of Haarla´s different keyboards and Mikko Iivanainen´s electric guitar. Add strong compositions by Haarla and Krokfors, powerful personal expression from the soloists - including famed Swedish trumpeter Anders Bergcrantz and saxophonists Mikko Innanen and Rasmus Korsström - and you are sure to hear prime contemporary jazz.
Penguin Beguine received the Emma Award as the Best Finnish Jazz Recording of the Year in 2005.