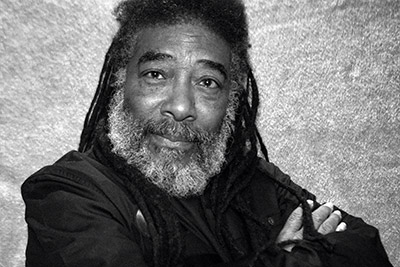 Wadada Leo Smith (b.1941) was born in Leland, Mississippi. Smith´s early musical life began in the concert and marching bands of Lincoln High School in Leland, first on the mellophone, then moving on to the French horn and finally receiving his first trumpet at the age of 12. At the same age, he composed a work for three trumpets, his first composition.
Smith received his initial musical education from his stepfather, Alex "Little Bill" Wallace, who was one of the first Delta blues singers to begin playing the electric guitar. His family home in Leland was a meeting place for musicians where blues artists such as Elmore James, B.B. King and Little Minton were frequent guests, often performing in the family´s living room. Accordingly, Smith has said that: "The Blues was my first language and it never went away." As a trumpeter, Smith considers himself a descendant of Louis Armstrong, although Miles Davis, Booker Little, Clifford Brown and, a bit later, Don Cherry had the strongest impact on his own playing as a young musician.
Smith´s formal music studies began with Oneal Jones and Henderson Howard, who were his school bandmasters at Lincoln High, with the latter also being his first trumpet teacher. Smith later studied in the U.S. Army Music Program at Fort Leonard Wood in Missouri (1963), the Sherwood School of Music in Chicago, Illinois (1967-69), and Wesleyan University in Middletown, Connecticut (1975-76).
Following high school, Smith travelled for about a year with various blues, rhythm ´n´ blues and soul groups before entering the U.S. Army. After attending the U.S. Army Music Program, Smith played for a total of about five years in six different army bands, touring not only in the Southern United States, but also in France and Italy. He also continued to broaden his musical horizons and was leading his own Ornette Coleman-inspired trio while still in the military. In 1967, Smith left the army and moved to Chicago to work with saxophonist Anthony Braxton and other members of the Association for the Advancement of Creative Musicians (AACM), the groundbreaking creative music collective that combined the music´s African roots with an improvisational approach.
Soon after arriving in Chicago, Smith met Anthony Braxton and violinist Leroy Jenkins for an impromptu session and, as a result, the three founded a collaborative group, Braxton, Jenkins and Smith (later expanded into a quartet with the addition of drummer Steve McCall and named Creative Construction Company although they never actually performed live either as a trio or as a quartet under that name). Braxton, Jenkins and Smith became one of the key early ensembles of the AACM. Smith´s other collaborators in the pioneering work of the AACM also included saxophonists Joseph Jarman, Roscoe Mitchell and Kalaparusha Maurice McIntyre, trumpeter Lester Bowie, trombonist George Lewis and pianist Muhal Richard Abrams, among others.
Smith´s first recordings were made in Chicago during this period with Anthony Braxton (with Braxton, Smith, Jenkins and Muhal Richard Abrams, 3 compositions of new jazz in 1968 and, with Braxton, Smith and Jenkins, Silence in 1969), Kalaparusha Maurice McIntyre (with McIntyre, Smith, saxophonist John Stubblefield, pianist Amina Claudine Myers, bassists Malachi Favors Maghostut and M´Chaka Uba, and drummer Thurman Barker, Humility In The Light Of The Creator in 1969) and Muhal Richard Abrams (with Abrams, Smith, Henry Threadgill, bassist Lester Lashley and Thurman Barker, Young At Heart, Wise In Time in 1969).
Braxton´s 3 compositions of new jazz and Silence also included Smith´s first recorded compositions, "The Bell" and "Silence," respectively. These two compositions already used the rhythm-units concept, a framework for improvisation that Smith developed more fully in the 1970s.
Smith´s own Ankhrasmation Symbol Language has been significant in his development as an artist and educator. Smith published his music philosophy in the early 1970s in notes (8 pieces), source a new world music: creative music (Kiom Press, 1973). Notes (8 pieces) has been translated into Japanese (1976), Italian (1981) and Icelandic (2018). An expanded edition of the work in English was published in 2015.
As part of his music theory, Smith developed the two basic systems of music that he has utilized in his compositions ever since: the system of rhythm-units and the notation system he termed "ahkreanvention," which literally means to create and invent musical ideas simultaneously, utilizing the fundamental laws of improvisation and composition. With the rhythm-unit concept, each single sound or rhythm, or a series of sounds or rhythms, is accepted as a complete piece of music. Each performer, in turn, is considered as a complete unit with each having his or her own center from which each performs independently of any other, whether performing in a small group or in an orchestral context. The independence of each sound-rhythm and the independence of each performer contributes to the liberation from time as a period of development and to its employment as an element of space instead.
Like many other AACM members, Smith supported himself in Chicago by playing in the horn sections of various rhythm 'n´ blues and soul bands, including blues singer and guitarist Little Milton Campbell´s group. In 1969, Smith turned down Little Milton´s offer to become the straw-boss of his road band and moved to Paris along with Anthony Braxton and Leroy Jenkins as well as a few other key members of the AACM. During his year in Paris, Smith took part in two important recordings by Braxton and continued to perform and record with Braxton throughout the 1970s. Since that time, Braxton and Smith have continued to play together from time to time.
After returning from Paris, Smith led his own group, Integral, with saxophonist Henry Threadgill, trombonist Lester Lashley and drummer Thurman Barker, for a few months in Chicago before settling in New Haven, Connecticut, during the summer of 1970 for a period of ten years. In New Haven, Smith concentrated on his own music as well as studying and teaching rather than touring and recording all over the world like many of his compatriots. In addition to leading his own groups and teaching at the University of New Haven, he studied ethnomusicology at the Wesleyan University, focusing on West African, Japanese, Indonesian and Native American music cultures. Soon after arriving in New Haven, Smith organized the Creative Improvisation Ensemble with saxophonist Marion Brown and the duo also recorded an album in December 1970 in New York City (Creative Improvisation Ensemble/Duets).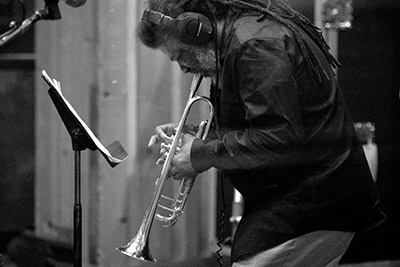 '
Smith´s first recording as a leader was a solo album (Creative Music-1: Six Solo Improvisations in 1971), which was the first album released on Kabell, the independent record label he founded. After this first solo recording, Smith has continued to perform solo concerts and has released several additional solo albums (Red Chrysanthemums Solos in 1977, Solo Music/Ahkreanvention in 1979, Kulture Jazz in 1992 and Red Sulphur Sky in 2001). In 2015, Smith featured his solo trumpet on four classic Thelonious Monk compositions and four new compositions by Smith inspired by Monk (Solo: Reflections And Meditations On Monk, TUM CD 053). Smith´s most recent solo trumpet recording is Trumpet, a three-CD boxed set that features fourteen compositions by Smith, including four extended multi-part works, recorded at a medieval stone church in the town of Pohja, on the Southern Coast of Finland (TUM BOX 002 in 2016).
Smith´s principal ensemble in New Haven, New Dalta Akhri, was comprised of his students and other young musicians based in the area and recorded a number of albums (Reflectativity in 1974, Song Of Humanity in 1976, The Mass Of The World in 1978, Divine Love in 1978, Spirit Catcher in 1979 and Go In Numbers in 1980). At various times, its members included saxophonists Dwight Andrews, Oliver Lake and Henry Threadgill, pianist Anthony Davis, vibraphonist Bobby Naughton, guitarist Michael Gregory Jackson, bassist Wes Brown and drummer Pheeroan akLaff. Members of New Dalta Akhri were also part of the two large orchestras responsible for Smith´s first big band recordings, Leo Smith Creative Orchestra (Budding Of A Rose in 1979) and Creative Improvisors Orchestra (The Sky Cries The Blues in 1981).
In the early 1980s, Smith recorded a series of albums that reflected the spirituality of Rastafarianism, including Procession Of The Great Ancestry and Rastafari in 1983. The music that Smith performed around this time sometimes featured lyrics inspired by Rastafarianism and introduced elements of fusion jazz, reggae, funk and the blues into the music. Smith also became increasingly interested in presenting multimedia performances incorporating song, dance and drama.
In 1986, Smith began a series of duo releases with drums/percussion by recording a live concert with drummer Ed Blackwell (The Blue Mountain´s Sun Drummer, released on Smith´s Kabell label in 2010). This series includes duo recordings with Sabu Toyozumi (Burning Meditation in 1994), Adam Rudolph (Compassion in 2002), Günter "Baby" Sommer (Wisdom In Time in 2006), Jack DeJohnette (America in 2008) and Louis Moholo-Moholo (Ancestors, TUM CD 029, in 2011). Smith has also made a number of other duo recordings, including those with Anthony Braxton (Organic Resonance and Saturn, Conjunct The Grand Canyon In A Sweet Embrace, both in 2003), bassist John Lindberg (Celestial Weather, TUM CD 046, in 2012), pianist Angelica Sanchez (Twine Forest in 2013), sound designer Hardedge (The Nile in 2014) and pianist Vijay Iyer (A Cosmic Rhythm With Each Stroke in 2015), among others. Sacred Ceremonies, a three-CD boxed set, comprises a duo CD featuring Smith with drummer/percussionist Milford Graves, a duo CD featuring Smith with bassist Bill Laswell and a trio CD featuring Smith, Laswell and Graves (TUM BOX 003 in 2015/2016).
In 1992, Smith accepted a teaching position at the California Institute of the Arts (CalArts) and made Southern California his home. Alongside teaching, Smith continued to lead his own groups, in particular N´Da Kulture, and recorded a number of highly acclaimed albums as a leader (e.g., Tao-Njia in 1995, Golden Hearts Remembrance in 1997, Light Upon Light in 1998, Reflectativity in 2000 and Luminous Axis in 2002). In the mid-1990s, Smith converted to Islam, which further strengthened and made more apparent his longstanding interest in the musical cultures of the East, including those of Japan and India.
After moving to California, Smith began performing and recording more with musicians based on the West Coast, including guitarist Henry Kaiser in Yo Miles!, a group co-led by Kaiser and Smith and dedicated to the music of Miles Davis´ electric period (Yo Miles! in 1998 as well as Upriver and Sky Garden in 2001), among many others. He also continued his occasional collaborations with his old comrades from the AACM, including Anthony Braxton, Douglas Ewart (visionfest - visionlive in 2002 and Velvet Fire in 2009) and Roscoe Mitchell (The Bad Guys in 2000), as well as many others, including saxophonist John Zorn (with Zorn, Smith and Susie Ibarra, Birthday Series 50/8 in 2003 and, with Zorn, Smith and George Lewis, Sonic Rivers in 2013) and bassist John Lindberg (The Catbird Sings in 1999 and A Tree Frog Tonality in 2000).
In recent years, Smith has led five principal ensembles of his own: the Golden Quartet, an all-star group that originally included pianist Anthony Davis, bassist Malachi Favors Maghostut and drummer Jack DeJohnette and, in later editions, pianist Anthony Davis, Vijay Iyer or Angelica Sanchez, bassist John Lindberg and drummer Pheeroan akLaff or Ronald Shannon Jackson (Golden Quartet in 2000, The Year Of The Elephant in 2002, Tabligh in 2005 and, expanded into the Golden Quintet with drummer Don Moye, Spiritual Dimensions - CD1 in 2008, or with cellist Ashley Walters, America´s National Parks in 2016); the Great Lakes Quartet, another all-star group with Henry Threadgill, John Lindberg and Jack DeJohnette (The Great Lakes Suites, TUM CD 041-2, in 2012); Mbira, a trio with pipa player Min Xiao-Fen and Pheeroan akLaff (Dark Lady Of The Sonnets, TUM CD 023, in 2007); Organic, a larger group with instrumentation consisting primarily of electric string instruments (Spiritual Dimensions - CD2 in 2009 and Heart´s Reflections in 2010); and the Silver Orchestra, a large orchestra that recorded its first album in 2004 (Lake Biwa).
After retiring from CalArts in 2013, Smith again settled in New Haven and has focused on composing and performing more than ever before during his career. He has also reconnected with many of the East Coast musicians he has worked with in the past, including two weeklong residences with multiple ensembles at the Stone. In April 2017, Smith organized the CREATE Festival in New Haven, which featured a total of eight ensembles over two days, followed by a two-day festival in San Francisco in December 2017 and the second and third annual CREATE Festival in New Haven in April 2018 and April 2019.
Smith has been a prolific composer throughout his career with works ranging from solo piano pieces to compositions for multiple orchestras. Already while in the military in the 1960s, Smith arranged both popular and classical music for the various military bands in which he played and increasingly also began composing his own music both for jazz groups and for other ensembles. By the time Smith moved to Chicago in 1967, he had already composed several works for a string quartet or larger orchestras. When working with other members of the AACM, and in the large ensembles led by Muhal Richard Abrams and others in particular, Smith began to combine his compositional skills and the improvisational spirit of the early AACM ensembles in search of his own approach to orchestral music.
Smith´s music for large ensembles has been performed throughout the world since 1969, developing from early works for more traditional big bands to compositions for multi-ensembles. Smith has received a number of awards and commissions as a composer and his compositions have been performed by numerous contemporary music ensembles, including the AACM Orchestra, the Kronos Quartet, the Da Capo Chamber Players, the New Century Players, the San Francisco Contemporary Music Players, the Contemporary Chamber Players (University of Chicago), the S.E.M. Ensemble, Southwest Chamber Music, the Del Sol String Quartet, the New York New Music Ensemble, ne(x)tworks, the California E.A.R. Unit, the Oxford Improvisers Orchestra, Orkiestra Symfoniczna NFM (Wroclaw) and the Jack Quartet, among others.
For over two decades, Smith has been creating music for multiple ensembles. Some of these works take several days to perform. "Ten Freedom Summers" was premiered by the Golden Quartet and Southwest Chamber Music at the Roy and Edna Disney/CalArts Theater (REDCAT) in Los Angeles over three nights in October 2011. "Tabligh" for double-ensemble was performed by the Golden Quartet and the Classical Persian Ensemble at Merkin Concert Hall in New York City in 2006 and by the Golden Quartet and Suleyman Erguner´s Classical Turkish Ensemble at Akbank Music Festival in Istanbul in 2007. Smith´s largest work to date, "Odwira" for 12 multi-ensembles (a total of 52 instrumentalists), was premiered at the California Institute of the Arts in March 1995.
In 2012, Smith released his most extensive recording to date, Ten Freedom Summers, a four-CD collection of a total of 19 works composed over a period of 34 years and inspired by the civil rights movement in the United States. Ten Freedom Summers was recorded by the Golden Quartet (Smith, Anthony Davis, John Lindberg and Pheeroan akLaff) and the Golden Quintet (add drummer Susie Ibarra) together with Southwest Chamber Music and was a finalist for the Pulitzer Prize in Music.
In 2013, Smith released another important recording of works for a large ensemble, Occupy The World (TUM CD 037-2), a two-CD collection comprised of six extended compositions performed by Smith with TUMO, a 22-member orchestra.
In 2016, Smith released America´s National Parks, a two-CD recording by the Golden Quintet that features six extended compositions celebrating America´s national parks and its culture and, in 2017, Najwa (TUM CD 049) that features four compositions in tribute to past masters of creative music, Ornette Coleman, John Coltrane, Ronald Shannon Jackson and Billie Holiday, as well as the title composition, all performed by a group that includes Smith´s trumpet with four electric guitars, electric bass, drums and percussion.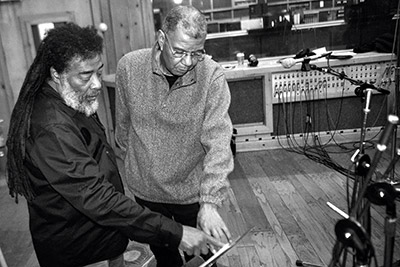 In 2018, Smith released a recording of an extended composition dedicated to the civil rights icon Rosa Parks, "Rosa Parks: Pure Love. An Oratorio of Seven Songs," which features three vocalists, a string quartet, a trumpet quartet, electronics and a drummer as well as pre-recorded musical excerpts (TUM CD 057). An early version of "Rosa Parks: Pure Love" was premiered in 2016 at The New School in New York City as part of the program for the Festival of New Trumpet Music and the full version was performed four times over three successive days in April 2019 at The Kitchen in New York City, featuring also video in live performance and a butoh dancer.
Smith has been on the faculty of the University of New Haven (1975-76), The Creative Music Studio in Woodstock, New York (1975-78), and Bard College in Annandale-on-Hudson, New York (1987-92). In 1992-2013, he served as the director of the African-American Improvisational Music Program at The Herb Alpert School of Music at CalArts.
In 2016, Smith received the Doris Duke Artist Award and an honorary Doctorate of Arts degree from CalArts, where he was celebrated as Faculty Emeritus. In 2016, Smith also received the Mohn Award for Career Achievement honoring brilliance and resilience from the Hammer Museum at the University of California, Los Angeles (UCLA). In November 2019, Smith received the UCLA Medal, the campus´s highest honor, and, in February 2021, he received the United States Artists Fellowship.
Wadada Leo Smith´s Ankhrasmation Symbol Language Art Scores have been exhibited at several major American museums. In October 2015, The Renaissance Society at The University of Chicago presented the first comprehensive exhibition of the Ankhrasmation Symbol Language Art Scores. In 2016, a number of the scores were featured in the Hammer Museum´s "Made in L. A." exhibition in Los Angeles. Smith´s scores have also been shown at the Kalamazoo Institute of Arts in Michigan in 2016-17 and the Kadist Art Foundation in San Francisco, California, in 2016-17.
...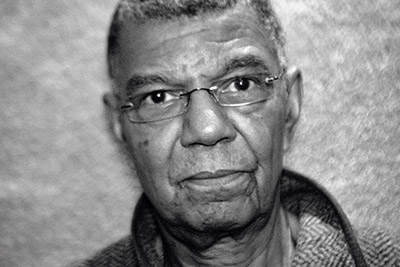 Jack DeJohnette (b.1942) was born in Chicago and grew up in a family where music had a high priority. Beginning at the age of four, he studied classical piano at the Chicago Conservatory of Music, then added the drums to his repertoire when he joined his high school concert band at the age of 14.
By the mid-1960s, DeJohnette had entered the Chicago jazz scene - not just as a leader of his own groups, but also as a sideman on both piano and drums. He experimented with rhythm, melody and harmony as part of the AACM during the organization´s early days, and later drummed alongside Rashied Ali in the John Coltrane Quintet.
Although DeJohnette´s first published recording was with saxophonist Jackie McLean (Jacknife in 1965; also Demon´s Dance in 1967), he began garnering international recognition during his tenure with the Charles Lloyd Quartet (with saxophonist Charles Lloyd, pianist Keith Jarrett and bassist Cecil McBee or Ron McLure; Dream Weaver, Forest Flower and In Europe in 1966, Love-In - At The Fillmore and In The Soviet Union in 1967, and Soundtrack in 1968), one of the first jazz groups to receive true crossover attention.
DeJohnette soon also began performing and recording with the likes of pianist Herbie Hancock (Blow-Up in 1966), guitarist Jerry Hahn (Ara-be-in in 1967), saxophonist Joe Henderson (Tetragon in 1968, Power To The People in 1969, Black Is The Colour in 1972, Multiple in 1973 and Black Narcissus in 1974), pianist Cedar Walton (Spectrum in 1968), pianist Bill Evans (At The Montreux Festival in 1968), pianist Bobby Timmons (Do You Know The Way in 1968), saxophonist Lee Konitz (Peacemeal in 1968 and Satori in 1974), saxophonist Eric Kloss (Sky Shadows in 1968, To Hear Is To See in 1969 and Consciousness in 1970), pianist Chick Corea (Is in 1969 and The Sun in 1970), saxophonist Wayne Shorter (Super Nova in 1969), bassist Miroslav Vitous (Infinite Search in 1969), saxophonist Joe Farrell (Joe Farrell Quartet in 1970 and Moongerms in 1972), trumpeter Freddie Hubbard (Straight Life in 1970, First Light in 1971 and In Concert, Vol 1 & 2 in 1973), guitarist George Benson (Beyond The Blue Horizon in 1971 and Body Talk in 1973), pianist/harpist Alice Coltrane (Universal Consciousness in 1971 and, with guitarist Carlos Santana, Illuminations in 1974), flutist Hubert Laws (The Rite Of Spring in 1971), vibraphonist Bobby Hutcherson (Natural Illusions in 1972), saxophonist Sonny Rollins (Next Album in 1972), bassist Richard Davis (Song For The Wounded Knee in 1973), saxophonist Paul Desmond (Skylark in 1973), saxophonist David Liebman (First Visit in 1973), trumpeter Enrico Rava (Pupa O Crisalide and Quotation Marks, both in 1973) and trumpeter Luis Gasca (Born To Love You in 1973), among others, thereby beginning one of the most extensive recording careers in modern jazz.
In 1968, DeJohnette joined Miles Davis´s group shortly before the recording of Bitches Brew, an album that triggered a seismic shift in jazz and permanently changed the direction of the music. DeJohnette stayed with Davis for three years, making important contributions to a number of Davis recordings, including Big Fun, Black Beauty, Live At The Fillmore East, Live/Evil and The Cellar Door Sessions in 1970, A Tribute To Jack Johnson in 1971 and On The Corner in 1972.
During this same period, DeJohnette also recorded his first albums as a leader, including The DeJohnette Complex (with saxophonist Bennie Maupin, pianist Stanley Cowell, Miroslav Vitous and drummer Roy Haynes) in 1968, Have You Heard? (with Maupin, pianist Hideo Ichikawa and bassist Gary Peacock) in 1970, Sorcery (with Maupin, trombonist Michael Fellerman, guitarists John Abercrombie and Mike Goodrich, and bassist Dave Holland) in 1974 and Cosmic Chicken (with saxophonist Alex Foster, John Abercrombie and bassist Peter Warren) in 1975.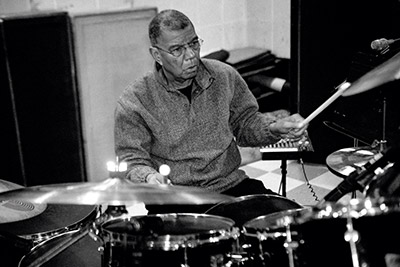 In the early 1970s, DeJohnette recorded twice with the group Compost that included him mostly on keyboards, saxophonist Harold Vick, bassist Jack Gregg, drummer Bob Moses and percussionist Jumma Santos (Take Off Your Body in 1971 and, with guitarists Roland Prince and Ed Finney as well as vocalists Lou Courtney and Jeanne Lee, Life Is Round in 1973).
DeJohnette has also occasionally recorded as a pianist, including trio recording Jackeyboard (with bassist Mitsuaki Furuno and drummer George Ohtsuka) in 1973 and solo recordings Cosmic Chicken in 1975 and Return in 2015.
The mid-1970s were marked by a series of short-lived groups and projects - many of them leaning toward the more experimental side of jazz, including The Gateway Trio (featuring Dave Holland and John Abercrombie; Gateway in 1975 and Gateway 2 in 1977 as well as Homecoming and In the Moment in 1994), Directions (with Abercrombie, Alex Foster et. al.; Directions in 1975 and Untitled in 1976) and New Directions (with Abercrombie, trumpeter Lester Bowie and bassist Eddie Gomez; New Directions in 1978 and New Directions in Europe in 1979). These were followed by Special Edition, which helped launch the careers of several lesser-known musicians, such as saxophonists Arthur Blythe, Chico Freeman, David Murray and John Purcell as well as bassist Rufus Reid, and remained active for almost two decades, with some personnel changes along the way (Special Edition in 1976, Tin Can Alley in 1980, Inflation Blues in 1982, Album Album in 1984, Irresistible Forces in 1987, Audio-Visualscapes in 1988, Earth Walk in 1991 and Extra Special Edition in 1994), although the group´s schedule was frequently interrupted by DeJohnette´s various collaborative ventures and other commitments.
Over the years, DeJohnette has recorded numerous duo albums including with Keith Jarrett (Ruta And Daitya in 1971), Dave Holland (Time & Space in 1973), saxophonist John Surman (The Amazing Adventures of Simon Simon in 1981 and Invisible Nature in 2000), Lester Bowie (Zepra in 1985), guitarist Bill Frisell (The Elephant Sleeps But Still Remembers in 2001), Gambian kora player Foday Musa Suso (Music From The Heart Of The Masters in 2002) and Wadada Leo Smith (America in 2008).
Alongside his own groups and other projects, DeJohnette has worked extensively with Keith Jarrett as part of a longstanding trio also including Gary Peacock. In a rare feat for a modern jazz group, this trio celebrated its 30th anniversary in 2013. The trio´s first recording session took place in 1983 producing Standards, Volume 1 and Volume 2 as well as Changes, and their oeuvre totals at least 20 recordings.
Another of DeJohnette´s high-profile projects in the early 1990s was a trio with Herbie Hancock and guitarist Pat Metheny (Parallel Realities in 1990), which developed into a touring quartet also including Dave Holland (Parallel Realities Live in 1990). In 1992, DeJohnette released Music For A Fifth World, an album inspired by Native American culture that included appearances by guitarists Vernon Reid and John Scofield, among others.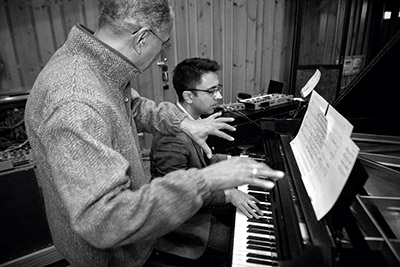 In the new millennium, DeJohnette performed with the Jack DeJohnette Quartet, featuring pianist Danilo Perez, bassist John Patitucci and bassist/guitarist Jerome Harris, and a trio with Perez and Patitucci (Music We Are in 2008) as well as the Trio Beyond, a group that celebrated the music of Tony Williams, featuring John Scofield and bassist Larry Goldings (Sausades in 2004).
Among DeJohnette´s most recent recordings as a leader are Sound Travels (2011), a genre-spanning album that features guest players such as Esperanza Spalding, Bobby McFerrin, Bruce Hornsby and Jason Moran, Made In Chicago (2013) dedicated to his hometown and featuring three elders of the AACM, Muhal Richard Abrams, Roscoe Mitchell and Henry Threadgill, as well as the legendary Chicago bassist Larry Gray and In Movement (2015) with his own trio featuring saxophonist Ravi Coltrane and bassist Matthew Garrison.
Although identified by many with his most high-profile associations, such as Miles Davis, Herbie Hancock and Keith Jarrett, DeJohnette has always stayed true to his roots in the creative music of Chicago in the 1960s as evidenced by the personnel of many of his own groups and recordings as well as his collaborations with the likes of Ornette Coleman and Pat Metheny (Song X in 1985), David Murray (In Our Style in 1986), Dave Holland (Triplicate in 1988), Gary Thomas (Exile´s Game in 1993), the World Saxophone Quartet (Selim Sivad in 1998), Don Byron (Romance With The Unseen in 1999 and Ivey-Divey in 2004), John Surman (Free And Equal in 2001, Hybrids in 2005 and Brewster´s Rooster in 2007) and Michel Portal (Ballador in 2010), among many others.
For over two decades, DeJohnette has also performed with Wadada Leo Smith, with whom he first played in Chicago in the late 1960s during an informal trio session at the invitation of Muhal Richard Abrams. DeJohnette was one of the original members of Smith´s Golden Quartet (with Anthony Davis and Malachi Favors Maghostut; Golden Quartet in 2000 and The Year of the Elephant in 2002) and also recorded a highly acclaimed duo album with Smith (America in 2008). In 2012, he participated in the first recording by the Great Lakes Quartet (The Great Lakes Suites, TUM CD 041-2).
In a career that spans six decades and includes collaborations with some of the most iconic figures in modern jazz, DeJohnette has established an unchallenged reputation as one of the greatest drummers in the history of the genre. In addition to those mentioned above, the list of creative associations throughout his career also includes Chet Baker, Gary Bartz, Joanne Brackeen, Michael Brecker, Kenny Burrell, Gary Burton, Betty Carter, Eliane Elias, Stan Getz, Hank Jones, Steve Khan, Eero Koivistoinen, Steve Kuhn, Harold Mabern, Thelonious Monk, Milton Nascimento, Gonzalo Rubalcaba, Mike Stern, Steve Swallow, Stanley Turrentine, McCoy Tyner, Bennie Wallace and Kenny Wheeler, among many others. Along the way, he has developed a versatility that allows room for hard bop, rhythm 'n´ blues, world music, avant-garde and just about every other style to emerge in the past six decades.
Marking his 70th birthday in 2012, DeJohnette received from the National Endowment for the Arts the NEA Jazz Masters Fellowship, the highest U.S. honor for a jazz musician, in recognition of his extraordinary life achievements, his contributions to advancing the jazz art form and for serving as a mentor for a new generation of aspiring young jazz musicians. In 2012, he also received the United States Artists Fellowship.
...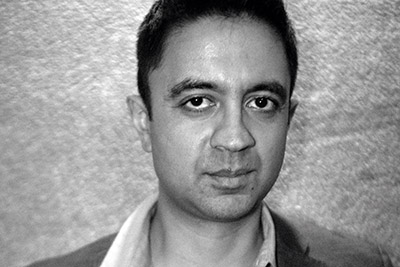 Vijay Iyer (b.1971) is an American composer, pianist, bandleader, producer, pedagog and writer based in Harlem, New York City. He is a son of immigrant parents and was born and raised in Upstate New York. Iyer received 15 years of Western classical training on the violin beginning at the age of three. He began playing the piano by ear in his childhood and is largely self-taught on that instrument.
After completing a B.S. degree in mathematics and physics at Yale University in 1992, Iyer attended the University of California, Berkeley, where he obtained an M.A. degree in 1994 and initially pursued a doctorate in physics. In 1995, concurrently with his increasingly active musical career in composing, recording and touring, he left the Berkeley physics department and has since received an interdisciplinary Ph.D. degree in the cognitive science of music from the University of California, Berkeley.
Iyer has published in Journal of Consciousness Studies, Wire, Music Perception, JazzTimes, Journal of the Society for American Music and Critical Studies in Improvisation and in the anthologies Arcana IV, Sound Unbound, Uptown Conversation, The Best Writing on Mathematics: 2010 and The Oxford Handbook of Critical Improvisation Studies, among others.
Alongside his studies in Berkeley, Iyer engaged in his musical interests, initially playing in ensembles led by drummers E. W. Wainwright and Donald Bailey. In 1994, he started working with saxophonist Steve Coleman (Myths, Modes & Means in 1995, Genesis & The Opening Of The Way in 1997, The Sonic Language Of Myth: Believing, Learning, Knowing in 1998 and The Ascension To Light in 1999), composer/trombonist George Lewis and composer/musician/conductor/sound artist Miya Masaoka (Masaoka Orchestra: What Is The Difference Between Stripping And Playing The Violin? in 1995/97).
A musical innovator, an active collaborator and a member of multiple artistic communities, Iyer continues to reimagine the role of the musician in the 21st century. He has carved out a unique path as an influential, prolific, shape-shifting presence in music and has created a consistently innovative, emotionally resonant body of work over more than two decades, earning him a place as one of the leading music-makers of his generation.
Iyer´s musical language is grounded in the rhythmic traditions of South Asia and West Africa, the African American creative music movement of the 1960s and 1970s, and the lineage of composer-pianists from Duke Ellington and Thelonious Monk to Alice Coltrane and Geri Allen.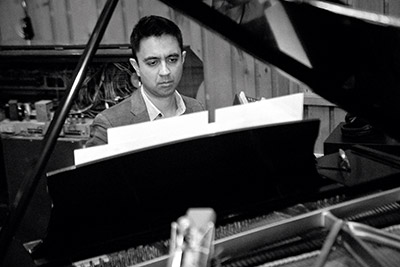 Iyer´s first recording as a leader was Memorophilia in 1995, with various small groups ranging from a trio with bassist Jeff Brock and drummer Brad Hargreaves and a quartet adding Steve Coleman to a quintet that included George Lewis and tenor saxophonist Francis Wong, among others. This was followed by Architextures in 1996 with performances ranging from solo piano to a trio and an octet that represented Iyer´s first recording with alto saxophonist Rudresh Mahanthappa.
Following Architextures, Iyer and Mahanthappa have frequently collaborated and have participated in each other´s recordings. These include Iyer´s Panoptic Modes in 2000, Blood Sutra in 2003, Reimagining in 2004 and Tragicomic in 2007 and Mahanthappa´s Black Water in 2002, Mother Tongue in 2004 and Codebook in 2006. They also recorded a duo album, Raw Materials, in 2005 and have together collaborated with guitarist Rez Abbasi (Things To Come in 2009, Suno Suno in 2010 and Unfiltered Universe in 2016).
In 2000, Iyer co-founded the trio Fieldwork with saxophonist Aaron Stewart and drummer Elliot Humberto Kavee (Your Life Lashes in 2002 and, with saxophonist Steve Lehman replacing Stewart, Simulated Process in 2004 and Door in 2007).
Other collaborators during this period included guitarist Liberty Ellman (Orthodoxy in 1997), saxophonists Eric Crystal (Dark Matter in 1997) and Steve Lehman (Demian As Posthuman in 2005), trombonist Michael Dessen (Lineal in 2005) and bassists Devin Hoff (Memory From Below in 2003) and Carlo De Rosa (Brain Dance in 2009).
Iyer has also recorded with saxophonist Roscoe Mitchell (Song For My Sister in 2002 and Far Side in 2007), trumpeter Dave Douglas (Orange Afternoons in 2011) and saxophonist Ernest Dawkins (Transient Takes in 2016), among others. In 2013, he was featured with Trio 3 (saxophonist Oliver Lake, bassist Reggie Workman and drummer Andrew Cyrille) on the album Wiring as part of Trio 3´s series of performances and recordings with featured guest pianists.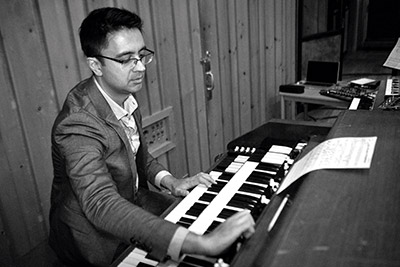 Iyer has released more than 20 albums as a leader or co-leader covering remarkably diverse terrain. Most recently, Iyer released Uneasy, a trio recording made with his friends and collaborators Linda May Han Oh on bass and Tyshawn Sorey on drums in 2019. This was preceded by the release of The Transitory Poems, a live two-piano improvisation with Iyer´s longtime colleague Craig Taborn in 2018; Iyer´s sextet album Far From Over (with cornetist Graham Haynes, saxophonists Steve Lehman and Mark Shim, bassist Stephan Crump and Tyshawn Sorey) in 2017; Break Stuff featuring the Vijay Iyer Trio (with Stephan Crump and drummer Marcus Gilmore), Mutations, featuring Iyer´s music for piano, string quartet and electronics, and Radhe Radhe: Rites of Holi, a score to a film by Prashant Bhargava, performed by International Contemporary Ensemble, all in 2014; Accelerando by the Vijay Iyer Trio in 2011; Historicity by the Vijay Iyer Trio in 2009; and Tirtha (with guitarist/vocalist Prasanna and tabla player Nitin Mitta) in 2008.
Iyer´s 2012 collaboration with poet Mike Ladd, Holding It Down: The Veterans´ Dreams Project, was based on the dreams of veterans of color from America´s wars in Iraq and Afghanistan. Along with their previous projects, In What Language? in 2003 and Still Life With Commentator in 2006, Holding It Down rounded out a trilogy of politically searing albums about post-9/11 American life.
Iyer´s musical accomplishments extend well beyond his recordings. His recent composer commissions include "Crisis Modes" (2019) for the LA Philharmonic´s Green Umbrellas Series; "Torque" (2018) written for So Percussion; "Asunder" (2017) written for Orpheus Chamber Orchestra and St. Paul Chamber Orchestra; "Trouble" (2017) for Violin and Orchestra, written for Jennifer Koh and premiered at Ojai and Tanglewood Music Festivals; "City of Sand" (2017) for A Far Cry plus members of Silk Road Ensemble; "Run," a solo cello overture to Bach´s Suite in C Major, written for Matt Haimovitz and recorded on his Overtures To Bach (2016); "Bridgetower Fantasy" (2015) for violin and piano, a companion piece to Beethoven´s "Kreutzer" Sonata, written for Jennifer Koh and Shai Wosner; "Playlist for an Extreme Occasion" (2012) written for Silk Road Ensemble and released on their 2013 album A Playlist Without Borders; "Dig The Say," written for Brooklyn Rider and released on their 2014 album Almanac; "Mozart Effects" (2011) and "Time, Place, Action" (2014) for Brentano String Quartet; "Bruits" (2014) for Imani Winds and pianist Cory Smythe; "Rimpa Transcriptions" (2012) written for Bang on a Can All-Stars; "UnEasy" (2011) commissioned by NYC´s Summerstage in collaboration with choreographer Karole Armitage; and "Three Fragments" (2011) for Darcy James Argue´s Secret Society. His orchestral work "Interventions" was commissioned and premiered by the American Composers Orchestra in 2007 under conductor Dennis Russell Davies. Other works include "Mutations I-X" (2005) commissioned and premiered by the string quartet ETHEL and "Three Episodes for Wind Quintet" (1999) written for Imani Winds. Iyer has also composed a score for the original theater/dance work Betrothed (2007) by Rachel Dickstein; the award-winning film score for Teza (2008) by filmmaker Haile Gerima; and the audiovisual installation Release (2010) in collaboration with filmmaker Bill Morrison.
Iyer´s many other collaborators have included music pioneers Zakir Hussain, Butch Morris, Amina Claudine Myers, William Parker, L. Subramanian, Henry Threadgill, Reggie Workman, Pamela Z and John Zorn; next-generation artists Ambrose Akinmusire, Matana Roberts, Dead Prez, DJ Spooky, Himanshu Suri of Das Racist, HPrizm of Antipop Consortium, DJ Val Jeanty, Karsh Kale, Suphala, Imani Uzuri and Talvin Singh; choreographer Karole Armitage; novelist and essayist Teju Cole; and poets Amiri Baraka, Charles Simic and Robert Pinsky.
Iyer first joined Wadada Leo Smith´s Golden Quartet in 2004 and, in the spring of 2005, a new edition of the quartet, which also featured bassist John Lindberg and drummer Ronald Shannon Jackson, made an extensive European tour. Their first performance together took place at the Banlieues Bleues Festival in Aubervilliers, France, and was filmed by French filmmaker Jacques Goldstein for the documentary Eclipse (Freedom Now). In 2008, the Golden Quartet recorded Tabligh and Iyer also participated in the recording of Spiritual Dimensions (Disc 1) with Smith´s Golden Quintet (also featuring Lindberg and drummers Pheeroan akLaff and Famoudou Don Moye). In 2015, Iyer and Smith recorded a duo album, A Cosmic Rhythm With Each Stroke, which included Iyer´s and Smith's title suite dedicated to the innovative artist Nasreen Mohamedi and premiered at New York´s Metropolitan Museum of Art in connection with an exhibition dedicated to Mohamedi´s art and writings. Since that time, Smith and Iyer have frequently performed together as a duo.
In 2014, Iyer joined the senior faculty in the Department of Music at Harvard University. He now holds a lifetime appointment as the Franklin D. and Florence Rosenblatt Professor of the Arts at Harvard University, with a joint affiliation with the Department of Music and the Department of African and African American Studies. Previously, Iyer was a faculty member at the Manhattan School of Music, New York University, The New School and the School for Improvisational Music. Iyer has also served as Artistic Director of the Banff International Workshop in Jazz and Creative Music since 2013. He has been featured as an Artist-in-Residence at the Metropolitan Museum of Art in New York, Wigmore Hall in London, the Molde Jazz Festival in Norway, SF Jazz in San Francisco and Jazz Middelheim in Antwerp, Belgium, and has served as Music Director for the Ojai Music Festival in southern California.
During the past two decades, Iyer has received numerous awards and fellowships. These include the Herb Alpert Award in the Arts in 2003, a fellowship from the New York Foundation for the Arts in 2006, the Doris Duke Performing Artist Award and the Greenfield Prize for Music in 2012, and the MacArthur fellowship and the Trailblazer Award by the Association of South Asians in Media, Marketing and Entertainment (SAMMA) in 2013. He has received commissioning grants from the Rockefeller Foundation, the New York State Council on the Arts, Creative Capital, the Mary Flagler Cary Charitable Trust, the American Composers Forum, Chamber Music America and Meet the Composer, among others.