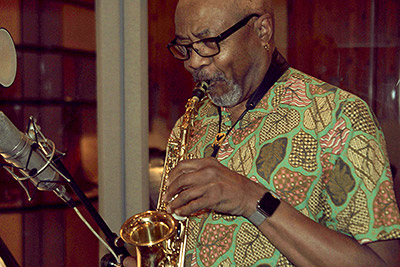 Oliver Lake (b. 1942) was born in Marianna, Arkansas, but grew up in St. Louis, Missouri. He began drawing at the age of 13 and soon started playing drums but only started playing the saxophone in high school at the age of 18. In St. Louis, Lake first worked in R&B and soul bands with the likes of trumpeter Lester Bowie, then formed, in 1967, his first group as a leader, the Oliver Lake Art Quartet(with trumpeter Floyd LeFlore, bassist Arzinia Richardson and drummer Jerome Harris). After receiving a degree in music education from Lincoln University in 1968, Lake taught music in St. Louis schools for three years. He studied arrangement and composition with Oliver Nelson and Ron Carter and considers Jackie McLean, Eric Dolphy and Duke Ellington as his main influences in music.
Lake was a founding member of the Black Artists Group (BAG) in St. Louis, with other members including saxophonists Hamiet Bluiett, Julius Hemphill, J.D. Parran and Luther Thomas, trumpeters Baikida Carroll and LeFlore, trombonist Joseph Bowie, pianist John Hicks, drummer Charles "Bobo" Shaw and many other musicians, dancers, directors, visual artists, writers, et.al., and his first recorded work comes from concerts organized by BAG members (Solidarity Unit, Inc.´s Red, Black And Greenin 1970 and Children Of The Sun´sOfamfain 1971). Lake´s first album as a leader also featured a number of key members of BAG (NTU: Point From Which Creation Begins, with Carroll, LeFlore, Bowie, pianists John Hicks and Clovis Bordeaux, guitarist Richard Martin, bassist Don Officer, percussionist Famoudou Don Moye and Shaw, in 1971). During this period, Lake also recorded with the Human Arts Ensemble, a cooperative group that grew out of BAG (Whisper Of Dharmain 1972 and Under The Sunin 1973).
In 1972, Lake moved to Paris with a number of other BAG members, who recorded a quintet album as Black Artists Group(In Paris, Aries 1973,with Lake, Carroll, LeFlore, Bowie and Shaw). He also played with Anthony Braxton, Wadada Leo Smith and other members of the Creative Construction Company, who werethen based in Paris, and recorded a solo saxophone album (Passin´ Thru,with synthesizer player Ivan Pequone added on one track, in 1974). This solo saxophone album became the first release of his own record label, Passin´ Thru, which has released a number of Lake´s recordings since and still continues to operate today. Lake also recorded an album with Baikida Carroll (Orange Fish Tears, in 1974).
In September 1974, Lake relocated to New York where he became active on the "loft jazz" scene and soon recorded his first album as a leader for a major label, Arista (Heavy Spirits, with trumpeter Olu Dara, pianist Donald Smith, bassist Stafford James and drummer Victor Lewis; but also three compositions with strings, one on solo saxophone and one with Bowie and Shaw, in 1975). In 1976, Arista also released NTU: Point From Which Creation Begins, which had gone unreleased due to its original label going out of businsess.
Lake continued his relationship with Wadada Leo Smith after both had returned to the United States, participating in some of Smith´s early recordings (Song Of Humanityin 1976 and The Sky Cries The Bluesin 1981). Lake also featured in his own groups many of the same musicians with whom Smith was working after settling in New Haven, Connecticut, including pianist Anthony Davis, guitarist Michael Gregory Jackson and drummer Pheeroan akLaff. In 1976, Lake participated in the legendary Wildflowers - The New York Loft Jazz Sessionsin Sam Rivers´ Studio Rivbea both as a leader ("Zaki" on Wildflowers 4, with Jackson, bassist Fred Hopkins and drummer Phillip Wilson) and with Wadada Leo Smith´s New Dalta Akhri("Logomotif No. 6"onWildflowers 2, with Smith, Davis, bassist Wes Brown, akLaff and drummer Stanley Crouch) and the Michael Gregory Jackson Quartet("Clarity" on Wildflowers 3, with the same personnel as on Wildflowers 4). During this same period, Lake also recorded with Anthony Braxton (New York, Fall 1974), trumpeter Ted Daniel (In The Beginningand Interconnectionin 1975), guitarists Michael Gregory Jackson (Clarityin 1976) and James "Blood" Ulmer (Are You Glad To Be In America?in 1980 and Freelancingin 1981) and drummers Pheeroan akLaff (Global Mantrasin 1977), Sunny Murray (Apple Cores in 1977) and Billy Hart (Enhance in 1977).
Heavy Spiritsbegan a series of small group recordings by Lake initially featuring Anthony Davis, Michael Gregory Jackson, Fred Hopkins and Pheeroan akLaff (Holding Together in 1976, Life Dance Of IsandShine!in 1978, and Zakiin 1979), and later also the likes of Baikida Carroll, pianists Donald Smith, Geri Allen and John Hicks, guitarists Kevin Eubanks and Anthony Michael Peterson, bassist Santi DeBriano, drummer Gene Lake and steel pan player Lyndon Achee (Prophetin 1980,Clevont Fitzhubertin 1981, Expandable Languagein 1984, Galleryin 1986, Impalain 1987,Again And Againand Virtual Realityin 1991, Edge-ingin 1993, Dedicated To Dolphyin 1994, Talkin´ Stickin 1997, Kinda´ Upin 1999,Livein 2001, Have Yourself A Merry…in 2002 and Dat Lovein 2003).
Lake has featured strings on his recordings beginning with Heavy Spiritsin 1974 and again on a recording by the Oliver Lake String Project(Movement, Turns & Switches) in 1996. The latest example is his collaboration with the FLUX Quartet(Right Up Onin 2016).
Lake recorded his second solo saxophone album (Matador Of 1st& 1st)in 1995 and has recorded a number of duo albums (In Concert, with Joseph Bowie, in 1976; Karmonic Suite, with Michael Gregory Jackson, in 1978; For The People, with drummer Jerome Cooper, in 1979; Boston Duets, with pianist Donal Leonellis Fox, in 1989; A New Organization, with pianist Borah Bergman, in 1999; and To Roy, with bassist William Parker, in 2014).
In 1974, Lake participated in the recording of Anthony Braxton´s "Composition 37" for a saxophone quartet with Braxton, Julius Hemphill and Hamiet Bluiett (New York, Fall 1974) and, in 1976, Lake, Hemphill and Bluiett then established a new saxophone quartet with David Murray as its fourth member. Initially, saxophonist Edward "Kidd" Jordan, who served as the head of the music department at the New Orleans Southern University, had just invited the four musicians to perform together in New Orleans but, following that performance, they decided to continue working together and the resulting group, the World Saxophone Quartet,recorded its first album live at the 6thInternational New Jazz Festival in Moers in 1977 (Point Of No Return). From 1977 until 2010, the group recorded 20 more albums (Steppin´ in 1978, W.S.Q. and Revue in 1980, Live In Zürichin 1981, Live at BAMin 1985, Plays Duke Ellingtonin 1986, Dances And Balladsin 1987, Rhythm And Bluesin 1988, Metamorphosisin 1990, Breath Of Life in 1992, Moving Right Alongin 1993, Four Now in 1995, Takin´ It 2 The Next Levelin 1996, Selim Sivad - A Tribute To Miles Davis in 1998, Steppenwolfand Requiem For Juliusin 1999, 25THAnniversary in 2000, Quartet Experiencein 2003, Political Bluesin 2006 and Yes We Can in 2010) although Hemphill, who had departed from the group, was substituted by various other saxophonists and the group also began featuring guest artists beginning with Metamorphosisin 1990.
In the 1980s, Lake occasionally played with bassist Reggie Workman in the latter´s ensemble (Synthesisin 1986), as a guest of the cooperative group Trio Transition (Trio Transition With Special Guest OliverLakein 1988) andwith pianist Marilyn Crispell (Circlesin 1990), among others. He also played and recorded with drummer Andrew Cyrille (My Friend Louis in 1991 and Ode To The Living Treein 1994). In 1992, Lake, Workman and Cyrille then founded Trio 3, a cooperative group that has over time become one of the main performing vehicles for all three of its member, recording more than 10 albums with several of the later ones also featuring a visiting pianist (Live In Willisauin 1997; Encounterin 1999; Open Ideasin 2001; Time Beingin 2005; Live At The Sunsetin 2007; Berne Concert, with Irene Schweizer, in 2007; At This Time, with Geri Allen, in 2008; Celebrating Mary Lou Williams, with Allen, in 2010; Refraction - Breakin´ Glass, with Jason Moran, in 2012; Wiring, with Vijay Iyer, in 2013; and Visiting Texturein 2016).
In addition to his other small groups, the WSQand Trio 3, Lake has in recent years performed with the Oliver Lake Organ Trio(Makin´ It, with organist Jared Gold and drummer Johnathan Blake, in 2006) and Oliver Lake Organ Quartet(Plan,with trumpeter Freddie Hendrix, Gold and Blake, in 2009 and What I Heard,with Hendrix, Gold and drummer Chris Beck, in 2013), drawing on the rich tradition of a saxophonist featured with Hammond B3 organ and drums (with or without another horn player added).
Lake has also continued to record with a wide range of other jazz musicians, including saxophonist Bennie Wallace (The Art Of The Saxophonein 1987), guitarist A. Spencer Barefield (After The Endin 1987 and Live At Leverkusener Jazztagein 1989), vocalist Abbey Lincoln (Who Used To Dancein 1996), Donal Fox (Gone City in 1997), trumpeter Malachi Thompson (Freebop Nowin 1998 and Talking Hornsin 1999), drummer C. Anthony Bush (Our Praise Offeringin 2000), vocalist David Gonzales (City Of Dreamsin 2002), trumpeter Russell Gunn (Ethnomusicology Volume 3in 2003), trombonist Graig Harris (Souls Within The Veilin 2003), trumpeter Dennis Gonzales (Idle Wildin 2004), the String Trio Of New York(with violinist Rob Thomas, guitarist James Emery and bassist John Lindberg, Frozen Ropes On Barking Hoopin 2004), bassist Lisle Ellis (Sucker Punch Requiemin 2005), saxophonist Archie Shepp (Phat Jam In Milanoin 2007), Tarbaby(with pianist Orrin Evans, bassist Eric Reeves and drummer Nasheet Waits and various other guests, The End Of Fearin 2010, Fanonin 2011 and Ballad Of Sam Langfordin 2013), percussionist Alex Cline (For People In Sorrowin 2011), the Generations Quartet(Flowin 2016) and trumpeter Dave Douglas (Metamorphosisin 2016). His most recent collaborative projects have included a quartet with saxophonist John Tchicai, bassist Jonas Westergaard and drummer Kresten Osgood (Lake/Tchicai/Osgood/Westergaardin 2003), a trio with bassist Christian Weber and drummer Dieter Ulrich (For A Little Dancin´in 2009) and a quartet with Weber, Ulrich and trombonist Nils Worgram (All Decksin 2011).
Over the years, Lake has also performed with a number of big bands, including the Woodstock Workshop Orchestraled by Karl Berger (Live At Donaueschingenand New Moon in 1979), the Creative Improvisors Orchestraled by Wadada Leo Smith (The Sky Cries The Bluesin 1981), the Berlin Jazz Focus Orchestraled by Eric Ross (Music For Theremin and Theremin Summit - Live At Berlin Jazzfest in 2004 and Boulevard D´Reconstructiein 2008), the Mark Masters Ensemble(Farewell Walter Dewey Redmanin 2006, Everything You Did: The Music Of Walter Becker & Donald Ragenin 2012 and Our Metierin 2017) and Michele Rosewoman´s New Yor-Uba(A Musical Celebration Of Cuba In Americain 2013). Having recorded an album featuring his quintet with a big band already in 1988 (Otherside), Lake has, since 2003, again led his own big band that features some of the finest musicians based in the New York Metropolitan area (Clothin 2003 and Wheelsin 2013).
Lake is known as a broadminded musician who is comfortable moving across musical genres. In the early 1980s, he led the reggae-influenced JumpUp, a group that attained considerable popular success (Jump Upin 1982 and Plug Itin 1983). Over the years, he has also collaborated with the likes of Bjork, Lou Reed, A Tribe Called Quest, Material, Mos Def and Me´shell Ndegeocello. At the same time, Lake has also composed commissioned works for classical orchestras, including the Brooklyn Philharmonicand the Promusica Chamber Orchestra(American Jazz Concertosin 2001).
In addition to music, Lake is an accomplished painter and poet. Since 2004, his paintings have been exhibited in a number of galleries, cultural centers and museums, in both group shows and solo exhibitions, in the United States, Europe and Africa. He has also published two books of poetry (Life Dancein 1979 and If I Knew Thisin 2011).
Lake has been the recipient of the Guggenheim Fellowship in 1993, the Mellon Jazz Living Legacy Award in 2006 and the Doris Duke Artist Award in 2014.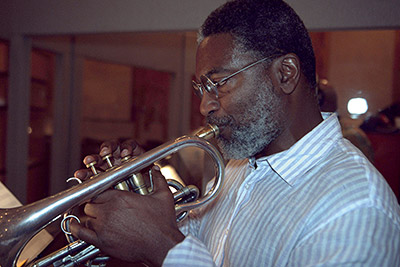 Graham Haynes (b. 1960) is a cornetist and composer born in Brooklyn, New York, and raised in Queens, New York. The son of drummer Roy Haynes, the younger Haynes grew up around jazz musicians as his family´s Hollis, Queens, neighborhood was also home to Roy Eldridge, Milt Jackson and Jaki Byard, among many others. He is known as an experimental musician and composer looking for new directions in nu jazz, fusing jazz with elements of hip-hop and electronic music.
Haynes´ two years at Queens College (1978-80) studying composition, harmony and music theory spurred his interest in classical and electronic music (Robert Moog was professor of electronic music at the time). Haynes also studied trumpet and jazz harmony privately with Dizzy Gillespie alumnus Dave Burns while playing in the Pentecostal Church.
With aspirations to push jazz beyond its traditional boundaries, Graham Haynes´ first foray into electronic music came in 1979 upon meeting alto saxophonist Steve Coleman. Together, they formed a band called Five Elements, which launched an influential group of improvisers called M-Base Collective in the 1980s. Haynes also played with Coleman on what was to be the debut recording for the both of them (Motherland Pulse, with Coleman, Haynes, pianist Geri Allen, bassist Lonnie Plaxico and drummer Marvin "Smitty" Smith or Mark Johnson as well as vocalist Cassandra Wilson on one track, in 1985).
Motherland Pulsewas followed by On The Edge Of Tomorrow(with Coleman, Haynes, Allen, Smith, Johnson and Wilson as well as guitarist Kelvyn Bell and electric bassist Kevin Bruce Harris) in 1986; World Expansion (By The M-Base Neophyte)(with Coleman, Haynes Allen, Bell, Harris and Wilson as well as vocalist D.K. Dyson) in 1986; Sine Die(with Coleman, Haynes, Allen, Harris, Plaxico, Smith and Wilson as well as trombonist Robin Eubanks, saxophonists Greg Osby, Gary Thomas, Branford Marsalis and Jimmy Cozier, keyboardist James Weidman, guitarist David Gilmore et.al.) in 1988; and live track on Bratislava Jazz Days ´88(with Coleman, Haynes, Weidman, Gilmore and Harris as well as drummer Larry Banks). Haynes and Coleman were also featured on recordings by the M-Base Collective(Flashback On M-Base, recorded in1985-89 but released only in 1994, and Anatomy Of A Groovein 1991-92) and by pianist Errol Parker (Live At The Wollman Auditorium, with Haynes, Coleman and other members of the Five Elements, in 1985). During this period, Haynes also recorded withCassandra Wilson (Days Aweigh in 1987 and Jumpworldin 1989; also, New Moon Daughterin 1995), pianist Rod Williams (Hanging In The Balancein 1989) and Lonnie Plaxico (Plaxicoin 1989).
Haynesstarted his own ensemble, Graham Haynes And No Image, in the late 1980s. and recorded his first album as a leader (What Time It Be!, with saxophonist Lance Bryant, keyboardist Mferghu, guitarist Andy Bassford, David Gilmore, Kevin Bruce Harris, drummer Gregory Latty and percussionist Marque Gilmore)in 1990. In the late 1980s, he studied extensively African, Arabic and South Asian music and spent the better part of the early 1990s in Paris. After his move to France in 1990, Haynes incorporated these influences into his next two releases (Nocturne Parisian, with saxophonist Steve Williamson, Mferghu and a group of percussionists, in 1991 and The Griots Footsteps, with Williamson and a large ensemble,in 1994).
Haynes returned to New York City in 1993 to take advantage of the flourishing hip-hopscene, and the resulting album was the sample-heavyTransition(with Williamson, guitarists Jen-Paul Bourelly, Vernon Reid and Brandon Ross, Lonnie Plaxico, drummer Fred Alias, percussionists Jorge Amorin and Daniel Moreno as well as Marc Lindhal, Vera Mantero and Jason "DJ Logic" Kibler on samples and turntables) in 1994. This was followed by the release of Tones For The 21stCentury(with harpist Steve Neil and Aaron "DJ Spazecrafte" Lazansky and Tracie Morris on voice and electronics) in 1996.
In the 1990s, Haynes also discovered drum 'n´ bass and began working with some of the genre´s finest DJs and producers in London and the United States. This manifested in the recording of BPM, a fusion of drum 'n´ bass beats with the classical music of Richard Wagner (with Brandon Ross, Marque Gilmore, Daniel Moreno and DJ Spazecrafte) in 1999. Haynes also recordedOrganik Mechanix with DJ Spazecrafte and synthesizer player Acustyk that same year. Haynes´ most recent recording as a leader is Full Circle(with keyboard players Leon Gruenbaum, James Hurt and Adam Kipple, guitarist Chris Buono, bassist Shadzad Ismaily, and drummers Guy Licata and Marcus Gilmore) in 2007.
Over the years, Haynes has collaborated with a broad range of jazz musicians, including saxophonist David Murray (David Murray Big Band Conducted By Lawrence "Butch" Morrisin 1991 and South Of The Borderin 1992), clarinetist Don Byron (Music For Six Musiciansin 1995), trumpeter Bill Dixon (17 Musicians In Search Of A Sound: Darfurin 2007, Tapestries For Small Orchestrain 2008 and Envoiin 2010), trombonist Craig Harris (Souls Within The Veilin 2003), tuba player Bob Stewart (Then & Nowin 1995-96), pianists Jaki Byard (Jaki Byard And The Apollo Stompers: Phantasies IIin 1988), Uri Caine (Sphere Music in 1992), Rodney Kendrick (The Secrets Of Rodney Kendrickand Dance, World, Dancein 1993 and Last Chance For Common Sensein 1995), Bheki Mseleku (Beauty Of Sunrisein 1995) and Yoko Fujiyama (Night Wavein 2017), bassist Eric Mingus (Too Many Bullets…Not Enough Soulin 2001), drummers Roy Haynes (The Islandin 1990 and Praisein 1998), Bobby Previte (Weather Clear, Track Fastin 1991), Ed Blackwell (The Ed Blackwell Project:What Is Be Like?and What It Is?in 1992) and Ralph Peterson (Art in 1992) as well as vocalist Abbey Lincoln (Who Used To Dance?in 1996). Outside of jazz, Haynes has worked with the likes of The Roots(Do You Want More?!!!??!in 1995 and Illadelph Halflifein 1996), guitarist Vernon Reid (Mistaken Identityin 1996), DJ Logic (Project Logicin 1999 and The Anomalyin 2001) as well as composer, bassist and vocalist Meshell Ndegeocello (The World Has Made Me The Man Of My Dreamsin 2007), among many others.
Haynes has frequently collaborated with bassist and producer Bill Laswell on his many projects (Radioaxiom: A Dub Transmissionin 1991, Arcana:Arc Of The Testimonyin 1996, Sacred System: Nagual Sitein 1998, Nicky Skopelitis: Ekstasis Livein 1998, Charged:Charged Livein 1999-2001, Ejigayehu "Gigi" Shibabaw: Gigiin 2001, Points Of Order in 2001, With A Heartbeat(featuring saxophonist Pharoah Sanders) in 2002, Method Of Defiance:Inamoratain 2007 and the Master Musicians of Jajouka With Material:Apocalypse Livein 2015). He has also been a frequent participant in percussionist Adam Rudolph´s large ensembles (Adam Rudolph´s Moving Pictures: Dream Gardenin 2006, Both/Andin 2010 and Glare Of The Tigerin 2016 and Adam Rudolph´s Go: Organic Orchestra: Can You Imagine … The Sound Of A Dream in 2007 and Sonic Mandalain 2012).
Haynes has released eight albums in a collaborative project with Hardedge(Austere Geometryin 2005, Reality Eclipsedin 2006, Paralyzed By The Approach Of The Inevitablein 2007, But You Can´t, Can You?and Is It That Dark?in 2008, Burned To The Water´s Edgein 2009 as well as Within An Inch Of Its Lifeand Led Into Uncertaintyin 2010)
Since 2013, Haynes has been a member of the Vijay Iyer Sextetand was featured on its debut recording in 2017 (Far From Over, also saxophonists Steve Lehman and Mark Shim, bassist Stephan Crump and drummer Tyshawn Sorey). He was also featured in the initial performance and the recording of Wadada Leo Smith´s extended composition Rosa Parks: Pure Love. An Oratorio Of Seven Songs(TUM CD 057) in 2016.
In 2017, Haynes had two of his classical chamber works, String Quartet No.1and Prelude and Fugue for 5 Flutes, performed as part of the Interpretations Series at Roulette in Brooklyn, New York, and is currently working on new chamber music works. Haynes performed over a period of several years with the late American cornetist, composer and conductor Lawrence D. "Butch" Morris, originator of the Conduction method, and has begun working with ensembles utilizing Conduction, including the Nublu Orchestra, Banff Student Orchestraand Haynes Flute Ensemble.
Over the years, Haynes has been involved in several critically acclaimed multimedia projects and has composed the score for the films Flag Warsin 2003 and The Promise in 2014. Hetours annually in Europe, Asia, Brazil and Africa and is in high demand as a musical director and composer for film, theatre, dance and multimedia projects. He has lectured on music at the New York University, the New School of Jazz and Contemporary Music and the Columbia University in New York City as well as several universities and creative centers outside of the United States. Haynes has received two nominations for the prestigious Herb Alpert Award In The Arts.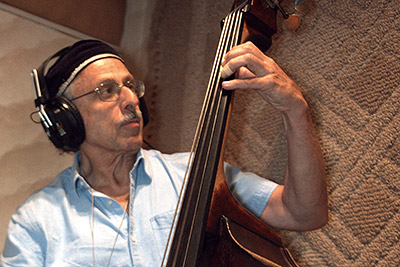 Joe Fonda (b. 1954) was born in Amsterdam, upstate New York, and played guitar and bass guitar in his youth. At Berklee College of Music (1973-75), he studied composition and arranging while also focusing on the double bass as his main instrument.
After Berklee, Fonda settled in the New Haven, Connecticut area. An important influence during this period was trumpeter Wadada Leo Smith, with whom Fonda played from 1978 until moving to New York City in 1985. Fonda participated in two important recordings under Smith´s leadership, The Sky Cries The Blues by theCreative Improvisors Orchestrain 1981 and Procession Of The Great Ancestryby a small group including saxophonist John Powell, vibraphonist Bobby Naughton, guitarist Louis Myers, bassist Mchaka Uba and percussionist Kahil El´Zabar in 1983. During this period, Fonda also recorded his first album as a leader (Looking For The Lake,with saxophonists Cliff White and Tim Moran and drummer Claire Arenius, in 1980) and an album with Bobby Naughton (Zoar, with Naughton, Fonda and percussionist Randy Kaye, in 1983).
In addition to music, Fonda has had a long-standing involvement in dance projects and cross-cultural performances. From 1982 to 1986, Fonda was the bassist and dancer with the Sonomama Dance Company. He was also the bassist of the American Tap Dance Orchestrain New York City, directed by world renowned tap dancer Brenda Bufalino. An independent producer since 1978, Fonda is the founding director ofKaleidoscope Arts, an interdisciplinary performance ensemble.
Soon after moving to New York, Fonda participated in the collaborative group MosaicSextet(with trumpeter Dave Douglas, violinist Mark Feldman, bassoonist Michael Rabinowitz, pianist Michael Jefry Stevens and drummer Harvey Sorgen) that both increased his prominence on the New York scene and served as a basis for some key relationships that still continue today. The group´s album, Today, This Moment, from three sessions in 1988-90 (reissued as part of a two-CD collection Mosaic Sextet) continues to be considered one of the major releases of its time.
Fonda became particularly well known for his collaboration with Anthony Braxton between 1993 and 2003 and was Braxton´s bassist of choice during that period. Among other projects, he was a member of the Anthony Braxton Quartet,Sextet, Octet, Ninetetand Tentet. Fonda´s recordings with Braxton range from a duo collaboration (10 Compositions(Duet) 1995) to his participation in large orchestral works (Composition No. 173in 1994 and Composition No. 162in 1996). His tenure with Braxton resulted in a total of more than 20 recordings starting with the Charlie Parker Project(with saxophonist Ari Brown, trumpeter Paul Smoker, pianist Misha Mengelberg and drummers Han Bennink and Pheeroan akLaff) and the Piano Quartet (withsaxophonist Marty Ehrlich, Pheeroan akLaff and Braxton himself on the piano). In addition to those and various other small groups, he performed with the 38-piece Tri-Centric Orchestraunder the direction of Braxton, and was the bassist for the premiere performance in 1996 of Braxton´s opera, Trillium R:Shala Fears for the Poor - Composition No. 162.
In 1996, Braxton appeared on Fonda´s From The Sourcerecording (with trumpeter Herb Robertson, Brenda Bufalino, vocalist Vickie Dodd and percussionist Grisha Alexiev) that served as a blueprint for the group From The Source, which Fonda continued to lead. Fonda´s projects as a leader or co-leader have included the Joe Fonda Quintet (with trumpeter Taylor Ho Bynum, bass clarinetist Gebhard Ullmann, soprano saxophonist Chris Jonas and drummer Kevin Norton, Full Circle Suitein 1999), Bottoms Out(with tubist Joe Daley, saxophonists Claire Daly and Gebhard Ullmann, Michael Rabinowitz and drummer Gerry Hemingway, Loaded Basses in 2005 and Live At The Gulbenkian Jazz em Agosto Festival in 2007), and Fonda´s trio with pianist Carlo Morena that became known as the Step In Trio(Fonda and Morena with either Michelle Salgarllo, Jeff Hirsfield or George Schuller on drums, Old Bottle New Wine in 1993, What We´re Hearingin 1994, Step-Inin 2000, A Drop of Water(with vocalist Ilse Pfeifer) in 2007 and As You Never Said Beforein 2010). Other groups have included a quartet with saxophonists Joe McPhee and Cliff White and drummer Ben Karetnick (Heat Suitein 2002) and a trio with pianist Bruno Angelini and drummer Ramon Lopez (Silent Cascade in 2005 and The New York Sessionin 2007).
Fonda has also recorded a solo bass album (When It´s Timein 1999) and performed as a duo with Chinese guzheng player Xu Fengxia (Distancein 1999; with saxophonist Andre Goudbeek added, Separate Realitiesin 2003; and, with violinist Jason Kao Hwang added, The House of Treasures in 2008), guitarist Gilbert Isbin (Blisterin 2001), viola player Judith Insell (Dark Wood Explorationsin 2008) as well as pianists Joan Wildman (Conversationsin 2015) and Satoko Fujii (Duetin 2015, Mizuin 2017 and Triad, with saxophonist Gianni Mimmo, in 2017).
In 1992, Fonda and Michael Jefry Stevens co-founded the Fonda/Stevens Group(also Herb Robertson and Harvey Sorgen) that became the longest lasting and, perhaps, the hardest working of all the collaborative groups in which Fonda has participated. The group has toured extensively performing at major international jazz festivals and has released more than 10 recordings (The Wishin 1993, Parallel Linesin 1995, Evolutionin 1997, Live From Brugge in 1997, Live AtThe Bunkerin 1999, The Healingin 2000, Twelve Improvisationsin 2002, Live At Alte Paketpostin 2003, Forever Realin 2004, Trioin 2006, Memphisin 2008 and Trio+2, Live in Katowicein 2009).
Other collaborative groups have included The NU Band(with saxophonist Mark Whitecage, trumpeter Roy Campbell and drummer Lou Grassi, Live At The Bop Shopin 2001, Livein 2003, The Dope And The Ghostin 2005, Live In Parisin 2007, The Lower East Side Bluesin 2008, Relentlessnessin 2011 and The Final Concertin 2012 and, with trumpeter Thomas Heberer replacing Campbell, The Cosmological Constantin 2014 and Live In Genevain 2016), Conference Call(with Gebhard Ullman, Michael Jefry Stevens and George Schuller, Final Answerin 2000, Variations On A Master Plan 2001,Spirals and Live At The Outpost in 2003, Poetry In Motionin 2006, What About…?in 2007 and Sevenin 2008) and the FAB Trio (Vancouverin 2004; History Of Jazz In Reverse, TUM CD 028, in 2005; Live In Amsterdamin 2008 and Live At the Sunset in 2008).
Fonda has also performed and recorded with saxophonists Mark Whitecage (Mark Whitecage And Liquid Timein 1990 and Consensual Tensionin 1997) and David Bindman (Imaginings in 1997), flutist Jasmine Joy (Trio Joy in 2017), guitarists Tony Purrone (Up From The Sky in 1986), Jimmy Williams (When The Lost Becomes Foundin 2001) and Michael Musillami (Beijingin 2002, Dachau in 2005,The Treatmentin 2007, From Seeds and Old Teain 2009, Mettlein 2011, Bhut Jolokia 2012, Zephyrin 2015 and Life Anthemin 2017), percussionist Kevin Norton (Nots in 1997 and For Guy Debord (In Nine Events) in 1998), vocalists Tyrone Henderson (Strawman Dancein 1994, No Commentin 1996 and Not So Unusual Bluesin 1997), Katie Bull (Conversations With The Jokersin 2001, Love Spookin 2004, Cup Of Joe, No Bullin 2004, The Story, So Farin 2006, Freak Miraclein 2009 and All Hot Bodies Radiatein 2015) and Nicole Metzger (…At Any OtherTime in 2001 and That´s What I Want To Do in 2012) and tap dancer Brenda Bufalino(Dancing My Dance in 2003).
In the past three decades, Fonda has also performed and/or recorded with such other world renowned artists as trumpeter Bill Dixon, trombonists Curtis Fuller and Slide Hampton, saxophonists Bill Barron, Marion Brown, Lou Donaldson, Ken McIntyre and Archie Shepp, clarinetist Perry Robinson, pianists Kenny Barron, Carla Bley and Randy Weston, vibraphonist Teddy Charles and drummer Chico Hamilton, among many others.
Fonda´s most recent projects include the EasternBoundary Quartet(with saxophonist Mihaly Borbely and drummer Balazs Bagyi from Hungary as well as Michael Jefry Stevens, Eastern Boundary Quartetin 2007, Iciclesin 2009 and Live At De Werf in 2012), Trio Generations(with Michael Jefry Stevens and drummer Emil Gross, Side Effectsin 2012), the Generations Quartet(with Oliver Lake added, Flowin 2016), and the Fonda/Björkenheim/Cleaver Trio(with guitarist Raoul Björkenheim and drummer Gerald Cleaver).
As a sideman, Fonda continues to work with the Karl Berger Trio (Gently Unfamiliarin 2013), the Nicole Metzger New York Connection, the Mike Musillami Trio, the 3dom Factorand the Mike Kindred Blues Trio, among many others.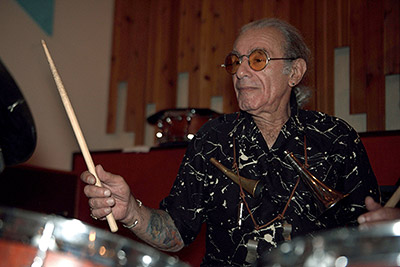 Barry Altschul (b. 1943) grew up in the South Bronx in New York City. He began playing the drums at the age of 11 after having earlier played the piano and the clarinet.
As a teenager, Altschul was a member of a doo-wop group, first called the Studentsand then the Diplomats,that had a minor East Coast hit and toured opposite some of the top acts of the time, including Little Anthony and Frankie Lymon, even performing on some popular TV dance shows of the time, such as the Dick Clark Show. However, under pressure to commit to a long-term contract, Altschul chose to focus on the drums instead.
In the late 1950s and the early 1960s, Altschul was involved in the local hard bop scene playing in jam sessions in the Bronx and in other New York City boroughs with his contemporaries, including saxophonists Dave Liebman and Frank Mitchell, pianists George Cables and Jimmy Hunter and many others. He studied drums with Charli Persip and Sam Ulano and composition with Lee Konitz.
One of Altschul´s first public performances as a drummer was with pianist Larry Willis and bassist Walter Booker in a neighborhood lounge. However, his first "proper" gig was with the Paul Bley Trio(with bassist David Izenson) in what was the inauguration of Slugs´, the (in)famous East Village bar, as a jazz club in 1964. This one-off gig resulted in Altschul working regularly with pianist Paul Bleyfor the remainder of the 1960s and sporadically also during the next three decades. Other than for his participation in the first recordingof the Jazz Composer´s Orchestra(Communication)in April 1965, Altschul´s earliest recordings were also with Bley. These included Touching(with bassist Kent Carter) and Closer(with bassist Steve Swallow) in 1965, Ramblin´, Bloodand In Haarlem (all with bassist Mark Levinson) in 1966, Ballads(with bassist Mark Levinson) and Virtuosi(with bassist Gary Peacock) in 1967 as well as a number of others that followed since.
Altschul´s work with Paul Bley drew the attention of others active on New York´s free jazz scene of the 1960s and resulted in tours and/or recording sessions with such notables as saxophonist Steve Lacy, trombonist Roswell Rudd as well as bassists Gary Peacock, Alan Silva and Steve Swallow. His familiarity with the tradition also led to performances with the likes of saxophonists Sonny Criss, Johnny Griffin, Lee Konitz, Art Pepper and Tony Scott, pianist Hampton Hawes and vocalist Babs Gonzalez, among many others.
At the very end of the 1960s and beginning of the 1970s, Altschul was a member of pianist Chick Corea´s trio with bassist Dave Holland and then participated in the important cooperative group Circleafter saxophonist Anthony Braxton joined Corea, Holland and Altschul. He also soon joined saxophonist Sam Rivers, with whom he had already performed in New York City during the October Revolution in Jazzin 1964, in a new triowith Dave Holland and the Anthony Braxton Quartet(with trumpeter Kenny Wheeler or trombonist George Lewis and Holland). These three ground-breaking groups solidified his reputation as one of the most creative drummers on the contemporary scene.
Altschul participated in some of the most important modern jazz recordings of the 1970s, includingThe Song Of Singing(1970) and A.R.C.(1971) by Corea, Holland and Altschul; Circulus(1970), Circling In(1970) and Paris Concert(1971) by Circle;Conference Of The Birds(1972) by theDave Holland Quartet(with Holland, Braxton and Rivers); Hues(1973), The Quest(1976) and Paragon(1977) by the Sam Rivers Trio;Sizzle(1975) by the Sam Rivers Quintet; Complete Braxton(1971), Five Pieces1975and The Montreux/Berlin Concerts(1975) by the Anthony Braxton Quartet;Creative Orchestra Music 1976by Braxton´s large ensemble; Scorpio(1972) and Japan Suite(1976) by the Paul Bley Trio; Drum Ode(1974) by Dave Liebman;Flexible Flyer(1975) by Roswell Rudd; Coon Bid´ness(1975) by saxophonist Julius Hemphill and Spiral(1975) by pianist Andrew Hill.
In addition, Altschul led his own freebop groups, with such luminaries as pianists Muhal Richard Abrams and Anthony Davis, trombonists Ray Anderson and George Lewis as well as bassist Mark Helias, to name a few. Altschul also began recording as a leader, with his first two recordings for Muse Records, You Can´t Name Your Own Tune(with Rivers, Lewis, Abrams and Holland) from 1977 and Another Time/Another Place(with saxophonist Arthur Blythe, Ray Anderson, Anthony Davis, cellist Abdul Wadud and bassist Brian Smith) from 1978, being among the key modern jazz recordings of the late 1970s. These were followed by Somewhere Elsein 1979 and Brahmain 1980 by the Barry Altschul Trio (with Ray Anderson and Mark Helias), For Stu(with Ray Anderson, Anthony Davis and bassist Rick Rozie) in 1979, Irina(with trumpeter Enrico Rava, saxophonist John Surman and Mark Helias) in 1983 andThat´s Nice(with saxophonist Sean Bergin, trombonist Glenn Ferris, pianist Mike Melillo and bassist Andy McKee) in 1985.
During a 10-year sojourn in Paris, France, in the late 1980s and early 1990s, Altschul was chosen to be the first foreign Artistic Director of Orchestre Regional De Jazz De Lorraine, a 20-piece French regional big band based in Nancy that, during this time, performed music written by Altschul and arranged by Coleridge-Taylor Perkinson. Altschul also toured Africa, the Middle East and Eastern Europe as a cultural ambassador for the USIS and recorded for a number of European record labels, including sessions led by saxophonists Claudio Fasoli, André Jaume and Dave Liebman, pianists Paul Bley, Kenny Drew, Franco D´Andrea, Denis Levaillant and Simon Nabotov, bassists John Lindberg and Niels-Henning Ørsted-Pedersen and vocalist Tiziana Ghiglioni. Overall, Altschul has participated in over 160 recording during his career.
Returning to the United States in 1993, Altschul took a teaching position at Sarah Lawrence College for a period of ten years and, although he soon began to perform in a few clubs where he also curated the music program, was largely invisible to the broader jazz audience. In 2003, bassist Adam Lane invited Altschul to participate in a recording (Fo(u)r Being(s)) that also featured trumpeter Paul Smoker and saxophonist John Tchicai and led to a small tour getting Altschul more interested in live performance again.
Around this time, Altschul also joined forces with Billy Bang and Joe Fonda to form the FAB Trio, a collective group that became his first regular performing vehicle in the United States in two decades. The trio toured worldwide and recorded five highly acclaimed albums (Transforming The Spacein 2003; Live At The Iron Works in 2004; History Of Jazz In Reverse, TUM CD 028, in 2005; Live In Amsterdamin 2008 and Live At the Sunset in 2008).
In the past decade, Altschul has also been a part of Roswell Rudd´s Trombone Tribe(with trombonists Roswell Rudd, Deborah Weisz and Steve Swell as well as tubist Bob Stewart and bassist Henry Grimes) and The Swell-Ullman 4(with Steve Swell, saxophonist Gebhard Ullman and bassist Hilliard Greene; Desert Songs And Other Landscapes in 2004andLive In Montreal in 2008) and has led several groups of his own that have included the likes of Uri Caine, Dave Douglas, Hilliard Greene, Hayes Greenfield, Mark Helias, Roswell Rudd, John Tchicai and many others. In 2007, he reunited with Sam Rivers and Dave Holland for a recorded performance by the Sam Rivers Trio(Reunion: Live In New York).
Altschul first performed with saxophonist Jon Irabagon on their 2010 recording with bassist Peter Bendler(Foxy). Since that time, Altschul and Irabagon have also performed together in 3dom Factor, a trio founded with Joe Fonda (The 3dom Factor, TUM CD 032, in 2012; Tales Of The Unforeseen, TUM CD 044, in 2014; and Live in Krakowin 2016), and in another trio with Mark Helias (It Takes All Kindsin 2013).