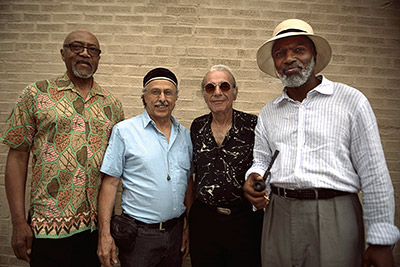 BAMAKO
By the time the OGJB Quartet came into existence in 2015, Barry Altschul and I had already played together quite extensively for more than 10 years, touring and recording first with the late great Billy Bang in the FAB Trio and then, after Billy´s untimely passing, with Jon Irabagon in the 3dom Factor.
The OGJB Quartet was originally conceived as the OJB Trio. I had just finished a tour with the Generations Quartet featuring Oliver Lake and, after that tour, thought what great trio Oliver, Barry and myself would make. I had mentioned the idea of this trio to Kunle Mwanga, a friend to all of us, and Kunle replied by asking: "Why not make it a quartet and add Graham Haynes as the fourth member?" To me and Barry, this seemed like a great idea as we have both always loved the combined sound of the trumpet and the alto saxophone and Graham was a perfect choice. So, the OJB Trio became the OGJB Quartet.
The music on this recording sings and strolls down the street, it swings, it dances, it swirls around your body like water and it grooves with a deep sense of its musical history. We feel that a perfect synergy is found within this quartet. What more could we ask for?
New York City, February 11, 2019
Joe Fonda
...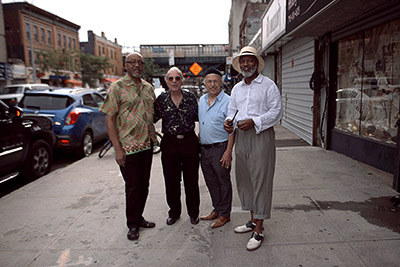 THE OGJB QUARTET
In a time where the concept of democracy is being challenged - dare I say at stake - jazz and improvised music continue to serve as a beacon of light, a prime example of how people from different backgrounds can not only get along and communicate with one another through discussion (collective improvisation in music), but can together achieve something that is in essence what humanity is or should be all about. Throughout the history of jazz, particularly in the groundbreaking period of the 1960s and 1970s (the so-called "Free Jazz" and "Loft Jazz" eras of the music), there have been successful leaderless cooperatives that serve as examples of this point. Groups like the World Saxophone Quartet (WSQ), the Revolutionary Ensemble, the New York Art Quartet and the Art Ensemble of Chicago (AEC) as well as the shorter-lived Circle and Creative Construction Company (CCC) all have staked their claim to working together in creating a whole far greater than the sum of their respective parts.
Enter into this distinct company the recently formed OGJB Quartet(Oliver Lake, Graham Haynes, Joe Fonda and Barry Altschul), an ensemble that has more in common than might meet the eye with many of those above groups. For starters, alto saxophonist Oliver Lake is one-fourth of the WSQ (founded over 40 years ago) and, in the early 1970s, drummer Barry Altschul was one-fourth of Circle, the bonafide supergroup with Anthony Braxton, Chick Corea and Dave Holland (interestingly, all members of the OGJB Quartet except cornetist Graham Haynes have played with Braxton to varying degrees in the past). But the OGJB Quartet and its associations with that impressive list of above-mentioned collectives and with one another does not stop there. One of Joe Fonda´s very first recordings (The Sky Cries the Blues by Wadada Leo Smith´sCreative Improvisors Orchestra in 1981) also included Lake and the two have more recently collaborated in the Generations Quartet. Perhaps most significantly, though, the OGJB Quartet might be seen more specifically as the third musical phase in Fonda´s ever-growing and important musical relationship with Altschul. Though the two first started playing together in the mid-1980s, it was not until the early 2000´s when they truly joined forces in the FAB Trio (be sure to add that group to the above list of memorable leaderless collectives!). When the FAB Trio´s violinist Billy Bang passed away in 2011, the two maintained their connection and friendship in the group 3dom Factor (nominally led by Altschul and featuring saxophonist Jon Irabagon). As Petri Haussila (founder of TUM Records for which both of the FAB Trio and 3dom Factor recorded) aptly puts it, "the OGJB Quartet is really a continuation of Joe and Barry´s collaboration, which rivals Barry´s other long-term working relationships with bass players, including with Gary Peacock in the Paul Bley Trio in the 1960s, with Dave Holland in the Sam Rivers´ Trio, Circle and the Anthony Braxton Quartet in the 1970s and with Mark Helias in Barry´s own and various other groups in the 1980s."
These connections grow exponentially deeper with Kunle Mwanga, producer, booking manager and former owner of NYC´s now defunct Liberty House store. He presented perhaps the very first AACM event in The Big Apple, a historic occasion that took place in May 1970 at Washington Square Methodist Church (the "Peace Church" in the West Village), which included the NYC debut concert of CCC (Anthony Braxton, Leroy Jenkins, Wadada Leo Smith and Steve McCall) with Muhal Richard Abrams and Richard Davis. Mwanga´s personal and professional history in creative improvised music was a central factor in these four musicians coming together, down to the suggestion of what became the final piece to the OGJB puzzle: Haynes. The youngest of the group at less than 60 years of age, Haynes had not previously played much with the others, although he had participated as a sideman in some of the same sessions as Lake and had also played with Altschul, even if that was almost 30 years ago.
The name of the band is an acronym of the first letters of each musician´s first name. In Lake´s words: "Music is the leader and that´s why it´s not under anyone´s name". The group´s live debut, a fully improvised mini-set, was at Brooklyn´s Roulette for the June 2015 memorial concert for percussionist Jerome Cooper (of the aforementioned cooperative Revolutionary Ensemble). The members of the group immediately recognized there was something special happening between them, even though it took another half-year for their next performance together, which was again in New York City. The band had really gained some traction, stunning all in attendance at that January 2016 Winter Jazz Festival concert, including yours truly (full disclosure: that show made my TOP 10 "Best Concerts of the Year" list). Fortunately, this would lead to more concerts and this, the group´s highly anticipated and fully realized recording debut.
In the true spirit of a leaderless and egoless collective, each member contributes compositionally and otherwise, in addition to the two instant compositions, "OGJB #2" and "OGJB #1" (collective improvisation created and improvised on the spot), that culminate the CD. "This is a project where everyone can contribute equally … everybody puts their music and personality in as a player and composer," says Fonda. The group takes several previous works or - in some instances - parts of previous works of its members (some recorded, some not) and either recreates them altogether or presents them here officially for the first time. Haynes´ sole compositional contribution to the session is the hypnotic - in music and in words - title composition "Bamako," which features Lake reciting his poe "Broken In Parts." It recalls Don Cherry´s "Multikulti Soothsayer" (from Don Cherry´s Multikulti, 1990) on which Cherry - like Haynes here - plays the modal African hunting harp known as the dousn´gouni. This selection speaks to the variety of musical textures and influences the multi-faceted OGJB has in its arsenal.
Altschul´s "Be Out S´Cool," a phonetic wordplay on the drummer/composer´s first and last name, also has some prior history, having been recorded by the drummer every few decades. The way this piece moves with lines in and out of time - accelerando and decreasing in tempo - is classic Altschul. The melody implies changes, "though none are actually written," admits the drummer. "[As a musician] you have your choice to go in whatever direction you want to. Whoever has the most creative energy at the moment 'leads.´" No one musician is forcing the hands of any of the others in an obvious natural flow of musical ideas. The drummer´s other compositional contribution, "Just A Simple Song," was originally written for the FAB Trio. True to its title, this beautiful melody consists of just three notes with an added note as the tag. With Altschul on brushes, Lake explores sonic extremes ever so subtly, complementing and adlibbing as if a self-sustaining rhythm section behind Haynes.
Other tunes given the OGJB makeover include Lake´s "Stick" (part of Trio 3´s recent repertoire) and "Is It Alright?" Both are similarly based on improvisation. On the former, the quartet members play independently of one other yet are interconnected within the piece´s structure, which is not set to a specific set of notes. Fonda´s virtuosic arco technique and Altschul´s multi-rhythmic, percussive, swinging wizardry particularly stick out. On the latter tune, Altschul sounds as if he is soloing throughout in his polyrhythmic mastery and multi-directional playing, incessantly pushing his band mates forward in what is a quick three and a half minute workout. Even the altoist´s previously unrecorded "3 Phrase 09" has a history of its own, as Lake began composing it some ten years ago. In essence, it is an original for this group. "I had written this in three different phases," says Lake. "When composing, I have different components and melodies and didn´t complete this one until more recently. So, though it´s old, it´s new because it laid incomplete on my desk for a long time!"
Bassist Fonda contributes two originals. His "Listen to Dr. Cornel West" has the melody flowing over the rhythm section as the horns respond to and revolve around a playful repetitive bass line and Altschul´s polyrhythmic undercurrent, accentuating the telepathic relationship between the two in the rhythm section and likewise the textual variation with the horn players. The organic quality of Altschul and Fonda´s approach leaves room for Haynes and Lake, "without bumping into anything," as Haynes appropriately puts it. Fonda´s "GS #2" is intriguingly dedicated to drummer and musical colleague George Schuller. "I haven´t told him I wrote this as a study of the structural concept in his compositions," Fonda remarked. "But I think he should write symphonies like his father [Third Stream pioneer Gunther Schuller]!" Fonda shows himself here to be a thoughtful composer in his own right, while allowing others appropriate and ample freedom.
TheOGJB Quartet´s greatest asset next to its impressive compositional well is of course its players´ individual flexibility and openness, not to mention experience. The veterans of the group are septuagenarians Lake and Altschul, "two people who helped invent this type of music," says Fonda, who also reveals, "None of us need [sheet] music to make music" as evidenced by the album´s two final tracks, "OGJB #2" and "OGJB #1". These instant compositions and collective group improvisations demonstrate the other side of this band that - in essence - brings OGJB full circle, back to the group´s inception of its very first live gig. These four are not only leaders in their own right but also individually brilliant improvisers. Even when they improvise freely, there is a sense of compositional framework - a fact that is perhaps the best complement to describe the musical magic this quartet consistently creates. And the music flows naturally, nobody and no one element forcing the issue, everyone listening intently to one another. A democratic group, all four leave plenty of space for one another to react and respond in what it is the equivalent of a deep conversation towards resolution, a lesson to today´s political (read: partisan) climate. The lack of dictatorship combined with the acts of discussion and being open-minded and receptive are more vital to thriving, let alone surviving, than you might otherwise be led to believe. In sound and silence, the OGJB Quartet sets as good an example as there is.
New York City, February 1, 2019
Laurence Donohue-Greene
Managing Editor, The New York City Jazz Record
...
Broken In Parts
(Oliver Lake)
as thou we were one
keepin' parts
discarding the rest
chief Running Bear
a well-heeled sonata of
string quartets
messages from the drum
heard by all the sections
(this is section one )
heard by all the sections
sections
in one....
African
European
Native American
loud drum, hi drum, Io drum
resonating thru spirits of all ancestors
ancestors to the creator
image drums, image rhythms
image parts,
created in image of the creator
all one, one & all
dreaming scrims of colored & pale flesh
vibrate in memory of things past
past time…..drilled w/ memories
of mountains/spirit-catchers/amulets
bones connected…..bones woven
w/ mud and mortar, myriads of memories
of ways/times of us…..us as one
divisions unnoticed
unnoticed…
mortar of blood/ brains/lumps/
hickeys of time swollen w/
vibrating pulsating pain & joy
joy hickeys dancin'
In the rear, bringing up the front
to the same line
time line
Broken up... un-broken
connected lines
lined up……..up & forthright
Right on
on to under....under standing
standing firm
________
From Oliver Lake: "If I Knew This." Poems & Images;
Montclair, New Jersey: Talkin Stick, 2011. Copyright © Oliver Lake.
...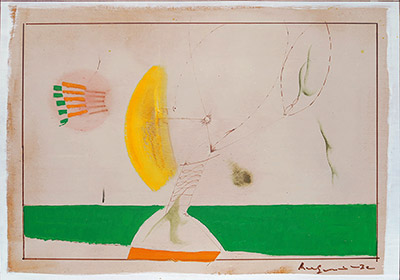 Listen to Dr. Cornel West (Joe Fonda) is dedicated by its composer to Dr. Cornel West (b. 1953), a highly influential philosopher, political activist and social critic who, beside his academic and writing career, has even recorded spoken word and hip-hop albums.
Bamako (Graham Haynes) features Haynes on dousn´gouni throughout the composition and has Lake reciting his poem "Broken In Parts." The poem was previously featured on Lake´s live recording with his quartet including Navajo Native American singer Mary Redhouse, bassist Santi Debriano and drummer Gene Lake (Live in 2001).
Be Out S´Cool (Barry Altschul) is a play on Altschul´s frequently misspelled name in its title, but part of the melody was, in fact, inspired by Theolonious Monk´s composition "Misterioso." "Be Out S´Cool" was first recorded by Altschul in 1980 on his album with trombonist Ray Anderson and bassist Mark Helias (Brahma), and, since that time, also by the John Lindberg Trio (Give And Take in 1982), pianist Denis Levaillant, bassist Manfred Brundl´s Basslab, saxophonist André Jaume, theFAB Trio (Transforming The Space in 2003) and the 3dom Factor (The 3dom Factor, TUM CD 032, in 2012).
Stick (Oliver Lake) has previously been recorded by Trio 3, a cooperative group that Lake has co-led with bassist Reggie Workman and drummer Andrew Cyrille for almost three decades (Visiting Texture in 2016).
GS #2 (Joe Fonda) is composed by Fonda for drummer George Schuller with whom he has collaborated in Conference Call (also featuring saxophonist Gebhard Ullman and pianist Michael Jefry Stevens) and a number of other groups over the years.
Just A Simple Song (Barry Altschul) was composed by Altschul just prior to the FAB Trio´s live recording in Paris in April 2008 (Live At the Sunset - A Night in Paris). When the trio was preparing for the recording, Altschul agreed to compose a new tune but, as there was no real time to rehearse, violinist Billy Bang asked Altschul to keep it simple. In response to Bang´s request to "not have too many notes," Altschul offered to compose a ballad with just three notes and "Just A Simple Song" was created. It was also included on the first recording by the 3dom Factor (The 3dom Factor in 2012).
Is It Alright? (Oliver Lake) has previously been recorded by Lake with bassist William Parker for a duo recording dedicated to the late trumpeter Roy Campbell (To Roy in 2014).
3 Phrase 09 (Oliver Lake) is a new composition by Lake that he had been working on over an extended period before completing it for this recording.
OGJB #2 (Lake, Haynes, Fonda & Altschul) is a collective improvisation by the OGJB Quartet.
OGJB #1 (Lake, Haynes, Fonda & Altschul) is another collective improvisation by the OGJB Quartet.