NAJWA - THE GREAT AMERICAN ICONOPRAPHIC LANDMARKING
Clearly, the music of Wadada Leo Smith is, like all music of strength, allure and self-acknowledged and unfolding mystery, a world unto itself. Whatever form, palette or context a project assumes, from his duets with Vijay Iyer or John Lindberg to ensembles of ever-varying scale and instrumental textures, we sense a dimensional duality involving both confidence and exploration in what he does.
Even so, forces and foundational elements from the "outside world" - particularly American landmarks - have been factoring into Smith´s projects in recent years, from the socio-racial politics of his Ten Freedom Summers and Occupy The World to projects in tribute to the Great Lakes and the National Parks. Now comes Najwa, a bold and new-minded visit to the plugged-in side of his aesthetic.
In a genuine way, Smith´s new album continues the trend of those earlier American paeans, bowing down to great American icons and entities from the realm of creative forces rather than natural wonders: the continuingly influential legacies of Ornette Coleman, John Coltrane, Billie Holiday and Ronald Shannon Jackson (a legend deserving a wider recognition factor). Plus, in the brief, enigmatic "Najwa," he interjects a mysterious personal homage as the pivot point in the literal middle of the sequence.
Smith recognizes the commonality of this new musical tribute and his earlier odes to natural splendor in our American midst: "It looks at the notion of America in its most positive character. You´re working to make that character known to Americans, so they can wake up and become who they say they are. Our country is a magnificent conceptual idea of freedom and liberty, but we have yet to achieve it. There has never been a single true democracy on the planet, and those who imitate the language in the documents that talk about a democracy have never come close to actualizing a society that is built on those principles."
"The largest idea that my music has is to try to open that up a little bit, and give people a little bit of a chance to think about this stuff and see if we can reclaim it - reclaim the idea and then actualize it."
From a purely sonic/musical perspective, Smith knows his way around this timbral terrain, having gone "electric" with his Miles Davis-celebrating Yo Miles! project, and the multiple electric guitar adventures with his group Organic. But something fresh is abuzz this time out, partly owing to the structural fluidity and shape-shifting going on within each track, and the creative interventions and post-production painterliness of Bill Laswell, magician of the inspired mix. Much like Laswell´s work with the music of 1970s Miles on Panthalassa, Najwa is about both the captured moment and the reconsidered, carefully re-tweaked moment and collective gesture.
Mixing the vibrant, in-the-moment nature of the session and a post-production reconstruction/gentle deconstruction process, Smith was strongly attracted to "the idea of making this session and then going back and re-recording some of the areas and then sitting down with Bill and allowing him to tweak it in certain ways and re-reference it in a whole different way. He´s interested in what happens after the music is recorded. I very much like that notion, that idea or that philosophy, when he tweaks it into a whole unique 'other´ version of what that recorded music can be."
We get a stirring, palpable sense of the musical persona of the album from its earliest moments on the album´s longest track "Ornette Coleman´s Harmolodic Sonic Hierographic Forms: A Resonance Change in the Millennium." A jagged melodic motif wriggles atop a rhythmic assertion from drummer akLaff and Laswell´s loamy bass presence - a propulsive pulse but one never locking into a fixed, easily-quantified or square-shaped "groove/feel." A sudden shift breaks open the rhythmic impetus, turning into a more floating second section, a framing for a gracefully-paced trumpet solo.
"Ohnedaruth John Coltrane: The Master of Kosmic Music and His Spirituality in a Love Supreme" similarly bursts forth with an intense yet open-feeling rhythmic gust, with a long-tone-loving melody sinuously plotted within the seductive tumult. Then a slower, steadier passage comes into view.
These first two tracks are each organized in a suite-like manner, one section rubbing against another, with contrasting characters: "On both compositions, I break it down to a quartet, with just guitar and trumpet, bass and drums [Smith sings a riff]. Each has a second movement within the context of the overall shape. They´re shaped like miniature suites within the context of a single album. And then the whole album has the shape of a tribute. It´s all about people and, therefore, it´s also organically unified, based around these people who I respect."
Working within, and radically reworking known archetypes in the context of, electric-guitar-based improvisational language, is a field of exploration that connects Smith with Ornette´s Prime Time and also with Shannon Jackson´s trailblazing 1980s band the Decoding Society. It was the latter artist, a powerhouse drummer, who also played with Ornette and had bold ideas as a composer and bandleader, who gave Smith "the spark that initiated this kind of collection of pieces."
Essentially, Smith coaxed his old friend and comrade out of retirement in 2005 to play for one tour and a few special gigs with the ongoing Smith aggregate the Golden Quartet (which has also featured drummers Jack DeJohnette and Pheeroan akLaff). While working with Shannon Jackson towards the end of his life (he died in 2013), Smith asserts: "I fell in love with his ability to tell stories, both through his drumming and otherwise. He was one of those fascinating creatures who loved the idea of a conspiracy. He could talk about any conspiracy theory floating around, but give a personal spin on it, until it was just fascinating to listen to. After he passed away, I wanted to do something that would reflect on my love and respect for him, to honor him."
"The Empress, Lady Day: In a Rainbow Garden, with Yellow-Gold Hot Springs, Surrounded by Exotic Plants and Flowers" pays tender, contemplative tribute to the great Billie Holiday. The cymbal colors, ephemeral acoustic guitar snippets, and poetic trumpet phrases are sent aloft in the suspended time-altering ether-space of the piece. Its 10-minute duration defies quantifiable temporal or structural logic and contrasts the more galvanic rhythm forces of much of the preceding music. In the sequential order of things, "The Empress, Lady Day" sends us on our way, out and up.
Smith holds Holiday in an especially lofty regard, and explains that, among his tribute works, she is a favorite. "I´ve written more compositions for Billie Holiday than maybe any other person. I have already recorded four or five pieces for her. This is the third one to be released and there are others to come. She´s my favorite topic."
"She´s so categorically timeless," I suggest to him, "as are all of these artists."
"Exactly," he agrees. "All of them are, but when you look at her, you get a true sense of what vocal improvisation is. It´s not just hitting the notes and creating melodies out of sounds. What she did was to change a single word in a text, written by somebody else, and make it so believable so as to recreate that piece in a shape that did not exist in the original, except for the basic outlines."
"To me, that is incredible. Very few people can do that. Ray Charles could do that. Jeanne Lee could do that. And Bob Marley. Those kinds of people really impress me the greatest, when they come from improvisation. They´re not imitating horns anymore. They´re actually creating artistic literature."
As for the guitarists carefully chosen for the task on Najwa, Smith tapped the sensitive talents of Michael Gregory Jackson, Brandon Ross and Henry Kaiser as well as his grandson, Lamar Smith. Smith the Younger was a precocious teenager, steeped in some deep wellspring of musical blood, when he first played on Smith´s album Heart´s Reflection in 2009. They had planned on one piece for him, but according to Wadada: "after it was over, I asked if he wanted to leave. He said: 'No, I want to play.´ So he played the rest of that set with us. He was 12 or 13 then. That night, I introduced him as the fourth generation of musicians in our lineage. The first generation was my stepfather´s aunt, who was also a blues guitarist. She introduced him, as a teenager, and he introduced me, as a teenager, and now I introduced my grandson, as a teenager."
Mississippi-born Smith´s fascination with the electric guitar (although there are some notable, introspective acoustic guitar moments on Najwa) stems from the influence of his stepfather, Alex "Little Bill" Wallace, a well-considered early blues player: "He was one of the first ones along with B.B. King, Muddy Waters and all those guys. They all traveled out of Mississippi and the South, but he elected to stay."
"He was my first teacher. He wasn´t a teacher who said 'play this way´ or 'play that way,´ but was able to edit what I did on stage with him by expressing life force as opposed to expressing his life (through me). So if he said nothing, that meant that that it did nothing for him. A pretty powerful way of teaching, actually."
While these tracks contain passages of Smith´s personal poetic stamp as a trumpeter, and the guitarists have their fleeting moments of a soloing spotlight, a larger collective texture and structure are generally at play here. The respect for the forest trumps the glory of the individual trees. Smith sees his vision for the musical code and behavioral mode as "a whole other field of believing that the environment itself has a kind of energy to actually construct what is being done. You become part of that circuitry. That´s really enough."
Najwa takes the centralizing, yet ever expanding aesthetic tapestry of Smith´s body of work into a fresh niche, or at least a fresh byway of previous exploratory zones in his discography.
"You can see that creativity is the home of the human character," he insists, "and it expresses the ultimate view from the past to the present to the future, of what the human being is capable of - capable of imagining and capable of actually capturing that imagination by evolving forward or moving past it. Only creativity allows you to do that."
Santa Barbara, California, July 24, 2017
Josef Woodard
(Contributor to DownBeat and many other publications, author of Charles Lloyd: A Wild, Blatant Truth and Conversations with Charlie Haden)
---
Ornette Coleman, along with Albert and Donald Ayler, Don Cherry, Booker Little, Sunny Murray, George Russell, Cecil Taylor and Lennie Tristano, introduced the latest cycle in creative music. John Coltrane, Miles Davis, John Lewis and Thelonious Monk also had a new vision of how the music could develop beyond the fixed chord progressions; they selected the free use of modality and sound. Therefore, they were right on the edge of something new.
The previous cycle of creative music began at the turn of the century with Louis Armstrong, Joseph Oliver, Warren "Baby" Dodds, Earl Hines and Bessie Smith; it ended with the masters of harmonic music Chu Berry, Coleman Hawkins, Charlie Parker and Lester Young, the great master of sound and silence.
Ornette Coleman, Cecil Taylor and Albert Ayler stepped forward with a language and a philosophy that broke the boundary between melody/harmony/form and philosophical thinking. It opened up for musicians a fresh view of how to think about music and its meaning, with a completely different idea about sound/rhythm and form. These artists renewed the journey of creative music by not carrying forward all the baggage of the old language, which was based on harmonic progressions.
Now, we as a creative community have these multiplicity pathways of musical languages and systems that have resulted in a whole new reality with people like Anthony Braxton, Roscoe Mitchell and Henry Threadgill and other artists, who understand that systems and languages are the new vision for creative music and the way ahead for more discoveries.
New Haven, Connecticut, July 23, 2017
Wadada Leo Smith
---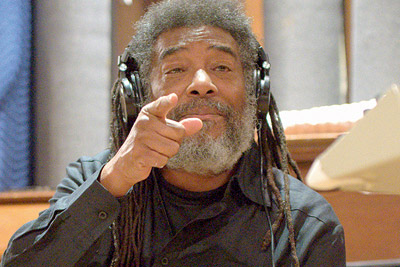 Ornette Coleman´s Harmolodic Sonic Hierographic Forms: A Resonance Change in the Millennium (Wadada Leo Smith)
Wadada Leo Smith: "Ornette Coleman's music and his philosophical thinking are the most important influence I have encountered in life. I first discovered his music through the LP recording This Is Our Music. His music had the sensibility to touch my heart and to liberate me to not judge my own music; and to have the courage to move inside my inspiration and discover what was there and to use it completely without fear."
Ohnedaruth John Coltrane: The Master of Kosmic Music and His Spirituality in a Love Supreme (Wadada Leo Smith)
Wadada Leo Smith: "John Coltrane was a spiritual leader for the entire world. For this composition, I included a long sustained adagio movement that eventually moves into the second movement of the piece. I do that to represent his transformation from his early life into his spiritual life."
Najwa (Wadada Leo Smith)
Wadada Leo Smith: "This is a love song or, perhaps more accurately, a tragic song for a love lost. I created this composition not as a memorial tribute, but as a celebration of life and a clear understanding of love between a man and a woman."
Ronald Shannon Jackson: The Master of Symphonic Drumming and Multi-Sonic Rhythms, Inscriptions of a Rare Beauty (Wadada Leo Smith)
Wadada Leo Smith: "Shannon was truly a rare beauty. He was an excellent composer and his drumming was orchestral and rhythmic and very natural but always with extra multi-sonic elements inside his drumming musical wave. And because he used two bass-drums in his music, he invented an elastic rhythm/sonic language that had a top, a middle and a deep bottom to it. His group Decoding Society was most powerful and they actually introduced some new directions coming out of the language that Ornette Coleman, Cecil Taylor and Sunny Murray had built. The beautiful thing about Shannon was that he was constantly working and studying. In every sound-check, he would be working on the drum set searching to find out how best to create a unique rhythm for that night´s performance."
The Empress, Lady Day: In a Rainbow Garden, with Yellow-Gold Hot Springs, Surrounded by Exotic Plants and Flowers (Wadada Leo Smith)
Wadada Leo Smith: "Billie Holiday was a great performer/composer. She could take any song and improve on the lyrics, add a word or reshape a word in the original lyrics without destroying its meaning. I believe that what she did to the song illuminated clearly what the composer´s original ideas were."