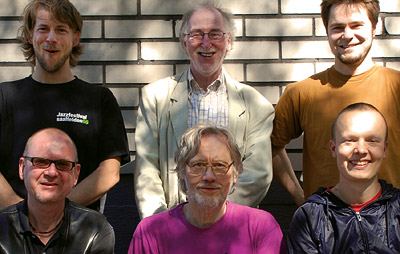 ---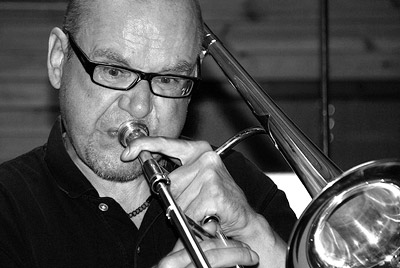 Jari Hongisto (b.1960) began his trombone studies in Finland in the mid 1970s but has also studied in Germany and the United States with the likes of Conrad Bauer and George Lewis. Although Hongisto has played in both symphony orchestras and jazz big bands, he has always been drawn towards more experimental expression often combining the worlds of modern classical, electronic and/or freely improvised music.
In the 1980s, Hongisto played with Edward Vesala in his Sound and Fury ensemble as well as in various smaller groups involving Vesala. Hongisto also participated in Vesala´s Kullervo recording in 1984/85 and was one of the founding members of the original Krakatau, with Vesala and guitarist Raoul Björkenheim.

After Vesala, Teppo Hauta-aho became an important collaborator of Hongisto and the two have both recorded and toured together as members of Quintet Moderne (with soprano saxophonist Harri Sjöström, violinist Philipp Wachsman and drummer Paul Lovens) in the 1980s and Sound Kitchen (with guitarist Hasse Poulsen) beginning in the late 1990s as well as various other groups. Hongisto´s other important collaborators have included saxophonists Jorma Tapio and Esa Pethman, trumpeters Henrik Otto Donner (Free for All, TUM Box 001) and Jarmo Sermilä, pianists Eero Ojanen and Heikki Sarmanto and percussionist Jouni Kesti. Currently, Hongisto is a member of the Olavi Trio, the Iro Haarla Sextet, the Jari Hongisto/Veli Kujala Duo and Ulf Krokfors Orkester.

In addition to smaller groups, Hongisto has been much in demand as a big band player. In particular, Hongisto has had a long tenure with the UMO Jazz Orchestra (1991- ) and has participated in a number of recordings by UMO (e.g., The Sky Is Ruby, TUM CD 017, Agatha and Primal Mind). Hongisto has also played with the EBU Big Band, the Eero Koivistoinen Big Band, TOMO Big Band, Kvarken Big Band, Espoo Big Band and a number of other orchestras. Hongisto has also been involved in several projects with more adventurous representatives of rock music, such as Tuomari Nurmio and Ismo Alanko.
---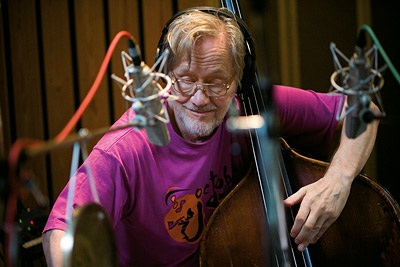 Teppo Hauta-aho (b.1941), also known by his friends as Teemu Kalmisto, first began playing the double bass by ear without any formal musical education. After learning the basics of prima vista, he was admitted to the Sibelius Academy, Finland´s only university level music academy, in 1963 and studied with the legendary teacher Oiva Nummelin, receiving his diploma in 1970. He also studied double bass with Professor František Pošta in Prague during the late 1960s and the early 1970s. Between 1965 and 1972, Hauta-aho was a member of the Helsinki Philharmonic Orchestra and, from 1975 until his retirement in 1999, a member of the Finnish National Opera Orchestra.
Hauta-aho has received a number of grants and awards over the years for his work as a classical composer and double bass soloist. As a composer, his oeuvre includes orchestral and chamber compositions as well as several works for solo instruments, including a large body of works featuring the double bass. Hauta-aho received the Recognition Award for Composition of the International Society of Bassists in 2003 and the Lifetime Achievement Award of the British and International Bass Forum in 2004.
Throughout his career, Hauta-aho has continued to play improvised music alongside with his career as a classical musician and composer. During the 1960s and 1970s, Hauta-aho was a member of a number of important Finnish jazz groups including the Juhani Vilkki Sextet (with saxophonists Stanley Lindroos and Pekka Pöyry, pianist Eero Ojanen, gutarist Juhani Vilkki and drummer Pekka Tirkkonen) and Quartet, the Pekka Pöyry Quartet (with Pekka Pöyry, Eero Ojanen and drummer Reino Laine), Kalmisto Klang (with saxophonists Pekka Pöyry and Seppo Paakkunainen, trombonist Mircea Stan, trumpeter Mike Koskinen and drummer Edward Vesala), the Tuohi Quartet (with Seppo Paakkunainen, pianist Heikki Sarmanto and Edward Vesala), the Mircea Stan Sextet (with saxophonists Seppo Paakkunainen and Pentti Lahti, Mircea Stan, pianist Vladimir Shafranov and Reino Laine) and the Kalmisto Quartet (with Seppo Paakkunainen, trumpeter Jarmo Sermilä and drummer Jukka Wasama). Hauta-aho´s collaboration with singer, guitarist and composer Carita Holmström began in 1977 and has continued to this day, including the Carita & Kalmisto Duo (Two Faces and DUO!), Hauta-aho´s membership in Carita Holmström & Players Unilimited (Time of Growing) and various other projects.
More recently, Hauta-aho has been a member of Duo Nueva Finlandia (with Eero Ojanen; Short Stories, TUM CD 012), Trio Nueva Finlandia (with Seppo Paakkunainen and Eero Ojanen; Ha! What´s Going On?), Sound Kitchen (with Jari Hongisto and Hasse Poulsen; Pass Me the Wine, Please), the Töölö Bass Trio (with bassists Erik Siikasaari and Heikki Virtanen) and Quintet Moderne (with soprano saxophonist Harry Sjöström, trombonist Jari Hongisto or Paul Rutherford, violinist Philipp Wachsmann and drummer Paul Lovens; Ikkunan Takaa and WellSpring Suite). Hauta-aho has also performed and/or recorded as a member of the George Russell Big Band, the Mal Waldron Quartet, the Anthony Braxton Ensemble (with saxophonists Anthony Braxton, Pentti Lahti, Seppo Paakkunainen and Pepa Päivinen, Mircea Stan, violinist Mikko-Ville Luolajan-Mikkola and Jukka Wasama), Braxtonia II (with Anthony Braxton and Pepa Päivinen, bass clarinetist Heikki Nikula, Verneri Pohjola, Jari Hongisto, Kalle Kalima and Olavi Louhivuori), the Evan Parker, Philipp Wachsmann & Teppo Hauta-aho Trio (The Needless), the Philipp Wachsmann & Teppo Hauta-aho Duo (August Steps), the Cecil Taylor Quartet (with Cecil Taylor, Harry Sjöström and Paul Lovens) and the Cecil Taylor Quintet (with cellist Tristan Honsinger added). He has also performed with trumpeter Jarmo Sermilä (February Conversations), pianist Alexander von Schlippenbach and bassist Barre Phillips among many others. Currently, Hauta-aho is a member of Kalle Kalima & K-18 (with Kalle Kalima, saxophonist Mikko Innanen and accordionist Veli Kujala; Some Kubricks of Blood, TUM CD 022) and performs with Kalle Kalima in the Kalima-Kalmisto Duo.

---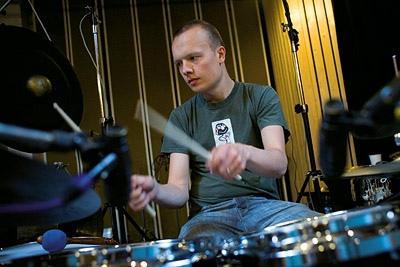 Olavi Louhivuori (b.1981) graduated from the Jyväskylä Conservatory´s jazz/pop department in 2002 and was admitted to the Jazz Department of the Sibelius Academy that same year. Besides instrumental studies, Louhivuori has also studied composition with Kari Heinilä and Matthew Whittal. In recent years, Louhivuori has been composing music for various line-ups ranging from small jazz groups to string ensembles and also orchestral pieces for big bands.
Louhivuori grew up surrounded by music and musicians. His father works as a professor at the Jyväskylä University´s Music Department and his mother is a violinist and a music pedagogue. All of Louhivuori´s four siblings play an instrument. While still living in his hometown Jyväskylä, Louhivuori began playing with local musicians and participating in the famous jam sessions of the now defunct Jazz Bar.
Louhivuori first became known to a broader audience through the Joona Toivanen Trio (with pianist Joona Toivanen and bassist Tapani Toivanen) that has issued four recordings and Ilmiliekki Quartet (with trumpeter Verneri Pohjola, pianist Tuomo Prättälä and bassist Antti Lötjönen) that has issued two recordings of its own (March of the Alpha Males, TUM CD 005 and Take It with Me, TUM CD 020) and also an album with vocalist Emma Salokoski (Vi Sålde Våra Hemman).
In addition to co-leading the Olavi Trio and Ilmiliekki Quartet, Louhivuori leads his own group Oddarrang, a quintet comprised of trombone, cello, guitar, bass and drums (with Ilmari Pohjola, Osmo Ikonen, Lasse Sakara and Lasse Lindgren, respectively) that was awarded the Jazz Emma for its first recording (Music Illustrated) as the best Finnish jazz record of the year 2006. Louhivuori also performs with the Alexi Tuomarila Trio (with pianist Alexi Tuomarila and bassist Mats Eilertsen) and Sun Trio (with trumpeter Kalevi Louhivuori and bassist Antti Lötjönen). Of these groups, the Joona Toivanen Trio (in 2000), Ilmiliekki Quartet (in 2002) and Sun Trio (in 2006) have all been winners of the Nordic Jazz Comets competition. Louhivuori also performs as a solo drummer and released a solo album in 2008 (Inhale-Exhale).
Louhivuori has frequently performed with Polish trumpeter Tomasz Stanko in various combinations and, beginning in 2009, has been a member of the Tomasz Stanko Quintet (with pianist Aleksi Tuomarila, guitarist Jakob Bro and bassist Anders Christensen) that has released a well-received album (Dark Eyes) on ECM Records. He has also performed with the UMO Jazz Orchestra and with such well-established musicians as saxophonists Anthony Braxton, Joe McPhee, Jukka Perko and Sakari Kukko, pianists Marilyn Crispell and Samuli Mikkonen and vocalists Susanne Abbuehl and M.A. Numminen.
---
Verneri Pohjola (b.1977) comes from one of Finland´s most renown musical families. After having studied trumpet both privately and at the Pop and Jazz Conservatory in Helsinki, Finland, and the Örebro Music School in Sweden, Pohjola was admitted to the Jazz Department of the Sibelius Academy in 1999. At the Sibelius Academy, his teachers have included some of Finland´s leading jazz musicians as well as visiting clinicians from the United States and other countries.
Like Louhivuori, Pohjola first became better known through Ilmiliekki Quartet. In addition, he has been active in a number of other groups, including Quintessence, a popular nu-soul ensemble; Q-Continuum, an offshoot of Quintessence; Suhkan Uhka, a 12-member ensemble (Suhka, TUM CD 001); and the post-rock group Silvio, in which he played drums. He has also performed in various groups led by pianists Giovanni Guidi, Iro Haarla, Seppo Kantonen, Aki Rissanen and Alexi Tuomarila and by bassists Pekka Pohjola and Ulf Krokfors.
Pohjola has performed as a soloist with the UMO Jazz Orchestra (Agatha) and Orkestrova and with such well-established artists as saxophonist Anthony Braxton, bassist Anders Jormin and drummer Gerry Hemingway. Currently, Pohjola leads his own ever-changing ensemble Aurora that for its first recording (Aurora) received the Jazz Emma as the best Finnish jazz recording of the year 2009. During 2010 and 2011, Pohjola has performed, with a trio also including pianist Aki Rissanen and drummer Joonas Riippa, as part of the Finnish National Theater´s production of Paul Auster´s play Mr. Vertigo, with the trio´s music for the play also having been recorded (Music from the Play Mr. Vertigo).
---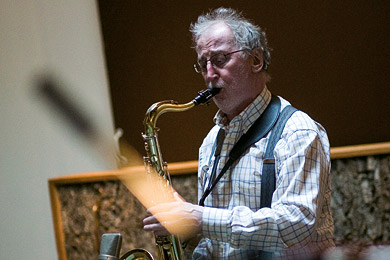 Juhani Aaltonen (b.1935) first performed in public in 1957 and began his professional career as a free-lance musician in 1961. During the 1960s, he performed extensively with saxophonist Esa Pethman, trumpeter Henrik Otto Donner, pianist Heikki Sarmanto, drummer Edward Vesala and many others.
In the 1970s and 1980s, Aaltonen continued to collaborate with Donner, Sarmanto and Vesala besides being one of Finland most-in-demand studio musicians. During a three-year period towards the end of the 1970s, Aaltonen was also a member of the Norwegian bassist Arild Andersen´s quartet. He was one of the founding members of the UMO Jazz Orchestra in 1975 and continued with the orchestra until 1986 when he left after receiving a 15-year artist´s grant from the Finnish State. During the 1990s, Aaltonen enjoyed a particularly close cooperation with Heikki Sarmanto, comprising a number of concert tours and recordings of extended works. Since the late 1980s, he has also often performed and recorded religious music.
Although Aaltonen´s role in various projects by Donner, Vesala, Sarmanto and others has been essential and Aaltonen has been one of the central figures in Finnish modern jazz for five decades, his output as a leader was, until the past decade, relatively limited. This changed with the Juhani Aaltonen Trio that was established in 2001 with bassist Ulf Krokfors and drummer Tom Nekljudow and quickly became one of the leading Finnish modern jazz groups of all time (Mother Tongue, TUM CD 002 and Illusion of a Ballad, TUM CD 013). This trio was followed by the equally acclaimed Juhani Aaltonen Quartet that has Iro Haarla on piano and harp, Ulf Krokfors on bass and Reino Laine on drums (Conclusions, TUM CD 021). Parallel to his own trio and quartet, Aaltonen has also performed in a trio with two great masters of modern jazz, bassist Reggie Workman and drummer Andrew Cyrille (Reflections, TUM CD 007) that was also featured with Avanti! Chamber Orchestra on the recording of Henrik Otto Donner´s compositions (Strings Revisited, TUM CD 005). A third regular performing vehicle for Aaltonen has been Nordic Trinity, a co-operative group with guitarist Mikko Iivanainen and drummer Klaus Suonsaari. In 2006, Aaltonen was featured as a soloist on guitarist Raoul Björkenheim´s recording with UMO (The Sky Is Ruby, TUM CD 017).
---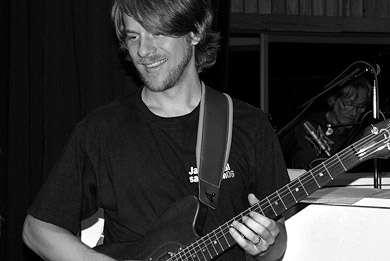 Kalle Kalima (b.1973) began his musical studies on the piano at the age of six but switched over to the guitar some five years later. Kalima studied at the Sibelius Academy (1995-2003) in Helsinki and at the Hanns Eiler Conservatory in Berlin under the guidance of Raoul Björkenheim and John Schröder, respectively, among many others. After taking up residence in Berlin with his family in 2000, Kalima has continuously broadened his musical expression and has performed with a number of leading proponents of free improvisation both in Finland and internationally, including trumpeter Tomasz Stanko, saxophonist Juhani Aaltonen, pianist Heikki Sarmanto, bassists Sirone, Teppo Hauta-aho, Carlos Bica and Ed Schuller, guitarist Marc Ducret, composer Simon Stockhausen and vocalist Linda Sharrock. He also frequently performs with Jimi Tenor in the realm of alternative pop/rock music. In addition to Europe, Kalima has performed in Africa, Asia and the United States.
Kalima regularly performs with a number of groups representing distinctly different approaches to improvised music. These include the jazz improvisation of two guitar trios, Johnny La Marama (with bassist Chris Dahlgren and drummer Eric Schaeffer) and Klima Kalima (with bassist Oliver Potratz and drummer Oliver Steidle), the freely pulsating improvisation of Momentum Impakto (with saxophonist Daniel Erdmann and drummer John Schröder), the melodically rich, folk-influenced lieds of Soi Ensemble (with lyricist Essi Kalima, vocalists Johanna Iivananinen, Eeppi Ursin and Merzi Rajala, cellist Riikka Lampinen, organist Mikko Helevä and percussionist Mongo Aaltonen) as well as the free improvisation and avant-garde influences of Kalle Kalima & K-18 (saxophonist Mikko Innanen, accordionist Veli Kujala and Teppo Hauta-aho; Some Kubricks of Blood, TUM CD 022) and the Kalima-Kalmisto Duo (with Teppo Hauta-aho). Kalima has also performed and recorded alone (Pendulum), using different effects and preparations in addition to his guitars, and has been featured as a soloist with larger ensembles, including the UMO Jazz Orchestra.