To start with, I should clear out one potential source for confusion. Namely, when a threesome of Finnish musicians chooses to be called the Olavi Trio, one could not be faulted for assuming that this has something to do with the great master of the Finnish tango, the late Olavi Virta. Here, however, such is not the case. It just happened that, around the time the Olavi Trio was formed, its participants noted that they all shared the middle name Olavi. In fact, the group´s drummer, Niilo Olavi Louhivuori, even goes by the name Olavi whereas trombonist Jari Olavi Hongisto and bassist Teppo Olavi Hauta-aho are each known by their first names.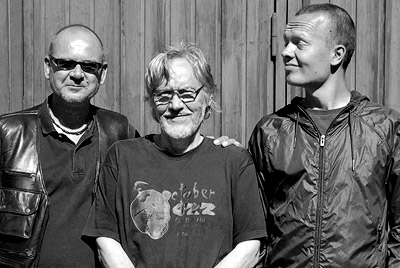 As the original idea for the Olavi Trio came from Teppo Hauta-aho, it is appropriate that the release of their first recording is timed to coincide with his 70th birthday on May 27, 2011. Hauta-aho could justifiably be called the Dean of the Finnish improvisers having been in the forefront of this music since the 1960s, initially on the Finnish and then on the international scene. It would also not be incorrect to call Hongisto and Louhivuori his students or protégées although their respective relationships have moved well past that point. Both Hongisto and Louhivuori credit Hauta-aho with having led them from the more traditional jazz expression to the path towards free improvisation that is not bound by the conventions of any particular style or manner of playing. Hongisto credits this to the breath of Hauta-aho´s own background. "Since he has both his classical background as a player and also his background as a composer as well as having been a jazz musician for a long time and on top of all that a truly remarkable improviser, Teppo really has all these different fields of music under his command and available for him to draw upon", says Hongisto. "Teppo is unique", adds Louhivuori. "I believe that Teppo is the perfect example of an individual who lives the way he plays and plays the way he lives. In everything he does, Teppo is a truly creative and inspired individual and, whether he plays the double bass or the closest door - as he sometimes does to a great effect, he extends this attitude to his music".
The Olavi Trio combines three generations of improvising musicians with Teppo Hauta-aho having been active since the early 1960s, Jari Hongisto having become known in the 1980s and Olavi Louhivuori having emerged in the past ten or so years. About 20 years separate the birthdays of Hauta-aho (b.1941) and Jari Hongisto (b.1960) on the one hand and the birthdays of Hongisto and Louhivuori (b.1981) on the other. Therefore, virtually the entire history of freely improvised, jazz-based music is covered through their collective experiences. Still, despite any generational differences, the three are, first and foremost, connected by their passion for free improvisation. In talking to the three of them, they all refer to each other as being good listeners, having "big ears", and this is the key to the Olavi Trio. Teppo Hauta-aho also emphasizes that, despite their age differences, the Olavi Trio is a thoroughly democratic institution. "Playing with the Olavi Trio is always a pleasure because you feel like you are at home, nobody is pushing you out of the way", says Hauta-aho. "To me democracy is important in all good music. With us, everybody is free to take the music to a different direction and new things constantly emerge. We all react to what the others are doing and end up surprising each other".
The three also share many of the same musical connections outside of the trio. Hauta-aho and Hongisto have over the years collaborated in connection with a number of projects, such as Quintet Moderne (originally, Hauta-aho and Hongisto with soprano saxophonist Harri Sjöström, violinist Philipp Wachsman and drummer Paul Lovens) in the 1980s and Sound Kitchen (with guitarist Hasse Poulsen) beginning in the late 1990s. They have also both played, sometimes separately and sometimes together, with many of the other leading Finnish musicians, such as saxophonists Juhani Aaltonen and Seppo "Baron" Paakkunainen, trumpeters Mike Koskinen and Jarmo Sermilä, pianists Eero Ojanen and Heikki Sarmanto as well as drummers Jouni Kesti and Edward Vesala. Hongisto credits Hauta-aho with introducing him to free improvisation both as a musical language and as a mental state and ranks Hauta-aho´s influence as being critical to his development as an improvising musician together with the influences of Edward Vesala and Juhani Aaltonen with whom Hongisto often performed in Vesala´s ensembles in the mid 1980s. Clearly, these lessons were not wasted on Hongisto who is himself considered one of the most creative and skilful improvisers in Finland, whether performing with a small group or a big band.
Olavi Louhivuori says very much the same thing about Hauta-aho as Hongisto. The first contact between Hauta-aho and Louhivuori came already in 2000 when the former, having heard Louhivuori perform with the trio of pianist Joona Toivanen, contacted Louhivuori. The purpose for this initial contact was to invite the Joona Toivanen Trio to perform as part of the Jazz@Opera concert series that Hauta-aho was curating for the small concert hall in the Finnish National Opera´s building in Helsinki, Hauta-aho´s longstanding workplace as a member of that august institution´s orchestra. When Louhivuori shortly thereafter moved to Helsinki from his hometown Jyväskylä, he also joined the small circle of musicians with whom Hauta-aho liked to play and rehearse. Typically, these encounters would take the form of informal practice sessions either as a duo or with others joining in but also included, for example, a quartet session with tenor saxophonist Joe McPhee and guitarist Raymond Boni that was recorded by the Finnish Broadcasting Company in 2004. Hauta-aho, who is known to despise drummers who drown out the double bass with the steady beat of the bass drum ("What do you then need a bass for?") and has at least one removed the foot pedal from the drum kit of an offending drummer, felt that, in Louhivuori, he had found a drummer who would listen to and react to the others rather than just do his own thing.
So, when Hauta-aho and Hongisto were looking for a new semi-regular performance vehicle after Sound Kitchen had become inactive, inviting Louhivuori to join in a new trio seemed natural. Hongisto was also open to this idea having played with Louhivuori in the UMO Jazz Orchestra, including a particularly creative concert in 2003 with bassist Barry Guy and violinist Maya Homburger as visiting artists. An opportunity to test out the trio was offered by jazz promoter Charles Gil, who invited the three musicians to perform at his 40th birthday party in 2004. When the musicians also found out that they shared the middle name Olavi, this all seemed predestined and the Olavi Trio was born. After the initial performance at Gil´s birthday party, the trio continued with club and festival performances in Finland and also did a short Finnish tour with guitarist Kalle Kalima as their special guest in 2005.
At the time of the establishment of the Olavi Trio, Hauta-aho and Hongisto were already seasoned veterans whereas Louhivuori was still in the process of becoming known to the broader audience and mostly performed with his contemporaries, such as fellow students from the Jazz Department of the Sibelius Academy. Since that time, however, Louhivuori has also graduated to a full-fledged membership of the European improvising community performing not only with the other members of the Olavi Trio but also in Anthony Braxton´s Braxtonia II ensemble at the Kerava Jazz Festival in 2006 (with the Olavi Trio forming the nucleus of the ensemble), in a trio with pianist Marilyn Crispell and Hauta-aho in 2005 and in 2007 and, most recently, in the new quintet of the Polish trumpeter Tomasz Stanko beginning in 2009 as well as groups led by the Norwegian bassist Mats Eilertsen and the Swiss singer Susanne Abbuehl. Where, in the beginning, Olavi Louhivuori may have been the young turk eager to learn from his elders, the three members of the Olavi Trio have in the past seven years grown into a collaborative unit where age means little and the emphasis is on the willingness to throw yourself into the music of the moment.
With its first recording, the Olavi Trio wanted to use the opportunity to invite a few of their mutual friends to join in having already occasionally featured guest artists in their public performances. Like the Olavi Trio itself, the visiting musicians also represent different generations of Finnish improvisers. Juhani Aaltonen is part of the small group of pioneers to which Teppo Hauta-aho also belongs. In fact, the two already shared a rehearsal space - with many others - in the early 1960s and were together members of a number of groundbreaking groups with drummer Edward Vesala in the late 1960s and the early 1970s with alternating leadership. Jari Hongisto also had his own contacts with Juhani Aaltonen already in the 1980s, for example, through performances with an early incarnation of Edward Vesala´s Sound and Fury ensemble. In fact, Hongisto´s first ever recording was Vesala´s Kullervo in 1984/85, on which Aaltonen was one of the featured soloists and Hongisto also contributed some inspired trombone work. For Olavi Louhivuori, however, this recording represented his first documented encounter with Aaltonen but can also be seen in the context of Louhivuori´s current membership in the Tomasz Stanko Quintet, with Aaltonen and Stanko of course having been the two principal soloists of Edward Vesala´s various ensembles and recordings throughout the late 1970s and early 1980s. While these connections may seem coincidental, they actually go to show what a small and inter-connected group of musicians it is that shares a passion for improvised music in Europe.
The other guests on this recording, guitarist Kalle Kalima and trumpeter Verneri Pohjola, represent the younger generation but come from rather different backgrounds. Kalima left Finland for Berlin more than 10 years ago and has become a fixture on that cosmopolitan city´s scene for improvisers although, on his visits to Finland, he has also found time to practice and perform with Teppo Hauta-aho both in a duo setting as the Kalima-Kalmisto Duo and as a guest with the Olavi Trio. Hauta-aho in turn is a member of Kalle Kalima & K-18 (with saxophonist Mikko Innanen and accordionist Veli Kujala) that has received much acclaim for its performances and first recording (Some Kubricks of Blood, TUM CD 022).
Verneri Pohjola on the other hand has risen to considerable success in Finland with his various projects beginning with Ilmiliekki Quartet that also has Olavi Louhivuori as its drummer and one of its co-founders. In addition to Ilmiliekki Quartet and many other collaborative groups, Pohjola also leads his own groups, such as Aurora that issued its well-received first recording in 2009 (with both Aaltonen and Louhivuori featured), and has performed and recorded as a soloist with the UMO Jazz Orchestra (Agatha, with Jari Hongisto in the trombone section) among many other projects that have often involved Louhivuori as well.
Through these various connections, the choice of Aaltonen, Kalima and Pohjola was both natural and inspired, with each of them representing a different take on the tradition of improvised music. Although the Olavi Trio would have no difficulty carrying the entire length of the recording on its own (in listening to the trio tracks, one almost wishes that they had), the visitors each bring their own individual artistry to the sessions thereby contributing to a particularly diverse end result. As a courtesy to their quests, the Olavi Trio also invited them to bring with them some musical material although even composed material was recorded with minimal advance rehearsal (basically, just a quick run-through) and, to a very large extent, relying on free improvisation. Whereas some recordings of improvised music can be rather sparse and sometimes even a bit boring, nothing could be further away from this one. With the Olavi Trio providing the continuity and a consistent frame, their visiting friends add in their own unique spices to form a very satisfying whole.
So, to sum up, the Olavi Trio has nothing to do with the late Olavi Virta. Except that, on this recording, Juhani Aaltonen and the Olavi Trio of course perform one of Virta´s most beloved tangos, "Täysikuu", as its final track. Maybe, there is no getting away from the tango when Finnish groups - at least ones called Olavi - are concerned. Not even with those focused on free improvisation. Seinäjoki Tango Festival, here comes the Olavi Trio!
Helsinki, May 13, 2011
Petri Haussila
---
Triologia (Hauta-aho - Hongisto - Louhivuori) serves as an introduction to the wonderful world of the Olavi Trio. As is also typical with the trio´s live performances, it is a collective improvisation without any pre-set parameters.
Dance of the Arasias (Olavi Louhivuori) is a song about a party of jumping spiders. Although the interval-melody at the end of the song was played differently from his original concept, its composer Olavi Louhivuori felt that it ended up sounding even better. Special guest: Verneri Pohjola.
Super Balls (Hauta-aho - Hongisto - Louhivuori) is a silent meditation with super balls. It is another collective improvisation.
Bassologia (Hauta-aho - Hongisto - Louhivuori) is a collective improvisation that has the Olavi Trio floating in the Olavi stream.

No. 69B (Anthony Braxton) is a composition by the great Anthony Braxton, with whom all members of the Olavi Trio as well as two of the guests on this recording, Kalle Kalima and Verneri Pohjola, had an opportunity to play as part of the Braxtonia II ensemble at the Kerava Jazz Festival in June 2006. "No. 69B" was one of many compositions Braxton had brought with him for this occasion but, as far as anybody can remember, was not performed in Kerava. Instead, the members of the Olavi Trio found it in the music Braxton left behind and decided to use it for this recording. Braxton himself recorded "No. 69B" with the Anthony Braxton Quartet (including pianist Marilyn Crispell, bassist Mark Dresser and drummer Gerry Hemingway) in 1991 (Willisau (Quartet) 1991) and also as a duo with bassist John Lindberg in 1997 (Six Compositions). Special guest: Kalle Kalima.
Birds (Hauta-aho - Hongisto - Louhivuori) takes us along on the Olavi Trio´s exciting raft journey down Finland´s Amazon River, wherever that may be. Another collective improvisation.
White Adria (Olavi Louhivuori) is a somewhat dark-shaded interpretation of white dreams. Special guest: Juhani Aaltonen.
Four Paraphrases For Charles (Teppo Hauta-aho) was originally Teppo Hauta-aho´s gift to the ambassador of jazz, Mr. Charles Gil, on his 40th birthday in 2004. During the birthday party, the Olavi Trio performed together for the first time and featured two of Hauta-aho´s compositions using the notes implied by Charles Gil´s name as their scale. This is one of those two compositions and several others have followed inasmuch as Hauta-aho finds Gil´s name an endless source for inspiration and amusement in that it implies both a scale and chords to go with it.
Biologia (Hauta-aho - Hongisto - Kalima - Louhivuori) is the Olavi Trio´s exploration into the mystical swamps of improvised music guided by the guitar-biologist Kalima. Special guest: Kalle Kalima.
Drumologia (Hauta-aho - Hongisto - Louhivuori) is a collective improvisation following the movement of the drums.
Olavi Puré (Hauta-aho - Hongisto - Louhivuori) represents the independent life of an eternal music bug. Yet another collective improvisation.
Old Papa´s Blues (Verneri Pohjola) is not an ordinary blues. Actually, despite its name, it is not really a blues at all. The song is dedicated by Verneri Pohjola to his late father, Pekka Pohjola, and follows a family tradition in that Pekka Pohjola once composed a tune for Verneri Pohjola, "Verneri´s Blues", that also was not a blues at all. Special guest: Verneri Pohjola.

Hi Bob! (Hauta-aho - Hongisto - Louhivuori) is a collective improvisation dedicated to the Jamaican sun. It represents an example of the Olavi Trio spontaneously introducing elements reminiscent of reggae music into its improvisations - something they have done from time to time when the spirit moves them. Although not fond of the steady rock beat - to put it mildly - Teppo Hauta-aho in particular feels that the reggae rhythm offers the type of freedom and openness that fits well with the music of the Olavi Trio.
Täysikuu (Toivo Kärki - Reino Helismaa) is a tribute - seriously! - to the grand master of the Finnish tango, Olavi Virta. "Täysikuu" (Full Moon) was composed by Toivo Kärki, with lyrics by Reijo Helismaa (under the pseudonyms Pedro de Punta and Orvokki Itä, respectively), and was first recorded by Olavi Virta in 1953. Virta´s recording became an instant success, in part, aided by its inclusion in the romantic comedy Minä Soitan Sinulle Illalla (I Will Call You Tonight) that featured Olavi Virta himself in a starring role together with the incomparable Anneli Sauli as the female lead. Since that time, "Täysikuu" has been recorded countless of times and is deeply ingrained in the Finnish psyche. Special guest: Juhani Aaltonen.