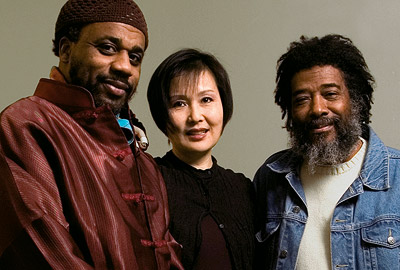 I first met Pheeroan akLaff in New Haven, Connecticut around 1975-76. It was during this time that we began to talk about making music together in my New Dalta Akhri ensemble.
My impression of Pheeroan was that he was a truly beautiful spirit, a creative artist who had a connection with spirituality in his character. A young man not frightened by musical ideas of a different nature nor of musical languages unlike his own music at the time. Pheeroan became the first drummer in New Dalta Akhri and was a part of its musical research and development; therefore, he was the first drummer/percussionist to articulate my rhythm-units concept in performances and on recordings.
As a master drummer/percussionist, Pheeroan has a musical sophistication that gives him the ability to articulate any musical idea into its essence, while maintaining every aspect of its emotional energy transporting the performer and the listener. He is a great artist.
Min Xiao-Fen is also one of those rare artists in contemporary times who has mastered the music of her tradition and also the creative music of today. We met at a concert in Chicago where she was performing a concerto for the pipa with a new music ensemble; I also had a composition on that program. Min´s performance was powerful, defiant and full of beauty, and, as she was performing, I realized at that moment that I would invite her to perform with me. Over the years, I have composed for her a solo pipa composition that she has also recorded and many other pieces for her to play in my ensembles.
The beauty in Min´s performances is in the way in which she creates her sonic language that gives one the feeling of being very ancient and most contemporary at the same time. When she plays and sings, my heart is filled up to its capacity with love, and right away you know that you have been truly touched by her art.
I consider myself blessed to be able to present this music with these two great artists.

Ventura, California, October 17, 2011
Wadada Leo Smith

---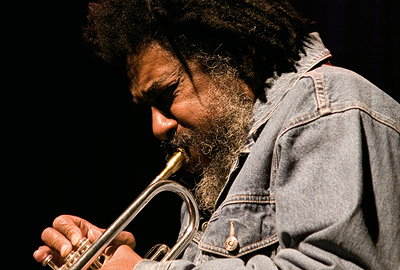 Wadada Leo Smith (b.1941) has been active in creative contemporary music as a trumpeter and multi-instrumentalist, composer and improviser for over four decades. Born in Leland, Mississippi, Smith´s early musical life began in the concert and marching bands of Lincoln High School in Leland, first on the mellophone, then moving on to the French horn and finally receiving his first trumpet at the age of 12. At the same age, he also composed a work for three trumpets, his first composition. From that time forward, Smith considered himself a composer and performer and his life centered around music. At the age of 13, he became immersed in the Delta blues and began to perform in blues bands all across the Mississippi delta region. Smith also developed an interest in improvised music traditions, listening to the likes of Louis Armstrong, Benny Goodman and Harry James on the radio. In his own research on composition as a teenager, he initially focused on African-American composers, such as Scott Joplin, William Grant Still, Duke Ellington, W. C. Handy and Thomas "Blind Tom" Wiggins, but, in later years, he also studied extensively African, Asian, European and American music traditions. While still in high school, Smith already led his first jazz group.
Smith received his initial musical education from his stepfather, Alex "Little Bill" Wallace, who was one of the first Delta blues singers to begin playing the electric guitar. His family home in Leland was a meeting place for musicians where blues artists such as Elmore James, B.B. King and Little Minton were frequent guests, often performing in the family´s living room. Accordingly, Smith has said that: "The Blues was my first language and it never went away". As a trumpeter, Smith considers himself a descendant of Louis Armstrong, although Miles Davis, Booker Little and Clifford Brown and, a bit later, Don Cherry had the strongest impact on his own playing as a young musician.
Smith´s formal music studies began with Earl Jones and Henderson Howard, who were his school bandmasters at Lincoln High, with the latter also being his first trumpet teacher. Smith later studied at the U.S. Army School of Music at Fort Leonard Wood in Missouri (1963), the Sherwood School of Music in Chicago, Illinois (1967-69), and the Wesleyan University in Middlewood, Connecticut (1975-76). His own music theory and notational system for improvisation in an ensemble context, which he calls "Ankhrasmation", has been significant in his development as an artist and educator. Smith published his music philosophy already in the early 1970s in Notes (8 Pieces), Source A New World Music: Creative Music (Kiom Press, 1973).
After high school, Smith travelled for about a year with various blues, rhythm 'n´ blues and soul groups before entering the U.S. Army. In addition to attending the U.S. Army School of Music, Smith played for a total of about five years in six different army bands, touring not only in the Southern United States but also in France and Italy. He also continued to broaden his musical horizons and was leading his own Ornette Coleman-inspired trio while still in the military. In 1967, Smith left the army and moved to Chicago to work with saxophonist Anthony Braxton and other members of the Association for the Advancement of Creative Musicians (AACM), the Chicago creative music collective that combined the music´s African roots with an improvisational approach. Soon after his arrival in Chicago, Smith, Braxton and violinist Leroy Jenkins met for an impromptu practice session and, as a result, founded the Creative Construction Company, a collaborative group that became one of the key early ensembles of the AACM. Other collaborators of Smith´s in the pioneering work of the AACM included saxophonists Joseph Jarman, Roscoe Mitchell and Kalaparusha Maurice McIntyre, trumpeter Lester Bowie, trombonist George Lewis and pianist Muhal Richard Abrams.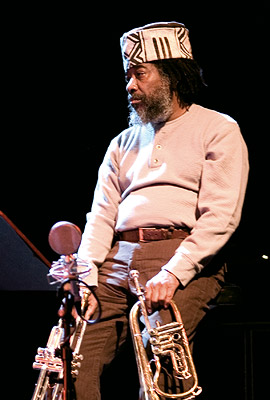 Smith´s first recordings were also made in Chicago during this period under the leadership of Braxton (Three Compositions Of New Jazz in 1968 and Silence in 1969; these albums included Smith´s first recorded compositions, "The Bell" and "Silence", respectively, which already used the rhythm-units concept, a framework for improvisation that Smith developed more fully in the 1970s), McIntyre (Humility In The Light Of The Creator in 1969) and Abrams (Young At Heart, Wise In Time in 1969).
Like many other AACM members, Smith supported himself by playing in the horn sections of various rhythm 'n´ blues and soul bands, including Little Milton Campbell´s group. In 1969, Smith turned down Little Milton´s offer to become the straw-boss of his road band and moved to Paris together with Anthony Braxton and Leroy Jenkins as well as a few other key members of the AACM. During his year in Paris, Smith took part in two important recordings by Braxton for the BYG Actuel label (Anthony Braxton in 1969 and This Time… in 1970) with a quartet that also included Jenkins and drummer Steve McCall. Smith also recorded a duo album with saxophonist Marion Brown in Paris (Creative Improvisation Ensemble/Duets in 1970). However, perhaps the most legendary line-up of this period was an expanded version of the Creative Construction Company (with Smith, Braxton, Jenkins, Muhal Richard Abrams, bassist Richard Davis and McCall), which was recorded live in 1970 in connection with the AACM´s first concert in New York City (Creative Construction Company and Creative Construction Company 2). Smith worked with Braxton throughout the 1970s, including in Braxton´s quartet with Smith, bassist Dave Holland and drummer Phillip Wilson and other small groups as well as on Braxton´s classic big band recordings, Creative Orchestra Music 1976 and Creative Orchestra (Koln) 1978. Since that time, Braxton and Smith have continued to play together from time to time.
After the year in Paris, Smith led his own group, Intergral, with saxophonist Henry Threadgill, trombonist Lester Lashley and drummer Thurman Baker, for about six months before settling in New Haven, Connecticut, for a period of ten years. In New Haven, Smith concentrated on his own music as well as studying and teaching rather than touring and recording all over the world like many of his compatriots. In addition to leading his own groups and teaching at the University of New Haven, he studied ethnomusicology at the Wesleyan University, focusing on West African, Japanese, Indonesian and Native American music cultures.
Smith´s first recording as a leader was a solo album (Creative Music-1 in 1971), which was also the first album released on Kabell, the independent record label Smith had founded. After this first solo recording, Smith has continued to perform solo concerts and has recorded three additional solo albums (Solo Music/Ahkreanvention in 1979, Kulture Jazz in 1992 and Red Sulphur Sky in 2001).
Smith´s principal ensemble in New Haven, New Dalta Akhri, was comprised of his students and other young musicians based in the area. At various times, these included saxophonists Dwight Andrews, Oliver Lake and Henry Threadgill, pianist Anthony Davis, vibraphonist Bobby Naughton, guitarist Michael Gregory Jackson, bassist Wes Brown and drummer Pheeroan akLaff, among others. Following Smith´s first solo recording, New Dalta Akhri was responsible for the next two albums for Kabell (Reflectativity, with Smith, Davis and Brown, in 1974 and Song Of Humanity, with Smith, Lake, Davis, Brown and akLaff, in 1976) as well as a track on Wildflowers, the five-album collection that documented New York´s burgeoning loft jazz movement of the mid-1970s (Wildflowers 2, with Smith, Lake, Davis, Brown, akLaff and drummer Stanley Crouch, in 1976). New Dalta Akhri was also featured on Smith´s subsequent small group recordings (The Mass On The World, with Smith, Andrews and Naughton, in 1978; Divine Love, with Smith, Andrews and Naughton as well as trumpeters Lester Bowie and Kenny Wheeler and bassist Charlie Haden, in 1978; Spirit Catcher, with Smith, Andrews, Naughton, Brown and akLaff, in 1979; and Go In Numbers, with Smith, Andrews, Naughton and Brown, in 1980). In addition, members of New Dalta Akhri were part of the two large orchestras responsible for Smith´s first big band recordings, Leo Smith Creative Orchestra (Budding Of A Rose in 1979) and Leo Smith & The Creative Improviser Orchestra (The Sky Cries The Blues in 1981).
During the New Haven period, Smith recorded as a member of the Jazz Composer´s Orchestra under the direction of trumpeter/trombonist Clifford Thornton (The Gardens Of Harlem in 1974) and Leroy Jenkins (For Players Only in 1975). He also recorded with Marion Brown (Geechee Recollections in 1973), saxophonist Frank Lowe (The Flam in 1975 and Doctor Too-much in 1977), Bobby Naughton (The Haunt in 1976), Michael Gregory Jackson (Clarity in 1976), Phillip Wilson (Fruits in 1978) and Roscoe Mitchell (Sketches From Bamboo in 1979) and began his longstanding relationship with certain key figures in European improvised music, such as guitarist Derek Bailey (Company 5, Company 6 and Company 7, all in 1977, with the collective personnel of Bailey, trumpeters Smith and Steve Beresford, saxophonists Anthony Braxton, Steve Lacy, Evan Parker and Lol Coxhill, cellist Tristan Honsinger, bassist Maarten Altena and drummer Han Bennink) as well as bassist Peter Kowald and drummer Günter "Baby" Sommer (Touch The Earth in 1979 and If You Want The Kernels, You Have To Break The Shells in 1981).
In the early 1980s, Smith converted to Rastafarianism and recorded a series of albums that reflected this new spirituality, including Human Rights (with Kowald and Sommer as well as guitarists Stanya, James Emery and Michele Navazio, koto player Tadao Sawai and drummer Thurman Baker) in 1982, Procession Of The Great Ancestry (with saxophonist John Powell, guitarist Louis Myers, Bobby Naughton, bassists Joe Fonda and M´Chaka Uba and drummer Kahil El´Zabar) in 1983 and Rastafari (with saxophonist/clarinetist Bill Smith, vibraphonist Larry Potter, violinist David Prentice and bassist/cellist David Lee) in 1983. The music that Smith performed around this time sometimes featured lyrics inspired by Rastafarianism and introduced elements of fusion jazz, reggae, funk and the blues into the music. Smith also became increasingly interested in presenting multi-media performances incorporating song, dance and drama.
In 1986, Smith began a series of trumpet/drums duos by recording a live concert with drummer Ed Blackwell (The Blue Mountain´s Sun Drummer, released on Smith´s Kabell label in 2010). This series includes duo recordings with Adam Rudolph (Compassion in 2002), Günter "Baby" Sommer (Wisdom In Time in 2006) and Jack DeJohnette (America in 2008) as well as yet-to-be-released duo recordings with Hamid Drake and the South-African master drummer Louis Moholo-Moholo. In recent years, Smith has also made a number of other duo recordings, including those with poet Harumi Makino Smith (Condor, Autumn Wind in 1997), trombonist Jeb Bishop (98 Duets in 1998), pianist Matthew Goodheart (Interludes Of Breath And Substance in 1998), vibraphonist Gustavo Aguilar (Dreaming With Serpents in 1999), laptop computer artist Ikue Mori (three compositions on Luminous Axis in 2002 and one composition on The Unknown Masada by John Zorn in 2003), Anthony Braxton (Organic Resonance and Saturn, Conjunct The Grand Canyon In A Sweet Embrace, both in 2003) and guitarist John Coxon (Brooklyn Duos in 2005).
In 1993, Smith accepted a teaching position at the California Institute of the Arts and has made Southern California his home ever since. While teaching was a full-time occupation, Smith also continued to lead his own groups and began performing with other improvising musicians based on the West Coast. In the mid-1990s, Smith also converted to Islam, which strengthened further, and made more apparent in his music, his longstanding interest in the musical cultures of the East, including those of Japan and India. A 1995 recording (Tao-Njia) featured Smith´s principal performing ensemble of this period, N´Da Kulture, as a trio with Smith on trumpet, flugelhorn, various flutes and bells, David Philipson on drums and Tibetan temple bells and Mike Noda on vibraphone, tubular bells and timpani. On its first full recording (Golden Hearts Remembrance in 1997), N´Da Kulture included the instrumentation of trumpet, fluegelhorn, flutes and voice (Smith), bansuri and tambura (David Philipson), tuba (William Roper), piano and shamisen (Glenn Horiuchi), drums and percussion (Sonship "Woody" Theus) as well as poetry (Harumi Makino Smith). N´Da Kulture, together with guitarist Henry Kaiser, was also featured with Smith on his historic meeting with the Zimbabwean singer-activist Thomas Mapfumo and The Blacks Unlimited ensemble, which draws on the traditional Shona music of Zimbabwe for its contemporary Chimurenga style (Dreams and Secrets in 2000).
After settling in California, Smith has participated in a number of recordings with other leading West Coast improvisers, including bassist Adam Lane (Hollywood Wedding in 1995), saxophonist Marco Eneidi (Marco Eneidi & The American Jungle Orchestra in 1996), multi-instrumentalist Vinny Golia and bassist Bertram Turetzky (Prataksis in 1997), the What We Live group (Quintet For A Day in 1998), as well as recordings with his fellow faculty members from CalArts (CalArts Jazz 97, with various large ensembles, in 1997 and Snakish, with guitarist Miroslav Tadic, percussionist Mark Nauseef, electronics artist Walter Quintus and vocalist Katya Quintus, in 2003-4). During this period, he has also recorded with vocalist Tyrone Henderson (Strawman Dance in 1994 and Not So Unusual Blues in 1997), bassist John Lindberg (The Catbird Sings in 1999 and A Tree Frog Tonality in 2000), drummer Susie Ibarra (Flower After Flower in 2000), Roscoe Mitchell (The Bad Guys in 2000), pianist Matthew Shipp (New Orbit in 2000), saxophonist John Zorn (Birthday Series 50/8 in 2003) and the Spring Heel Jack ensemble (The Sweetness Of Water in 2004), among others.
In the 1990s, Smith began his collaboration with John Zorn´s Tzadik record label that, beginning with Tao-Njia in 1995, has allowed Smith to record extensively with his own groups and to feature his work as a composer outside of those groups. Tao-Njia (with the N´Da Kulture and the California E.A.R. Unit) was followed by Light Upon Light (with the California E.A.R. Unit, the New Century Players et.al.) in 1998 and Luminous Axis - Caravans Of Winter And Summer (with Ikue Mori, Tim Perkins, Chris Brown, Mark Trayle and John Bischoff on computer-driven electronics and William Winant on percussion) in 2002. Tzadik has so far issued more than ten new recordings with Smith enabling him to present his work more broadly than previously had been possible. In 2004, Tzadik also re-issued Smith´s first four recordings as a leader (Creative Music-1, Reflectativity, Song Of Humanity and Solo Music/Ahkreanvention), with additional material included, thereby making these recordings available for the first time since their initial vinyl release on the Kabell label (Kabell Years 1971-1979).
Yo Miles!, which was founded in 1998 at the suggestion of Henry Kaiser and is co-led by Smith and Kaiser, has made Smith increasingly known to a broader audience. Yo Miles! performs long suites developed from original Miles Davis themes from his electric period, circa 1973-75, as well as original compositions by Smith and other group members. Somewhat unusually for him, Smith plays a trumpet with electronics when performing with Yo Miles! In addition to Smith and Kaiser, the core members of Yo Miles! initially included guitarists Nels Cline and Chris Muir, bassist Michael Manring and percussionists/drummers Wally Ingram and Lukas Ligeti, all Californian luminaries in the realm of improvised music and/or rock, with numerous guests including the members of the ROVA Saxophone Quartet, saxophonists Greg Osby and John Tchicai, keyboard players John Medeski and Paul Plimley, guitarist Elliot Sharp and many others. After its initial release (Yo Miles! in 1998), Yo Miles! has recorded two additional albums with a slightly different core group and guests (Sky Garden and Upriver, both in 2004).
Smith currently leads four principal ensembles of his own: Mbira, the Golden Quartet, Organic and the Silver Orchestra.
The first incarnation of the Golden Quartet was a highly acclaimed all-star group harking back to Smith´s time in Chicago in the 1960s (bassist Malachi Favors Magoustous and drummer Jack DeJohnette) and in New Haven in the 1970s (pianist Anthony Davis). The first recordings of the quartet (Golden Quartet in 2000 and The Year Of The Elephant in 2002) as well as a trio recording with Anthony Davis and Malachi Favors Magoustous (Reflectativity in 2000) further enhanced Smith´s visibility. After the passing of Malachi Favors Magoustous, the second edition of the Golden Quartet featured pianist Vijay Iyer, bassist John Lindberg and drummer Shannon Jackson (Tabligh in 2005) and the group currently includes Anthony Davis, John Lindberg and Pheeroan akLaff. An expanded version of the group also recorded as the Golden Quintet in 2008 (Spiritual Dimension-CD1, with Iyer, Lindberg, akLaff and drummer Don Moye).
Parallel to the Golden Quartet, Smith has been leading Organic, which utilizes an instrumentation consisting primarily of electric strings. On its first album (Spiritual Dimensions-CD2 in 2008), Organic featured guitarists Nels Cline, Michael Gregory, Brandon Ross and Lamar Smith, cellist Okkyung Lee, electric bassist Skuli Sverrisson, acoustic bassist John Lindberg and drummer Pheeroan akLaff but had been expanded with two saxophonists (Casey Anderson and Casey Butler), a pianist (Angelica Sanchez) and two laptop artists (Charlie Burgin and Mark Trayle) by the time of its second recording (Heart´s Reflections in 2010).
The largest of Smith´s current ensembles, the Silver Orchestra, was created for the exploration of musical languages and systems with a developed experimental performance practice for a larger ensemble. The Silver Orchestra recorded its first album in 2004 (Lake Biwa) and featured some of the leading improvisers on the current scene, including saxophonist John Zorn, tubist Marcus Rojas, pianists Anthony Coleman, Yoko Fujiyama, Jamie Saft and Craig Taborn, guitarist Marc Ribot, violinist Jennifer Choi, cellist Erik Friedlander, bassists John Lindberg and Wes Brown and drummers Gerald Cleaver, Susie Ibarra and Kwaku Kwaakye Obeng.
Smith is a profilic composer with works ranging from compositions for solo piano to orchestral pieces. His music for large ensembles has been performed throughout the world since 1969, developing from early works for more traditional big bands to compositions for multi-ensembles. Smith has received a number of awards and commissions as a composer and his compositions have been performed by numerous contemporary music ensembles, including the AACM Orchestra, the Kronos Quartet, the Da Capo Chamber Players, the New Century Players, the San Francisco Contemporary Music Players, the Contemporary Chamber Players (University of Chicago), the S.E.M. Ensemble, the Southwest Chamber Music, the Del Sol String Quartet, the New York New Music Ensemble, ne(x)tworks, and the California E.A.R. Unit, among others. His piano compositions have been performed by Ursula Oppens, Marilyn Crispell, David Rosebloom and Vickie Ray, among others.
Smith has also made a great impact as a teacher beginning in the 1970s and is especially known as a teacher of improvisation and composition. Smith has taught at the University of New Haven (1975-76), the Creative Music Studio in Woodstock, New York (1975-78), Bard College in Annandale-on-Hudson, New York (1987-93), and, since 1993, at the California Institute of the Arts in Valencia, California, where he became the first holder of the Dizzy Gillespie Chair.
---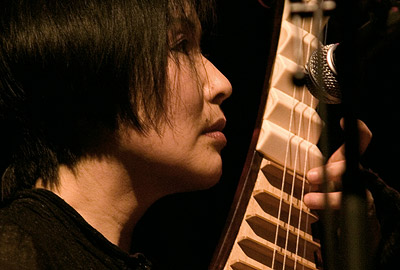 Min Xiao-Fen was born in Nanjing, the ancient capital of China. She has become internationally known for her virtuosity and fluid playing style on the pipa, whether performing classical music or in an avant-garde or improvised setting. She has also had a central role in introducing the pipa to composers and musicians as well as audiences outside of traditional Chinese music. This traditional four-stringed instrument is known to have existed already during the Qin Dynasty more than 2,000 years ago. The pipa acquired its present pear-shaped form and vertical playing position around the fifth century, becoming popular in the Chinese imperial court during the Tang Dynasty.
Min learned to play the pipa from her father, Min Ji-Qian, a professor and pipa master at the Nanjing University. At the age 17, she was invited to join the famed Nanjing Traditional Music Orchestra of China and spent over ten years, 1980-92, as its principal pipa soloist. She won the first prize at the Jiangsu National Pipa Competition and eventually became considered a first class artist in China. Min is also known as a singer and a composer.
Min has recorded traditional Chinese music together with many of the world´s leading symphony orchestras and other ensembles and has performed at a number of international festivals. Since moving to the United States in 1992, she has been featured as a soloist with the Brooklyn Philharmonic, the Pacific Symphony, the San Diego Symphony, the New Haven Symphony Orchestra, the Stanford Symphony Orchestra, the Baltimore Chamber Orchestra, the San Diego Chamber Orchestra, the San Francisco Contemporary Music Players, the Third Angle Ensemble, the Amiens Chamber Orchestra in France and the Nieuw Ensemble in Holland, among many others. Min premiered composer Anthony De Ritis´ pipa concerto "Ping Pong" with the Taipei Chinese Music Orchestra in 2004 and composer Huang Ruo´s solo work, "Written on the Wind", for the Meet the Composer series in 2008. In addition, she has also premiered works of such noted composers as Tan Dun, Chen Yi, Zhou Long, Bun-Ching Lam and Philip Glass.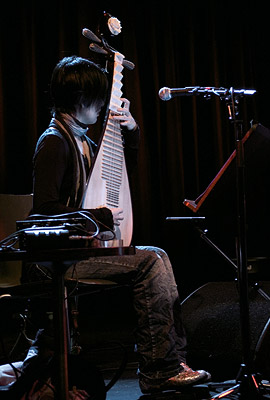 In spite of her classical background, Min has also become an established member of the improvised music community in New York. Beginning in the late 1990s, Min has recorded and performed with Derek Bailey (Viper in 1998, Live At Tonic, Volume I in 1999 and Flying Dragons in 1999), John Zorn (music for the film "The Port of Last Resort" in 1997, included on Zorn´s Filmworks VII, and music for the film "Shaolin Ulysses" in 2002, included on Zorn´s Filmworks XII), pianist Randy Weston (Khepera in 1998), saxophonist Ned Rothenberg (Ghost Stories in 1999-2000), Leroy Jenkins (The Art of Improvisation in 2004) and percussionist Billy Martin (Socket in 2005). She has also worked with Wadada Leo Smith, trombonist George Lewis, saxophonists Jane Ira Bloom and Vinny Golia, pianists Jon Jang and Daniel Kelly, guitarists Marc Ribot and Elliott Sharp, violinists Regina Carter and Jason Kao Hwang, bassist Mark Dresser, percussionists Fast Forward and Susie Ibarra, sound artists Maria Chavez, D.J. Spooky and Carl Stone as well as visual artist and composer Christian Marclay.
Even contemporary rock is not alien to Min, who made a guest appearance on singer Björk´s album, Volta, in 2007 and was invited to perform as a special guest with Björk at the Madison Square Garden and the Radio City Music Hall in New York City following the release of the album.
Min´s solo recordings, The Moon Rising (1996), Spring, River, Flower, Moon, Night (1997) and With Six Composers (1998), as well as her DVD release, Min Xiao-Fen - Live, of a performance at Roulette in New York City (2002), have all been well received.
As a composer, Min received a commission in 2007 for "Return of the Dragon" from The Kitchen in New York City, followed by a performance with her Asian Trio. She was a featured composer and performed her solo piece "Blue Pipa" for the Composer Out Front series of the American Composers Orchestra. "Ghost Masks" was commissioned and performed by Min-Wu-Xu at the Glatt & Verkehrt Festival in Krems, Austria, in 2008, and her solo piece "Dim Sum" was premiered at Interpretations in 2010. Min has also been a featured soloist at numerous other music festivals around the world.
Min regularly performs with her own groups. These include the Blue Pipa Trio (with bassist Dean Johnson and guitarist Steve Salerno), which performs Min´s compositions and arrangements combining Chinese folk music, regional operas and Taoist music with American jazz standards, bluegrass and other influences; Min Xiao-Fen´s Traditional Chinese Women String Ensemble, which combines Min´s pipa with players of other Chinese instruments (erhu, yangqin and zheng) in a repertoire of traditional Chinese music and folksongs; the Asian Trio (with Korean cellist Okkyung Lee and Japanese percussionist Satoshi Takeishi), which features compositions combining Asian influences with improvised music; and Min-Wu-Xu (with Wu Wei and Xu Fengxia), which brings together three pioneers of the Chinese avant-garde combining both instrumental and vocal music.
Min has taught master classes and has been an artist-in-residence at a number of schools and universities across the United States and Europe.
---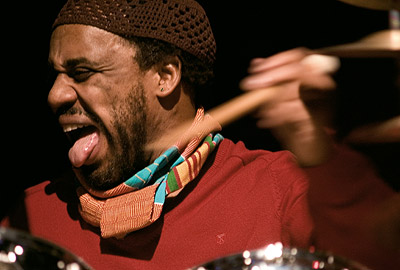 Pheeroan akLaff (b.1955) grew up in a musical family in Detroit, Michigan. While studying speech and drama at the Eastern Michigan University (1972-74), he came to the attention of a fellow student, Travis Biggs, who was a Motown-trained arranger, producer and multi-instrumentalist. During their time at the Eastern Michigan University, Biggs both tutored akLaff and employed him as a drummer.
In l975, akLaff moved to New Haven, Connecticut, and assembled a jazz and reggae band, DeJaVu, with another Detroit native, saxophonist Dwight Andrews. In New Haven, he also played with saxophonist Bill Barron and met one of his heroes, drummer Rashied Ali, sitting in with him at Ali´s Alley before moving to New York City. As a young musician, he also toured extensively in Africa, Asia and Europe. He studied urban popular music, folk drums and dance in Abidjan, Cote D´Ivoire, and Lagos, Nigeria, in 1981.
In New Haven, akLaff performed with Wadada Leo Smith and with many of the other young musicians working with Smith. AkLaff´s first recordings were with Smith´s New Dalta Akhri (Song Of Humanity in 1976) and Oliver Lake (Holding Together, with Lake, Michael Gregory Jackson and bassist Fred Hopkins, in 1976). These were followed by more recordings with both Smith (Spirit Catcher and Budding Of A Rose, both in 1979) and Lake (Life Dance Of Is in 1978, Shine! in 1978, Zaki in 1979 and Prophet in 1980) as well as recordings with Michael Gregory Jackson (Gifts in 1978 and Heart & Center in 1979), Anthony Davis (Of Blues And Dreams in 1978, Hidden Voices in 1979 and Episteme in 1981), guitarist Allan Jaffe (Soundscape in 1978), bassist Mario Pavone (Digit in 1979 and Shodo in 1981) and pianist Amina Claudine Myers (Song For Mother E in 1979).
By the time akLaff moved to New York City in 1978, he was already known as a versatile and highly individualistic drummer. Although he was usually associated with improvised music or the jazz avant-garde, he also soon demonstrated his knowledge of other forms of African-American music from funk to reggae and his growing interest in world music. In 1979, akLaff recorded his first album as a leader, House Of Spirit: "Mirth", a solo recording which has been re-issued by Soul Jazz Records. AkLaff´s recordings as a leader also include Fits Like A Glove in 1983, Sonogram in 1989 and Global Mantras in 1997.
In the early 1980s, akLaff joined Oliver Lake´s reggae-influenced band, Jump Up (Jump Up in 1981 and Plug It in 1983), and also became a member of Henry Threadgill´s highly acclaimed Sextett (When Was That? in 1981, Just The Facts And Pass The Bucket in 1983, Subject To Change in 1984, You Know The Number in 1986 and Easily Slip Into Another World in 1987) and New Air (Live At Montreal International Jazz Festival in 1983 and Air Show No. 1: New Air Featuring Cassandra Wilson in 1986), followed by his Make A Move (Makin´ A Move in 1995).
In 1988, akLaff started his cooperation with Japanese pianist Yosuke Yamashita that has so far resulted in about 20 recordings (typically, by a trio with Yamashita, akLaff and bassist Cecil McBee) and has helped create a strong following for akLaff in Japan and in Asia more broadly. In addition, AkLaff has performed in a duo with the venerable Min Tanaka in Japan and with the cultural icon Liu Sola in China.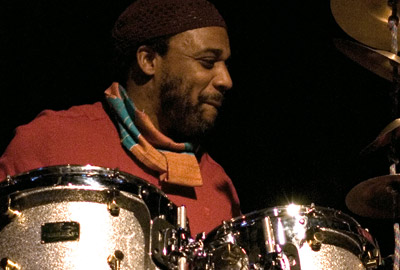 Since the 1980s, in addition to continuing his collaborations with Oliver Lake, Anthony Davis, Jay Hoggard, Henry Threadgill and others, akLaff has also performed and/or recorded with saxophonists Anthony Braxton, Marty Ehrlich, Julius Hemphill, Steve Lehman, Kalaparusha Maurice McIntyre, David Murray, Sam Rivers and Carlos Ward, clarinetist Don Byron, trumpeter Baikida Carroll, trombonists Ray Anderson and Craig Harris, flutist James Newton, pianists Geri Allen, Andrew Hill, Tom Pierson, Michele Rosewoman, Fred Simmons and Mal Waldron, guitarists Jerome Harris and Sonny Sharrock, bassists Mark Helias and Reggie Workman and vocalist Dorothy Cowfield, among many others.
Throughout the years, akLaff has led his own groups, including various trios, quartets and quintets, that have both toured in North America and headlined at a number of international jazz festivals. He also led the Double Duo ensemble dedicated to the spiritual music of John Coltrane using the sound of two saxophonists, Lee "Mixashawn" Rozie and Ravi Coltrane, and two drummers, akLaff and his mentor Rashied Ali. His solo performances have taken place both in Japanese temples and on theater stages.
Most recently, akLaff has presented Mixed Erato, a duo combining classical piano music with a drum set (with pianist Qi Liu), performed with the Brooklyn Mime Troop and an electric band in a program with a human rights theme and been featured with Dear Freedom Suite, a tribute to Sonny Rollins´ classic recording. He also currently performs with Wadada Leo Smith´s Golden Quartet and Organic, clarinetist Don Byron´s New Gospel Quintet, Jay Hoggard´s Afro-Caribbean Ensemble, poet Amiri Baraka´s Blue Ark and Speech Music, as well as the Cecil Taylor Trio and Duo, among others.
Ever since his drama studies, akLaff has had an interest in combining drama and dance with music and has participated in a number of theatrical projects, including his "Frederick Douglass Chronicles", which uses words of the 19th Century statesman.
Since 1991, akLaff has taught drums to university students. He began by teaching master classes at the New School University in New York (1991-92) and has been on the faculty of the Wesleyan University since 1993. He has also taught students in Asia, Europe and Latin America.