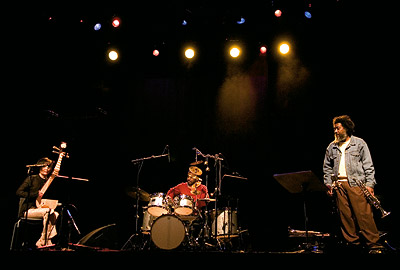 Mbira is an ensemble dedicated to realizing a spiritual music within the American creative music idiom, where the music has the same ensemble conception and philosophical/mystical nature as in the Shona music tradition of Zimbabwe, but with a creative contextualization defined in the contemporary music language.
As with all of my compositions, the music I composed for Dark Lady of the Sonnets is non-metrical in design, and still, in performance, we maintain the authentic energy and feeling that rhythm has. Because of this, Mbira is able to preserve the musical function of motion/flow activity and articulate an emotional range that contains the same aesthetic beauty that is associated with the traditional practice in metrical music.
I feel that Mbira´s music is powerful, fiery and polycentric, revealing a musical terrain that is creatively rich in its rhythmic/sonic spectrum and that is architecturally clear in form.

Ventura, California, October 17, 2011
Wadada Leo Smith
---
Dark Lady of the Sonnets
(Wadada Leo Smith)
What Love,
No-thing was more realized
in her songs -
A voice larger than our world
She in-toned
joy and sadness with success
Love and kindness was Billie´s way
and few experienced what she felt.
A pure music
flowing through the air
Connecting
the hearts of Lovers.
---
All compositions on this recording are by Wadada Leo Smith; published by Kiom Music ASCAP. This is how the composer himself describes the context of each composition:
Sarah Bell Wallace (Wadada Leo Smith)
was composed as a memorial for my mother, Sarah Bell Wallace (1920-1992). Sarah was kind and loving to all the people we grew up around, and often helped and looked out for people in need in our community.

My mother was known throughout the Mississippi delta as a master cook of fine foods, who created original and exciting southern cuisine for her family and for others. She was also an artist, who designed fine quilts, bed spreads and many other things using all types of fabrics; she also used wood and plastics to make objects of art. In her youth, Sarah was the captain of her high school´s basketball team and also the star player.

She was the mother of five children: Leo, Jessie, Bobbie, Johnny and Yvonne.
Blues: Cosmic Beauty (Wadada Leo Smith)
is a work celebrating the beautiful creation that Allah the Almighty made. Each day, this beauty is renewed again, and only the true lover can witness/know this great cosmic vision, which starts with the rising of the sun - sets into the night - and through to the beginning of the new day.
Zulu Water Festival (Wadada Leo Smith)
was composed specifically for Mbira just like all the other compositions on this recording. Imagine that you are in front of, and having full view of, a lake that is 50 miles wide. There are no waves and the lake is as clear as a mirror, and as far as you can see, there is only a dark flatland surrounding the water. On that lake are 60,000 Zulus dancing, moving with the most graceful and perfect images upon the water´s surface ... just as the morning sun is coming up - breaking open the daylight.
Dark Lady of the Sonnets (music and lyrics by Wadada Leo Smith)
is music for a creative dance ballet in two parts. Poet Amiri Baraka, then known as LeRoi Jones, composed a beautiful prose poem with the above title for Billie Holiday (1915-59), initially written as liner notes in 1962 and then included in his book Black Music (William Morrow, 1968). It is the most heartfelt structuring of words that I have ever read. I have tried over the years to write with the same feeling that I get when reading that poem, but have not made it that close to my heart´s center, yet.
I remember the day Billie Holiday died; I was 18 and already involved in music. On that day, I was listening to the radio-news when it was announced that she had passed.
Billie Holiday´s singing voice is the sound I love the most, and it is the rising/falling/turning of her vocal wave-lines and her profound creative musical language that conditioned her music in a place in me that no other voice or instrument can ever discover. Now, imagine what Lady Day felt, and the knowledge of life that was of her heart and mind. Her life was hard but not a tragedy. I profile her life as the voice of drama (the songs she composed and recomposed and performed were live drama), completely full of love, energy and so compassionate ... a heroic human being.
At the age of 13 or 14, I bought six LPs and they were by Billie Holiday, Louis Armstrong (1901-71), Miles Davis (1926-91), Duke Ellington (1899-74), Count Basie (1904-84) and Michel Legrand (1932-). Since that time, I have carried Billie Holiday´s voice inside of me, and a few times a year, I return to her works to renew my own heart.
Mbira (Wadada Leo Smith)
is music for a creative dance ballet. The Mbira music of the Shona culture in Zimbabwe is a spiritual form of instrumental music. This composition is structured in melodic units that are connected in performance by the members of the ensemble. This connection is very close and dear to the music, with improvisational elements. This music in its ritualized space evokes a deeply ceremonial and centered spiritual journey. "Mbira" is in two parts and is a very complex composition to perform, requiring constant eye contact among the players and a cueing-in network from each member of the ensemble to the others.