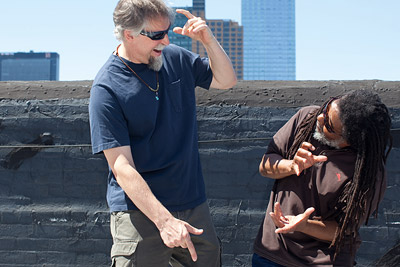 On a summer´s afternoon, circa 1990, standing under a huge oak tree in the shadows of the resplendent Harvey Fite landscape sculpture known as Opus 40 in Saugerties, New York, this duo with Wadada Leo Smith forged its distinct identity in a most spectacular and seemingly unimaginable fashion.
We had begun our journey as musical co-creators some dozen or so years earlier, already having worked in various ensembles together, as well as our duet formation.
It was a strange gig from the get-go. Somehow, we had been booked for this afternoon performance, but I´m quite sure neither of us was aware that it was actually some sort of a social event where ambient live music was wanted, rather than a focused concert. We, of course, persisted nonetheless.
Under that gigantic, magnificent oak tree, we played our hearts out for about an hour and a half, with hardly anybody actually listening to us, other than for a furtive minute or two as they walked past on their way to the punch bowl or snack trays.
They may not have listened, but they certainly heard. That part was not optional, we made sure of that. And, as we were making absolutely sure of just that, I noticed them for the first time.
Green inchworms. Geometridae. At first, what seemed like just a few, here and there, dropping sporadically from above, then gradually increasing into a veritable onslaught. Eventually, it was essentially raining inchworms on us. We simultaneously became aware of the phenomenon occurring, stolen smiles were exchanged between us, as we played on, resolutely.
Upon ultimately striking the final note of our performance, followed by scattered and scant applause from those still milling about the sculpture park (and seemingly oblivious to our inchworm plight), we looked at one another´s now sweat-drenched faces, and began to chortle.
"Wadada, you have green inchworms crawling all over you … in your hair, going down into your shirt, just all over you, man!"
"John, they are all over you too, man … your hair is full of them too, they´re on your ears, crawling inside your bass, everywhere!"
Yet, you see, we never paused, or wavered, from our intense focus on creativity during the performance - simply sheer grit and determination from beginning to end, come what may, we played our soaring hearts out, as that is the only way we know how to play.
Thus, with our previously established substantive artistic and personal connection becoming fully forged at this juncture, we moved forward - as astutely conscious interconnected creative beings - into the future of so much more great music and friendship, to be heard and felt for all eternity ….
Battle Creek, Michigan, April 10, 2015
John Lindberg
...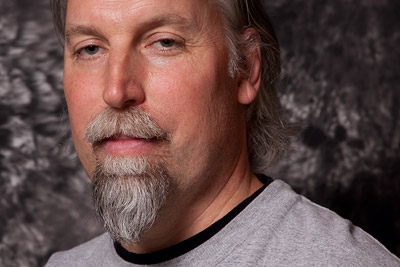 JOHN LINDBERG
John Lindberg, a composer-performer, educator and naturalist - a man of the mountains, national parks and rivers of America
I met John Lindberg at Studio Rivbea in New York City in 1977 and again at the rehearsals for Anthony Braxton´s Creative Orchestra of which he was a part during its tour in 1978.
John and I exchanged greetings, he was warm and very kind and he had the best smile you could ever want to face you. I felt a beautiful connection with him right away.
The Creative Orchestra toured three cities in Europe. During the tour, John and I had many opportunities to talk; he was respectful and often helped me with rehearsals and travel.
John himself was a part of the Human Arts Ensemble, with Charles "Bobo" Shaw as its director and Luther Thomas, Joe Bowie and James Emery as the other members. From a distance, they seemed kind of rough and scary young men, very serious in their music. When the Human Arts Ensemble made music, you could feel the power and energy in their art, the band was excellent, exciting and inspirational, playing music on a very high creative level that one would not expect to hear coming from such young artists.
After the Braxton performances, John and I decided to work as a duo and, over the years, we have performed with our duo project in Europe and the United States.
When Malachi Favors passed, I decided to change the Golden Quartet and started looking to put together a new band. John was the first person I decided to recruit in an effort to fill the bass chair. I talk to John and found out that he was going to be running in the big 20-mile race in Los Angeles. I met him in LA and took him out for dinner to the best steakhouse in town, Morton´s. After dinner, John was in and my recruitment was a success.
Afterward, I had Vijay Iyer and Ronald Shannon Jackson join and the new Golden Quartet was set.
The original Golden Quartet was the best unit I had ever performed my music with and its history is untouchable. However, the second Golden Quartet had everything that the original Golden Quartet had but, unlike the first ensemble, we started out with a nine-concert tour and our very first performance was recorded at the Banlieues Bleues festival in Paris, France, for the film "Freedom Now" directed by Jacques Goldstein.
The new ensemble´s playing was powerful and, although it did not last long, it is well documented and had many great nights on stage. However, one member of that ensemble, John Lindberg, has been a constant presence in my music ever since.
John Lindberg is a master musician - a composer and performer who is always developing new projects and leading his own ensembles.
He never shows up for a rehearsal or a performance without being completely in touch with the music - not just his own parts but everyone else´s parts as well. In performance, John´s musical intelligence helps to keep the performance intact. When the other performers are lost or unsure of where the music is going, they look to John for guidance on when or where to re-join the music´s flow.
On recordings, John has always performed at the very highest levels. But I must say: wait until you hear him live or on a recording of him playing live with the Golden Quartet. In that music, he touches the sky with his musical Art.
In November 2013, at Cafe Oto in London, the Golden Quartet was on fire. I kneeled down in front of John´s double bass close to the string board as he sowed away. I kept asking for more and he gave me more until I could feel blood flying from his fingertips.
Think about that and you will know how great of an artist this man really is!!!!!!!
California, September 14, 2015
Wadada Leo Smith