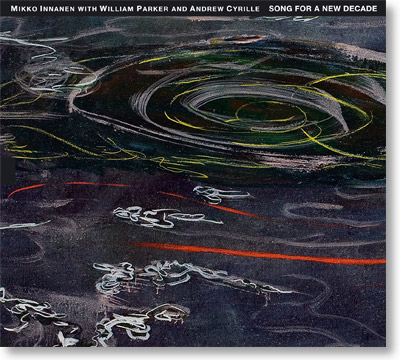 CD-1
01 Song for a New Decade / 02 The End Is a Beginning / 03 Karl´s Castle / 04 Look for the Red Door / 05 A Morning, a Day, a Night / 06 See You at 103 / 07 Blue in Nublu / 08 Small and Big Steps // Total playing time 58:39
CD-2 Songs for This Decade
01 Song 1 08:45 / 02 Song 2 06:50 / 03 Song 3 05:07 / 04 Song 4 12:58 / 05 Song 5 12:26 / 06 Song 6 09:18 // Total playing time 55:24

Music sample:
01-Song-for-a-New-Decade

All compositions by Mikko Innanen, except "Look for the Red Door" by Mikko Innanen, William Parker and Andrew Cyrille and "Songs for This Decade" by Mikko Innanen and Andrew Cyrille
Mikko Innanen alto and baritone saxophones, Indian clarinet, Uilleann chanter, nose flute, whistles, percussion
William Parker double bass (CD-1 only
Andrew Cyrille drums
International release
February 26, 2015
Song for a New Decade (TUM CD 042-2) features Finnish saxophonist Mikko Innanen, one of the most compelling new voices in European improvised music, with two American legends of the music: bassist William Parker, who rose to prominence during New York´s loft jazz era of the 1970s, and drummer Andrew Cyrille, who is one of the elders of improvised music going back to the early 1960s.
The first CD comprises a studio recording of Mikko Innanen´s compositions and a spontaneous improvisation by the Innanen, Parker & Cyrille trio whereas the second CD comprises a six-part live improvisation by Innanen and Cyrille at IBEAM Brooklyn. Both sessions were recorded in New York City.