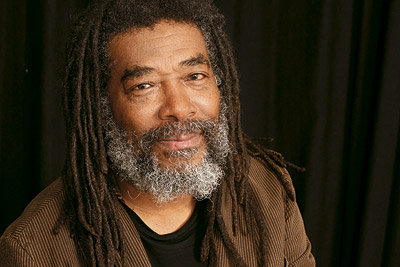 Wadada Leo Smith
(b.1941) has been active in creative contemporary music as a trumpeter and multi-instrumentalist, composer and improviser for over four decades. Born in Leland, Mississippi, Smith´s early musical life began in the concert and marching bands of Lincoln High School in Leland, first on the mellophone, then moving on to the French horn and finally receiving his first trumpet at the age of 12. At the same age, he also composed a work for three trumpets, his first composition. From that time forward, Smith considered himself a composer and performer and his life centered around music. At the age of 13, he became immersed in the Delta blues and began to perform in blues bands all across the Mississippi delta region. Smith also developed an interest in improvised music traditions, listening to the likes of Louis Armstrong, Benny Goodman and Harry James on the radio. In his own research on composition as a teenager, he initially focused on African-American composers, such as Scott Joplin, William Grant Still, Duke Ellington, W. C. Handy and Thomas "Blind Tom" Wiggins, but, in later years, he also studied extensively African, Asian, European and American music traditions. While still in high school, Smith already led his first jazz group.
Smith received his initial musical education from his stepfather, Alex "Little Bill" Wallace, who was one of the first Delta blues singers to begin playing the electric guitar. His family home in Leland was a meeting place for musicians where blues artists such as Elmore James, B.B. King and Little Minton were frequent guests, often performing in the family´s living room. Accordingly, Smith has said that: "The Blues was my first language and it never went away." As a trumpeter, Smith considers himself a descendant of Louis Armstrong, although Miles Davis, Booker Little and Clifford Brown and, a bit later, Don Cherry had the strongest impact on his own playing as a young musician.
Smith´s formal music studies began with Earl Jones and Henderson Howard, who were his school bandmasters at Lincoln High, with the latter also being his first trumpet teacher. Smith later studied at the U.S. Army School of Music at Fort Leonard Wood in Missouri (1963), the Sherwood School of Music in Chicago, Illinois (1967-69), and the Wesleyan University in Middlewood, Connecticut (1975-76). His own music theory and notational system for improvisation in an ensemble context, which he calls "Ankhrasmation," has been significant in his development as an artist and educator. Smith published his music philosophy already in the early 1970s in notes (8 pieces), source a new world music: creative music (Kiom Press, 1973).

After high school, Smith travelled for about a year with various blues, rhythm 'n´ blues and soul groups before entering the U.S. Army. In addition to attending the U.S. Army School of Music, Smith played for a total of about five years in six different army bands, touring not only in the Southern United States, but also in France and Italy. He also continued to broaden his musical horizons and was leading his own Ornette Coleman-inspired trio while still in the military. In 1967, Smith left the army and moved to Chicago to work with saxophonist Anthony Braxton and other members of the Association for the Advancement of Creative Musicians (AACM), the creative music collective that combined the music´s African roots with an improvisational approach.

Soon after his arrival in Chicago, Smith met Anthony Braxton and violinist Leroy Jenkins for an impromptu practice session and, as a result, the three founded the Creative Construction Company, a collaborative group that became one of the key early ensembles of the AACM. Smith´s other collaborators in the pioneering work of the AACM included saxophonists Joseph Jarman, Roscoe Mitchell and Kalaparusha Maurice McIntyre, trumpeter Lester Bowie, trombonist George Lewis and pianist Muhal Richard Abrams.
Smith´s first recordings were also made in Chicago during this period under the leadership of Braxton (Three Compositions Of New Jazz in 1968 and Silence in 1969; these albums included Smith´s first recorded compositions, "The Bell" and "Silence," respectively, which already used the rhythm-units concept, a framework for improvisation that Smith developed more fully in the 1970s), McIntyre (Humility In The Light Of The Creator in 1969) and Abrams (Young At Heart, Wise In Time in 1969).

Like many other AACM members, Smith supported himself by playing in the horn sections of various rhythm 'n´ blues and soul bands, including Little Milton Campbell´s group. In 1969, Smith turned down Little Milton´s offer to become the straw-boss of his road band and moved to Paris together with Anthony Braxton and Leroy Jenkins as well as a few other key members of the AACM. During his year in Paris, Smith took part in two important recordings by Braxton for the BYG Actuel label (Anthony Braxton in 1969 and This Time… in 1970) with a quartet that also included Jenkins and drummer Steve McCall. Smith also recorded a duo album with saxophonist Marion Brown in Paris (Creative Improvisation Ensemble/Duets in 1970). However, perhaps the most legendary line-up of this period was an expanded version of the Creative Construction Company (with Smith, Braxton, Jenkins, Muhal Richard Abrams, bassist Richard Davis and McCall), which was recorded live in 1970 in connection with the AACM´s first concert in New York City (Creative Construction Company and Creative Construction Company 2). Smith worked with Braxton throughout the 1970s, including in Braxton´s quartet with Smith, bassist Dave Holland and drummer Phillip Wilson and other small groups as well as on Braxton´s classic big band recordings, Creative Orchestra Music 1976 and Creative Orchestra (Koln) 1978. Since that time, Braxton and Smith have continued to play together from time to time.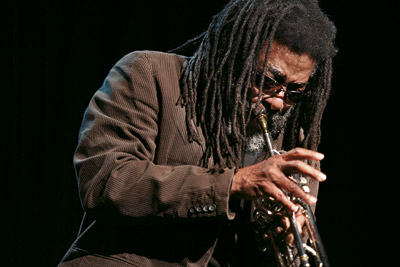 After the year in Paris, Smith led his own group, Intergral, with saxophonist Henry Threadgill, trombonist Lester Lashley and drummer Thurman Baker, for about six months before settling in New Haven, Connecticut, for a period of ten years. In New Haven, Smith concentrated on his own music as well as studying and teaching rather than touring and recording all over the world like many of his compatriots. In addition to leading his own groups and teaching at the University of New Haven, he studied ethnomusicology at the Wesleyan University, focusing on West African, Japanese, Indonesian and Native American music cultures.
Smith´s first recording as a leader was a solo album (Creative Music-1 in 1971), which was also the first album released on Kabell, the independent record label he had founded. After this first solo recording, Smith has continued to perform solo concerts and has recorded three additional solo albums (Solo Music/Ahkreanvention in 1979, Kulture Jazz in 1992 and Red Sulphur Sky in 2001).

Smith´s principal ensemble in New Haven, New Dalta Akhri, was comprised of his students and other young musicians based in the area and recorded a number of albums (Reflectativity, Song of Humanity, The Mass Of The World, Divine Love, Spirit Catcher and Go In Numbers). At various times, its members included saxophonists Dwight Andrews, Oliver Lake and Henry Threadgill, pianist Anthony Davis, vibraphonist Bobby Naughton, guitarist Michael Gregory Jackson, bassist Wes Brown and drummer Pheeroan akLaff, among others. Members of New Dalta Akhri were also part of the two large orchestras responsible for Smith´s first big band recordings, Leo Smith Creative Orchestra (Budding Of A Rose in 1979) and Leo Smith & The Creative Improviser Orchestra (The Sky Cries The Blues in 1981).

During the New Haven period, Smith recorded as a member of the Jazz Composer´s Orchestra under the direction of trumpeter/trombonist Clifford Thornton (The Gardens Of Harlem in 1974) and Leroy Jenkins (For Players Only in 1975). He also recorded with Marion Brown (Geechee Recollections in 1973), saxophonist Frank Lowe (The Flam in 1975 and Doctor Too-much in 1977), Bobby Naughton (The Haunt in 1976), Michael Gregory Jackson (Clarity in 1976), Phillip Wilson (Fruits in 1978) and Roscoe Mitchell (Sketches From Bamboo in 1979) and began his longstanding relationship with certain key figures in European improvised music, such as guitarist Derek Bailey (Company 5, Company 6 and Company 7, all in 1977, with the collective personnel of Bailey, trumpeters Smith and Steve Beresford, saxophonists Anthony Braxton, Steve Lacy, Evan Parker and Lol Coxhill, cellist Tristan Honsinger, bassist Maarten Altena and drummer Han Bennink) as well as bassist Peter Kowald and drummer Günter "Baby" Sommer (Touch The Earth in 1979 and If You Want The Kernels, You Have To Break The Shells in 1981).
In the early 1980s, Smith converted to Rastafarianism and recorded a series of albums that reflected this new spirituality, including Human Rights, Procession Of The Great Ancestry and Rastafari. The music that Smith performed around this time sometimes featured lyrics inspired by Rastafarianism and introduced elements of fusion jazz, reggae, funk and the blues into the music. Smith also became increasingly interested in presenting multi-media performances incorporating song, dance and drama.
In 1986, Smith began a series of trumpet/drums duos by recording a live concert with drummer Ed Blackwell (The Blue Mountain´s Sun Drummer, released on Smith´s Kabell label in 2010). This series also includes duo recordings with Adam Rudolph (Compassion in 2002), Günter "Baby" Sommer (Wisdom In Time in 2006) and Jack DeJohnette (America in 2008) as well as a yet-to-be-released duo recording with Hamid Drake. In recent years, Smith has also made a number of other duo recordings, including those with vibraphonist Gustavo Aguilar, trombonist Jeb Bishop, Anthony Braxton, guitarist John Coxon, pianist Matthew Goodheart, laptop computer artist Ikue Mori and poet Harumi Makino Smith.
In 1993, Smith accepted a teaching position at the California Institute of the Arts and has made Southern California his home ever since. While teaching was a full-time occupation, Smith continued to lead his own groups, in particular N´Da Kulture, and recorded a number of highly acclaimed albums (e.g., Tao-Njia, Golden Hearts Remembrance, Light Upon Light, Luminous Axis and Reflectativity) as a leader. In the mid-1990s, Smith had converted to Islam, which further strengthened, and made more apparent in his music of this period, his longstanding interest in the musical cultures of the East, including those of Japan and India.

After his move to California, Smith began performing with other improvising musicians based on the West Coast, such as saxophonists Mario Eneidi and Vinny Golia, bassists Adam Lane, and Bertram Turetzky, members of the Rova Saxophone Quartet and guitarist Henry Kaiser (in Yo Miles!, a group co-led by Kaiser and Smith and dedicated to the music of Miles Davis´ electric period), while continuing his collaborations with the likes of Anthony Braxton, Douglas Ewart, Susie Ibarra, John Lindberg, Roscoe Mitchell, Matthew Shipp, Spring Heel Jack and John Zorn, among many others.

Smith currently leads four principal ensembles of his own: Golden Quartet, an all-star group that originally included pianist Anthony Davis, bassist Malachi Favors Magoustous and drummer Jack DeJohnette and, in later editions, pianist Vijay Iyer or Angelica Sanchez, bassist John Lindberg and drummer Pheeroan akLaff or Shannon Jackson (Golden Quartet in 2000, The Year Of The Elephant in 2002, Tabligh in 2005 and, expanded into the Golden Quintet with drummer Don Moye, Spiritual Dimensions-CD1 in 2008); Mbira, a trio with pipa player Min Xiao-Fen and Pheeroan akLaff (Dark Lady of the Sonnets, TUM CD 023); Organic, a larger group with instrumentation consisting primarily of electric string instruments (Spiritual Dimensions-CD2 in 2008 and Heart´s Reflections in 2010); and the Silver Orchestra, a large orchestra that recorded its first album in 2004 (Lake Biwa).
Smith is a profilic composer with works ranging from compositions for solo piano to orchestral pieces. His music for large ensembles has been performed throughout the world since 1969, developing from early works for more traditional big bands to compositions for multi-ensembles. Smith has received a number of awards and commissions as a composer and his compositions have been performed by numerous contemporary music ensembles, including the AACM Orchestra, the Kronos Quartet, the Da Capo Chamber Players, the New Century Players, the San Francisco Contemporary Music Players, the Contemporary Chamber Players (University of Chicago), the S.E.M. Ensemble, the Southwest Chamber Music, the Del Sol String Quartet, the New York New Music Ensemble, ne(x)tworks and the California E.A.R. Unit, among others.

In May 2012, Smith released his most extensive recording to date: Ten Freedom Summers, a four-CD collection of compositions inspired by the civil rights movement and recorded by the Golden Quartet/Quintet together with Southwest Chamber Music.
---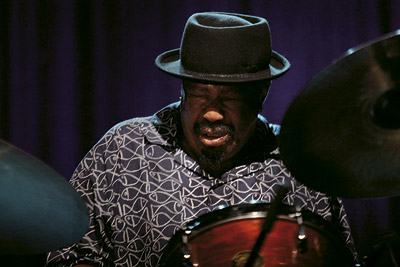 Louis Moholo-Moholo (b.1940) was born in Langa, Cape Town. He is self-taught as a drummer having initially been fascinated by the boy scout marching bands passing by his family´s home and later playing himself in boy scout and other youth bands. Another major source of inspiration were the American jazz bands he heard on the radio at home. Moholo-Moholo often mentions Big Sid Catlett as an important early influence ("the best drummer in the world ever") although he soon also developed an interest in modern jazz, Charlie Parker and Charles Mingus being among his early favorites. Moholo-Moholo´s professional career began with dance bands playing in the ballrooms of Cape Town, but these were soon followed by smaller jazz combos playing bebop influenced modern jazz.

Moholo-Moholo was one of the founders of The Chordettes, a cooperative big band that was made up of youths in the community of Langa and played swing music for dancers, including compositions by Duke Ellington, Glenn Miller and others. The Chordettes were active around 1958-60 and included trumpeters Syfred "Woodrow" Dlova and Mabeka Faku, tenor saxophonists Ephriam "Cups-and-Saucers" Nkanuka and Kira Lwana, alto saxophonists Danayi Dlova and Boy Mnyataza, trombonists Willy Nettie and Dould Yoyo, pianist Miller Lekoma, bassist Toto Bartman, Moholo-Moholo and composer/arranger Lami Zokufa, among others. Moholo-Moholo´s first recording, in 1958, was also with The Chordettes and received considerable play on the Bantu Radio Station at the time, but the record has never been re-released and the master tapes appear to have disappeared. The Chordettes disbanded when the State of Emergency declared by the South African government following the Sharpeville massacre in March 1961 and the related prohibition of all public meetings by more than 12 (reduced later to three) persons made operations all but impossible.
In 1962, Moholo-Moholo performed at the Second Cold Castle National Jazz Festival as a member of The Jazz Ambassadors (with trumpeter Lango Davis, Ephriam "Cups-and-Saucers" Nkanuka, pianist Temba Matole and bassist Lami Zokufa; the compilation album Cold Castle National Jazz Festival 1962 includes one track, "What Is There To Say," by the group); and, in 1963, at the Third Cold Castle National Festival as a member of The Swinging City Six led by tenor saxophonist Ronnie Beer (also, alto saxophonist Danayi Dlova, trombonist Bob Tizzard, pianist Tete Mbambisa and bassist Sammy Maritz). At the latter festival, Moholo-Moholo won the joint first prize for the best drummer together with another great South African drummer, Early Mabuza, who was performing at the festival with Chris McGregor and the Castle Lager Big Band and also was the drummer of an early incarnation of The Blue Notes, a rare example of a mixed-race group in South Africa originally formed by pianist Chris McGregor and alto saxophonist Dudu Pukwana in Cape Town. Soon after, McGregor asked Moholo-Moholo to join his big band and also The Blue Notes, which, after another substitution on the bass chair, included trumpeter Mongezi Feza, tenor saxophonist Nikele Mokaye, alto saxophonist Dudu Pukwana, McGregor, bassist Johnny Dyani and Moholo-Moholo. This classic version of The Blue Notes represented the best in South African modern jazz at the time and quickly became popular while also receiving considerable critical acclaim. Two 1964 recordings of The Blue Notes in South Africa have survived, a compilation album of its very first recordings with Pukwana, Moyake and McGregor present on all tracks but trumpeter Dennis Mpali, bassist Mongezi Velelo or Sammy Maritz and drummer Early Mabuza, respectively, in place of Feza, Dyani and Moholo-Moholo on the earliest tracks (Township Bop) and a live recording with the classic sextet on its farewell tour before leaving for Europe (Legacy: Live In South Africa 1964; also included in Blue Notes: The Ogun Collection, a 5-cd box set).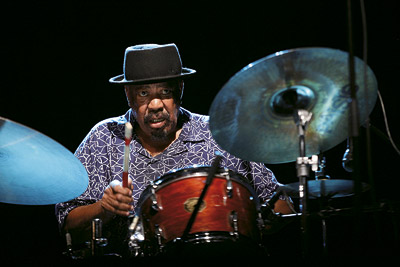 The Blue Notes were invited to perform at the Antibes Jazz Festival in Juan-les-Pins in July 1964, paving the way to their lives in exile. After the festival, The Blue Notes spent some time busking in the French Riviera but, with help from another South African expatriate, pianist Dollar Brand (later, Abdullah Ibrahim), made Zürich their homebase for a period of eight months in late 1964 and early 1965 often playing at the Africana Club, which also regularly featured Dollar Brand and his trio with bassist Johnny Gertze and drummer Makaya Ntshoko. Soon after the move to Zürich, Nick Mokaye returned to South African whereas the rest of the group chose to stay in Europe, thereby becoming a quintet. During this period, Moholo-Moholo was exposed to free improvisation that he immediately found appealing ("It made sense to me. Freedom made sense to me.") and came into contact with a number of musicians who have been important to him throughout his career, such as pianist Irene Schweizer and saxophonist John Tchicai, both of whom he met in Zürich, and pianist Cecil Taylor and drummer Andrew Cyrille, who were performing in Copenhagen when The Blue Notes were also there. Finally, The Blue Notes settled in London making their debut appearance at the Ronnie Scott´s Jazz Club in April 1965.
In the fall of 1965, Moholo-Moholo performed in Denmark, Holland and Sweden and also recorded with trombonist Roswell Rudd, John Tchicai and Danish bassist Finn von Eyben in an ad hoc edition of The New York Art Quartet (Old Stuff and Roswell Rudd). Also in 1965, saxophonist Steve Lacy and trumpeter Enrico Rava asked Johnny Dyani and Moholo-Moholo to join the Steve Lacy Quartet for performances in London and in Italy. In 1966, the group headed to Argentina for what was to be a short tour. However, the trip to Argentina was a financial disaster leaving Dyani and Moholo-Moholo stranded in Buenos Aires for about a year and, to add insult to injury, Moholo-Moholo was unable to follow Steve Lacy to the United States as planned because he was refused a visa. Still, an important early live recording was made to document the group that had grown increasingly close (The Forest And The Zoo). In Argentina, an irate audience member destroyed Moholo-Moholo´s drums with a hammer requiring him to assemble a new kit from whatever he could find ("this and that - pots and pans"). Out of necessity came a virtue in that Moholo-Moholo´s makeshift drum set and his playing on it was much admired and also imitated upon his return to England in 1967.
In the late 1960s, Moholo-Moholo participated in a number of recordings with Chris McGregor, including Very Urgent by The Chris McGregor Group (The Blue Notes with Ronnie Beer as the sixth member) in 1967, Up To Earth by The Chris McGregor Septet (Feza, Pukwana, McGregor and Moholo-Moholo as well as saxophonists Evan Parker and John Surman and bassist Barre Phillips or Danny Thompson) in 1968 and Our Prayer by The Chris McGregor Trio (McGregor, Moholo-Moholo and South African bassist Harry Miller, who had already arrived in England in 1961) in 1969. In 1969, he was also a founding member of The Brotherhood of Breath, a big band performing McGregor´s compositions and comprising most of The Blue Notes together with some of the leading British free jazz musicians (Chris McGregor´s Brotherhood of Breath in 1971, Brotherhood in 1972, Live At Willisau in 1973 and Procession in 1977).
The Blue Notes ceased to exist as a regular working unit in the late 1960s, although collaborations between the surviving members continued. The Blue Notes also occasionally regrouped but mostly to honor their fallen compatriots (Blue Notes For Mongezi and Blue Notes In Concert Volume One in 1975, Before The Winds Change in 1979 and Blue Notes For Johnny in 1987). Sadly, Moholo-Moholo has long been the sole surviving member of The Blue Notes, with Nick Moyake having passed away in the late 1960s, Mongezi Feza in 1975, Johnny Dyani in 1986 and Chris McGregor and Dudu Pukwana in 1990. Harry Miller also passed away in 1983.
In the early 1970s, Feza, Pukwana and Moholo-Moholo were members of the afro-rock group Assagai with tenor saxophonist Bizo Mnocikana, guitarist Fred Coker and bassist Charles Ononogbo (Assagai in 1970 and Zimbabwe in 1971). Although courted by some famous rock musicians, Moholo-Moholo chose to stay with improvised music and performed and recorded with the leading names in British creative music, often with a trio comprised of pianist Keith Tippett, Harry Miller and Moholo-Moholo forming the rhythm section. This trio also formed the core of Harry Miller´s Isipingo, which initially included trombonist Nick Evans, saxophonist Mike Osborne, Pukwana, McGregor, Miller and Moholo-Moholo and, in perhaps its best known line-up, Mongezi Feza, Nick Evans Mike Osborne, Tippett, Miller and Moholo-Moholo (Full Steam Ahead and Which Way Now in 1975 and Family Affair in 1977).
Moholo-Moholo also began leading his own groups, including the Louis Moholo Unit (with Dudu Pukwana, Mike Osborne, Keith Tippett and Harry Miller or a number of others in different constellations, including Evan Parker and Gary Windo) and Culture Shock (with trumpeter Harry Beckett, saxophonists Elton Dean and Gary Windo, Nick Evans, Harry Miller and vocalists Nana Coyote and Terri Quaye et al.) as well as Louis Moholo´s African Drum Ensemble. In 1978, Moholo-Moholo founded Spirits Rejoice (with trumpeter Kenny Wheeler, Evan Parker, trombonists Nick Evans and Radu Malfatti, Keith Tippett, Johnny Dyani and Harry Miller), which released its eponymous album, widely considered a classic of this period, later that same year.
In the late 1980s, Moholo-Moholo founded Viva La Black with trumpeter Claude Deppa, saxophonists Sean Bergin and Steve Williamson, bassist Roberto Bellatalla and percussionist Thebe Lipere (Viva La Black in 1988, Exile in 1991, Freedom Tour in 1993 and, with Keith Tippett, Julie Tippetts and Canto General, Viva La Black Live At Ruvo in 2004). Following the passing of McGregor and Pukwana in 1990, he also founded The Dedication Orchestra, a large orchestra created to play the music of his fallen South African compatriots, Johnny Dyani, Mongezi Feza, Chris McGregor, Harry Miller and Dudu Pukwana, and filled with first tier names in improvised music in England (Spirits Rejoice in 1992 and Ixesha (Time) in 1994).
In addition, Moholo-Moholo has continued to lead various smaller groups and has released several well-received recordings as a leader, including Tern with saxophonist Larry Stabbins and Keith Tippett in 1982, Bra Louis - Bra Tebs with the Louis Moholo-Moholo Septet (with Claude Deppa, saxophonists Jason Yarde and Toby Delius, pianist Pule Pheto, Roberto Bellatalla and vocalist Francine Luce) in 1995, Bush Fire with the Louis Moholo/Evan Parker/Pule Pheto/Gibo Pheto/Barry Guy Quintet in 1995 and An Open Letter To My Wife Mpumi with the Louis Moholo-Moholo Unit (with saxophonists Jason Yarde and Ntshuks Bonga, vibraphonist Orphy Robinson, Pule Pheto, bassist John Edwards and Francine Luce) in 2008. Throughout this time, he has also continued to perform and record with the likes of Elton Dean (Boundaries in 1980 and Ninesense Suite in 1981), Harry Beckett (Beckett/Miller/Moholo in 1982), Peter Brötzmann (Opened But Hardly Touched and Hell´s Kitchen in 1980 and Alarm in 1981), pianist Curtis Clark (Letter To South Africa in 1987, Live At The Bimhuis in 1988 and Dreams Deferred in 1993), trumpeter Dennis Gonzales (Catechism in 1987, Hymn For The Perfect Heart Of A Pearl in 1990 and Cape Of Storms in 2010), pianist Alex Maguire (Hoki-Poki in 1989), Claude Deppa (Mellowmayhem in 1989), guitarist Derek Bailey (Village Life in 1991), cellist Tristan Honsinger (Map Of Moods in 1994), pianist John Law (Extremely Quartet in 1996), Francine Luce (Bo Kay La Vi-a in 1996), saxophonist Frode Gjerstad (Calling Signals in 1996 and Open Port in 2008), guitarist Hasse Poulsen (Copenhagen in 1998), Evan Parker (Foxes Fox in 1999, Naan Tso in 2004 and Live At Vortex in 2006), Keith Tippett (Live At Le Mans in 1998), guitarist Roger Smith (The Butterfly And The Bee in 2004), Circulasione Totale Orchestra (Bandwidth in 2009/10) and trumpeter Jon Corbett (Kongens Gade in 2009). He also regularly performs and records with the London Improvisers Orchestra (The Hearing Continues in 2000, Freedom Of The City 2001, Freedom Of The City 2002, Responses, Reproduction & Reality in 2003, Freedom Of The City 2004 and Lio Leo Leon in 2010).
In addition, Moholo-Moholo has undertaken a celebrated series of duo recordings with creative pianists, including Keith Tippett (No Gossip in 1980), Irene Schweizer (Irene Schweizer & Louis Moholo in 1986), Cecil Taylor (Remembrance in 1988), John Law (The Boat Is Sinking, Apartheid Is Sinking in 1993), Mervyn Africa, Pule Pheto and Keith Tippett (Mpumi in 1995), Stan Tracey (Khumbula (Remember) in 2004) and Marilyn Crispell (Siganye (We Are One) in 2007).
Moholo-Moholo again began visiting South Africa in the early 1970s for family reasons. However, his first performance in his home country after being exiled in 1964 came only in 1993, when he brought Louis Moholo´s Viva La Black to a tour in South Africa just as the Apartheid regime was crumbling (Freedom Tour; Live in South Africa 1993).
Moholo-Moholo returned to South Africa in 2005 making Cape Town his home again. In South Africa, Moholo-Moholo leads his own big band,
Hear Our Heart´s Vibrations
, which performs some of the same material as
The Dedication Orchestra
in London in addition to Moholo-Moholo´s more recent compositions. He also performs with smaller groups made up of fellow South Africans and, mostly outside of South Africa, with the
Louis Moholo-Moholo
Unit
in addition to making special appearances with his surviving contemporaries from the heady days of the 1960s and the 1970s, including Evan Parker, Keith Tippett, Wadada Leo Smith and many others.