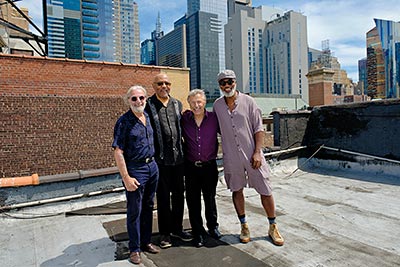 ODE TO O
This second recording by the OGJB Quartet draws from a wide range of musical influences that exist inside the quartet. On this recording, we pulled out all the stops. Just like our first time around, each member contributed a number of compositions for this date.
Listen to Barry Altschul´s "Ode to O" (for Ornette Coleman) and "Da Bang" (for Billy Bang). You can hear and feel the deep connection to our tradition, to the feel and groove we call Swing. While you´re listening, check out the wonderful dialogue between the bass player and the drummer.
On one of the two compositions Graham Haynes brought in for this date, the piece entitled "The Other Side," Graham incorporates the use of his electronics, which took the quartet into a totally new zone. His electronics opened up the music to new and fresh possibilities. Graham also uses his electronics on "OGJB #4."
Oliver Lake, a master composer and instrumentalist, also contributed two pieces for the recording session. Each of them is unique and quite different from the other. Whenever anyone gets the opportunity to play Oliver´s music, they are transported into the Lake universe of sound. That is where the OGJB Quartet again went when we recorded his two pieces. Check out the groove on Oliver´s composition "Bass Bottom" - mysterious, unique, dancing, floating on air.
The composition I brought to the date, entitled "Me without Bela," takes you on a journey. You have to sit back and relax because it is a long ride from where we start to where we end up. Listen to the cosmic sounds of Barry´s percussion in the opening section and again in the final section.
We also have two collective improvisations on this recording, "OGJB #3" and "OGJB #4," that continue the tradition established with "OGJB #1" and "OGJB #2" on our first recording, Bamako. This quartet consists of master improvisers of the highest order and these two pieces are living documentation of that reality.
I have so much respect and admiration for the musicians, the producer and the recording engineer who together made this recording possible. We were a Sextet during this session!
New York City, February 11, 2019
Joe Fonda
...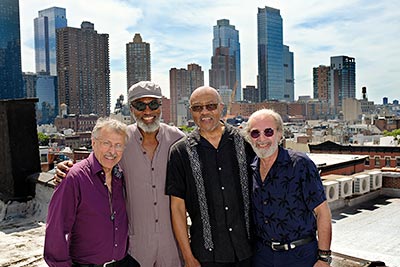 THE OGJB QUARTET
"Chemistry" is highly valued in the music we shorthand as jazz. It identifies a compounding of individual contributions into a greater whole. Groups as different as the Modern Jazz Quartet and the Art Ensemble of Chicago have it. It is plain as day, but breaking it down into its component parts can be an unsatisfactory exercise. Just as separated hydrogen and oxygen atoms cannot quench thirst, and isolated sodium and calcium atoms cannot flavor food, separating John Lewis´ classicism from Milt Jackson´s blues orientation - let alone untangling the sensibilities converging in the Art Ensemble of Chicago - does little to enhance our understanding of their chemistry, as it does not address how bonding occurs, how it changes, and how it lasts.
There are two general types of chemical bonding, strong and weak, the former better suited to this discussion because they last. Strong bonds entail the sharing of electrons, which releases energy and results in a more compact nucleus. That fits the analogy of the ensemble in a tidy manner. However, strong chemical bonds tend to be permanent, unchanging. The realities of working in improvisation-privileging music are anything but permanent and unchanging, requiring constant movement between ongoing, if only occasional, concerns, first meetings and one-offs. This promotes bonding in the moment, which confers memory, a residue - a new electron? - each musician carries forward. Given their unique orbits, each musician´s return to a given context brings with it new information and new energy.
Unsurprisingly, when Oliver Lake, Graham Haynes, Joe Fonda and Barry Altschul are asked what constitutes the chemistry of the OGJB Quartet, their answer is the totality of their respective experiences. That is a huge data set, one that is inadequately rendered as discographies or summaries. Their paths to the OGJB Quartet are perhaps better considered within the context of a complex adaptive system. The core properties of complex adaptive systems - self-organization, co-evolution and interdependence - overlap with those valued in the current sociologically slanted discourse about improvisation-privileging music; they are present, if not determinative, no matter where one begins to parse any of the members´ long histories.
Accommodating spaces of possibilities is a secondary characteristic of complex adaptive systems, one which is particularly germane in considering Ode To O, the OGJB Quartet´s second album. Spaces of possibilities come into play when there is no single answer to a question like: What do I do now? Over the course of, say, an eight-minute piece, improvisers instantly make innumerable decisions from a vast array of options about what to play and what not to play, each second a space of possibilities. The piece is shaped by all of their choices - another huge data set of bold strokes and minute details, each having a modifying influence on its form - a chain reaction.
Ode To O is a prime example of how each spark and color change catalyzes the next moment, for which the OGJB Quartet employs a veritable compendium of methods - everything from a raspy saxophone texture to a puckered cornet note, and ricocheting rhythms between bass and drums to otherworldly electronics. However, these tactics, in and of themselves, do not represent the heart of the music. They never have in jazz. A half-century ago, Dexter Gordon would commence a solo by quoting "Here Comes the Bride;" but, chorus by chorus, the quip became less salient. Ultimately, it was where Gordon and his colleagues took the listener that was the thing.
The OGJB Quartet conveys a granular understanding of this throughout the album; but instead of promoting the revelry Gordon personified, they bring this understanding to bear in articulating real issues. A We-Insist! cry spurs Lake´s "Justice;" a somber focus prevails on Altschul´s "Caring;" the varied emotions prompted by the departed permeate Fonda´s "Me without Bela" and Altschul´s toast to Billy Bang, "Da Bang." Although the 2020s are quickly being defined by pandemic, climate crisis and willful ignorance, spaces of possibility still exist, as evidenced by Haynes´ "Apaixonado," translated from Portuguese as "in love," its churning passion reflecting Haynes´ relocation to Brazil upon marriage.
Repeatedly, the members of the OGJB Quartet demonstrate sensitivity and finesse in their contributions to the wide stylistic range of their compositions. Collective improvisation, however, is a difficult bar, one that a surprising number of adept jazz musicians struggle to clear. Arguably, it is the ultimate litmus test of chemistry within an ensemble, as there is an internal tension between the need to deeply process the unfolding moment and the speed required to extend it, meaningfully. Falling back on muscle memory or an inventory of licks is a crutch, at best; at worst, it is sugar in the tank. In their collective improvisations, the OBJB Quartet bypasses the most common pitfall in free improvisation - the Bell Curve, where sparse beginnings reach an apex and then peter out, a form now almost as common as 12-bar blues or "I Got Rhythm" changes. On both "OGJB #3" and "OGJB #4," the interplay fluctuates in unexpected ways, with colors spattering and eddying.
It is fascinating to examine the chemistry of the OGJB Quartet at the molecular level, to hear how Haynes uses electronics to shape-shift his cornet, how Lake breathes life into a note, and how Fonda and Altschul jolt a moment. (Isn´t it time they are recognized as a premier bass and drums tandem?) Each play of the album reveals new details. Ultimately, however, it is far more satisfying to hear the album in its totality, the data points coalescing panoramically. Ode To O represents the huge data set that is the collective experiences of Oliver Lake, Graham Haynes, Joe Fonda and Barry Altschul, representing a wide swath of what remains vital in jazz. Each performance spools out like a quintuple helix, each strand containing the humanity of music that cries, hollers and sings.
August 2021
Bill Shoemaker
...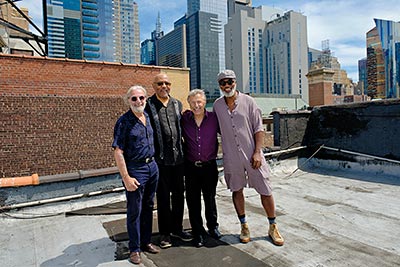 THE MUSIC
Ode to O (Barry Altschul) is a melody that came to Barry Altschul in a dream after hearing of the passing of Ornette Coleman.
Justice (Oliver Lake) was composed by Oliver Lake "with 'Justice´ on his mind, as something that is needed, now more than ever."
The Me without Bela (Joe Fonda) was originally a part of "Belame," a composition combining music from Bela Bartok´s String Quartets and some of Joe Fonda´s own music. Later, Fonda decided to use just his own music by itself in a concert and discovered that it worked well on its own as well. So, now he can play "Belame" or "Me without Bela," as he chooses.
Da Bang (Barry Altschul) is a composition dedicated by Barry Altschul to the violin great Billy Bang and designed to stimulate improvising. "Da Bang" was first featured on two live recordings by the FAB Trio in 2008 and was also included as the title tune on Billy Bang´s final recording shortly before his passing (Da Bang!, TUM CD 034, in 2011).
The Other Side (Graham Haynes) was written by Haynes specifically for Ode To O. Graham Haynes: "I was working with a kind of tone row for Oliver and Joe to play. It repeats and then plays retrograde (in reverse). I´m always trying to think orchestrally with the writing of the parts. I also wanted to play my horn with a lot of backwards delay effects using my iPad. I did this live while we were recording. The digital effects are a new palette in the orchestration once the other parts have played but they are also otherworldly, in terms of dimensional, sonic, cosmic space. I really like how things came together with the group on the piece. The title comes from the Orson Welles film The Other Side of the Wind, which had recently been completed and released posthumously, after Welles struggled for decades of his life trying to complete it. It was finally released when we were recording for our CD, about 35 years after his death."
Caring (Barry Altschul) was composed by Barry Altschul as a part of a longer tune, "For Those Who Care," dedicated to those who passed into the next life. The full composition was first included on Altschul´s recording You Can´t Name Your Own Tune in 1977.
OGJB #3 (Lake, Haynes, Fonda & Altschul) is a collective improvisation by the OGJB Quartet.
Bass Bottom (Oliver Lake) was created by Oliver Lake as a composition "to explore the use of color, texture and sound."
OGJB #4 (Lake, Haynes, Fonda & Altschul) is another collective improvisation by the OGJB Quartet.
Apaixonado (Graham Haynes), which means "in love" in Portuguese, was constructed by Haynes from a four-part harmony exercise he wrote. Graham Haynes: "It´s like a nineteenth century classical kind of sound. The actual mood of it reminded me of Ornette Coleman´s 'Lonely Woman,´ though I did not write it with that intended."