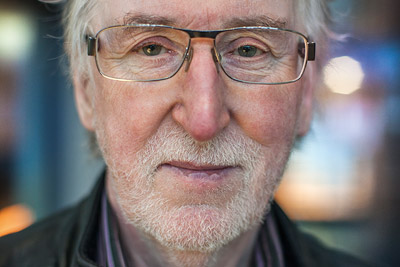 JUHANI AALTONEN & IRO HAARLA
I remember meeting Iro Haarla for the first time in the early 1970s when she was participating in a summer camp of the Oulunkylä Pop & Jazz Conservatory with an interest in learning more about improvisation. As I recall, Iro was an almost painfully shy and gentle teenager, who may have had a hard time competing for teachers´ attention with the other, mostly male, young students enthusiastic about jazz music. Sometime after that, I came to know that she was studying piano and composition with Heikki Sarmanto with whom I, of course, often collaborated - then and now.
A few years later, Iro entered the world of Edward Vesala that I was also still very much a part of at the time, the late 1970s and early 1980s. We gradually began to play together in Edward´s projects and even formed a fairly short-lived trio under Edward´s leadership towards the end of my time in his ensembles. After I had already parted ways with Edward, Iro continued to be a key participant in many of his later projects, in particular, the Sound and Fury ensemble.
Following my years with Edward Vesala, there was a long break in my relationship with Iro. We only performed together again after I had returned to active playing of improvised music: first, as part of the Suhkan Uhka ensemble (Suhka, TUM CD 001, in 2002) and, then, by forming my own trio with bassist Ulf Krokfors and drummer Tom Nekljudow (Mother Tongue, TUM CD 002, in 2002 and Illusion of a Ballad, TUM CD 013, in 2004/05), who were also part of Suhkan Uhka. Particularly after Edward passed away in 1999, Iro joined various groups formed by musicians in or around Suhkan Uhka and it felt natural to invite Iro to join us when the Juhani Aaltonen Trio became the Juhani Aaltonen Quartet with Iro, Ulf Krokfors and drummer Reino Laine (Conclusions, TUM CD 021, in 2008 and To Future Memories, TUM CD 036, in 2010).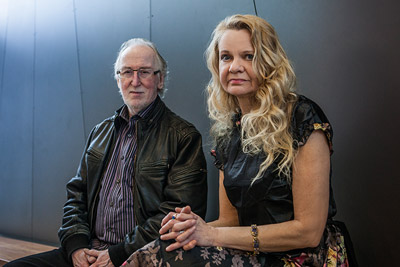 In the nearly ten years that this quartet has been performing together, I have come to appreciate Iro more and more, both as a composer and as a pianist, and also feel that both her own musicianship and our musical relationship has continuously developed and reached new levels during this time. Therefore, it was a natural next step for us to undertake this duo recording.
I have always found playing with Iro to be extremely easy and creative. Firstly, Iro has such a strong melodic sense in her compositions and in her own playing, that it serves as a perfect starting point for my own improvisations. Her compositions always seem to have a built-in storyline that one follows almost instinctively. In fact, our playing together could be seen as a continuous telling and sharing of stories. Secondly, Iro leaves a lot of room for me as a soloist in her selection of chords and through the open and spacious manner of her playing. Iro does not block the music or overtly guide the way forward with her own playing but, instead, keeps the music open and leaves the soloist room for choice in a way that only she can. Many other pianists focus on technical virtuosity and innovative chord sequences but, in the process, close down doors to the other improvisers rather than opening them the way Iro does. This creates the freedom in music that both Iro and I seek.
As a composer, Iro is one of my very favorites particularly because of the strength of her melodies. Although they can sometimes seem quite feminine and even fragile, they also invite masculine and expressive improvisation on the part of the soloist. In a way, they create space for the two opposites to meet. Although, having said that, I also greatly appreciate a beautiful melody and Iro in turn is certainly no stranger to strong and expressive improvisation as this recording once again demonstrates.
In the past decade, Iro and I have also increasingly shared an interest in spirituality. To me, this is part and parcel of the way Iro composes and can clearly be heard in her music. Furthermore, the names of her compositions serve as a key to understanding their background and meaning rather than just being labels that were put onto them after the fact. Beauty and spirituality are part of the same.
Vantaa, May 28, 2015
Juhani Aaltonen
...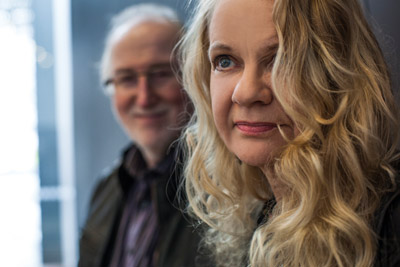 KIRKASTUS (GLORIFICATION)
I first met Juhani Aaltonen as a young music student in the early 1970s but cannot say that we developed much of relationship at that time since Juhani, already then, was such a gigantic figure in Finnish improvised music that I hardly even dared to talk to him although, at least on one occasion, he was the instructor of an improvisation workshop that I participated in.
As a result, I only really learned to know Juhani as a friend and as a musician in the late 1970s and early 1980s, when we often played together in various projects by Edward Vesala. During this period, Edward, Juhani and I even performed as the Edward Vesala Trio, including at the Pori Theater during the Pori Jazz Festival in 1983. We both also participated in various recordings by Edward, including Neitsytmatka in 1979, Mau Mau in 1982, Bad Luck, Good Luck with the UMO Jazz Orchestra in 1983 and Kullervo in 1985.
However, my collaborations with Juhani Aaltonen began for earnest only in the new millennium when I had the honor of being invited to join his quartet, a group that also included two other musicians whose playing fits extremely well with not only Juhani´s but also my own style of expression, Ulf Krokfors and Reino Laine. Outside of this quartet, Juhani and I have also performed as a duo and occasionally with other musicians, such as our recent tour in Denmark with a quartet that included bassist Jonas Westergaard and drummer Kresten Osgood.
To me, the most important thing about Juhani´s playing is his unique talent in interpreting melodies in an almost heart-breakingly deep manner, always bringing his own individual voice to my compositions.
When improvising with Juhani, I find it easy and secure to just be myself as I know that his contribution will always be effective and strong. As a composer, I particularly appreciate the ingenious manner in which Juhani constructs his solos by developing the thematic material further and further but still always returning to the beginning, the melody, which served as the starting point. As a result, each of our performances becomes a unified whole - often as if composed and arranged throughout although, in reality, mostly improvised. Playing with Juhani is almost like being in a natural, relaxed musical conversation where you do not have to think ahead of time, what to say next, as the conversation just continues to flow at its own weight.
And, of course, Juhani´s sound on both the tenor saxophone and the various flutes is in a class of its own: a warm, powerful and singing voice that enables us together to utilize the full dynamic range of the music from one moment to the next - an achingly beautiful near-silence can suddenly explode into something almost painfully primal.
From the very beginning, a tremendous longing for beauty has served as a foundation for my music and I feel that this is something that Juhani and I share. For me, this longing has been there during happy times as well as through painful feelings, trying experiences, losses and sorrow, always moving the music toward its ultimate goal - the triumph of goodness and light.
Through my music, I try to provide listeners with consolation, clarity and emotions that hopefully help them both face adversity and also embrace positive experiences thereby enabling them to always appreciate how wonderful life really is.
When preparing material for this duo recording, I decided to mostly include new composition that were inspired by some of my favorite biblical Psalms that also address these same matters, although in a more poetic and metaphorical manner than I ever could. They too represent a spiritual connection between beauty and eternity. This seemed particularly appropriate as I believe that real spirituality is always present in Juhani´s playing.
The following thought inhabits each composition on this recording: we all should look at life as if we were moving towards a clearing horizon on each day of our lives.
Tervakoski, May 28, 2015
Iro Haarla
...
THE MUSIC
All compositions by Iro Haarla.

Evening Prayer is inspired by Psalm 121.
I will lift up my eyes to the hills
- From whence comes my help?
My help comes from the Lord,
Who made heaven and earth.
The sun shall not strike You by day,
Nor the moon by night.
The Lord shall preserve your going out and
Your coming in
From this time forth, and even foremore.
Out of the Depths is inspired by Psalm 130 and Psalm 27.
I Have cried to You.
I have asked the Lord for one thing;
one thing only I want:
To live in the Lord´s house all my life,
To marvel there at his goodness,
And ask for his guidance.
Don´t turn your servant away.
My father and my mother may abandon me,
But the Lord will take care of me.
Still Waters is inspired by Psalm 23.
The Lord is my shepherd; I shall not want.
He makes me to lie down in green pastures;
He leads me beside the still waters.
Though I walk through the valley of the shadow of death
I will fear no evil;
For You are with me.
Kirkastus (Glorification) is composed as a celebration of the glorification of a human being - the victory of the light of love.
Arie - A Song for a Lost Love is composed in memory of a lost loved one. Musically, it is inspired by Italian opera arias that often share that same starting point.
Nightjar (Yökehrääjä) is dedicated to this nocturnal bird whose nightly singing symbolizes the tender and light summer nights in the Finnish nature. The composition has previously been recorded by the Iro Haarla Sextet (Kolibri, TUM CD 035, in 2010).
Farewell to Valomäki was composed by Haarla in memory of her family´s beloved home throughout the 1990s, Valomäki, that had to be left behind. The composition was first recorded by Iro Haarla and bassist Ulf Krokfors (Heart Of A Bird, TUM CD 004, in 2003). When composing this tune in the beginning of the new millennium, Haarla was going through a period when it was time to say goodbye to the past and start looking forward to the future.
Long Sole Sound is inspired by Psalm 33.
Give thanks for the Lord with harps,
Sing a new song to Him,
Play the harp with skill, and shout for joy!
Hear My Cry is inspired by Psalm 61.
Attend to my prayer.
From the end of the earth I will cry to You,
When my heart is overwhelmed.
Lead Me to the Rock is inspired by Psalm 61.
Lead me to the rock
That is higher than I,
For You have been a shelter for me,
A strong tower from the enemy.
I will abide in Your tabernacle forever;
I will trust in the shelter of Your wings.