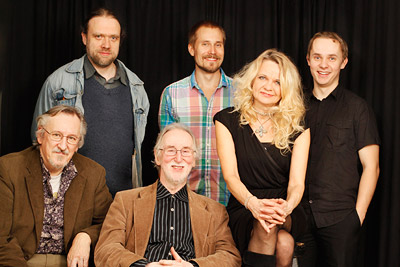 Juhani Aaltonen (b. 1935) is a key member of the first generation of Finnish jazz musicians who established Finnish modern jazz as having its own, distinctive voice. Rather than just copying American jazz musicians, these players brought something new and particularly Finnish into their own musical expression.
Other than a few performances in his early teens singing popular couplets and playing the guitar, Aaltonen first performed in public in the mid-1950s in Inkeroinen, his hometown in central Finland. His first instrument was the tenor saxophone, which he had purchased on a whim at the age of 18 and on which he was totally self-taught. A couple of years later, the tenor was replaced by the baritone saxophone, with the flute added still a bit later, when he joined a group of local jazz enthusiasts led by Heikki Rosendahl, a trumpeter influenced by Clifford Brown and Miles Davis, who had already received some national attention in Finland. The Heikki Rosendahl Sextet played, in addition to the then obligatory dance music, jazz influenced in particular by the music of Gerry Mulligan and other West Coast players popular at the time and by Sweden´s legendary baritone saxophonist Lars Gullin.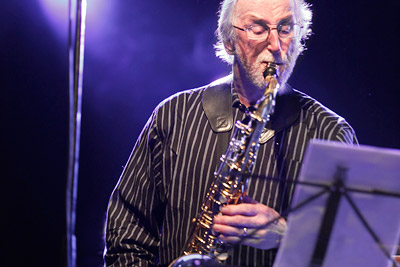 In 1961, Aaltonen began studying at the Sibelius Academy in Helsinki with the flute as his major but, after one year, dropped out to start his professional career as a full-time free-lance musician. For the first few years, he played in various dance bands backing vocalists, such as Annikki Tähti, Anneli Sari and Kai Lind, but beginning in 1966, he focused on his 35-year career as a highly sought-after studio musician while otherwise devoting his time to more creative music.
Following his move to Helsinki, Aaltonen had come under the influence of Eric Dolphy, whom he saw perform with John Coltrane in Helsinki in 1961, and briefly switched to the alto saxophone as his principal instrument. During the first half of the 1960s, Aaltonen then played both the alto and the tenor saxophone with the latter finally taking over as his main instrument in the late-1960s. Thereafter, Aaltonen would occasionally double on the alto and also the soprano saxophone but became known particularly for his tenor saxophone and flute playing.
In the early part of his career, it was typical for Aaltonen to shy away from personal attention and to prefer to work in groups led by others. Already in the early- to mid-1960s, Aaltonen began his long-standing co-operation with three key figures in Finnish modern jazz who were all highly regarded both as instrumentalists and composers: trumpeter Henrik Otto Donner, pianist Heikki Sarmanto and drummer Edward Vesala. In addition to these key collaborators, Aaltonen also participated in a number of ground-breaking groups and recordings by fellow saxophonists Esa Pethman, Eero Koivistoinen and Seppo Paakkunainen, trumpeter Mike Koskinen and guitarist Ilpo Saastamoinen. All of these musicians were members of the new generation that emerged in the 1960s and, often together, tested the boundaries of jazz and, in many cases, also the increasingly experimental rock music. For example, Aaltonen performed with Soulset (an early soul-influenced fusion jazz ensemble led by Seppo Paakkunainen and Edward Vesala) and was one of the founding members of the progressive rock group Tasavallan Presidentti (originally with vocalist/organist Frank Robson, guitarist Jukka Tolonen, bassist Måns Groundstrœm and drummer Vesa Aaltonen) playing on its first eponymous album in 1969 before leaving to "pursue other interests", with saxophonist Pekka Pöyry taking his place. In 2000-08, Aaltonen again performed and recorded with Tasavallan Presidentti, more or less in its original line-up.
In the fall of 1970, Aaltonen attended the Berklee College of Music in Boston, where he studied with Herb Pomeroy and others, but had to abandon his studies after only one term. Following his return to Finland, Aaltonen continued to collaborate with Donner, Sarmanto and Vesala, among others. Increasing international co-operation was also typical of this time. In the late 1960s and early 1970s, Juhani Aaltonen, Seppo Paakkunainen, Heikki Sarmanto, Edward Vesala and other leading Finnish modernists were frequent participants in Nordic and European jazz meets and all-star groups. For example, in the early 1970s, Aaltonen was a regular member of the Nordic All Stars led by trumpeter Palle Mikkelborg and also including the likes of trumpeters Allan Botchinsky and Bertil Lövgren, trombonists Eje Thelin and Olle Holmqvist, saxophonists Jan Garbarek, Seppo Paakkunainen and Jesper Thilo, guitarist Terje Rypdal, pianist Heikki Sarmanto, bassist Palle Danielsson and drummer Jon Christensen, among many others in ever changing combinations. In the early 1980s, Aaltonen also participated in The Scandinavian Jazzensemble with trumpeters Palle Mikkelborg and Benny Rosenfeldt, trombonists Eje Thelin and Albert Mangelsdorff, saxophonists John Pål Inderberg and Bernt Rosengren, pianist Dag Arnesen, guitarist Janne Schaffer, bassists Palle Danielsson and Niels-Henning Ørsted Pedersen, drummer Jon Christensen and others as well as guest conductors, including Carla Bley in 1980 and Gil Evans in 1981. In many cases, these international workshops and tours led to longer term relationships, such as Vesala´s membership in Jan Garbarek´s trio in the early 1970s and his collaborations with Tomasz Stanko over the years as well as Vesala´s and Aaltonen´s collaborations with the Norwegian bassist Arild Andersen.
Despite his busy career as a studio musician and his role as the principal soloist of many large orchestral works, Aaltonen was - and is - particularly fond of free improvisation. Some of the most memorable early moments involving Finnish jazz musicians playing within that genre featured him in a prominent role, including his trio recording with Arild Andersen and Edward Vesala (Nana in 1970) and a recording of the German - Finnish Jazz Workshop, with saxophonist Peter Brötzmann, bassist Peter Kowald and Edward Vesala (Hot Lotta in 1973). Although more structured, the early small-group recordings with Heikki Sarmanto (Flowers In The Water in 1969 as well as Counterbalance and Like A Fragonard, both in 1971) also relied heavily on free improvisation. However, just like Vesala, Aaltonen soon moved forward from the more extreme expressions of "freedom", with the free improvisation becoming a tool rather than a goal in itself.
As part of his co-operation with Edward Vesala that began in the mid-1960s and continued intensely for two decades, Aaltonen participated as a key soloist in a number of recordings and concerts organized by Vesala beginning with the small groups of the late 1960s and early 1970s and reaching a high point with the larger ensembles of the late 1970s and early 1980s (Nan Mandol in 1974, Rodina and Satu in 1976, Neitsytmatka in 1979, Mau Mau in 1982, Good Luck, Bad Luck in 1983 and Kullervo in 1985). During a three-year period towards the end of the 1970s, Aaltonen was also a member of the Arild Andersen Quartet, touring extensively and recording two well-received albums with the group. (Shimri in 1977 and Green Shading Into Blue in 1978)
In 1975, Aaltonen was one of the founding members of the New Music Orchestra (Uuden Musiikin Orkesteri or UMO, now known as the UMO Jazz Orchestra) and has recorded a number of albums with the big band. His membership in UMO continued until 1986 when he left after receiving a 15-year artist´s grant from the Finnish State. After leaving UMO, Aaltonen continued to lead his own quartets (with pianist Olli Ahvenlahti, Pekka Sarmanto and Reino Laine) and trios (with Heikki Virtanen and Reino Laine), but these groups performed rarely and went unrecorded.
During the 1980s, Aaltonen also continued to collaborate with Donner, Sarmanto and Vesala as well as composer/bassist Antti Hytti, composer/pianist Jukka Linkola and vocalist Maija Hapuoja, among others. In addition to smaller groups, Aaltonen performed as a soloist of a number of larger works, including several of Heikki Sarmanto´s orchestral compositions, Jukka Linkola´s "Crossings (Music for Tenor Saxophone and Orchestra)" with the Helsinki Philharmonic Orchestra in 1983, Edward Vesala´s "Kullervo" with a large ensemble and a narrator in 1985 as well as Henrik Otto Donner´s orchestral suite "Dalens ande (The Spirit Of The Valley)" with the UMO Jazz Orchestra in 1991.
During the 1990s, Aaltonen continued to enjoy a particularly close co-operation with Heikki Sarmanto, comprising a number of concert tours and recordings of extended works, such as an eight-part suite for flutes and keyboards called "Pan Fantasy" in 1990 and another series of compositions for flute and piano called "Silver Spell" in 1996. Aaltonen has been the principal jazz soloist of many of Sarmanto´s large orchestral and choral compositions beginning with the New York premiere of "New Hope Jazz Mass" in 1978 and continuing with "Suomi Symphony" in 1983, "Kalevala Fantasy" in 1986, "Hearts" in 1994, "Perfect Harmony" in 1996 and "Winter War Requiem" in 2009. In total, Aaltonen has recorded 30 or so albums with Sarmanto playing a central role as a soloist in virtually all of them.
Although Aaltonen´s role in various projects by Donner, Sarmanto, Vesala and others has been essential and Aaltonen has been one of the central figures in Finnish modern jazz for five decades, his output as a leader was, until the past decade, relatively limited. His recordings as a leader or co-leader consisted of three recordings produced by Edward Vesala in the 1970s and early 1980s (Etiquette in 1974; Springbird in 1979; and Prana in 1981) as well as one project with Henrik Otto Donner (Strings in 1976) and several with Heikki Sarmanto (Pan Fantasy and Distant Dreams in 1990; Silver Spell in 1996; Déjà vu in 2000 and Rise in 2002).
During the 1980s, Aaltonen experienced a spiritual awakening that led to a new phase in his career. Aaltonen increasingly began to perform in churches and religious events - often as a solo artist. He also began publishing religious recordings, containing both hymn-based improvisations and free improvisation.
For much of the late 1980s and the 1990s, Aaltonen rarely performed outside of religious circles other than for his various projects with Heikki Sarmanto. This changed in 2001 when he founded the Juhani Aaltonen Trio with bassist Ulf Krokfors and drummer Tom Nekljudow. The Juhani Aaltonen Trio quickly established itself as one the most important modern jazz groups to come out of Finland and performed at a number of European jazz festivals. Both of its recordings (Mother Tongue, TUM CD 002, in 2002 and Illusion Of A Ballad, TUM CD 013, in 2004/5) were well received by critics and audiences alike.
In 2007, Aaltonen began collaborating with Iro Haarla, Ulf Krokfors and Reino Laine in a new quartet that mostly performs compositions by its members. This quartet and its first recording (Conclusions, TUM CD 021, in 2007) received considerable critical acclaim. In 2010, Aaltonen also recorded a new collection of duo improvisations with Heikki Sarmanto (Conversations, TUM CD 024-2).
Aaltonen has also in recent years performed in a trio with two great masters of modern jazz, bassist Reggie Workman and drummer Andrew Cyrille. Aaltonen´s relationship with Workman in particular goes back to the early 1980s when they both participated in various projects by Edward Vesala. Under Aaltonen´s name, they also made a long out-of-print live recording with Vesala on drums (Prana in 1981). The trio with Workman and Cyrille has made one recording (Reflections, TUM CD 007 in 2002) and was also featured with Avanti! Chamber Orchestra on a recording of Henrik Otto Donner´s compositions (Strings Revisited, TUM CD 003 in 2002). In addition to performances in Finland, the trio performed at St. Peter´s Church in New York City during the Sculptured Sounds Music Festival organized by Reggie Workman in 2006/7.
A third regular performing vehicle for Aaltonen in the past decade has been Nordic Trinity, a co-operative group with guitarist Mikko Iivanainen and drummer Klaus Suonsaari, which has released four albums (Wonders Never Cease in 2005, Eternal Echoes in 2007 and Plays The Music Of Edward Vesala in 2010 and Live in 2012).
In 2012, Aaltonen was involved in both of the first two projects of TUMO, a new large ensemble focused on orchestral improvisation. Aaltonen played flute with TUMO when it performed at TUMfest12 under composer and trumpeter Wadada Leo Smith and recorded five extended compositions by Smith in February 2012 (Occupy The World, TUM CD 037-2). In October 2012, Aaltonen and vocalist Johanna Iivanainen were the soloists of the second 33-member incarnation of TUMO when it performed and recorded eight compositions by Henrik Otto Donner (And It Happened…, TUM CD 039). Also, in 2006, Aaltonen and Iro Haarla were featured as soloists on guitarist Raoul Björkenheim´s recording with the UMO Jazz Orchestra (Sky Is Ruby, TUM CD 017).
Over the last five decades, Aaltonen has received a number of accolades for his career and music, including the Finnish Jazz Federation´s Yrjö Award as the jazz musician of the year already in 1968. In 2009, the Finnish National Arts Council awarded Aaltonen the Finnish State Prize for Music for his lifetime of achievement. Aaltonen was only the second jazz musician to receive this prestigious annual award.
Juhani Aaltonen´s recordings have also received considerable critical acclaim, with each of Etiquette (1974), Strings (1976) and Mother Tongue (2003) having been chosen the jazz record of the year in Finland.
Iro Haarla (b. 1956) studied piano at the Sibelius Academy in Helsinki with Izumi Tateno and also studied piano and improvisation with Heikki Sarmanto, composition with Einar Englund and arrangement with Kari Tikka and Eero Koivistoinen (1974-79). Her early jazz influences included Thelonious Monk, Bill Evans and especially Paul Bley.
In the late 1970s, Haarla began her collaborations with composer and drummer Edward Vesala, which continued until his death in 1999. These included a number of recordings under the leadership of Vesala in the late 1970s and early 1980s (Neitsytmatka in 1979, Mau Mau in 1982, Bad Luck, Good Luck in 1983 and Kullervo in 1985), a membership in Vesala´s Sound and Fury ensemble (Lumi in 1986, Ode To The Death Of Jazz in 1989, Invisible Storm in 1991 and Nordic Gallery in 1993-94) and participation in a number of smaller groups in addition to working on various other projects with Vesala, including music for several plays and movies. With Vesala, Haarla played piano, various synthesizers and other keyboards as well as the harp. She also co-composed and/or arranged the music for Sound and Fury and all other larger projects of Vesala during this period.
In addition to working with Vesala, Haarla performed with a number of musicians close to Vesala, including saxophonists Tapani Rinne (RinneRadio in 1989) and Pepa Päivinen (Saxigon in 1997) as well as guitarist Jimi Sumén (Paintbrush, Rock Penstemon in 1991). She has also been a member of saxophonist Esa Pietilä´s 4 Streams (with Pietilä, bassist Ulf Krokfors and drummer Markku Ounaskari), saxophonist Jorma Tapio´s Rolling Thunder (Live In Japan, with Tapio, Krokfors and drummer Tom Nekljudow, in 2002) and bassist Antti Hytti and saxophonist Jone Takamäki´s Otná Eahket quartet, among many other groups. Beginning in the 1980s, she has also performed with many other leading European jazz musicians including saxophonist Juhani Aaltonen, trumpeter Tomasz Stanko, pianist Christian Wallumrød and percussionist Terje Isungset (Iceman Is in 2001), among many others.
In the new millennium, Haarla has increasingly led her own groups and performed her own compositions. She has also performed as a solo pianist. In addition, she has continued her collaborations with former members of Sound and Fury, including Pepa Päivinen, with whom she published the much-lauded duo album Yarra Yarra in 2001, and Tapani Rinne (Nectic in 2002), most recently, in an electro-acoustic trio, iXt, with Rinne on clarinet, Haarla on piano and an alternating third member on electronics. She was also a featured soloist with Juhani Aaltonen on Raoul Björkenheim´s recording with the UMO Jazz Orchestra (The Sky Is Ruby, TUM CD 017, in 2006) and was a member of TUMO in each of its first two performances and recordings (Occupy The World, TUM CD 037-2, and And It Happened…, TUM CD039, both in 2012).
Perhaps most important for Haarla´s career in recent years has been her partnership with Ulf Krokfors. In addition to performing as a duo (Heart of a Bird, TUM CD 004, in 2003) and together in various groups led by others, Haarla and Krokfors have co-led a nine-member ensemble, Loco Motife (Penguin Beguine, TUM CD 011, in 2004). Krokfors is also featured in Haarla´s Finnish-Norwegian quintet, which has also included saxophonist Trygve Seim, trumpeter Mathias Eick and drummer Jon Christensen from Norway and has recorded two well-received albums for ECM Records (Northbound in 2004 and Vespers in 2010) touring extensively both in Europe and in North America. In addition, Krokfors was a founding member of the Iro Haarla Quintet (with trumpeter Verneri Pohjola, saxophonist Kari Heinilä and drummer Reino Laine) and the Iro Haarla Sextet, which was first introduced at the Pori Jazz Festival in July 2009 (with Heinilä, Pohjola, trombonist Jari Hongisto and Markku Ounaskari; Kolibri, TUM CD 035, in 2010). Both Haarla and Krokfors are also members of the Juhani Aaltonen Quartet (Conclusions, TUM CD 021, in 2008). Haarla´s collaborations with Aaltonen started in various groups with Edward Vesala in the late 1970s and the 1980s and the three of them even formed a trio that performed at the Pori Jazz Festival in 1983. In addition to their work together in the Juhani Aaltonen Quartet, Aaltonen and Haarla have recently recorded a yet-to-be-released duo album.
Haarla´s work as a composer has in recent years included a number of orchestral works. One of her compositions was performed by the UMO Jazz Orchestra with Tomasz Stanko as the featured soloist in a concert broadcast by the European Broadcasting Union (EBU) in 2002. At the Tampere Jazz Happening in 2006 and again in Helsinki in 2007, UMO dedicated an entire concert to her compositions, with the latter concert being broadcast by EBU. More recent compositions include five works for a string quartet and piano or harp, which premiered in Helsinki in 2008, and "Ante Lucem - Before Dawn…," a four-part composition for a jazz quintet and a symphony orchestra, premiered by the Iro Haarla Quintet with Norrlandsoperans Symfoniorkester at the Umeå Jazz Festival in Sweden in 2012. Haarla also arranged Tapani Rinne´s compositions for Pori Sinfonietta and the Pori Big Band in 2011 (Luhtahuitti).
In addition to improvised music, Haarla has also recorded and arranged popular music, including for a recording by the singer-songwriter Matti Johannes Koivu (Toisen maailman nimi in 2011).
In 2006, Haarla received the Finnish Jazz Federation´s Yrjö Award as the Jazz Musician of the Year. Of Haarla´s recordings, Penguin Beguine received the Emma Award for the Best Finnish Jazz Recording of the Year in 2005 and Vespers in 2011.
Ulf Krokfors (b. 1966) first began playing the double bass with trumpeter Henrik Otto Donner´s quintet in the mid-1980s. Krokfors quickly made his mark as a member of drummer Edward Vesala´s Sound and Fury in the late 1980s (Ode to the Death of Jazz in 1989) and guitarist Raoul Björkenheim´s Krakatau from 1988 until 1999 (Volition in 1991 and Matinale in 1993 as well as Primal Mind with Krakatau and the UMO Jazz Orchestra in 1991). After those early affiliations, Krokfors became one of the most in-demand bass players in Finland and his resume reads like a Who´s Who of the current Finnish jazz scene. Perhaps most importantly, Krokfors was a founding member of both the Juhani Aaltonen Trio (with Aaltonen and drummer Tom Nekljudow; Mother Tongue, TUM CD 002, in 2002 and Illusion of a Ballad, TUM CD 013, in 2005) and the Juhani Aaltonen Quartet (with Aaltonen, pianist/harpist Iro Haarla and drummer Reino Laine; Conclusions, TUM CD 021, in 2008), two groups essential for Finnish and European improvised music.
Krokfors has also played and recorded with the quartet of saxophonist/flutist Sakari Kukko (Virret in 2001 and Joulu in 2003), participated in various projects by Henrik Otto Donner (Free For All, TUM Box 001, in 1999 and Strings Revisited, TUM CD 003, in 2002) and been a founding member of the 12-member Suhkan Uhka (Suhka, TUM CD 001, in 2002). Other frequent collaborators have included saxophonists Kari Heinilä (Lill´Lisa in 1999) and Esa Pietilä (Direct in 2002), pianists Kari Ikonen (The Helsinski Suite in 2010), Seppo Kantonen (Klang in 2000), Samuli Mikkonen (Korpea kuunnellessa in 1998 and 7 Henkeä in 2002) and Jarmo Savolainen (John´s Sons in 1996, Times Like These in 2002 and Song For Trio in 2006) and organist Jukka Gustavson (Moments in 2000).
In the past decade, Krokfors has increasingly collaborated with Iro Haarla in ensembles ranging from a duo (Heart of a Bird, TUM CD 004, in 2003) to the nine-member Loco Motife (Penguin Beguine, TUM CD 011, in 2004). He is also featured on Haarla´s recordings with her Finnish-Norwegian quintet (Northbound in 2004 and Vespers in 2010) and is a founding member of both her Finnish quintet and sextet (Kolibri, TUM CD 035, in 2010).
In recent years, Krokfors has increasingly focused on his own music, which has also been featured on recordings by Suhkan Uhka and the Juhani Aaltonen Trio and Quartet. In 2008, Krokfors published his first solo bass recording (The Incense of All Our Prayers).
Ville Herrala (b. 1979) first studied classical piano and guitar as a child in his hometown of Turku and the switched in his teens first to the bass guitar and later to the double bass studying the latter with Olli Lehtinen at the Turku Conservatory and with Lasse Lagercrantz at the Sibelius Academy. He began his studies at the Jazz Department of the Sibelius Academy in 2000 and graduated as a Master of Music in 2010. In 2003-03, he spent a year at the Academy of Music in Gothenburg, Sweden, studying with bassist Anders Jormin.
Already during his studies, Herrala became one of the busiest bass players in Finland playing with virtually everybody on the Finnish jazz scene. In addition to his contemporaries, Herrala has worked with many of the more experienced musicians, such as trumpeter Henrik Otto Donner, saxophonists Juhani Aaltonen, Eero Koivistoinen, Sakari Kukko, Pentti Lasanen, Jari Perkiömäki, Jukka Perko, Antti Sarpila and Jorma Tapio, pianists Iro Haarla, Seppo Kantonen (Tokka in 2009), Kimmo Lintinen and Jarmo Savolainen, vibraphonist Severi Pyysalo, guitarist Raoul Björkenheim and drummer Jukka-Pekka Uotila. He has also worked with larger orchestras both n the classical field and in jazz, including the UMO Jazz Orchestra, the Riku Niemi Orchestra, Dallapé and TUMO (And It Happened…, TUM CD 039, in 2012). In addition, he has performed with internationally renowned names, such as John Bergonzi, Jim Black, Benny Golson, Uri Caine, Phil Markowitz, Chris Potter, John Tchicai and Cuong Vu.
Currently, Herrala´s main projects include PLOP (with saxophonist Mikko Innanen and drummer Joonas Riippa; An Sich in 2009 and Per Se in 2013), the Jukka Perko Streamline Jazztet (with Perko, guitarist Teemu Viinikainen and drummer Teppo Mäkynen; eponymous album in 2012), the Teemu Viinikainen Trio (with Viinikainen and drummer Mika Kallio; Nyt in 2011), Lightboxer (with saxophonist Markus Holkko, guitarist Aki Haarala, keyboardist Emil Luukkonen and drummer Mikko Pöyhönen; Lightboxer in 2012), Attacus (with guitarist Kalle Kalima and Mika Kallio), The Joonatan Rautio Trio (with saxophonist Joonatan Rautio and Joonas Riippa; Commitment in 2010) and Ahava (with vocalist Mia Simanainen, saxophonist Sonny Heinilä, pianist Kari Ikonen and Mika Kallio; Matka in 2012).
Reino "Reiska" Laine (b. 1946) began his career as a professional musician in Helsinki in the mid-1960s performing in various jazz groups with his contemporaries in Finland but also paying his dues by touring the country extensively as a member of the orchestras of two masters of the Finnish tango, Olavi Virta and Taisto Tammi.
Laine´s principal early influences were Elvin Jones, who visited Helsinki with John Coltrane twice in the early 1960s and made a strong impression on the budding drummer, and Tony Williams. Having already established himself as one of the leading drummers on the Helsinki scene, Laine spent a year in New York (1970-71) and, upon his return, continued to perform in the groups of saxophonists Juhani Aaltonen, Eero Koivistoinen, Seppo Paakkunainen and Pekka Pöyry, among many others. He also performed with many visiting jazz musicians, such as trumpeters Ted Curson, a frequent collaborator of Laine at the Pori Jazz Festival for more than four decades (Ode to Booker Erwin in 1970), and Dizzy Gillespie, saxophonists Dexter Gordon, Clifford Jordan, Charlie Mariano (Reflections in 1974) and Archie Shepp, as well as pianists Horace Parlan and Mal Waldron, among many others.
In 1969, Laine was a member of Eero Koivistoinen´s award-winning group at the Montreaux Jazz Festival and also performed with the group at the Newport Jazz Festival. Laine continued to play in Koivistoinen´s groups for a number of years (Tune In in 1968, Odysseus in 1969, The Original Sin in 1971, 3rd Version in 1973 and Wahoo! in 1973). These included the Eero Koivistoinen Quartet (also pianist Vladimir Shafranov and bassist Pekka Sarmanto; Labyrinth and At Belmont Jazz Club, both in 1977) that was one of the most important Finnish jazz groups of its time.
Laine also has performed and recorded with trumpeters Mike Koskinen (Sunwebs in 1976), Henrik Otto Donner (Kuinka myöhään valvoo blues? in 1980) and Markku Johansson (Funny Tricks But Beautiful in 1982), pianists Heikki Sarmanto (Carola & Heikki Sarmanto Trio in 1966/2004, Syksy ja muita lauluja in 1976, Magic Song in 1980 and An Odyssey in Jazz: Tales of Max in 1991), Olli Ahvenlahti (Tämä on ensimmäinen päivä in 1983 and The Way You Walk in 1986) and Matti "Rag" Paananen (Amazon in 1980), guitarist Jukka Hauru (Information in 1972), bassist Markku Lievonen (Make Lievonen in 1977) and multi-instrumentalist Marc Levin (Social Sketches in 1975).
Particularly in the early 1970s, Laine often performed in the realm of jazz-rock fusion with the leading Finnish musicians in that genre, including guitarist Jukka Tolonen (Tolonen! in 1971 and Summer Games in 1973), bassist Pekka Pohjola (Pihkasilmä kaarnakorva in 1972 and Views in 2001) and the fusion group Unisono (with Paakkunainen, Ahvenlahti, guitarist Nono Söderberg and Pohjola; Unisono in 1975). He also recorded with rock, blue and folk musicians, such as vocalists Eero Raittinen (Eeron Elpee in 1970), Vesa-Matti Loiri (4+20 in 1971), Carita Holmström (Toinen levy in 1974), Anki (En anna heille anteeksi in 1975), Nils-Aslak Valkeanpää (Sami Eatnan Duoddariid in 1989) and Paavo Maijanen (Kuutamokeikka in 1990), guitarist Albert Järvinen (Ride On in 1974 and accordionist Pedro Hietanen (Pedro´s Heavy Gentlemen: Tango in 1993).
Throughout his career, Laine has branched out to the fields of theatre and film both as a musician and as a sometime performer. For example, he has been involved in a number of projects by KOM Teatteri (Porvari nukkuu huonosti in 1971) and Ryhmäteatteri (Taru sormusten herrasta in 1986) and has collaborated with composers Kaj Chydenius (Laulu tuhannesta yksiöstä ja kabareelauluja in 1968 and Tervetuloa ikä in 1980) and Toni Edelmann (Näytelmämusiikkia in 1978), among others.
In recent years, Laine has continued to perform with a broad range of musicians, including Juhani Aaltonen (Conclusions, TUM CD 021, in 2008), Seppo Paakkunainen (Baritone in 2001) and pianist Claes Andersson (These Foolish Things in 2001), and occasionally, leads his own groups. He has also recorded with the Iro Haarla & Ulf Krokfors Loco Motife (Penguin Beguine, TUM CD 011, in 2003).
Laine has been politically active since the 1970s becoming well known as a tireless community organizer and politician focused on cultural affairs. He has been a member of both the Finnish Parliament (1996-1998) and the Helsinki City Council (1997-2004). In 1981, Laine received the Finnish Jazz Federation´s Yrjö Award as the jazz musician of the year.
Tatu Rönkkö (b. 1983) comes from the town of Kuopio in Eastern Finland and has become known as a versatile drummer and percussionist working in all areas on rhythm music and sonic arts.
After moving to Helsinki, Rönkkö first became better known as a member of Elifantree, a trio founded in 2007 with vocalist and keyboardist Anni Elif Egecioglu and saxophonist Pauli Lyytinen, which combines free improvisation, punk spirit and vocal acrobatics in a unique fashion (Love & Trees in 2010 and Time Out in 2012).
Rönkkö leads Dramophone, a group with saxophonists Otto Eskelinen and Pauli Lyytinen and bassist Eero Tikkanen that performs dark and low rumbling improvised music (Urban Ritual in 2012), and has performed and recorded with Fanfarra Recreativa Improvisada Colher De Sopa (Abraço Vivo in 2007), Auteur Jazz (Aphorisms in 2009 and Cunning in 2012), Yona & Orkesteri Liikkuvat Pilavet (Pilvet liikuvat, minä en in 2010, Vaikenen laulaen in 2011 and Vaikka tekee kipeää, ei haittaa in 2012) and the Verneri Pohjola Quartet (Ancient History in 2012). In addition, he has performed with Troko, Skalle & Sharon (Mainio matka in 2009), Robert´s Street Fighters, Jimi Tenor & Abdissa Assefa, ITE-Tune and drummer Olavi Louhivuori, among many others.
Since 2012, Rönkkö has performed live with Efterklang, an experimental rock group founded in Copenhagen in 2000. In 2013 alone, Efterklang´s tours have extended to Europe, the Americas and Asia.
In addition to performing with various groups, Rönkkö has also collaborated with dancers, performance artists and visual artists, including Heikki Mäntymaa, Katri Kainulainen, Arttu Kurttila, Riitta Rönkkö, Vappu Rossi, Panu Varstala and Minja Mertanen. In these projects, he has been featured as a performer, musician and composer and/or sound coordinator.
Since 2011, Rönkkö has performed solo concerts with kitchen percussion. His latest project in this area is "I play your kitchen", a concert series organized in private homes where he improvises with objects found in the kitchen of each home.