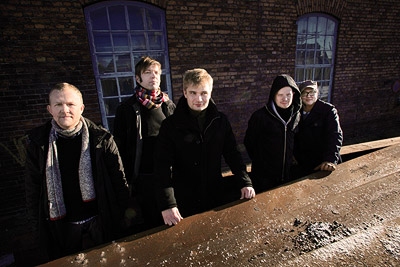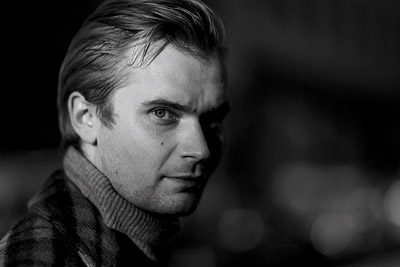 Mikko Innanen (b.1978) is a Finnish saxophonist and composer born in Lapinjärvi, Finland. Having begun to play the alto saxophone at the age of ten, he was introduced to jazz through his father´s record collection and by his early saxophone teacher Bengt Ingelin. Already at the age of 12, Innanen was determined to become a jazz musician. His early favorites included such jazz giants as Charlie Parker, John Coltrane, Ornette Coleman, Duke Ellington, Johnny Griffin, Billie Holiday, Thelonious Monk and Ben Webster.
In 1994, Innanen moved to the Finnish capital Helsinki to study at the Jazz Department of the Sibelius Academy. He received his Master of Music degree from the Sibelius Academy in 2003. His studies also included a year (1998-99) as an exchange student at the Rhythmic Music Conservatory in Copenhagen, Denmark, which led to many of the friendships and collaborations that still continue today. In the past ten or so years, Innanen has established his position as one of the most innovative saxophonists and composers on the Finnish and the Nordic scene for improvised music. In November 2008, he received the Finnish Jazz Federation´s annual Yrjö Award as the jazz musician of the year. To date, he has published 15 recordings as a leader or co-leader and more than ten as a sideman. These include Paa-da-pap by Mikko Innanen & Innkvisitio (TUM CD 019), Spring Odyssey by the Mikko Innanen-Jaak Sooäär-Han Bennink Trio (TUM CD 015), Penguin Beguine by Iro Haarla-Ulf Krokfors Loco Motife (TUM CD 011), Eclexistence by Delirium (TUM CD 010) and Sudden Happiness by Triot with John Tchicai (TUM CD 008).
Apart from Innkvisitio, Innanen is known for his participation as a leader, co-leader, featured soloist and/or composer in various collaborative groups, such as PLOP (with Ville Herrala and Joonas Riippa), Delirium (with Kasper Tranberg, Jonas Westergaard and Stefan Pasborg), Triot (with Nicolai Munch-Hansen and Stefan Pasborg), Gourmet (with Ilmari Pohjola, Veli Kujala, Esa Onttonen, Petri Keskitalo and Mika Kallio), the Mikko Innanen Trio (with Joe Fonda and Lou Grassi), the Mikko Innanen-Jaak Sooäär-Han Bennink Trio and the Mikko Innanen-Mika Kallio Duo. In addition, he is currently active with Kalle Kalima & K-18 (with Kalima, Teppo Hauta-aho and Veli Kujala), Pekka Tuppurainen Röd/Blå (with Tuppurainen, Magnus Broo, Aki Rissanen, Joonas Riippa and Jori Hulkkonen), Wade Mikkola´s Contrasts (with Mikkola, Manuel Dunkel, Georgos Kontrafouris and Klaus Suonsaari) and the Charles Mingus repertoire band Tonight At Noon (with Jukka Eskola, Jussi Kannaste, Mikko Helevä and André Sumelius).

Innanen has also played and/or recorded with a number of other well-known artists such as trumpeters Anders Bergcrantz, Laurent Blondiau, Ted Curson, Ingrid Jensen, Verneri Pohjola and Herb Robertson, saxophonists Juhani Aaltonen, Frank Gratkowski, Sakari Kukko, Liudas Mockunas, Jukka Perko, Dayna Stephens and John Tchicai, pianists Iro Haarla and Georgos Kontrafouris, vibraphonist Severi Pyysalo, balafonist Aly Keita, guitarists Takayuki Kato and Hans Olding, violist Frantz Loriot, bassists Filip Augustson, Barry Guy, Ingebrigt Håker Flaten, James Ilgenfritz, Ulf Krokfors and William Parker as well as drummers Billy Cobham, Andrew Cyrille, Håkon Mjåset Johansen, Tim Kuhl, Paal Nilssen-Love, Kresten Osgood and Klaus Suonsaari. He has also performed with various groups, including Iro Haarla-Ulf Krokfors Loco Motife, Teddy Rok 7 (led by Teppo Mäkynen), Ibrahim Electric (Niclas Knudsen, Jeppe Tuxen, Stefan Pasborg), Odessa 5 (led by Stefan Pasborg), Zanussi 5 (led by Per Zanussi), Fredator (led by Jussi Fredriksson), Itchy (Jacob Dinesen, Jeppe Skovbakke and Rune Kielsgaard), Triade (Cedric Piromalli, Sebastian Boisseau and Nicolas Larmignat), Mr Fonebone (with Antti Rissanen, Kari Ikonen, Tuure Koski and Mika Kallio), Nuijamiehet (with Kalle Kalima, Lasse Lindgren and Mika Kallio), the UMO Jazz Orchestra and the Espoo Big Band.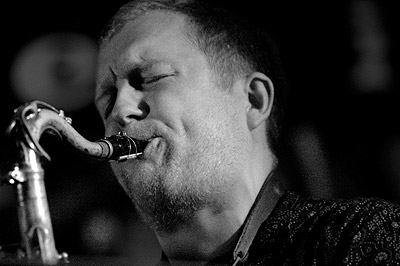 Fredrik Ljungkvist (b.1969) was born in Kristinehamn, Sweden. Brought up in a musical home (his father is a saxophone player as well), he chose the path to music early on. Ljungkvist moved to Stockholm in 1989 to study at the Royal Academy of Music and played and recorded with some of the leading bands in Stockholm at the time, including those of Fredrik Norén (One day is Many), Lina Nyberg (So Many Stars) and Per "Texas" Johansson (Alla mina kompisar). In 1993, he formed his own group, the Fredrik Ljungkvist Quartet, that released two recordings (Falling Papers in 1995 and Sonic Space in 1997). Currently, Ljungkvist leads Yun Kan 5 (with Klas Nevrin, Per Åke Holmlander, Mattias Welin and Jon Fält), Yun Kan 10 (also Mats Äleklint, Amit Sen, Sofia Jernberg, Mattias Risberg and Raymond Strid) and Mineralogy (with Håkan Goohde, Mats Äleklint, Jonas Östholm, Mattias Welin and Amit Sen).
Ljungkvist is considered one of Sweden´s most talented and interesting saxophone players on the scene right now. In addition to various saxophones, he also has exceptional command over the clarinet. His expressive and sensitive playing has impressed both audiences and the press all over the world. With different constellations he has played in the Nordic countries, Canada, France, Morocco, Portugal, Russia, South Africa, the United Kingdom and the United States, among others. In 2002, he received the "Jazzkannan" award as the jazz musician of the year from the Swedish Jazz Society.

Ljungkvist has participated in more than 40 recordings and played and/or recorded with a number of innovative musicians, including Marc Ducret, Alex Dörner, Mats Gustafsson, Jimmy Heath, Anders Jormin, Roland Kejser, Joakim Milder, Bobo Stensson, Raymond Stridh, John Taylor and Petur Island Östlund, amongst others. In addition to his own groups, he currently also performs with Ken Vandermark´s Territory Band, LSB (with Johan Berthling and Raymond Strid), Fire House (with John Lindholm, Magnus Broo, Johan Berthling and Kjell Nordeson), Parish (with Thomas Stronen, Bobo Stenson and Mats Elertsen) and Atomic (with Magnus Broo, Håvard Wiik, Ingebrigt Håker Flaten and Paal Nilsson-Love).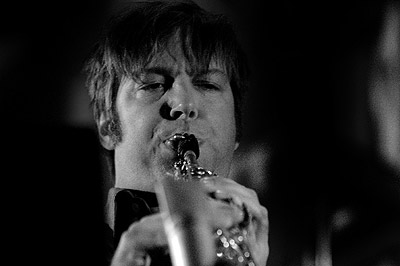 Daniel Erdmann (b.1973) was born in Wolfsburg, Germany, but now lives in Reims, France. Erdmann began to play the saxophone when he was ten years of age and studied from 1994 to 1999 at the National Music School Hanns Eisler in Berlin, where his teachers included Gebhard Ullmann, Jiggs Whigham and Aki Takase.
In 1999, Erdmann founded his own band, Erdmann 2000, with Frank Möbus (guitar), Johannes Fink (bass) and John Schröder (drums), three musicians well known on the German jazz scene. This band, now called Erdmann 3000, has released four recordings: Recovering from Y2K in 2000, Welcome to E3K in 2003, Supermicrogravity in 2007 and Live in Berlin in 2010.

Daniel Erdmann also founded Das Kapital with guitarist Hasse Poulsen and drummer Edward Perraud in 2002. This group has produced two recordings and also created two shows with Swiss filmmakers Nicolas Humberg and Martin Otter (Wonderland in 2006 and Lenin on Tour in 2008). Their latest recording, Plays Eisler (2008), was dedicated to the German composer Hanns Eisler and has met with considerable critical success and opened a number of performing opportunities for the group. Erdmann´s other notable recordings include Haw Haw (2000) and Hyvä Bändi Livenä (2004) by Momentum Impakto (with Kalle Kalima and Jan Schröder), Sleeping with the Enemy (2007) with Jonas Westergaard and Samual Rohrer, Almost Dreaming (2009) with Jaak Sooäär and Gine Andersen and Dessert Time (2005) with Jaak Sooäär, among others.
In addition to those mentioned above, Erdmann has played with a number of other leading contemporary musicians, such as Conny Bauer, John Betsch, Paul Brody, Tony Buck, Chris Dahlgren, Pierre Dørge, Axel Dörner, Hans Hassler, Peter Kowald, Rudi Mahall, Yves Robert, Herb Robertson, Linda Sharrock, Ed Schuller, Aki Takase, Gebhard Ullmann, Joe Williamson and many more.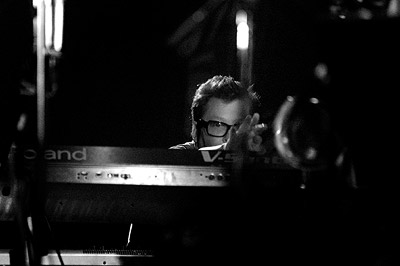 Seppo Kantonen (b. 1963) was born in Pylkönmäki, Finland. After moving to Helsinki in his teens to study music, he has performed actively beginning in 1982. Early mentors included trumpeter Henrik Otto Donner and saxophonist Eero Koivistoinen, with the latter´s quartet being the group where Kantonen first became known to the broader audience. Whether on acoustic piano or on other keyboards, Kantonen has an approach that is as energetic as it is effective and always all of his own.
Among the groups led by Kantonen, most important are two piano trios known for their distinct sound and creative interplay: Klang (with Ulf Krokfors and Markku Ounaskari) that released its only album, Klang, in 1999 to considerable critical acclaim and the currently active Tokka (with Ville Herrala and Mikko Hassinen) that has defined Kantonen´s piano mastery and compositional profile even further on its first album, Tokka, released in 2009. In addition to Tokka and Innkvisitio, Kantonen is currently co-leading Kahden Miehen Galaksi, his organ-drums duo with Joonas Riippa.
Kantonen is featured on over 150 recordings ranging from jazz and rock to pop and classical music. In addition to the groups led or co-led by him, he has played and recorded with numerous notable ensembles including the Eero Koivistoinen Quartet and other groups led by Koivistoinen, Free for All and other groups led by Henrik Otto Donner, the Pekka Pohjola Group, Antero Priha´s BreadMachine, the Manual Dunkel Quartet, Suhkan Uhka (Suhka, TUM CD 001) and Avanti!. Kantonen has also held - on and off - the piano chair of the UMO Jazz Orchestra for two decades and participated in a number of recordings by UMO, including Plays Music of Muhal Richard Abrams (1989), Dalens Ande (1991), The First Seven (1992), Green and Yellow (1992, with Bennie Wallace and Ray Andersson), UMO Jazz Orchestra (1998), One More Time (2000, with Kenny Wheeler and Norma Winstone), Sauna Palaa (2005) and UMO on UMO (2009).
In addition to his Finnish contemporaries, Kantonen has performed, with UMO or otherwise, with the likes of Ray Anderson, Louie Bellson, Anders Bergcrantz, Michael Brecker, Dee Dee Bridgewater, Eddie "Lockjaw" Davis, Gil Evans, Nelson Faria, Barry Guy, Billy Hart, Tim Hagans, Joe Henderson, Conrad Herwig, Freddie Hubbard, Scott Kinsey, Nils Landgren, David Liebman, Joe Lovano, Ron McClure, Vince Mendoza, Don Menza, Palle Mikkelborg, Bob Mintzer, Bob Moses, Houston Person, Lenny Pickett, Mathias Ruegg, Terje Rypdal, Sabri Brothers, Maria Schneider, Tomasz Stanko, Yamar Thiam, Toots Thielemans, Charles Tolliver, Cuong Vu, Bennie Wallace, Kenny Wheeler, Joe Williams, Norma Winstone, Jens Winter, Phil Woods and John Zorn. During his career, he has performed all over Europe as well as Canada, Egypt, India, Japan, South Africa and the United States. Kantonen also teaches at the Sibelius Academy.
Joonas Riippa (b. 1977) was born in Kälviä, Finland. After studying at the Keski-Pohjanmaa Conservatory in Kokkola, Finland, he moved to Helsinki and studied at the Jazz Department of the Sibelius Academy (1999-2008).
Riippa has become known for his highly personal and diverse playing style. He possesses the rare ability to always play selflessly for the band and the music in hand. He can also pick up almost any instrument - or other objects - and make music with it playing, for example, the pocket trumpet with Innkvisitio and the bass with the group Pohjolan Ilmari.
In the past ten years, Riippa has often worked with trumpeter Verneri Pohjola, saxophonists Markus Holkko, Mikko Innanen, Jussi Kannaste and Joonatan Rautio, pianists Seppo Kantonen and Heikki Sarmanto, the group WARP! (with Aki Rissanen, Eeppi Ursin and Verneri Pohjola), the organ-drums duo Kahden Miehen Galaksi (with Seppo Kantonen) and a vast number of other musicians and groups often involving fellow students from the Sibelius Academy.
Riippa has recorded over 20 jazz albums, including An Sich by PLOP, Michelin Star by his duo with Verneri Pohjola, Aurora by Verneri Pohjola, Enkä Mä Rakasta Ketään by Pohjolan Ilmari, Commitment by the Joonatan Rautio Trio, Being There by the Markus Holkko Quartet, Pulpae by Timo Kämäräinen and Röd/Blå by Pekka Tuppurainen.
In addition to his contemporaries, Riippa has also played and/or recorded with a number of more established musicians, including Juhani Aaltonen, Olli Ahvenlahti, Mats Gustavsson, Leroy Jones, Timo Kiiskinen, Fredrik Ljungkvist, M.A Numminen, Seppo "Baron" Paakkunainen, Lenny Pickett, Severi Pyysalo, Sten Sandell, Heikki Sarmanto and Charles Tolliver. He has performed all over Europe as well as in Africa and North and South America.