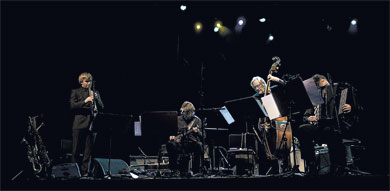 Wandering around a Belgian town on a November day after spending a few nights sleeping in a tour bus, I came across a Stanley Kubrick exhibition totally by chance. The exhibition was an epiphany of sorts for me. There was an immense amount of material on display: photos, drawings, furniture, films and clothing that Kubrick used for planning and making his films. I found it incredible how he designed a whole new universe with its own inhabitants for each film. The team sometimes spent years working not only on the script but the whole set of accessories. This experience induced me to write a series of compositions, each of them inspired by a particular location in Kubrick´s films. My intention was not to write new soundtracks for his films, but rather to use these locations as an inspiration for the music.
Stanley Kubrick (1928-1999) was one of the first directors to use modern classical music in mainstream films. His use of Ligeti´s compositions was particularly exciting inasmuch as Ligeti utilized clusters and sometimes microintervals in his music. This, combined with dark, sometimes psychedelic scenes, made a strong impression on me. I feel that Kubrick´s films have a strong message against the use of violence, although violence is sometimes shown. He is working more with the imagination of the viewers, leaving a lot of room for their own interpretations. Kubrick certainly got my imagination going.
When putting this group together, I heard that Veli Kujala had a new instrument, a quarter-tone accordion. This seemed to be a perfect choice for the band that I named K-18 (the Finnish rating for "films forbidden to viewers under the age of 18"). Especially the fact that you can play microintervals with an instrument usually only known for its well-tempered scale was a real revelation. The floor seems to float when the microintervals of the accordion start to kick in.

Otherwise, I wanted to work with a chamber music feel and decided not to have drums in the band (it is also practical in that we can all fit in my Opel Astra). An old friend and colleague Mikko Innanen, with whom I started the band Nuijamiehet (Finnish for "The Cavemen") several years ago, was a natural choice for the saxophones. We grew up together as musicians - playing, composing and fighting. Finally, about five years ago, I came to know the bass player Teppo Hauta-aho, and we have been playing as the Kalima-Kalmisto Duo ever since. Teppo is the grand master of his instrument having played improvised music, jazz and classical music alike for close to 50 years already.
As for myself, I thought that the possibilities of an electric guitar would work well with this combination and decided to favor it over the acoustic guitar for the most part. Musically, I wanted to combine elements of jazz improvisation with sound-scapes emerging from modern classical music and avant-garde rock. The composed and improvised elements melt together, creating something entirely new.
Have a nice trip!

Berlin, October 1, 2009
Kalle Kalima
THE MUSIC
This is how Kalle Kalima himself describes the compositions included on this recording and the inspiration behind them:
Overlook Hotel, Overlook Bar, Room 237, The Shining (from the film The Shining, 1980, original story by Stephen King).
The Overlook is a magnificent hotel in the Rocky Mountains in Colorado. Jack Torrance, who is played by the true master of evil grimaces, Jack Nicholson, gets the job of a winter caretaker and arrives with his family driving along the winding mountain road that leads to the hotel. Jack, his wife Wendy and his son Danny are supposed to spend the winter alone in the hotel. Upon arrival, they hear that, some years ago, the past caretaker Delbert Grady had murdered his family with an axe before killing himself. Unbeknownst to Jack and Wendy, Danny has the ability to foresee the future. This ability is referred to as "the shining" by Dick Hallorann, the hotel´s cook, who shares the same ability. Soon it becomes clear that the entire hotel has been transformed into an evil place, filled with ghosts and evil spirits. The most terrifying place is Room 237 (Red Room) where Danny sees terrifying visions of the past. In the ball room, there is a bar where a ghost, Lloyd the Bartender, gives Jack, an ex-alcoholic, whiskey whenever he is in need of a drink. His credit is always good at the Overlook Bar.
Overlook Hotel starts with a powerful accordion theme. The piece goes through meditations, lots of cuts and surprises, until finding its way back out in the end.
Overlook Bar is a guitar meditation, played over a reverse echo.
Room 237 has a waiting, bluesy feeling, with lots of room for the evil spirits to speak and break loose.
The Shining is a composition, inspired by Japanese folk music, reflecting the ability to foresee the future. My intention was to write a piece about a glass eye floating in the air and surrounded by mirrors on all sides. The mirrors are inside another glass eye which, in turn, is inside another and so on and so forth. We used a gong as a saxophone amplifier so as to be able to enter the shaman world.
Hal-9000, Earth Light Room (from the film 2001: A Space Odyssey, 1968, based on the novel by Arthur C. Clarke).
HAL 9000 (Heuristically programmed ALgorithmic computer) is the on-board computer of the spaceship Discovery utilizing artificial intelligence technology. HAL is usually represented only by his television cameras, his "eyes", that can be seen throughout the Discovery. After HAL appears to be mistaken about a fault in the spacecraft's communications antenna, the astronauts want to shut him down. They mistakenly believe themselves to be safe because HAL cannot hear them, but are unaware that HAL is capable of lip reading. A battle between man and computer ensues with man as the victor. HAL dies singing the song Daisy Bell.
This composition is based on graphic notation that can be read forwards or backwards. The version included here is the one read backwards.
The Earth Light Room is a beautiful futuristic lounge on the Space Station 5, where the hero of the film, Dr. Floyd, has a conversation and some cocktails with his Russian colleagues. Here you can enjoy your drinks along with a view of the Planet Earth.
The composition is an abstract blues ballad in the AABA form featuring the double bass.
Korova Milk Bar (from the film A Clockwork Orange, 1971, based on the novel by Anthony Burgess).
This is a pretty special milk bar (korova is Russian for "cow"), where you can get your milk laced with drugs, such as vellocet (LSD) or synthemesc (synthetic mescalines). The main character Alex sometimes likes his milk "with knives in it", a reference to amphetamine. There are plastic puppets of naked girls around the bar where Alex and his friends get tuned up for their ultra-violent excursions in the city.
The composition starts peacefully, sliding through abstract passages into high-energy microintervallic Balkan rock.
Parris Island (from the film Full Metal Jacket, 1987, based on the novel by Gustav Hasford).
In the film, a group of young men enters the U.S. Marine Corps and is taken to a camp at Parris Island, South Carolina. The officers are brutal in their work aimed at producing killing machines for the American war effort in Vietnam. During drills, the soldiers sing: "I am working for Uncle Sam just to know who I am". The drill instructor, Sergeant Hartman, enjoys physical and mental abuse and picks the fat and hapless Leonard, whom he nick-names Gomer Pyle, to be his primary victim. Through the abuse, Leonard gradually becomes ever stranger and more sullen and, on the last night on Parris Island, he kills the sergeant and himself in a fiery scene taking place in a toilet at the marine barracks.
This composition is a trip through different sceneries. It starts in a peaceful rural atmosphere, disturbed by pounding rhythms in the next section. In part, this reflects my own experiences as I got to know some military music when spending a year as a cymbal player in a Finnish Army marching band during my compulsory military service. The tune arrives to a seemingly peaceful spot where tension slowly starts to increase, leading to an explosion and a slow coda that has a melancholic French touch.
Dugan Manor House (from the film Barry Lyndon, 1975, based on the novel by William Makepeace Thackeray).
Barry Lyndon is a period film about an 18th century gambler and social climber who is searching his way to the English high-society. Kubrick used a specially-adapted, high-speed still camera lens (originally developed for NASA) allowing many scenes to be lit only by candlelight, thereby creating soft lighting images reminiscent of 18th century paintings. Dugan Manor House is a castle where some of the scenes in the film took place.
This intimate piece is an improvisation by Teppo and me. Here, it is the dialogue of the double bass and the acoustic guitar that provides a gentle candlelight atmosphere.