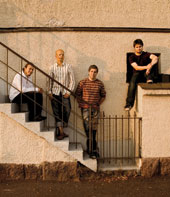 The making of this second recording by Ilmiliekki Quartet or, rather, getting ready for it, caused me to reflect on my personal attitudes towards music. When asked which genre of music we represent, I always find it very difficult to answer. Not because we think Ilmiliekki Quartet is something so exceptionally original that it is impossible to classify our music but because genres seem to impose certain criteria or demands on the music that we do not necessarily wish to or claim to fulfill. So, we prefer to leave the classifying of our music to others, in case they should find it necessary to do so. However, I willingly talk about my own musical preferences and, through that, musical influences ‑ often even without asking.
In the last two years, in addition to my own music, I have listened almost exclusively to music that is sung. My teachers have often told me in the past that it is good for a musician to listen to singers, giving me examples like Frank Sinatra, Sarah Vaughan and Ella Fitzgerald. Despite being encouraged to do so on numerous occasions, I rarely listened to these singers back then although, having listened to them since, I believe that I now appreciate their significance and have at least some understanding of the greatness of their art. However, my own preferences have mostly led me to listen to other kinds of singers, such as Tom Waits, Björk, Johnny Cash, Maria Laurette-Friis, Suzanne Vega and Thom Yorke.

A singer has the possibility of utilizing words that turn a composition into a song and the singer into a storyteller. To the best of our ability, we too try to draw inspiration and guidance from this approach and tell stories through our music even if we do not have any words at our disposal.
Helsinki, November 1, 2006
Verneri Pohjola

---

Take It With Me (Tom Waits and Kathleen Brennan) was chosen for inclusion by Ilmiliekki Quartet simply because it is so beautiful, not only in its lyrics but as a composition as well. The original version is on Tom Waits' album Mule Variations.

Karhu (Verneri Pohjola) is the album's only true high energy performance. It is based upon the rhythm formed by the bass line and the harmonic frame of two triads. Karhu, which means "bear" in Finnish, is also the newest composition on the album. Ilmiliekki Quartet first played it at a gig in Riihimäki, Finland, just two weeks before the recording.

So Far (Olavi Louhivuori) started as a two-tone melody in which the tones are intertwined as if in support of one another. The purpose was to imply a harmony and to create tension between the melody and the harmony. The composition was initially arranged for use in the joint project by Ilmiliekki Quartet and Meta4 string quartet and then rearranged as a quartet version for inclusion on this recording.

Askisto (Verneri Pohjola) is an important and personal composition for Verneri Pohjola. It brought to an end a long and frustrating break in composing for him. As a composition, it is quite classical but the long improvisational part takes it far from its point of origin.

Porcelain (Red Hot Chili Peppers) can be found on the album Californication by Red Hot Chili Peppers. This simple ballad is easily overlooked within that album's otherwise rather energetic surroundings. Ilmiliekki Quartet´s version reflects an idea of a mirror image. First, they play the song in its entirety but then, where the performance should end, you find a reflecting surface instead. In its mirror image, the composition returns in a darker and mistier version than the original.

Kanava (Verneri Pohjola) was the first tune that Verneri Pohjola composed after the recording of March of the Alpha Males. The intention was to create a rubato composition that would, nevertheless, have a rolling, wavy pulse and present a defined structure of harmonies underneath the solos. The title of the tune means "channel" in English.

My Favorite Plum (Suzanne Vega) is one of two songs by Suzanne Vega that Ilmiliekki Quartet has been performing at its gigs. Both live and in the studio, it has gone through a number of reiterations but, in the end, Antti Lötjönen´s bass version was considered to be the best for inclusion on this recording. The original is on Vega´s album Nine Objects of Desire.
Hatchi (Tuomo Prättälä) was originally supposed to be a cheerful, free song in the spirit of Ornette Coleman but the right mood and form were found after a few performances. Its minimalist beat leaves considerable room for the soloists. Tuomo Prättälä himself says that the best thing about the composition is that by the end of it you have forgotten what actually happened in the beginning.

In Wood (Tuomo Prättälä) is a rubato melody inspired by the albums of the Tomasz Stanko ‑ Edward Vesala Quartet with saxophonist Tomasz Szukalski. The kalimbas and various small instruments create a feel of a rain forest to it. The title refers to wooden objects, as if the song was "carved out of living material".