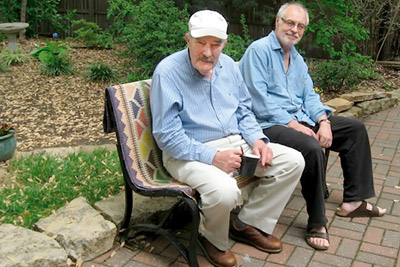 I have long been aware that meeting Otto was one my luckier days, if not the luckiest. He liked the simple pop songs I was trying to make back then and was very supportive and encouraging.
He enjoyed adding strings and offering advice on my efforts as we started off on a journey with Love Records that took us through numerous recordings from Blues Section to Wigwam and a series of solo efforts since - this being the latest.
It was 1967. I had just turned 21, so he was 27. I was a kid and he was my mentor. He was the producer and arranger on all of the earlier records. As Love Records grew, we in Wigwam gradually learnt "on the job" and ended up pretty much producing ourselves. Learnt it all from Otto.
Otto had plenty of other musical things going on as anyone interested in music in Finland will know. His talents were all-encompassing, be it jazz, chamber, theatre, film, choral, pop or rock music. He did it all and always with an engaging "this is fun" kind of touch. He was the guy the musicians surrounded and listened to.
The photo following this text was taken in March 2013, when we were finishing up the vocals on this record - in Kansas City.
Sadly, Otto was to pass away less than three months later, in June of last summer, just after Juhannus. He was always fun to be around, be it in the studio, fishing with him in his little boat in the waters around his home in Jomalvik, or sitting around after a hot sauna - he smoking a cigar, usually Cohiba.
He is missed. For me, not a day goes by that he doesn't come to mind.
So long, my old friend, my best old friend, Otto.
The guys in the band and I wish to dedicate this record to the memory of Henrik Otto Donner.
Kansas City, May 15, 2014
Jim Pembroke