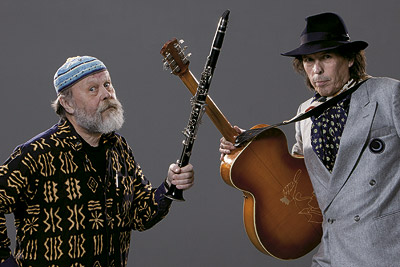 Dave and I are brothers from Helsinki, born into a Finnish-Swedish middle-class family where music always played an important role. Already our father was an ace trombonist and trumpeter who played in many bands before, during and after World War II. In 1949, he won both first and second place in the annual Finnish band contest playing in two different groups. On the winning tune, he played the trombone and, on the second, the accordion, which he had only learned to play a couple of years earlier. Later, he became a businessman and more or less gave up music. Nevertheless, he bought both of his sons their first instruments. For me, an old but good clarinet and, for Dave, an excellent acoustic guitar of the famous Swedish brand Levin. He also encouraged us in the beginning of our musical efforts, but when he realized that we might actually turn into professional musicians, he became terrified. In those days, music was considered by most parents as a good hobby, but not to be taken seriously as a profession.

Well, in my case, he didn´t need to worry, because, at a young age, I was offered a really nice job at The Finnish Broadcasting Company (YLE) thereby becoming a music producer. However, Dave did it! He´s been a professional musician ever since 1970. For most of the time, Dave has been performing with his own bands or as a solo act, but we did have some memorable jam sessions and mutual bands in the 1970s and the 1980s.

We also started to plan this record in the mid-1970s because our voices go well together and we share a love for the same kind of music, much of it coming from the almost unplayable 78 RPMs and scratchy vinyl singles that we used to listen to at home. (In those early days, LPs were too expensive for us, so, naturally we didn´t have any until later.) As you can imagine, there´s been a lot of planning, record date setting and postponing during the last 40 years … but here we are on record at last!

We did not overproduce this record, more like the opposite. We tried to grasp the natural, spontaneous feeling that we had at our gigs way back in the 1970s. This means that most of the songs on The Blue CD are among the legendary "first takes". That, of course, may have resulted in some mistakes being left in here and there, but none of us regret the chosen approach. The freshness and the pure joy of playing is compensation enough! The cover songs included here are all favorites from our childhood and teenage years taken from our old records. We wanted to make these songs anew so as to keep them from disappearing forever. Our originals are composed, written and arranged in a mood similar to the covers so as to avoid any stylistic collision. We each sang our own originals but the covers we shared like brothers. The one who had the stronger feeling for a particular song ended up singing it. To our uttermost surprise there were no fights about it. That part went better than expected!
Dave and I sing all the lead and background vocals and Dave plays all the guitars — slide, electric, acoustic and mandolin guitar. I play the clarinet and the alto sax. In our splendidly groovin´ band, we have Hessu "Take The Brushes" Sandrén whose animalistic drum thunder works as well as my grandma´s salad dressing. He also succeeded in moving me deeply as he was so extremely happy to finally play a Duke Ellington tune on a record.
A huge thanks also to our gifted young pianoman Juha "Magic Fingers" Kujanpää who, without a moment´s hesitation, attacked the toy piano Dave found in the control room, and played it as an elegant Viennese-style glockenspiel. (First take, as usual!) He was also the guy whose sole presence relaxed us all in a beautiful way.
Last but not least, our ace bass player Uffe "Slap That Bass" Krokfors, who is definitely very guilty of the outrageous groove on this CD. I liked his playing so much that I just had to play the part of a producer for a while and force him to play a bass solo on my song "Is This A Blues At All?" And, boy, did he ever?

Finally, I want to thank our wonderful sound engineers, Jyri and Danu, whose sunny disposition and encouraging attitude made them more or less the very vital sixth and seventh members of the band. We would hardly be here without them.

To make a long story short, this is the result of our shared 50 years of love for the music. We hope from the bottom of our hearts that you will share our taste and enjoy the results.
Espoo, May 1, 2012
Calle Lindholm
---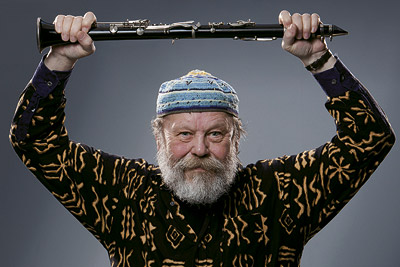 Calle Lindholm
(b.1947) began performing music in the 1960s. In 1967, he met the budding songwriter Pekka Streng at the University Student Theatre in Helsinki. Their friendship led to the foundation of the group
Mursun lämmin henkäys
that played songs written by Streng. Lindholm also participated in a psychedelic radio play (
Kreivi von Krolockin hymyn variaatiot
) and other projects involving Streng. The radio play included early versions, with Lindholm singing back-up vocals, of some of the songs featured on the classic album
Magneettimiehen kuolem
a by Pekka Streng and
Tasavallan Presidentti
in 1970; these early versions were later released as bonus tracks to a CD release of the album. Around the same time, Lindholm began his career with the Finnish Broadcasting Company (YLE) that continued until his retirement in 2010. However, alongside with his radio work, he continued to write, perform and produce music. Perhaps best known of his many groups was
Helsingfors Café Duo
, with pianist Hessu Hiekkala, which released its eponymous album of classic popular songs and blues numbers in 1982. Lindholm has also performed music for children (
Pikkuväen lauluja
in 1976).
---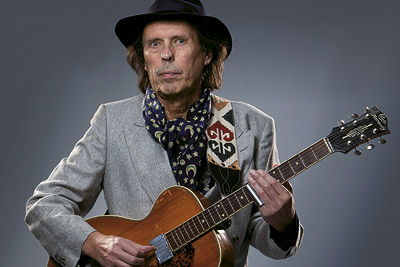 Dave Lindholm
(b.1952) has been a central figure on the Finnish rock scene for four decades. He established his position as an important lyricist, highly individual vocalist and strong guitar player already with his first recordings for Love Records,
Iso "Kynä" Lindholm
(1972) and
Sirkus
(1973). After this, additional solo recordings and recording by various groups featuring him, such as
Orfeus, Rock ´n´ Roll Band, Pen Lee, Bluesounds, Canpaza Gypsys
and
Dave L.B. Inventive
, have contributed to the picture of Lindholm as a versatile master and true maverick of blues and rock. His collaborations with composer and arranger Henrik Otto Donner have also been highly regarded milestones in Finnish popular music (
Aino, Sisar
and
More Than 123
, TUM-A CD 001). In 2006, Lindholm received the Finnish State Price for Music as an acknowledgement for his 35-year career and, in 2009, the Juha Vainio Award for his accomplishments as a lyricist.
---
Juha Kujanpää
(b.1974) is active both as a musician, playing the piano and other keyboards as well as the accordion, and composer. His musical interests include both folk and jazz music, or combinations of the two, and he has composed music for theatre and radio plays, dance and musical theatre, as well as films and art exhibitions. Kujanpää composes most of the music for the Finnish folk music groups
Kirjava lintu
and
Karuna
as well as the
Isis Trio
. In 1997-2005, he was a member of
Kentauri
that performed music composed to poems by the Finnish poet Pentti Saarikoski. He is also a member of a number of other groups, including
Captain Cougar
,
Kuha
and
Saarikorpi Brom
, as well as the improvisational theatre
Häpeämättömät
.
---
Ulf Krokfors
(b.1966) first began playing the bass with Henrik Otto Donner´s quintet in the mid-1980s. Krokfors quickly made his mark as a member of Edward Vesala´s
Sound and Fury
(1988-1990) and guitarist Raoul Björkenheim´s
Krakatau
(1988-1999) and became the most in-demand bass player in Finland with a resume that reads like a Who´s Who of the current Finnish jazz scene. In addition to those mentioned above, Krokfors has collaborated extensively with saxophonists Juhani Aaltonen, Sakari Kukko and Esa Pietilä, pianists Iro Haarla, Seppo Kantonen, Samuli Mikkonen and Jarmo Savolainen, and organist Jukka Gustavson, among many others. In 2008, Krokfors published his first solo bass recording (
The Incense of All Our Prayers
).
---
Hessu Sandrén
(1960) is best known as a member of the
Agents
, one of the most popular groups of all time in Finland, having performed with the
Agents
, featuring vocalists Jorma Kääriäinen and Topi Sorsakoski, for almost two decades and recorded numerous albums with them. Sandrén has also performed with Esa Brommels, Jukka Itkonen, Kirka and Jussi Raittinen, among many others. In addition to blues and rock music, Sandrén has performed with many leading Finnish jazz musicians, including saxophonists Teemu Salminen and Pekka Toivanen and vibraphonist Severi Pyysalo. Currently, he is a member of vocalist Saara Soisalo´s trio.