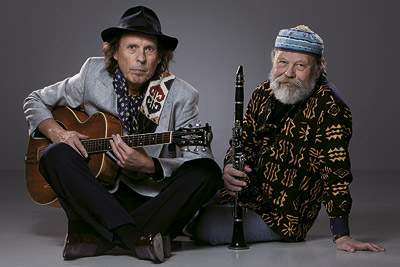 Rock My Soul (In The Bosom of Abraham) (traditional) is a traditional gospel song first recorded by Mitchell´s Christian Singers in 1940, Good Hope Baptist Association in 1941 and Richard Huey and His Sundown Singers in 1943, among many others. Later recordings have featured everybody from Louis Armstrong to the Golden Gate Quartet and from Elvis Presley to Peter, Paul & Mary.
Calle Lindholm: Our arrangement is based on the English singer and guitar player Lonnie Donegan´s version from the late 1950s. Originally, he was the guitar and banjo player in Chris Barber´s Jazz Band, but when the great skiffle boom invaded the British Isles, he switched over to that style. I bought the single initially because of the A-side, Sidney Bechet´s classic song "Petite Fleur", which was performed by Chris Barber´s Jazz Band with Monty Sunshine as the clarinet soloist. As a clarinetist, I wanted to learn the song and, as there was no sheet music available, had to buy the record.

But one beautiful day Dave and I listened to the B-side and flipped out, as there it was: a real gem, "Rock My Soul" (or "Rock O´My Soul", as it was called on Donegan´s original 1958 recording), with Lonnie Donegan and his skiffle group. We immediately began to perform the song at our gigs. First, like Donegan with a band, then, with just an acoustic guitar and, finally, as an a cappella version like on this recording.

With this song, we tried to reach the sound of the Ole South. I´ll forever feel both brotherly pride and, honestly, some jealousy because of Dave´s absolutely unplanned but very improvisational "Boom, boom" at the end. Ours is the only version where that exists but, oh boy, does it fit like a glove in my hand. This song was, of course, also a nice way to open the record, with just the two of us as an introduction.
Take The Suti And Do The Jump (Calle Lindholm) was written by Calle Lindholm for this recording.

Calle Lindholm: I have always admired the two Louis´s, Prima and Jordan, those swinging pioneers of jump ´n´ jive music. My thought was to introduce the members of the band one by one as they join us on the second track in just a little bit more swingin´ way. "Suti" is the Finnish word for brushes, and the original idea for the lyrics comes from a band whose guitar player instructs the drummer before a song: "ota sutit" (or "take the brushes").
Sometimes Things Go Wrong (Dave Lindholm) was written by Dave Lindholm for this recording.

Calle Lindholm: This song proves once again that the blues really is a musical genre easy to dance to. Dave loads a lot of energy into this one and somehow I had the strange feeling of playing an old, dear song although I knew that I had never heard it before. Personally, I enjoyed but also suffered greatly playing the sax part with my old Italian alto since it kept breaking down. Finally, I succeeded in fixing it, in a time honored tradition, with a rubber band (sic!). I suppose it was more or less the swan song of that poor instrument. I think, I´ll hang it up on the wall. At least it LOOKS nice!
Magnolia Blues (Riley Scott - Stan Wrightsman) was recorded by Santo "Peck" Pecora And His Back Room Boys in 1937 in Los Angeles, with the group´s drummer Riley Scott as the vocalist. In addition to trombonist Pecora and Scott, the group included trumpeter Shorty Sherock, clarinetist Meyer Weinberg, pianist Stan Wrightsman, guitarist Frank Frederico and bassist Thurman Teague. On the original 78 RPM recording, the song is credited to Riley Scott and Stan Wrightsman. Pecora was born Santo Pecoraro in New Orleans where he also began his career playing with bandleaders Johnny De Droit and Leon Roppolo, among others. He first recorded with the Original Memphis Melody Boys in 1923 and the New Orleans Rhythm Kings in 1925. After living for a period in Chicago and touring the United States with the likes of Sharkey Bonano and Wingy Manone, he returned to New Orleans in the 1940s. Pecora made his last recordings in the late 1950s but remained a stable on the local scene into the 1960s and beyond.
A version of "Magnolia Blues", with lyrics translated into Finnish ("Häivy stadista") by Calle Lindholm, was included on the 1982 recording by the Helsingfors Café Duo.

Calle Lindholm: This is the song that fired up my love for the blues 61 years ago (operating my father´s old record player on my own for the first time - without permission, of course) and that love has remained although kids broke the old 78 RPM many years ago. I have tried to find a new copy ever since, but not even Emu from Digelius, the greatest record shop in Helsinki, has succeeded in locating one (and he has succeeded in many other impossible tasks!).
I love the openly sexual text and the way the music crawls on like a lazy lover. By the way, dig the name of the original band, Santo "Peck" Pecora And His Back Room Boys. Wow! Why don´t bands have names like that anymore?
Golden Man (Dave Lindholm) was written by Dave Lindholm for this recording.

Calle Lindholm: Dave´s nicely rolling Memphis rock ´n´ blues song serves as real proof of what this band is capable of. It sounds like an easy happy rolling song but that is only due to the band. These boys make the song sound like a red Ferrari rolling down a sunny boulevard.
Don´t Throw Your Love Away (Billy Jackson - Jimmy Wisner) was originally released in 1963 by the Orlons as the B-side to their "Bon-Doo-Wah", which peaked at No. 55 on the U.S. singles chart. The Orlons was a rhythm 'n´ blues quartet formed in 1960 and popular in the early 1960s, with major hits including "The Wah-Watusi", "Don´t Hang Up" and "South Street". "Don´t Throw Your Love Away" was recorded by the Searchers and released in the United Kingdom in 1964 becoming a No. 1 hit.

Calle Lindholm: The Searchers, one of the numerous liverpudlian bands of the 1960s, recorded this beautiful pop ballad in 1964. In those days, Dave and I were convinced that theirs was the original version, as the label carried the name Jackson and the band´s original singer was Tony Jackson, but no! The song was actually composed for the Orlons by two American musicians, arrangers and producers, Billy Jackson and Jimmy Wisner. We never heard the original version although we knew other songs by the Orlons.

When preparing for this recording, I was toying with the idea of making the song into a heavy gospel-waltz in the genuine southern style while keeping the vocals very British at the same time.

Summer´s Gone (Dave Lindholm) was written by Dave Lindholm for this recording.
Calle Lindholm: This song is different! If I would have to define the genre, I would probably call it "fairy jazz from the Scottish woods". The song rocks gently on the petals of tree flowers, and I´m sure that this is the kind of music that the great Don Cherry would have loved to play in his legendary jazz concerts for children. Probably, the greatest reason why it sounds so fairytale-like is Juha´s playful toy piano and Dave´s laid back and relaxed guitar. Also, drummin´ Hessu and bassin´ Uffe are playing in a nice and airy way. A lot of oxygen in this one. I try to symbolize the ending of the summer with the tripled clarinet that sounds, more or less, like a departing steamship way back in the 1930s.
Rocks In My Bed (Edward "Duke" Ellington) was composed by Duke Ellington in 1941 and first recorded for the "Salute to Labor" radio program at the KFI station in Los Angeles, with Big Joe Turner as the vocalist and Ellington at the piano. That same year, Big Joe Turner also recorded the song with the Freddie Slack Trio and Ellington recorded it with His Famous Orchestra, with Ivie Anderson as the vocalist. Since these first recordings, the song was part of Ellington´s repertoire throughout the 1940s. In 1952, Ella Fitzgerald included it in her Duke Ellington Song Book and a number of recordings of the song have followed since, including those by Dave Lambert, Betty Roche, Bobby Short, Sarah Vaughan, Joe Williams and Jimmy Witherspoon.

Calle Lindholm: This is one of Duke Ellington´s rare blues songs. And definitely the best for our purposes. I consciously made it into a heavy up-to-date Texan blues and absolutely wanted the slide guitar as the solo instrument just to prove how a good song is eternal and can take almost any treatment without losing its original value. I kept the clarinet beginning as an homage to Barney Bigard, the clarinetman on the original recording by the Duke´s orchestra.

Danger Zone (Percy Mayfield) was written by Percy Mayfield (1920-1984) whom Ray Charles signed for his Tangerine Records in 1961, principally as a staff writer. Charles had heard and been impressed by Mayfield´s "Hit the Road, Jack" and recorded it with "Danger Zone" on the B-side of the single. Mayfield himself recorded "Danger Zone" in 1968.

Although never hugely popular with white audiences, Mayfield, who is sometimes referred to as the "Poet Laureate of the Blues", wrote and recorded an impressive ouvre of blues ballads, such as his biggest hit "Please Send Me Someone To Love", particularly in the late 1940s and the 1950s.

Calle Lindholm: It is absolutely amazing that I haven´t been able to find this wonderful Percy Mayfield song performed by Ray Charles anywhere else but on the B-side of Charles´ hit single "Hit the Road, Jack". I even remember that the single was made of blue vinyl.
However, both Dave and I consider it to be one of the greatest songs Ray Charles ever recorded, and he recorded many of those! This sinister big city ballad oozing weltschmerz glides like a master thief in his rubber soled shoes through the foggy alleys on his way towards the crown jewels.
Is This A Blues At All (Calle Lindholm) was written by Calle Lindholm for this recording.
Calle Lindholm: I know that all the blues purists in the world will hate me for this one. My crime in this song is that I severely shake the traditional, tear and pain dripping fundamentals of the blues. But I couldn´t resist the temptation. Actually, it´s all my good friend Pyry´s fault. He once told me that he would like to hear, at least one time in his life, a blues that opens with the lyrics "I didn´t wake up this morning". Well, here it is. I hope I made at least Pyry happy.

The guy in this blues has a wonderful wife, a successful and lucrative job, a nice car, a lot of friends and, last but not least, a cupboard full of liquor, the final insult. But I wonder ... IS this a BLUES at all...?
Annie´s Lover (traditional) is a traditional song that was included on Taj Mahal´s acoustic solo album De Ole Folks At Home in 1969. This album was also released as the second record of the double Giant Steps/De Ole Folks At Home in the 1970s.
Calle Lindholm: Dave and I picked this song from the very nice but much neglected Taj Mahal album called De Ole Folks At Home. The album is full of wonderful and surprisingly humorous versions of old country blues classics. But this was the one that we always liked the best, so, we covered it here. "Annie´s Lover" is also a song that children very much enjoy because of the amusing treatment of the lyrics. On this recording, it is the only opportunity to hear the beautiful sound of Dave´s mandolin guitar from 1935.
Stewball (traditional) is an old prison song with origins that have been traced as far back as a ballad, published in London in the 1820s, celebrating a famous horse race in Kildare, Ireland, in the 18th century. That particular race was won by a horse variously referred to as either "Skewball" or "Stewball". The song later transformed into a horse race ballad placed in the American South where African Americans and Irish immigrants often worked side by side at horse stables. The song was first included in field recordings by John and Alan Lomax and others in the 1930s at some of the South´s most notorious prison camps, including the State Penitentiary in Parchman, Mississippi (Bowlegs in 1933, Dobie Red in 1936, Gus Harper in 1937 and Ollie "30 Cents" Giles in 1939), the State Prison Camp in Boone, North Carolina (Lee Guest in 1936), the State Farm in Raiford, Florida (Roscoe McLean in 1937), the Hobson Plantation in Clarksdate, Mississippi (Will Starks in 1942) and the Darrington State Farm in Sandy Point, Texas ("Lightnin" Washington in 1936). It was also recorded by Leadbelly (Huddie Ledbetter), an ex-convict himself, a number of times in the 1940s (The Midnight Special And Other Southern Prison Songs). Leadbelly´s recordings led to the song becoming a favorite of the folk music movement in the 1960s, with recordings by Joan Baez, Woody Guthrie and Peter, Paul & Mary, among others, and it was even covered by Doris Day and the Hollies. Memphis Slim and Willie Dixon recorded the song for Folkways Records in 1960.
Calle Lindholm: We´ve been listening to this song, Dave and I, letting out deeper and deeper sighs, ever since 1965 when I brought home from Germany a recording that included a version of the song by Memphis Slim and Willie Dixon. We couldn´t buy records like that here in Finland those days. I honestly don´t think that either of us seriously believed that we would ever cover the song ourselves. However, when the decision to make this CD slowly ripened, Dave suddenly got a stroke of extra masculine power and asked: "Are we really going to do this CD without the song that means the most to us and look in the mirror afterwards being proud of ourselves? I don´t think so".
So, we decided to include the song and now we can probably look in the mirror again. We also decided that this song is the natural closing number as it would be very hard to follow it with anything else. Thank you Memphis Slim and Willie Dixon!